A delicious musical indulgence, 'Pickles & Pies' is a compelling patchwork of sound and style that showcases the very best of White Fang's "alter ego," The Memories.
Stream: 'Pickles & Pies' – The Memories
A wave of raw unabridged feeling washes over the ears as The Memories get underway with their latest album, and know this listener: Every song is a world unto itself – you won't hear the same thing twice. A delicious musical indulgence, Pickles & Pies is a compelling patchwork of sound and style that showcases the very best of White Fang's alter ego, The Memories.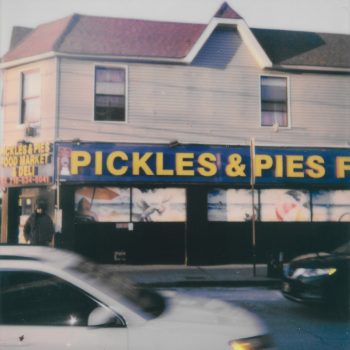 Released May 29th, 2020 via Axis Mundi and Gnar Tapes, Pickles & Pies is just the latest in a long string of The Memories works that began just a decade ago. The "sister band" to White Fang (the two bands share the same members), The Memories consists of Rikky "Free Weed" Gage, Izak Arida, Chris "Unkle Funkle" Uehlein, Jimmy "Jerry Rogers" Leslie, and "notable songwriter and longtime collaborator" Colleen Green. Often described as a lo-fi project and once more fluid and in-line with what we know to be White Fang's style, 2020's iteration of The Memories is a wholly distinct band full of color and bursting with creativity.
Pickles & Pies houses a wealth of diversity within its 40-minute run; the first record of theirs to showcase all band members' songwriting, it truly is The Memories at their finest, most polished hour. Housing everything from psychedelia to lo-fi and shoegaze, acoustic balladry, and more, Pickles & Pies is delightfully weird and wonderfully eccentric; it's a credit to The Memories' individual and collective talents that every song fits the mold (or lack thereof), and the whole album free-flows just right. It's hard to imagine music seeming all over the place and cohesive at the same time, but that's Pickles & Pies in a nutshell: They threw musical paint at the wall, and it stuck.
From the overdriven, impassioned overhaul on opener "Too Old (To Fall in Love)" to the softly sweet "In My Heart I Am Sailing," to the arresting B-52s-esque number "Last Chance to Dance" and a particularly hypnotic cover of Ace of Base's "The Sign," The Memories hold our attention hostage with a record that keeps us on our toes, never knowing exactly where it will go next. It's expansive and genreless, and The Memories embrace that fact from start to finish.
Whereas White Fang is "more rowdy, goofy, and crude," The Memories' music is intentionally "a little softer and more mellow, whimsical, romantic, and stoney."
Listening through their extensive, seemingly endless catalog, one gets the sense that The Memories began as this do-anything project, and it just took off beyond anyone's wildest expectations. By the time 2020 arrives, they are their own established entity – totally apart and distinct from White Fang, a band whose listeners may not even know about their "alter ego" / "sister identity". That's the mark of some damn true artistry, isn't it?
Embark on this new collection with an open mind, and you will be dazzled, mesmerized, taken high and brought low. Perfect for summertime dreaming, Pickles & Pies has something for everyone, and is fun for all. Experience the full record via the below stream, and peek inside The Memories' Pickles & Pies with Atwood Magazine as the band go track-by-track through the music and lyrics of their latest album!
— —
Stream: 'Pickles & Pies' – The Memories
:: Inside Pickles & Pies ::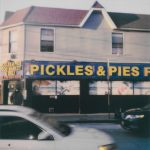 — —
Too Old To Fall In Love
This one is a cover of one of my favorite songwriters of all time, R. Stevie Moore. It's been one of my favorite, if not most favorite, songs of his for over a decade and I've always wanted to cover it. The presence and eagerness of Funkle, who can play pretty much everything, finally allowed for that to happen as he plays practically everything on it, I believe. I wanted to also push the gospel of RSM even further as I feel he should be far more celebrated than he already is. There's a documentary about him on the way; I'm in it lol.
Waves From The Shore
During the sessions for this record, I decided to stay behind one night in the studio by myself and work through the morning. I really only had the simple chord progression for the song and not much else – the melody for the vocals came to me pretty naturally but I spent most of the night working on the lyrics. Since we were working on the record in Rockaway, we all kind of gravitated toward this boardwalk/nautical theme quite organically. With this sentiment in mind, the lyrics kind of wrote themselves as the night progressed. Simply put, it's a song about longing and exploration. I drew inspiration from those feelings I would feel on the road missing a certain someone but also excited for the next part of the journey… always looking and searching for the next new and exciting experience.
In My Heart I Am Sailing
This was pretty much the only song I brought from LA to NY that was in any sort of prepared stage. It's your standard nautical themed love song. I think the lyrical metaphors at work here are very straight forward and maybe a little cliche lol. But it's meant in earnest and is a sweet song that came out more lush and beautiful than I had imagined it would be.
Last Chance To Dance
This one is an italo disco song in the style of Limahl's "Neverending Story" pretty much haha. I'd been really into Game of Thrones at the time so the fantasy lyrics sprung from that, I imagine. Funkle knew exactly what I was going for with this one and we both went all in on it… it's one of my favorite songs from the album. As much as it might seem out of place on the record, if you look at some of our past dance songs like "Dancing In My Dreams" you'll see we often incorporate a song like that in our albums. Just like we usually have an instrumental and a cover or two.
Second Try
I wrote Second Try around the time I turned 30 and at its heart it's a song about reminiscing and nostalgia. On the surface, it may seem that the lyrics allude to feelings of regret or disappointment but i was feeling quite the opposite at the time i was working on lyrical ideas. Spending my twenties touring the US and world would have been a far off fantasy, had you told a teenage me that's what i'd be doing with my life. So in the song when i pose the question "would you do what you used to the second time?" i am really asking myself this question, in which i would respond most definitely yes.
The Sign (Ace of Base cover)
We love to do covers and while they're usually in line with our band's own aesthetic and curated influences, we thought it would be rad to have an off the wall one. Our influences as a band are so vast that we wanted to showcase that we aren't purists in our musical diets. Colleen had already performed covers of this live in her own style but we, once again, thought we'd utilize Funkle's studio wizardry with the, at the time, completely overflowing wealth of studio gear. There's still amazing gear there, but in the summer of 2018 it was almost overwhelming. We nailed it, I think. We wanted to show not just our love of 90's Swedish Pop (also ABBA rules) but also our love of 90's (and all eras) dub as well.
Taffy
Taffy was one of the riffs that I brought from LA. It was always going to be an instrumental and once the boardwalk influence and themes started to be more obvious, we leaned into it with the tropical, carnival boardwalk beach vibes and named it Taffy. Like I said, we always have an instrumental, and this one is right in line with our classic instrumentals over our discography.
Kissing Candy
I'm not sure exactly how this one came together but it has a very Magnetic Fields, Jonathan Richman type vibe, mixed with that boardwalk influence. It almost has an 80s Goldie Hawn rom-com vibe to it as well.
Under The Sea
After we leaned into the beachy theme, Colleen came up with this Little Mermaid ass gem. It's so much like a Colleen Green song that she almost took it off the album but it just fits so well with the rest of the album and is so good that we were adamant about including it.
Druid
This is legit one of the most bananas songs we've ever made, in any of our projects. The lyrics can kind of be hard to decipher but that's kind of the point. It's literally a song about a sentient robot druid wandering the Earth long after all societies have been washed away and the planet has returned to nature in a lush, overflowing way. The robot is wandering around in bliss, comparing his oneness with the cosmos with the many forms of life he witnesses. It's a statement on how I (and Funkle) feel about not just about the possibilities of AI but also of our own place in whatever this simulation is supposed to mean.
Someone To Love Me
I wrote this song about people who are unhappy and just need someone to love them. I was reaching for Michael McDonald meets Fleetwood Mac and David Hasselhoff. One of the very difficult barriers we all had to deal with during the production of this record was that we were unable to bring our drummer with us to NY to record so we were all forced to play the drums ourselves for each of our songs, so this is a great example of me struggling to make something work with drums. In the end I think it turned out really cool. My favorite lyrics are "When will loving be my circumstance? and when can I cultivate a true romance?" and "I know that love is meant to be free… so why won't it come easily"
Our Little Secret
This song tells a bit more personal of a story. I wrote this song after a specific cocaine frenzy of a night many years ago when a woman who I was in love with danced with me and kissed me at a party and told me she loved me and that we would be married one day… only problem was, she had a boyfriend so she said it had to be "our little secret." Bee Gees meets Sesame Street is the vibe here. I'm particularly proud of the synthesizer solo and guitar solo at the end here and, as with pretty much every track that I drove the bus on, I love the fretless bass tone that I got.
Purple
This song has a fun little story because I had demoed it all out in a morning before the rest of the band had arrived and it wasn't the most popular thing I had pitched… but then Lindsey Radice aka PYNKIE came in to record with us and she loved it and she helped rewrite it and laid down her verse and her own version of the chorus using my lyrics. Then during playback she wanted to see how much of a difference there was between my original demo vocals on the chorus and her new vocals and when I unmuted the tracks for playback we were all elated at how well they fit together and it became an accidental duet! Fretless bass still on fleek, Juno 60 on fire. I must have listened to this track 10000 times since we recorded it!
— —
— — — —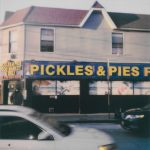 ? © 2020
:: Stream The Memories ::
---