Ten years ago, Watsky earned his reputation as hip-hop's wunderkind, but his sixth album, 'Placement', leaves fans asking if that 'pale kid' is gone for good.
by Emily McGowan
Stream: 'Placement' – Watsky
---
In 2010, George Watsky was a young, HBO-featured slam poet whose self-published album (titled 'Watsky') ranked #7 on the iTunes charts—but to many who love him, his breakout moment was a viral video titled "Pale Kid Raps Fast." Ever since, Watsky has earned a reputation as a bit of a wunderkind. Appearing three times at the Kennedy Center, on the NAACP Image Awards, and in the pages of Billboard magazine, he occupies a unique space as hip-hop's Peter Pan, the baby-faced maverick who swings from esoteric to giddily profane. Gentrification? School shootings? The suicide attempt of Polish-American pianist Arthur Rubinstein? For this San Francisco native and self-proclaimed savant, no topic has been too taboo or ambitious.
But in Placement, his sixth studio album, he leaves us on the edge of our seats, wondering: where did that pale kid go?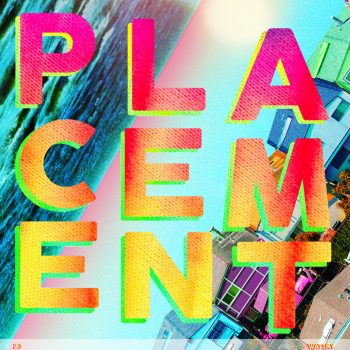 The Millennial emcee opens with a multi-track arc about premature success and the self-destructive agony of making giftedness look easy. In "Advanced Placement," a barbershop quartet harmonizes Watsky's doomsday thoughts and questions his sanity with the untethered mind of a middle-aged Billy Pilgrim. Syncopated piano stitches through a ream of children's laughter and experimental synth, evolving into complex jazz as his vocals swing from laid-back to rapid-fire slam poetry.
But something is off. From the Claxton-laced depression of "Best Friend the Floor" to the drunken apologies of "Undermine" (featuring repeat collaborator Raquel Rodriguez), Watsky begs us to tell him if his gifted tongue has eviscerated the ones he loves ("murder, murder, murder!"), somehow nailing every bar with his customary machine-like precision while drowning himself in out-of-character lo-fi beats. This just doesn't sound like the upbeat kid we know.
---
These melodic insecurities build to "Dreams & Boxes," a mid-album crucible with the heat every Watsky fan has come to expect. X Infinity had the "Lovely Thing" suites. Cardboard Castles had "Tiny Glowing Screens" (part I and II). Here, Watsky faces the threat of his decaying childhood memories inside a plummeting house with "a hallway goblin named Frank," weaving stadium-worthy cries ("this one is for the people who raised me up!") with delicate samples of tidal waves and "California Dreaming":
"Do you feel connected to your ancestors," he asks his goblin. "Do you?"
I think I know where all my problems come from (California)
I never really had the guts to look under that log
I need them all, all, all to love me
But they see through me so easy
I wish I could believe in your God
Sounds fun, we could throw rocks out of heaven
I get these dark thoughts every day now
I never thought I'd be that one
Good news, I'm way too scared to do it
And I have too much fun being scared
I'm in this for life
Like it or not
I'm not going anywhere, anywhere
I'm in this for life
Like it or not
You will have to drag me by the neck
---
The track drags to a run time of nearly eleven minutes, but because of its rhythmic central monologue and mature pivots from hip-hop to California Sound, it is an earworm that listeners will likely hum until the tune grows old. Its follow-up, "The Price of Growing Up," settles this intense energy with harmonica and the gentle pluck of acoustic guitar, as if the poet has finally allowed himself to mellow.
From here, Placement takes a sharp turn, and to say that the kid gloves come off would be an understatement. For his entire discography, Watsky's work has been heavily confrontational, but despite covering dire subject matter such as the Bosnian Genocide ("Sarajevo") and his family's escape from Polish pogroms ("Never Let It Die"), he has never once called out a modern politician by name. Until now.
Thrashing to megaphone feedback and electric guitar, "Border in My Heart" throws listeners into a new age of no-holds-barred name drops with a chanted manifesto: this is not normal, this is not normal, this is not normal. "If that was too vague," Watsky raps, "Donald J. Trump is a thug and a plague, and if he signed your check, you belong at the Hague." His final track, "Black Hole Eyes" is an equally bold departure from form — the base and minor keys fall like stars — and unlike 2016's "Exquisite Corpse," its dark lyricism flickers out without a trace of youthful irony. It's terrifying, but beyond the event horizon, we find the stranger we've been looking for.
---
The Watsky of Placement is unrecognizable. His cropped hair has exploded, falling to his shoulders in a mop of unapologetic curls, and his playful music videos have transmogrified into wind-blown desert landscapes. The former-kid wonder has many years ahead of him, but at only thirty-three, his hair-raising harmonies sound older than they should. At times, his bars are depressing, hoarse, or even straight-up filled with rage. Fans may ask themselves if the old Watsky is gone for good, if the rap world has lost a prodigy to premature burnout, but never fear: That pale kid isn't dead.
He just grew up.
— —
Emily McGowan is a writer and graduate student at the Savannah College of Art and Design in beautiful coastal Georgia. A rabid fan of Berlin noir and Phil Ochs, she can often be found (pre or post quarantine) in dead shopping malls, hunting for mid-century vinyls, or wandering along River Street with a Vonnegut novel under her arm. email: emilyrogersmcgowan@gmail.com
— — — —
? © 2020
:: Stream Watsky ::
---