A roaring indie rock release, Mellor's feverish and searing new single "Battle Hardened" offers a sardonic take on love – and a thrilling peak into the Reading band's forthcoming debut album!
for fans of Arctic Monkeys, Foals, Catfish & The Bottlemen
Stream: "Battle Hardened" – Mellor
---
This could get dark as you like…
When it comes to love, it's alright to get a little bitter from time to time.
Love can be twisted, traumatic, and outright cruel; anyone would be forgiven for having a flippant, tongue-in-cheek response every now and then. Thus it's with open arms that we welcome UK group Mellor's lightly acerbic new single into our lives: A roaring indie rock release, the band's feverish and searing "Battle Hardened" takes a look at love through a sardonic lens and a stubborn heart. Equal parts dramatic and dynamic, this song is as raucous on the outside as our emotions can get within.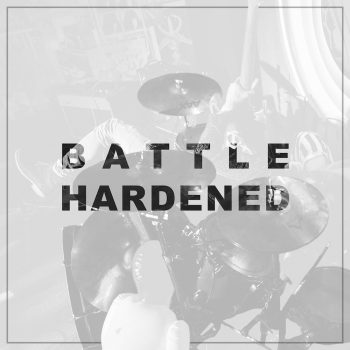 You get the best of me
The worst is yet to come
Distort the image in your mind's eye
I'll be foolish, I'll be insecure
Always waiting
Wanting so much more than you can give
Battle Hardened
Loaded like a gun
Cold and passive
Miserable for fun
Atwood Magazine is proud to be premiering "Battle Hardened," the second single taken off Mellor's forthcoming debut album, Problematic Passions (out November 11, 2022 via Triple B Records). Preceded by August's churning, garage rock offering "Gargoyle Groove," "Battle Hardened" is the latest piece of proof that the Reading, UK-based band of Gary Kingham (lead vocal and guitar), Josh Woodward (bass), Sam Igoe (drums), and Kristian Bell (guitar) will help lead indie rock's continued charge through the 2020s.
Citing inspirations from Oasis and Arctic Monkeys to The Mars Volta, The Smiths, and Foo Fighters, Mellor have already garnered a considerable underground following over the past eleven years: The band have notched over 2.8 million streams on Spotify alone, received airplay from a number of influential BBC radio stations, and their 2019 EP Dive into the Strange reached #2 on the iTunes rock album chart and #3 on the Amazon Music rock album chart. Their latest EP, 2021's Fragment of Imagination, is yet another sweeping five-track collection of alternative sound and glory that puts the band's suite of strengths – from soaring guitars and heavy drums, to captivating melodies fueled by fiery vocals – on full display.
Fans of rock music throughout the generations can find much to love in Mellor's discography to date, and will surely fall for even more upon Problematic Passions' release.
"Battle Hardened" is an especially enchanting rush of power and passion, with radiant guitar licks churning to and from with charged bursts of energy. Alongside these roars frontman Gary Kingham's fervent voice, a lightning rod of emotion in itself that calls all to stand by him in his moment of raw, visceral reckoning.
With empty threats to leave
I'd always call your bluff
Provocatively squeeze your patience dry
You're so foolish, you're so insecure
Always waiting
Wanting so much more than I can give
(And I'm)
Battle Hardened
Loaded like a gun
Cold and passive
Miserable for fun
"[This is] one of the few songs we've written where the chorus is more of a melodic noise, rather than lyrics," Mellor tell Atwood Magazine. "We didn't know how it was going to turn out all through the recording process, but it quickly became a favourite amongst us. [It's a] very mischievous sounding track, complemented by the lyrics. A 'been there done that', stubborn attitude to love."
Stubborn feelings can produce some of the most exhilarating songwriting; "Battle Hardened" is weary but not worn down, cautious but never shy. Mellor have seamlessly asserted themselves as one of this year's artists to watch, and we cannot wait to hear more from this band during the lead-up to November's Problematic Passions.
For now, stream "Battle Hardened" exclusively on Atwood Magazine! The single will be available on all platforms this Friday, September 16, 2022.
— —
Stream: "Battle Hardened" – Mellor
— — — —
? © Alex Wickenden
:: Stream Mellor ::
---