A passionate song of perseverance, The Sea The Sea's poetic new single "Phototropic" reminds us to grow toward the light.
— —
The human spirit is utterly remarkable: It can be shaken, beat down, battered and bruised, but it bounces back: Adaptability has always been one of our strongest qualities, a hallmark of our species' success.
But we don't do it alone: Like trees in a forest, we are surrounded by kindred spirits – fellow friends and family who support us, nurture us, and pick us up when we're falling down. Individually, we are mighty; together, we are unstoppable. A passionate song of perseverance, The Sea The Sea's poetic "Phototropic" reminds us to grow toward the light.
All signs point this way
A neon flickering
A crash into the rib cage
A flash of reckonin
All signs point this way
Eyes will adjust
Sharpen into focus
Something luminous
Listen: "Phototropic" – The Sea The Sea
[soundcloud url="https://api.soundcloud.com/playlists/494624487?secret_token=s-MBTdn" params="color=ff5500&auto_play=true&hide_related=false&show_comments=true&show_user=true&show_reposts=false" width="100%" height="166″ iframe="true" /]
---
Atwood Magazine is proud to be premiering "Phototropic," the latest single off The Sea The Sea's forthcoming sophomore album, From the Light (independently out June 1, 2018). Grounded in colorful harmonies and vibrant melodies, the duo of married couple Mira and Chuck Costa expanded The Sea The Sea following their 2014 debut to include Cara May Gorman and Stephen Struss in the permanent lineup. Balancing on the edge of folk pop and folk rock (whatever those words mean), 2018's The Sea The Sea blend new and old sounds with timeless emotions to deliver a shimmering pool of aural wonder.
Last month, Atwood Magazine highlighted the band's single "Bang Bang Bang," noting that it "seals the deal" for The Sea The Sea as an artist to watch in 2018: "Passionate and evocative, the charming folk rock ballad weaves dramatic, full-bodied vocal harmonies into a hauntingly moving expression of the deepest form of love."
The lush and driving "Phototropic" continues along The Sea The Sea's impressive, exciting musical path. The song is named after the biological phenomenon whereby an organism responds to a light stimulus, growing towards that light – a trait most commonly seen in plants. We humans may not engage in photosynthesis, but the metaphor is perfect for expressing resilience and perseverance. Mira Costa sings a dazzling chorus, rising to the light and beckoning us to join in her movement:
Call it ultraviolet
Call, it calls my name
Kiss me on the eyelids
Moth to the flame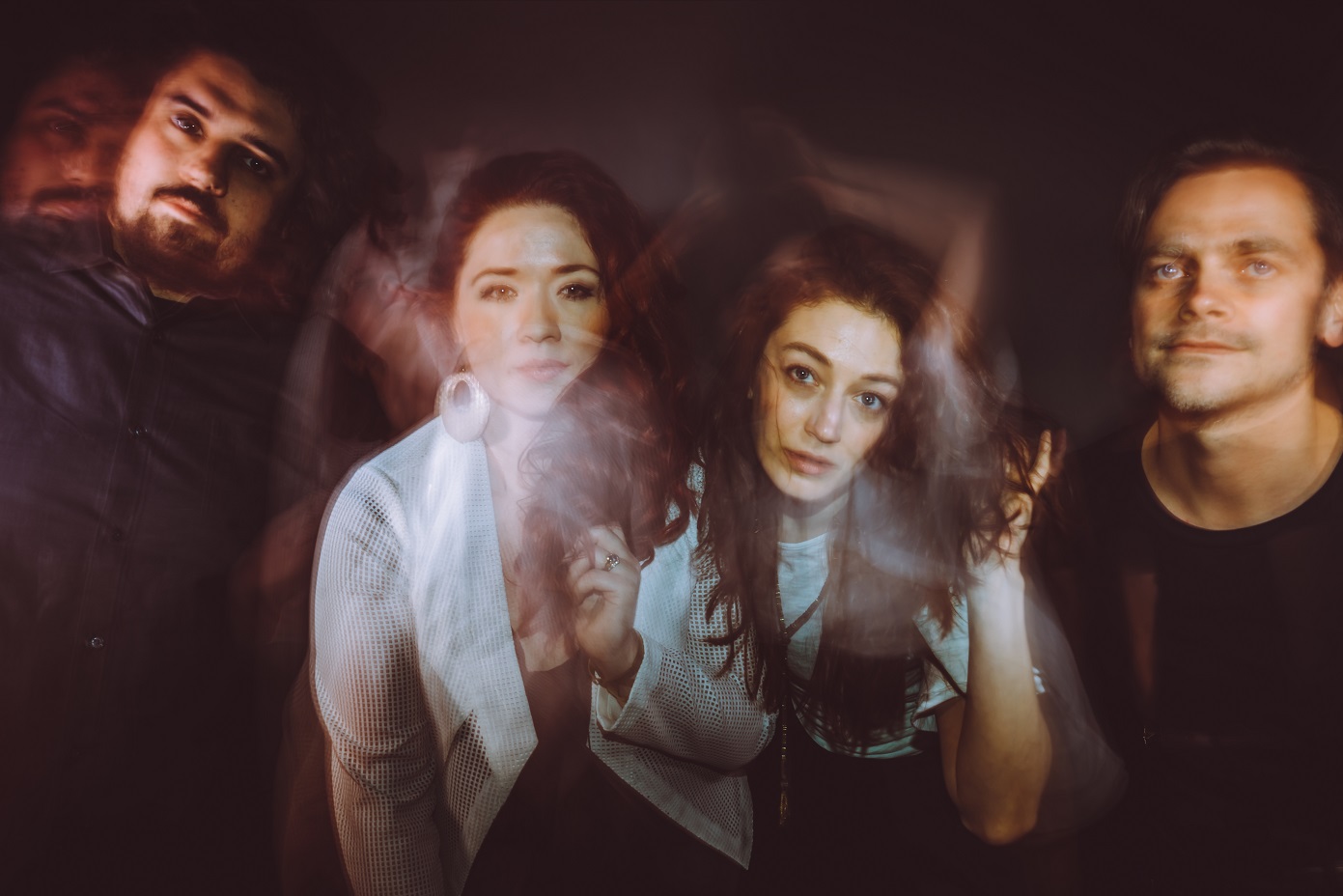 Tinged with melancholy warmth, "Phototropic" doesn't sugarcoat our individual pain; the band's lyrics evoke sincere strife, capturing the emotional struggle to stay high when you feel so low. It's not easy:
The time that time has folded
to know it by a spark
Oh, to be bolder
To know it in the dark
But after every verse, there comes a chorus: "Call it ultraviolet… call, it calls my name," Costa's words ring out, cascading upwards in a brilliantly harmonic outpouring. The band affirm the song's inspiration and meaning: "The word phototropic refers to things growing toward or away from light, and we were drawn to the idea of that being something that is happening almost involuntarily. For us, this song is a nod to that part in all of us that can be hopelessly optimistic, tirelessly persistent, in a way that feels like intuition and is sometimes difficult to explain. But it's also a reminder to keep your head up."
Something's taking over me
I think I've lost my mind
A fever pitch, a fever dream
Don't need a reason why
Armed with The Sea The Sea's beautiful and empowering music, how can we not strive to grow toward the light? Stream "Phototropic" ahead of its worldwide release exclusively on Atwood Magazine, and mark your calendars now: The Sea The Sea's sophomore record From the Light is out June 1, 2018!
— — — —
? © Chattman Photography
:: The Sea The Sea ::
---
The Sea The Sea Tour Dates
May 13 – Albany, NY – Albany Tulip Festival
May 17 – Warren, RI – Hope & Main
May 30 – Portland, ME – One Longfellow Square
June 1 – Albany, NY – The Hollow Bar + Kitchen
June 2 – Burlington, VT – Light Club Lamp Shop
June 3 – Nashua, NH – Riverwalk Café and Music Bar
June 8 – Northampton, MA
June 9 – Freehold, NJ – Concerts In The Studio
June 20 – Brooklyn, NY – Littlefield *
June 21 – New Haven, CT – Café Nine *
June 22 – Cambridge, MA – Club Passim *
June 23 – Concord, NH – South Stage at Market Days Fair
June 24 – King of Prussia, PA – Concerts Under the Stars
June 27 – Richmond, VA – The Downtown Music Hall at Capital Ale House *
June 28 – Asheville, NC – Ambrose West *
June 30 – Charlottesville, VA – The Southern Café & Music Hall
July 17 – Bellaire, MI – Short's Brewing Company
July 18 – Lake Orion, MI – 20 Front Street
July 19 – Cincinnati, OH – MOTR Pub
July 20 – Wakeman, OH – Music at Riverdog
July 23 – Barnesville, OH – Albert S George Youth Center
July 25 – Davenport, IA – Raccoon Motel
July 27 – Cedar Rapids, IA – CSPS Hall
July 30 – Iutsen, MN – Papa Charlies Saloon
July 31 – Minneapolis, MN – 7th St Entry
August 1-4 – Appleton, WI – Mile of Music
August 5 – Fairfield, IA – Café Paradiso
August 7 – Santa Fe, NM – Santa Fe Bandstand