Morly showcases what these past three years of silence have amounted to, and ''Til I Start Speaking' is a well-worth result of jazzy vocals, intimate melodies, and melancholic moods.
Stream: "Til I Start Speaking' – Morly
---
It's one thing to find love but an entirely different thing to accept it as something one deserves. For Morly, that's what these past few years have been about: a journey of self-realizations that have resulted in a stronger Morly, both artistically and personally. Fans caught of glimpse of what was to come in 2017 with "Sleeping in My Bed," but the radio waves fell silent soon after. With 'Til I Start Speaking, Morly reemerges with a debut that shows these years of silence were well-worth it.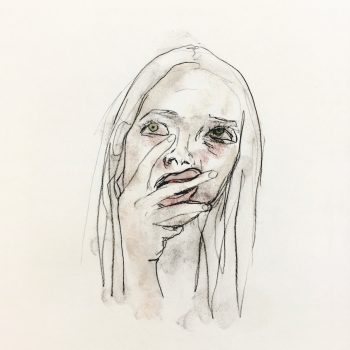 Morly's journey is a human one – finding oneself while at a crossroads, each side pulling harder day by day. Despite the immense struggle, her obstacle was cleared, and listeners are given the chance to listen in on how she persisted. Album opener "'Til I Start Speaking (I & II)" is a gradual build that eases listeners into a space of warmth. The hushed moments become louder until a burst of fervent passion awakens, Morly reminding listeners of the hypnotic beauty her signature dulcet vocals possess. These vocals are carried over into the "Dance to You," a track whose percussion and bass add a jazzy layer to an already sensuous experience. It's an incredible start to the album and one that sets the mood with utter perfection.
"Sleeping in My Bed" is then revisited but with a fresh production this time around, offering a familiar yet wholly new experience. The livelier melody lends itself to good times, an easy track to dance to with one's own love, turning a living room into a celestial adorned ballroom. "Wasted" brings an unmatched beauty with its addition of a choir. As the harmonic hums in the foreground swirl around Morly's own croons, it culminates into a soulful presence that one would be hard-pressed not to be moved by.
Watch: "Dance to You" – Morly
The piano-driven sounds on "Twain Harte" illicit a moody interlude that puts a spotlight on Morly herself. "Up Above" is the sonic opposite with its buoyant charm carried by sway-inducing guitar melodies and drumbeats, not too dissimilar to what "Jazz Angel (Bill)" brings as well. As the name implies, the jazz elements here are sonically rich, each note hit and word sung further enhancing the spell bounding effect of the album thus far. There's no better track on the album to sink into.
Jazz is replaced with wistful harmonies on "Savior Mind Tattoo," a floaty track that carries listeners far above the welkin with a gentle embrace. And as gently as listeners were carried above, "Superlunar 11" brings them back with the same grace. Its faint percussion plays off of Morly's singing well, setting up for the album's finale in a lush manner, and it's a finale to be lauded. "Eliogy" is a song that carries a nonpareil passion – the melody, the desirous tone of Morly, and the whispered hums all come together in such succinct harmony. It creates a lasting peace and further cements the artistry Morly carries.
This has been a debut many fans have been waiting for, and Morly exceeded expectations. The power and control of her vocal work stir the soul and reach a new level of talent, and with listeners now experiencing a whole album's worth of it, it's hard not to crave more. When it's joined by jazz-infused playing and gorgeous choral arrangements, no other debut can compare.
— —
— — — —
? © 2021
'Til I Start Speaking
an album by Morly
---