"SCREWS" and DREAMERS expressly acknowledge that the path to peace is often not paved with gold, nor should it be assumed as such.
— —
L.A.-based trio DREAMERS, comprised of Nick Wold (vocals), Marc Nelson (bass), and Jacob Wick (drums), know how to masterfully craft anthemic indie jams that makes one want to dance, jump up and down, laugh, cry, and everything in between. Through the monolithic success of their singles "Painkiller" and "Sweet Disaster," the band definitively marked themselves as ones to watch, and fans waited eagerly to see what was next. In May of this year, they delivered, releasing the buoyant and hyper-reflective "SCREWS."
Listen: "SCREWS" – DREAMERS
"SCREWS" is a passionately personal glimpse into the mind of DREAMERS' Nick Wold, elucidating Wold's relationship to himself, as well as a relationship to someone else. The track glides through themes of loneliness and seeking truth, grappling with toxicity and making the right decisions. The track begins with Wold addressing this other person, saying:
Don't take your time
Don't take it easy on me
'Cause I'm running wild
Hot like a broken machine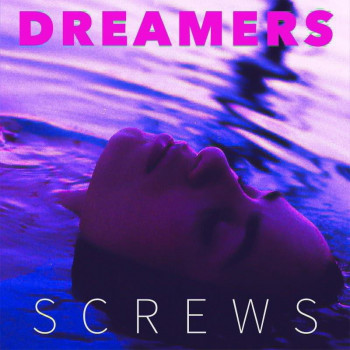 Wold is falling down an unsure path, and seeks clarity and stability. "SCREWS" addresses the gut feelings that linger within all of us that something just isn't quite right, and finding ways to alleviate these insecurities. Wold simply asks to "tell it like it is," to "wash away [his] sins" and that he is "digging up the bones inside [his] head." There are skeletons in the closet that need to be released and resolved. The song's chorus pleads for these answers, and as Wold feels lost in his own mind, he simultaneously feels that the answers can't be found in someone else.
All I needed was to hear the truth
I'm lying naked and my brain has lost its screws
I hid away inside a lonely room
Never as lonely as when I'm alone with you
Through truth-seeking, "SCREWS" fights to be as authentic as possible, and delineates the struggle to that often comes with that. Wold is unsure in himself and, aided by instrumentation that reflects his frazzled state of mind, begins to feel stagnant. A sharp guitar lick cruises alongside dominant drums and a flowing bass line, complementing Wold's distinct and crisp vocals. Through both the intense instrumentation and cutting vocal tones, "SCREWS" and DREAMERS expressly acknowledge that the path to peace is often not paved with gold, nor should it be assumed as such.
I'm such a wreck
Toxic is tasting so sweet
Don't let me rest
Stuck in this static TV
DREAMERS and "SCREWS" have ultimately painted a well-known portrait of (in)sanity, diving headfirst into the wrought feelings that accompany it. The song masterfully achieves ubiquitous uncertainty, and relieves listeners in knowing that these feelings are all too common, even to the best of us. Moreover, the band has shared a playlist exclusively with Atwood Magazine of songs that they're currently inspired by, including some of the inspirations behind "SCREWS." Take a listen below!
— — — —
? © Hollywood Records
:: DREAMERS PLAYLIST ::