Paul Thomas Saunders' sophomore album 'Figure in a Landscape' combines poignant songwriting with stunning soundscapes to create a world that touches you bit by bit, unsuspectingly, and then all at once.
'Figure in a Landscape' – Paul Thomas Saunders
---
Brighton-based singer/songwriter Paul Thomas Saunders has finally released his long-awaited sophomore album, Figure in A Landscape, via sevenfoursevensix. The highly-anticipated project comes eight years after his last full-length release, and what ensues is a sparkling panoramic view of Saunders' world. The unwavering steadiness in his creative vision shines its brightest in the record's distinctive sonic landscapes. Masterful at bringing every track to its climax with definitive songwriting; subtle guitar riffs are laced with layers of spacious synths and atmospheric tension – stripping it all back slowly to an absolute release.
Titled after Francis Bacon's 1952 painting 'Study of Figure in a Landscape', this album symbolises growth, realisation and liberation.
Saunders cites a deep resonance with this image, a commemoration of his journey to a version of himself he has come to treasure. The image recalls to him a psychedelic hallucination he had, of himself – silhouetted in a wheat field, standing resolute with wilderness around him. "Poised and unwavering" – this was the version of himself he aspired to become.
My introduction to Paul Thomas Saunders began with the release of "Heartlands." I knew immediately that Figure In A Landscape was going to be a truly special project – to me, but also to the world. I was adamant about listening to the album in spaces I was ready to receive, as every track is truly a gift. Pulling back one more layer with every play-through, Figure In A Landscape uncovers just a little more of itself with every listen.
I know the light, it hurts your eyes.
I see you're tired,
Honey come inside.
I know the boy deep inside,
He never dies, just grows.
Just grows.
Till you see the light.
Till you hear the choir in the heartlands.
Feel that burning fire.
Did you get what you desired?
In the midnight hour.
Who'd have known…
---
The LP also presents Saunders' first full-length release in nearly a full decade.
A surprise invite from Justin Vernon to play at the Forbidden Fruit Festival led him straight back into music-making, and thus began the birth of Figure In A Landscape.
He shares, "After my first album, I felt divorced from community and purpose, leaving me unable to create anything of worth even if I had wanted to. Ultimately, this led to spending the years that followed as RNLI lifeboat crew and a paramedic in the NHS. There is definitely an anthropological aspect within that existence, and being able to witness, listen to and interact with such a diverse cross-section of our society feels more like a privilege than a vocation. I have a complex relationship with creativity, it can often leave me feeling indulgent and questioning my worth. But, the further I am from it, the more I feel the need to express something. Distance from music has allowed me the perspective to create this L.P. – unafraid songs that are perhaps as close I may come to being the figure in a landscape."
Saunders is a talented producer and engineer in his own right: Figure In A Landscape was written, recorded and produced by Saunders himself at home, with frequent collaborators Alastair Thynne and Max Prior. The record also features a number of other artists and friends, including Ajimal, Hilang Child and SIVU.
Swooping synths, spacious production and echoing guitars draw us straight into the album. This is the standout opening track, "TV, Junk Food And Bed." Sprinkled with bell-like hooks and led by Saunders' crisp vocals – the track is liberation and optimism, delivering a ringing ambient undertone that remains with you throughout the rest of the album.
There's a ghost outside my window
She comes around when I get scared
Tells me jokes sometimes or we just sit not talking
She's happy just being friends.
But I'll be your, I'll be your boyfriend
Take you to the dance
We'll fall out at midnight
I'll go home with your friend.
And I love the TV, Junk food & bed
Yeah my life is nothing like Mary Wells
So you feel you're growing up…
I feel nothing.
There's a world outside your window
Old flames and two bit friends.
They'll tell you jokes sometimes
Or kick you when you're falling.
They're all no good in the end.
---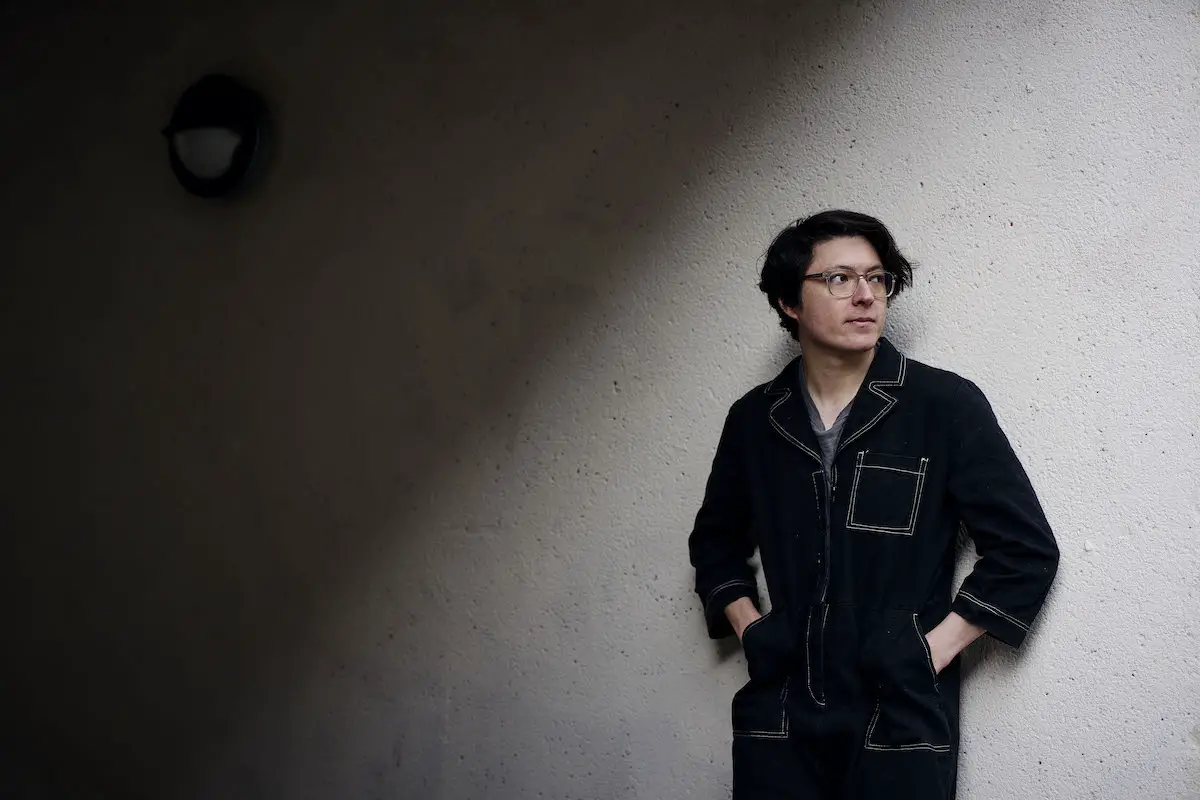 "Bloodlust" brings shimmering acoustic guitar and mellow synths, bolstering sparkling nuanced tones as Saunders' vocals ring across, "I'll be your spaceman" / "I'll take you out of here."
Saunders' collection of sonic layers is at an all-time high with "Heartlands": Crashing symbols, airy synths and acoustic guitars create a swelling soundscape that engulfs us as he soars above. Building on itself all at once before crashing to sparsity, all that's left is descending piano progressions and the gorgeous aching simplicity of, "Who'd have known I love you." "Heaven or Higher" introduces subtle acoustic riffs that are greeted wholeheartedly by Saunders' clean vocals, with the most stunning bridge that strikes in waves. Steady anthem "JSFY" allows reflective space as he croons, "All of my heart beats baby, when I'm with you." "Cruel" sees Saunders extending his hand to us amidst a world filled with injustice. Unwinding and contemplative, the track offers a shadow of hope for the future. He offers us comfort – and the music mirrors the disarming grace with which he tells it.
I see blood lust in their eyes,
Terra firma to the sea.
They've all seen some things
Cold and senseless.
They'd sell their mothers for a piece.
And I feel the world slowly change around
Way out east to west lights are cutting out.
Why don't you call the cops, tell them not to be so mean,
If they're starting to piss you off.
I'll be your spaceman, yeah.
I'll take you out of here.
Just let me be your spaceman
I'll take you out of here.
---
Guitar harmonics come through in the almost-raw recording of "Anything Man." Budding sonics peek through from the background, and he touches us in the most beautifully subtle way as he sings, "The pills they make you quiet, but that's alright, we can just sit here if you like."
Rhythmic snares and ringing sonics solidify "I'll Come Running" as Saunders keeps steady, while rumbling bass notes imitate the passing of time in "Spending Time." Contrasting the crash that brings you to the clean break in the chorus, it's a love letter to unapologetic acceptance. "Spending Time" is followed closely by slow and hypnotic "Pas De Deux," the soulful and striking lyric "I will be your nightlight, your forever home" is one that sits in your heart.
Paul Thomas Saunders' strengths lie in his ability to create the seamless juxtaposition of rich sparseness.
Paired with truly gorgeous production, heart-touching lyricism, and creative vision, Saunders gives us a version of himself that starts and ends in every track, only to be greeted with a brand new one in every song. Playing with the push and pull of musical tension, he masterfully strips them away until all that's left for us is sparsity and room to ponder. Figure in a Landscape is truly a world of wonder unto itself.
— —
'Figure in a Landscape' – Paul Thomas Saunders
— — — —
? © Ali Painter
:: Stream Paul Thomas Saunders ::
---