Intimate and epic (or rather, an intimate epic), Geographer's fourth album shoots for the moon lands in the stars: A wondrous, honest reckoning of 21st Century living at its core, 'Down and Out in the Garden of Earthly Delights' is a beautifully heartfelt, hopeful, and meaningful embrace of our shared humanity.
Stream: "Hollow (Do You?)" – Geographer
---
Intimate and epic (or rather, an intimate epic), Geographer's long-awaited fourth album shoots for the moon lands in the stars: A wondrous, honest reckoning of 21st Century living at its core, Down and Out in the Garden of Earthly Delights is as much an in-depth exploration as it is a hopeful, open-hearted embrace of our shared humanity. Songs of love, loss, and learning, healing, renewal, and reflection come together on an ambitious record that puts our souls in the spotlight. Exposing his raw self while putting his own highs, lows, and every-days into perspective, Geographer reminds us, through cinematic and stirring music, that life is a marathon; to take our journey one step at a time, and never lose sight of our values and vision.
Do you? Wanna say what this isn't?
Take a break for a minute?
Do you?
It's true that I'm not good at listening
And I don't wanna give in
To you
We're both waiting for a sign
And baby I've been going out my mind
Wish I could tell you it would all be fine
Every time
Our blood was just pumping
I guess we did it again
Released November 12, 2021 via Nettwerk Music Group, Down and Out in the Garden of Earthly Delights is a vibrant and vast world unto itself: One that evokes an array of familiar, visceral emotions and meaningful experiences through twenty radiant songs. Geographer fills the air with sweet sound throughout a sweeping, 78-minute LP that ebbs and flows like waves on an ocean: Sometimes soothing, sometimes turbulent, always magnificent and awe-inspiring.
The longtime project/musical moniker for Mike Deni, Los Angeles-based Geographer has been going strong for well over a decade. What began as a thorough exploration into the space between psychedelia and pop (2010's Animal Shapes remains something of a "cult" classic in many circles) has grown, over the years, into a finessed vessel of deep and moving self-expression. "Geographer is one of those exciting musical identities that is constantly on the move and forever redefining itself," Atwood Magazine wrote back in 2019<.
2018's Alone Time and 2019's New Jersey EP most recently showcased Deni's uncanny ability to seamlessly marry the catchy with the cathartic into a memorable, enchanting experience. The same can now definitively be said of Down and Out in the Garden of Earthly Delights, whose singles (including "Never Let You Down," "Hollow (Do You?)," "Waiting for a Stranger," and "Alibi (Alternate Version)") found the artist dwelling in the evocative depths of self-reflection while basking in a cinematic backdrop of indie pop sound. Synths and guitars seem to share center stage – or at least, split time in the spotlight – as Geographer's music incorporates moody atmospherics and a blend of groovy and rocky riffs.
---
Still, no single song, story, emotion, or idea comes close to accurately defining Down and Out in the Garden of Earthly Delights.
If anything, Geographer's latest album attempts to capture life's beauty, majesty, and movement through rich, dazzling instrumental work and equally compelling, vivid lyricism.
"This one kind of snuck up on me," Mike Deni tells Atwood Magazine. "I had just come off of touring, right after the release of the New Jersey EP, and I had expected to take some much needed downtime. But wouldn't you know it, I got my heart broken, and turned to my old friend music for solace. Not that this is a breakup album by any means, but it certainly was born out of a feeling of despondency, which was due in no small part to the breakup. It was more my expectations of what that relationship could have become, and to have it all come abruptly to an end."
"I suppose that was my rock bottom, because feeling that low gave me the strength to make a lot of changes in my life that I had been putting off for many years. I started taking my mental health seriously, went on anti-depressants for real this time, went back to therapy, and started making a concerted effort to fall in love with life itself, and not just experiences. And all the while I was finishing these songs and recording them piece-meal as they were completed, a song here in LA, a song there in SF, a couple in Oakland, one remote to England. I really let people in, and was thoughtful about who I had work on each song, rather than just picking one person to do the whole record, and I think that gives it the feeling of a journey with many different characters."
"I think the vision at the beginning was to make another EP, put out a few singles, keep the wheels of short attention span marketing rolling. But as the recording process progressed, and I continued to write more and more songs, and more importantly, to finish more and more old songs I had considered lost causes, I found that I had a very large body of work that I was too proud of to relegate half to B sides. It became increasingly important for me as an artist to release a long album. Because I know enough about myself now that I will change so much between now and the next album that I'll feel disconnected from old songs from a previous era, and I became very adamant that I did not want to make business decisions with this one, I wanted to make artistic ones. So I did something I never thought I'd do: I made a double album."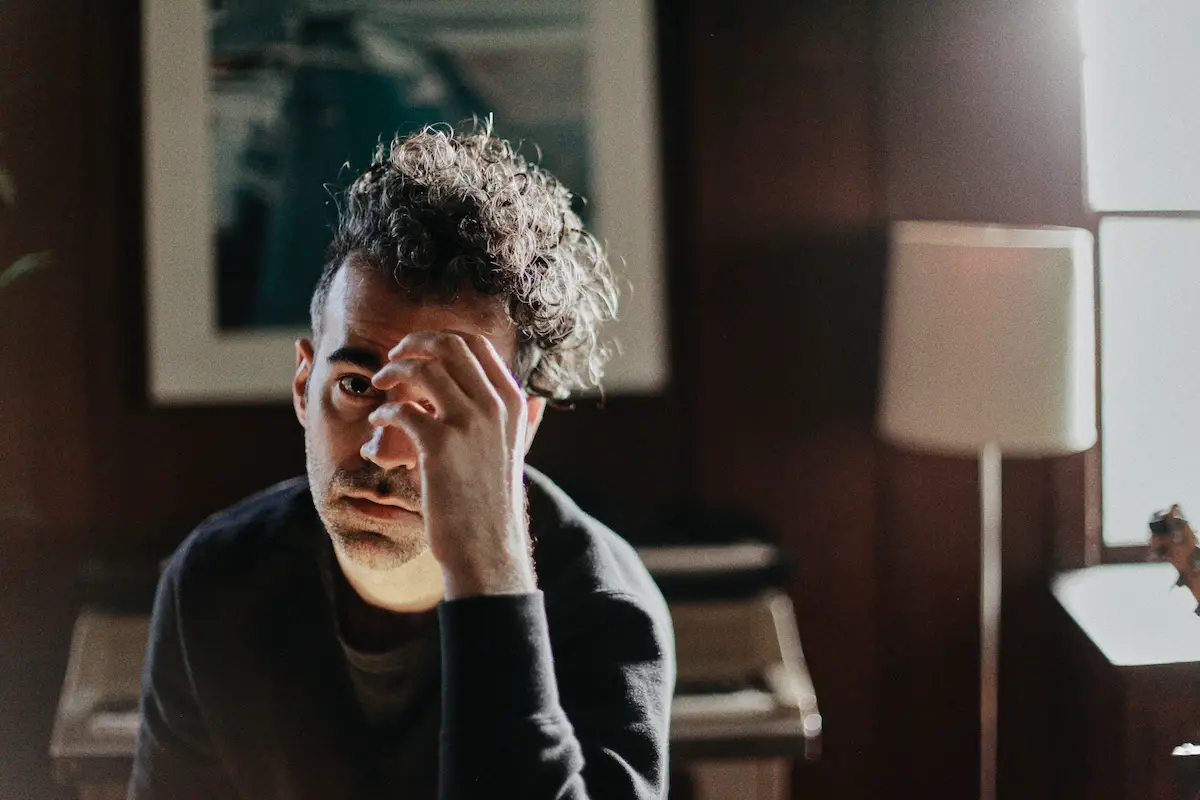 Down and Out in the Garden of Earthly Delights takes its name from the Hieronymus Bosch painting, The Garden of Earthly Delights, which depicts alternate realities of reality, hell, and paradise. It's a loaded reference for Deni, and one that speaks to both his own needs, as well as his feelings about society as a collective.
"It became increasingly silly to me how sad I was, especially living down here in LA, which is essentially a paradise," he says. "I would laugh at myself, walking around, shy and lonely, in a city filled with sun and exciting people. And in reflecting upon my adult life in general, I didn't cause the problems in my own psyche, but they were just ghosts, paper tigers. And I was kind of getting fed up with being crippled by them. For me, I've always had an insatiable desire to be social, coupled with a deeply engrained self-doubt that had grown into a sort of guy crashing on your couch who smokes weed out of a bong and won't leave and won't pay rent. And it all just struck me as absurd. If you only get one life, who cares whether you know why! I've been wrestling with this since I was conscious; basically, it's my holy grail quest. And I was starting to realize how quixotic it was."
"So that's the down and out part," he continues. "And then I was mixing one of the songs with the impressively named Jules de Gasperis, and for some reason he had the triptych by the equally impressively named Hieronymus Bosch up on his computer. And that painting is called The Garden of Earthly Delights, and it depicts humanity in the Garden of Eden, then having a whale of a time after they got kicked out, and eventually getting tortured horrifically in hell, and I've always interpreted that painting to be sort of like a sarcastic "love what you've done with the place" admonishment of humanity's natural tendency towards ruination, whether it's from despair, greed, violence, or the other classics."
"And in that moment I realized I wanted to call the album Down and out in the Garden of Earthly Delights. And then I got really nervous because I didn't think anyone else would go for it. So I tried to top it for a while, until I realized being safe with the title is exactly the opposite of the sentiment behind the album, and as luck would have it everyone else agreed."
It's like, why are we all so bummed out? We are all miserable. And we're in paradise.
Arriving a solid six-plus years after his last LP, Down and Out in the Garden of Earthly Delights could be welcomed as a kind of reintroduction to who and what Geographer is, even with the multiple EPs and sundry singles released in the ensuing years. A record this dynamic, colorful, and complex naturally becomes a statement of its own, intentionally or not. Deni is well aware of this, and confident that Down and Out in the Garden of Earthly Delights speaks for itself, showcasing his many sides in the process.
"I think it shows me at my least self-conscious," he reflects. "I'm playing without rules but still within a chosen form of indie rock/indie pop. But that's just about all I'm "trying" to do, other than make music that I think is good and worthwhile. There are a lot of things on the album I never would have done before, such as have a 7 minute song that doesn't really kick in for the first 3 minutes. Or have a guitar rock song written with another person. I've never written with other people for my own project, and I think it was that openness to possibilities that I finally came around to. There are so many limiting factors in Indie Rock, and in my own brain, and I loved telling them they weren't on the guest-list for this one. But all the DNA of what I've always been is in there. Synths, sadness, joy, and falsetto."
Highlights abound on this grandiose album, from the smoldering opener "Slave to the Rhythm" to the lilting, gorgeous finale "When Will I Belong" and everything in-between. Side-A tracks like the driving, fiery "Garden," the melodically buoyant, emotionally heavy "Hollow (Do You?)" the feverish, soaring "The Other Side" and the bustling standout anthem "Alibi" make for a striking introduction to Geographer's "new groove." "A euphoric and dynamic outpouring of passion, 'Alibi' captures the wonder of love with exhilarating energy and radiant emotion," Atwood wrote in a premiere earlier this fall. "It's a sweet, charged indie pop expression from the depths of the self; a celebration of understanding, empathy, togetherness, and devotion."
Yet wherever you put the (largely metaphorical) needle down, listeners are sure to find a welcome mix of poignant thought and powerful performance. Tracks like "Sweet Memory," "A Love Defined," and the riveting immersion "Peripheral Vision" offer chills and thrills in a beautiful package.
---
Deni cites his own favorite moments as well. "On 'Sweet Memory,' there's a saxophone solo at the end over a piano and glockenspiel part that is kind of a straight up jazz section, which is very exciting for me, to bring that kind of sensibility to a Geographer record, even if it is a brief moment. And I find that my favorite songs on every record are usually the ones that sound most like old Radiohead, so 'Glowing Red' is one I'm extremely proud of. I kind of can't resist lately, just owning that influence fully once per record."
As a lyrically forward artist, Deni doubles down on "Sweet Memory" for his favorite line(s). "Burning like a candle at the bottom of the sea. I don't believe in love and it doesn't believe in me. It's so sad and I love the imagery of a candle hopelessly burning in water, which is of course impossible. Because that's what love is. It's impossible. And yet we make it happen all the same."
---
Down and Out in the Garden of Earthly Delights is bold, illuminating, intimately expressive, and wonderfully self-aware.
Geographer's breathtaking double album comes with plenty of earworm songs for single-oriented music fans. Meanwhile, diehards and those with long enough attention spans will find a powerful payoff at the end of this twenty-song journey: One that inevitably leaves its audience moved in a deeply meaningful way.
As for the artist himself, the heartbreak that drove much of the album's initial concept is certainly palpable in many of Geographer's songs, but by the time we get to the end, that hollow, empty feeling has transformed into a rejuvenating mix of hope and appreciation. Like Deni himself, listeners are sure to leave Down and Out in the Garden of Earthly Delights feeling a little less "down and out," for lack of a better phrase.
"The thing I hope the most is that listeners feel more full when it's over than when it began," Deni shares. "I don't want anyone feeling that pop song feeling of emptiness. I wanted to give them a week's worth of well balanced meals. And I want them to feel that they've learned something about themselves, and also that they just got lost sometimes, in a non-intellectual way, just riding on the breeze of one of the songs."
"For me, what I've taken away from putting it out is an entirely new sense of self. I have changed immeasurably from the time I finished the album (about 3 weeks before lockdown 2019), and now. Promoting the record, finding a beautiful and supportive home for it in Nettwerk Records, and falling deeply in love, all with the backdrop of working on new and exciting ways to visualize these songs and present them to the world, has helped me grow tremendously as an individual and an artist. I'm not quite there yet, but I feel closer than I ever have to just accepting myself for all my faults and seeing them as beautiful. I'm coming around to myself, and I'm very excited to see where it leads."
Experience the full record via our below stream, and peek inside Geographer's Down and Out in the Garden of Earthly Delights with Atwood Magazine as Mike Deni goes track-by-track through the music and lyrics of his fourth album!
There are so many limiting factors in Indie Rock, and in my own brain, and I loved telling them they weren't on the guest-list for this one. But all the DNA of what I've always been is in there. Synths, sadness, joy, and falsetto.
— —
Stream: 'Down and Out in the Garden of Earthly Delights' – Geographer
:: Inside Down and Out in the Garden of Earthly Delights ::
— —
Slave to the Rhythm
I think this song is about being an artist, a creator of consumable emotions, a performer. "You light the fire, they just watch it burn." You have the special thing, but they decide whether to receive it or not. You're like a bible salesman, surprised that anyone could turn away the gospel. How could someone not want to listen to this beautiful thing I made? But then I compare being an artist to being in love. You have a beautiful thing inside you (love) but it can only be shared with someone if they accept it. And they have to accept it over and over again, in every moment. Just like you can't live off one good album—you have get better and better with every one—you have to keep that love alive or they cast you out. I think audiences are even more fickle than they have been in the past, and so are partners. Maybe it's systemic, maybe it's the content culture, maybe it's the celebrity myth. But "you gotta give it to 'em every night," cause they have the power to "change your life." These gate keepers, however, also have the power to "make you mine," to turn you into a product that gets consumed (destroyed) in the minds of others. You give your power over to the audience in the same way you do to a lover. They have dominion over you, and often use you like a toy or a meal. Perhaps ironically, I decided with this one to not cater to the traditional pop song structure, I guess kind of in opposition to the outcry of the song. I stretched it as far as I could, the vocal chopping section with the saxophones.
Recording it was deeply satisfying. It was the first song I recorded for the album, and I did it with James Riotto in Tiny Telephone's B room in San Francisco, which no longer exists, I think. I just had to get in that room one last time where I recorded so many songs. The guitar was my favorite part. James ran it through a tape machine and recorded it back onto itself as I manipulated the tape, slowing it with my finger, or removing it from the contact so it skipped a millisecond, giving it that exciting off-the-rails feeling. Never could have done that without him, or in a different space. The chorus explores the hidden forces that we subjugate ourselves to, whether it's advertising, myth making, social media trends, societal conventions, etc.
Garden
This song turns the idea of a soul mate into the plot of a horror movie. Because really, if each person has one person they are destined to love, and there are 7 billion odd people in the world, then that banishes humanity to a life of unrequited love and settling for second, or rather second billionth best. So it was kind of a thought experiment in tearing down that illusion, that keeps so many of us luke warm at night.
Hollow (Do You?)
This one is about all the horrible things we say to each other in relationships. Do we even mean half of what we say? How do we even know what we truly believe? Communication is just sounds and gestures, and yet we can do and say things that tear us apart or bring us together. And I think people lack conviction much more than they allow others to see. I've never been able to master communication in a romantic relationship, and this song tries to disarm as simply as possible those seismic moments. "I didn't mean what I said. Do you?"
The Other Side
I spend way too much time alone, and it sucks. It makes you sad, it makes you lose your color, you no longer bear fruit. "It isn't life if you live it alone." We aren't meant to be alone. I don't believe in God but I believe in love as a power to save me from loneliness, therefore it is holy. I love the chorus because it states a ludicrous semi religious romantic belief directly after illustrating a vile and inescapable life truth: "Nobody knows where we go when we die, but I will try to meet you on the other side." The human spirit is inextinguishable. We know damned well we're all going to die and just disappear into thin air, but we somehow muster the strength and courage to believe in the preposterous ideal of being in heaven with our loved ones, at I suppose their awesomest age, and also our pets, but not all the bugs that have died, when we die. We know "this is all she wrote," we know there's no god and "we're on our own," but you could no sooner stamp out our romantic idealism, our ability to delude ourselves into soothing narratives, than you could take away a plant's need for water.
Alibi
This one is a spin on the romantic love ideal. It's a bit of a western gunslinger ballad, but set in modern times with normal, nonviolent people, that asks the question, What if I robbed a liquor store and things went bad and I killed someone? Would you cover for me? How much do you actually love me? Do you love me or do you love the way I am? I guess it's about unconditional love.
Glowing Red
This song is the most abstract on the album. It just very simply likens the knowable part of a human being to the horizon. Always in the distance, never reachable, but breathtakingly beautiful, even illusory (in that the light at a horizon is refracted and can create dazzling illusions like a huge moon or colors reflected in the otherwise invisible gases in the atmosphere). We're often most beautiful from afar.
Giving In
well this one is depressing. I wrote it after I broke up with a girlfriend a few years ago. Crying about being alone, but I did it to myself. And I just noticed that every loss that went by like an island past my raft in the sea was like one less bit of optimism I would never get back again. Like when you hear a ringing in your ears and that's the last time you'll ever hear that frequency. And at a certain point, you just have to accept that life kind of…well…sucks. And hopefully carve out a place of quiet peace with that. You need to give in. "That's all that living is." And you can take that as a defeat or as grace, and I'm not sure where I fall. Also a GORGEOUS string arrangement by Daniel Hart, who composed the score for A Ghost Story and lots of other beautiful things, on top of having an awesome band. I was so floored and amazed when it came back. One of the most fulfilling experiences of my musical career was listening to it for the first time.
Love Is Madness
Most of our romantic choices are bad for us, and I just don't understand that. How can it feel "just like lightning in a bottle" when you're with someone who is just terrible for you? How "is that fair?" But sometimes, we just don't care. We just want the feeling. Because "nothing ever lasts that long" anyway, "so a moment is all that we can share," the devil take the fallout.
Keep Running
'Keep Running' is about having no place in the world, feeling disconnected from even reality itself. So you just keep moving, like an existential shark. a key line for me in this one is "first they tell you to learn, then they tell you you're wrong, then they tell you to live a lie if you wanna live at all." The "they" is an imagined omniscient other, the people either in power in reality or in our minds that are pulling the strings. I can't tell if I'm advocating to keep running or pointing out that's what the power structures want. Maybe if we stand still we'll just get run over by a tank. Or maybe we'll capture the attention of the world. Either way, we are currently trapped in a Snowpiercer-esque open-world prison, a videogame designed to do no more than keep us playing. You gotta just keep running. Na na.
Someone
This song is a savage breakup song. That one-sided final damning speech to the jury by the prosecution. But the chorus is a meditation on identity within love. We all want to be someone (special), so we make ourselves "someone" to another person. The key to this song is the bridge: "Everybody needs love, they get it from someone. It would be easier if it wasn't in a person. They drink our cups, they can't believe they found us." And then they cast us out cause we weren't quite right. Ultimately the song asks the question, "How can I be myself if I want to be someone?" What do I give up to become special to another? Are being a partner and being a happy individual truly mutual exclusive?
Sweet Memory
This one explores what it's like to be the person in the relationship who just can't get their shit together. It's hard to be the one who ruins things, the one who's broken to the point where they can no longer fulfill their factory-designed function. "Caroline I am trying to fight it." A person like this only has sweet memories to fall back on, because their present is so problematic. These memories are kept alive at great hardship, like a "candle at the bottom of the sea." "I don't believe in love and it doesn't believe in me" is one of my favorite lines in the whole album. And then we have a Keith Moon drum break. And then we have a Dire Straits jazz outro. This is my "fuck it why not" song.
Waiting for a Stranger
I just realized that here we all are, trying to find a stranger to make us happy. What a feat! We don't want someone we know. We want someone we've never met to think we're amazing. Your mom loves you? Big deal, she gave birth to you. Marry your high school girlfriend? But there are so many people you don't know! And who are these strangers to us? Why do we care so much about what they think about us? "I don't want a lover tonight. I need to be alone for my stranger to find" me. I've felt that way many times. A woman I know and who already loves me wants to spend time with me but I think, no I'm waiting for a stranger, a special stranger, so I need to be alone until I find that person, cause if I'm with someone they'll pass me by. And that is a tough ticket. Just another reason why we're all depressed.
Lost in a Love Song
This is about being in love with love. The world is such a magnificent place filled with rich experiences, but the best thing I've ever felt is the rapturous belief that love is not only real, but that I have found it in its hiding place.
Never Let You Down
I wrote this one when I was being jerked around by a gorgeous woman. The physical chemistry was incredible, but she kept me at such a distance I began to consume myself like a corrosive. I found myself trying to pretend I was someone I wasn't, as if I thought she wanted me not to care, as if that was attractive. Such silly games we play. Love games are gambling games, and the house always wins. Just be yourself immediately and at all times, and if they don't like it leave 'em and save yourself months of pain. Something I've never been able to do. So this song is a naked openness. And it also addresses the symptom, again, of why we keep each other, and in this instance ourselves, at arms length. Because we've been let down before, usually very recently. So I'm saying, "I know somebody just let you down, and I probably will too, but I'll do my best not to, and that's really all I can promise. Maybe it'll work this time. I'd like it to. But it probably won't." Because the title is that bold romantic optimism usually found in songs, and the protagonist of the song is hesitant and realistic. "Can I want you over and over again? Have I lost you trying to pretend? Is it an issue that I can't begin to hide it? You know my heart won't last another round."
A Love Defined
We arrive ready for love, our arms outstretched to receive. But we need another equally ready. And the more failures we experience, the more our arms close, the more they need to be pried open. And it's very hard to pry open someone's arms while keeping yours open as well. "Will you believe in me so I can believe in us?" Love is a believing act. It is keeping a ball in the air by sheer force of will. I believe this person is special therefore they are. The only thing making them special is my belief. I wrote this one right whenI moved into my apartment in Los Angeles, and it was totally empty, and I recorded the sound of tapping my keys in my pocket and knocking on the empty shelf built into the wall of this reverberant wooden room, and that stayed in the final mix.
Peripheral Vision
This song is one of the more abstract ones on the record. It cogitates on the idea of how we conceive of others, and how they conceive of us. Are we part of their movie? Are they part of ours? Whatever the case, it can feel as if we are not seen clearly by anyone. They know we're there, but we exist in the periphery, slightly blurry, almost unnoticed. And it can sometimes feel that way even with people who are supposed to love us. We can begin to take on that blurry image and embody it ourselves. As if we are all living in the peripheral vision of some truth and purpose, just outside of knowing, wondering what to believe, wondering why we aren't at the center of something.
Don't Know What to Do with You
I wrote this one with Soren Bryce many many years ago, thinking she would release it, but then she went ahead and started a punk band, so I decided I would put it out as a bonus track, because I think she sings so beautifully on it, and I love the harmonies in the chorus, I didn't want it to go unheard.
Give Up
I wanted to make a visceral song about the moment when desperation turns into exasperation. Because life throws you so many curve balls and sometimes it's just too much, and you can't spin it into something positive, and for a brief moment you fantasize about how delicious it would feel to just stop caring, to just give up.
When Will I Belong
I originally wrote this song for a TV show, New Amsterdam, but it ended up meaning so much to me that I put it on the album, which is a very rare thing. I enjoy writing for TV because I get to stretch myself into new musical positions, take on emotions I'm not necessarily feeling, and I love how the songs turn out for the most part, but they are very rarely something I would want to release as an artistic statement. But for this one, the only stipulation was that they wanted it to be very personal, not vague, and to have nothing to do with love. And I was tasked with writing it while the relationship I was in was crumbling, so that last one was particularly challenging. But if forced me to consider the reasons behind that, rather than the crumbling itself, which ultimately isn't very interesting. And eventually I settled on the idea of never feeling like I belonged. I've always felt apart from the world, as if I'm on the adjacent track trying to keep speed with the real "everybody else" train, and waiting for the tracks to merge, but they never do. Every now and then someone leans their hand out the window and I grab it, but I've never felt truly a part of what appears to be going on around me, as if I'm the only one who didn't receive the instructions. It's now one of my favorite songs to sing, as has the literal highest note I can sing in the chorus.
Alibi (Alternate Version)
This was such a fun experience. I had released Alibi before signing to Nettwerk, and it was everybody's favorite song but we couldn't very well just release it again, so we decided to record a new version of it. And this became my chance to play a saxophone solo not just in a jazzy outro but actually in the middle of a song! And I love the freshness that Miro Mackie and Daniel Chae brought to the tune. This was during lockdown, so we did it all over zoom, in each of our studios, and it was a joy to watch them percolating with ideas and recording synths. I'm in love with this song, it's probably the one I'm most looking forward to playing live.
— —
— — — —
? © Monica Reyes
:: Stream Geographer ::
---