No, this can't wait now that they know.
My thoughts are brave. My words are slow.
How many moments do you wish you could redo? Perhaps it's the words you never said, or perhaps it's the actions you never took. Regret comes quite naturally to the human mind. We dwell on moments in the past, lingering on the what-ifs as though by thinking hard enough about our prior inactions, we can somehow alter time and make things right.
We are more than our actions, yet our actions speak loudest for us. You've felt this way at home, at school, at work; you've felt this way with family and with friends; with crushes who never knew your true feelings, and with wrongs you witnessed as a bystander, never speaking up in protest. You wanted to say something; we always know just what to say, but we're too late; the moment's gone.
Time works against our wishes, but what if we got a second chance? An opportunity to set things right; to review and edit our story arcs?
In the morning, trouble comes around
finding all the things that I had found.
Stay inside this room
Secrets safe with you.
I am good when I am left alone.
Silence finds the cracking of my bones.
Heads will spin I'm told when the sounds grow old.
Watch: "My Thoughts Are Brave. My Words Are Slow." – The Soonest
---
In his debut album Doors to the City, The Soonest tells the tale of a person at the end of his time getting a chance to go back to important life moments and have the opportunity to relive or change things. It's the rewind/replay/crop opportunity we all secretly wish we could have, but… do we really want it? Atwood Magazine is proud to be premiering the visual for "My Thoughts Are Brave. My Words Are Slow.," a tormentingly raw and human admission of humility that brings us face to face with a haunting truth.
I have a lot of things I want to say in a specific moment, but somehow always fall short of actually saying them.
The Soonest is San Francisco-based Young Lee collaborating with an impressive "floating" cast of musicians from bands like WATERS, Doe Eye, Hazel English, and Elsa y Elmar. A DIY through and through, Doors to the City blends hypnotic guitar riffs with mild electronic experimentation and powerful drum sequencing. The organic, dark rock that results is embedded within a melancholy haze that ends up driving the melody as much as it does the harmony. Nowhere is this more pronounced than on the visceral "My Thoughts Are Brave. My Words Are Slow."
"Most of the album was written to describe certain scenes in this fictional story I had in mind, so while the feelings attached were mine, the scenarios and ideas were made up," explains Lee. The majority of the record's individual moments may be made-up tales, "but with 'My Thoughts Are Brave. My Words Are Slow.,' the song centers around a personal experience that I have a lot, where I have a lot of things I want to say in a specific moment, but somehow always fall short of actually saying them."
The Soonest – or the narrator – looks in the mirror, and sees what he really is: An actor within a play. It's all quite dramatically ironic, to know something needs to be done but to simultaneously have no way of expressing it.
I'll be honest when you ask me why.
Why I'm nervous? Why I even try?
I'm a foolish man made of bones of sand.
Powerless. Back reliving his timeline once again, The Soonest asserts strength – his "bravery," as described in the song. His thoughts are brave – he has a lot to change; to make right, perhaps. However, his words are slow. He can't bring himself to actually do something – and herein lies the lesson: We all want that second chance, to be better and do better, but will we really do the right thing? Our nature, as determined in the first go-around, is to be inactive; it takes more than wishful thinking to break the cycle.
This is The Soonest's experience: He struggles to change, despite this second chance.
The higher that we climb, the safer it seems below
And if you're so inclined, I think it's better we go.
I think it's best we go…that we go.
I'm certain that they know…that they know.
"I'm certain that they know," sings the narrator, powerless in this harrowing situation. He wants the world to know that he knows the right thing to do. He wants them to believe in him the way that he believes in himself.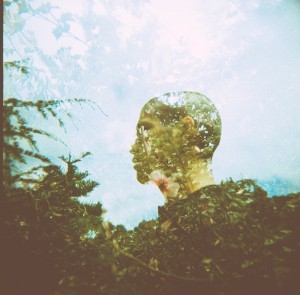 If you pay close enough attention, the "My Thoughts Are Brave. My Words Are Slow." visual echoes the song's premise. A background pattern is presented to us, with various temporary effects laid atop. Colors fade in and fade out; clouds grow and die; dark lines form new shapes atop the pattern, before edging out of the picture. It's as if these are all The Soonest's attempts to alter that which is already permanently in place – the past. These attempts prove futile again and again, until the end.
The entire picture seems to fade out of focus, blurring as if a television antenna were losing its signal. As The Soonest sings "My thoughts are brave. I'm certain that they know." the faintest dark mark appears in the center of the pattern. As the music crescendos, the tiny mark grows larger, encompassing more and more of the pattern until it adds a new depth to the piece – as if this is the way the pattern were meant to be displayed.
This is The Soonest's tragedy: "My Thoughts Are Brave. My Words Are Slow." captures the struggle to excel beyond the individual's limitations – to break out of one's natural rhythms and patterns. "Of all the songs in the album, this one was my favorite one to write on all fronts," Lee remarks. "It's also where we experimented a bit with drum machines, synths and adding some electronic elements which we hadn't done before." The track is musically enriching and emotionally draining – a moment of truth, pain, and ultimately perseverance. The Soonest connects to a call-to-action deep within all of us, making us wonder:
If I had the chance to go back in time, could I really change?
— — — —
cover: The Soonest © Olivia Lee
:: Doors to the City – The Soonest ::
"My Thoughts Are Brave. My Words Are Slow." – The Soonest