The Japanese House's song "Maybe You're the Reason" disavows from the insular nature of Amber Bain's relationships by being completely cognizant of them. Bain has let herself figure out… herself.
— —
With almost four EPs under her belt, it would be simple to assume that Amber Bain aka The Japanese House would have released an album earlier. Notions like those are the reason we are so presumptuous and expectant; in fact, since The Japanese House began releasing music in 2015, her songs have felt increasingly curated and thought-out. Much like her music dictates, in the progression of time, integrity is the lynchpin.
"Maybe You're the Reason" – The Japanese House
Released January 14, 2019 via Dirty Hit / Interscope Records, "Maybe You're the Reason" is the latest single off The Japanese House's long-awaited debut album, Good at Falling. "Maybe You're the Reason" follows the song releases "Lilo" and "Follow My Girl"; upon listening, both tracks carry a sound that is unique to The Japanese House, and share a common aural indolence.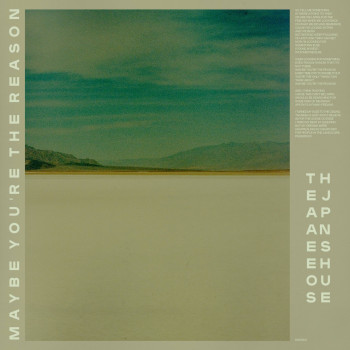 Since the beginning, with seminal works like "Still," the tenant of waiting for change — or moreover, digging for any semblance of feeling — has an unavoidable characteristic of The Japanese House's artistry. For three years, Amber Bain seemingly has had a knack for letting things fester, just to see what happens. "Saw You in a Dream," her most-streamed song on Spotify, relays this idea completely. Lyrics range from "Haven't talked to you in months, and I thought that I might cry but I'm not that kind of guy," to "You just don't hear me anymore, and I know I shouldn't even try, it's just of a waste of time."
"Maybe You're the Reason" slightly disavows from the insular nature of Bain's relationships by being completely cognizant of them. "Should I be searching for some kind of meaning? Apathy's a funny feeling." Not only is she cognizant, but she's also… exhausted of her toxic projections. She sings in the first verse:
'Cause I've looked within, and I've read
But instead I keep focusing
on how thin I can get
Now I'm looking for something else
I found someone else; I found myself
All that being said, there's hopefully no line more emblematic of Good at Falling than, "I tried my best at sleeping, but my dreams were unappealing. So I searched for people in the landscape, passers by." Bain's lyric exemplifies the opposing nature of change.
In the past, The Japanese House would rest on wallowing and lethargy, but now she has decided to go on a pilgrimage of human connection. That said, she cannot receive too much credit – as a beat of her falling in lust and ultimate dead-end intimacy is still hinted at: "Every time I try to figure it out. You're the only thing I can think about." The aforementioned line is the last of the song, which feels just innately perfect. By putting that lyric at the end, The Japanese House lets her feelings echo and says, "I don't know if it can ever really be over."
As a whole, we can all sincerely hope that Good at Falling emulates the evocation of "Maybe You're the Reason." Change is a slow and thought out process; no one can change overnight and absolve all shortcomings with a new mindset. Of course you can try, but it will ultimately be about influence and action. For the last three years — and with "Maybe You're the Reason" as the signifier — it seems The Japanese House feels the same. Amber Bain has let herself figure out… herself. She has ebbed and flowed and wrote everything down, letting some old personality traits slip through the cracks. For that reason alone, Good at Falling is already shaping up to be one of the most "human" albums of 2019.
We can speculate and play Anubis all we want, but only March 1st, 2019 will tell.
"Maybe You're the Reason" – The Japanese House
— — — —
 © courtesy of the artist
:: Stream The Japanese House ::
---