girl in red's song "Say Anything" offers a valuable alternative to traditional perceptions of old and new, inspiring us to cherish what we love on its own merit and not for the "cool" factor.
Stream: "Say Anything" – girl in red
[soundcloud url="https://api.soundcloud.com/tracks/380069012″ params="color=ff5500&auto_play=true&visual=true&hide_related=false&show_comments=true&show_user=true&show_reposts=false" width="100%" height="300″ iframe="true" /]
---
The notion of one artist calling back to another's work is neither new, nor unique. Since the dawn of time, to reference, emulate, or imitate has been commonplace, and even known as the highest form of flattery. In the present day, the context stands even more so with releases from artists like Kelela, Ariana Grande, and newcomer girl in red: All of the aforementioned artists have thrown a hat in two rings – the first being artists who have called back to other artists. The second is a deeper conversation, and one that explores a complex sociological phenomenon that intertwines with what makes something appropriate to call back upon. Among these three, girl in red seems to be most notable as her position is the most surface level.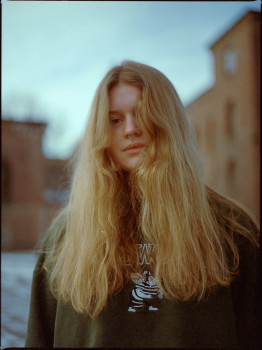 Marie Ulven, aka girl in red, is a singer from Norway best known for her debut EP, chapter 1 (released September 2018). The 19-year-old has been blowing up and taking the indie music scene by storm with melodic, electronic beats and a soft lilt. Tracks like "i wanna be your girlfriend" and "summer depression" make brash statements, including: "Oh, Hannah I don't wanna be your friend, I wanna be your bitch," and "Summer depression, there's so much time to question my life." With these previous tracks and her newer releases in mind, there is still one song that rises above all in making a statement.
"Say Anything" is the second track on chapter 1, and surprisingly the most vocal.
While vocal in this sense is not meant to have a negative connotation, whether it's a positive connotation is dissolved into ambiguity. "Say Anything" has a run time of 2:22 and yet, by its second line, girl in red has already stoked the fire of a much larger conversation. The line in question is simply, "Say Anything… it's an old movie you probably don't know." To reiterate:
It's an old movie you probably don't know.
ill stand outside your door
play songs on the radio
like say anything
like in say anything
its an old movie
you probably don´t know
but my mother showed me it years ago
so say anything
Truly one of the most admirable things about girl in red is the simplicity of her lyrics. It's not that they're necessarily "mundane," but rather matter-of-fact. She doesn't need garnish or embellishment; she says what she says, and that's all that seems to be relevant. The bridge of the track finds her succinctly stating facts about the movie: "You be the good girl, I'll be the guy to change your mind. Meet you at 2am, Sneak you out at night." In being so forthright in her work, girl in red innately allows for an internal curiosity from her audience. "…Old movie, you probably don't know." Although the subject is intended to be her lover, in using the second person, the audience immediately assumes the role. Therefore it's an old movie we "probably don't know," which makes us think, "Wait, is it something we should know?" By being old does that make it cool, like vintage?
i´ll teach you how to drive
your stick shift car into the night
like say anything
like in say anything
The "vintage" echelon needs no introduction or explanation as it common knowledge to most people above the age of 11. What may need some further clarification, however, is how far the brand "vintage" has traversed in the past couple of years. In 2017, Kelela released a track entitled "LMK," the video for which features Kelela in garments and iconography similar to RnB groups of the '90s like TLC and Aaliyah. Ariana Grande, in her video for "thank u, next," references early 2000s films Mean Girls, Legally Blonde, and 13 Going on 30. girl in red's "Say Anything" was also released in 2018.
All three of these tracks (and videos) have the same inherent cool-because-it's-vintage factor. However, on a more perplexing notion, it only took two years to cover three decades and throw them into pile with '50s Americana and '70s Bohemian. To keep in mind, 13 Going on 30, a movie released in 2004, can now be branded "old" – the exact same "old" from girl in red's "an old movie you probably don't know," about a film released in 1989.
you´ll be the good girl
i´ll be the guy to change your mind
meet you at 2 am
sneak you out at night
With some hit track titles including "Forever Young," "YOUTH," and "Young and Beautiful," America's obsession with youth does not appear to be a victimless crime. The fear of getting older, and more so the idea of one's beloved films or songs getting older, perpetuates a hysteria based on the idea of no longer "being cool." Old things are never cool, unless they're vintage. Tenets like the above unfortunately come with a lot of work – like "LMK," "thank u, next," and "Say Anything." People come to feel that, now that something they enjoyed in their youth is old, they too are old, boring, and so on. It's not only a sad view, but also a limiting one.
Maybe rather than subject ourselves to malign and unjust judgments, perhaps we should follow in girl in red's footsteps: She accepts that things get old, and would rather centralize the positive feelings she has towards that media. In a way, Say Anything is an integral part of who she is, and one that will always be looked back on fondly, old or otherwise.
Stream: "Say Anything" – girl in red
— — — —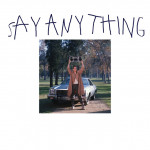 Connect to girl in red on
Facebook, Twitter, Instagram
? © Jonathan Vivaas Kise
:: Stream girl in red ::