New Zealand alt-pop artist-to-watch Navvy talks us through her exceptional sophomore EP 'No Hard Feelings', embracing her emotions, learning to move on, and more!
Stream: 'No Hard Feelings' EP – Navvy
---
I think my songs are so emotional because I am, and I don't know any other way to be.
The boundaries of pop music are continually shifting. Atwood artist-to-watch Navvy, alongside a host of other exceptional artists, are effortlessly demonstrating that it's possible to make music that's both devilishly catchy and heartachingly emotional. Every single track that Navvy releases is wholeheartedly crammed with impactful emotion, with the phenomenally talented artist expertly intertwining intoxicatingly engaging production with her touching lyricism.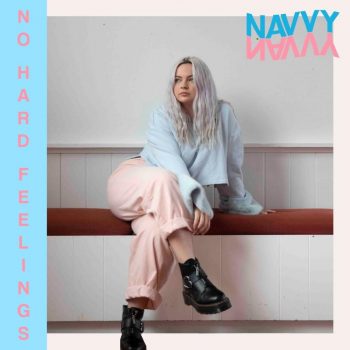 They say when you break up you break up two times
The first when you leave,  the last time you cry
I haven't cried over you in a while now
But that's not to say you with her didn't hurt
Hundreds of nightmares, I ran through the worst
Breaking old habits, learning not to need you
– "Scared to Be Happy," Navvy
Released January 17, 2020, Navvy's latest EP No Hard Feelings arguably sees her deliver her finest work yet, with unreleased tracks "Safety In Numbers" and "No Hard Feelings" joining the previously released "Mad at You" and "Scared to Be Happy." Across the four tracks, Navvy exquisitely showcases an exceptional amount of sonic diversity, with her music proving to be enthralling and emotional irrespective of the track's tempo.
On her EP, Navvy once again sublimely delivers lyricism that's unashamedly honest.
Contained within that frank honesty is an awe-inspiring beauty. In a short time, Navvy has proved herself to be an unquestionably singular talent with a limitless future. Having already clocked up a sizeable following, the New Zealand native is making her way over to the UK to support Dylan and Respons this January. Meanwhile closer to home, she is supporting streaming sensation Robinson on her upcoming Australia and New Zealand tour in March.
Atwood Magazine caught up with Navvy to chat about her songwriting process, the surreal feeling of clocking up millions of streams, and, of course, her newly released EP No Hard Feelings!
MEET NAVVY
Atwood Magazine: "Safety In Numbers" kicks off your brand new EP. What was it about that track that made you want it to serve as the EP's opening track?
Navvy: I am SO glad you asked this question. "Safety In Numbers," for me, is an extension of the song "My Love", which closes my first EP. It almost feels like the big sister of "My Love" who has figured out a way to be happy and move on outside of the relationship that imploded. There are a lot of lyrical parallels, both using a strong and obvious metaphor of waves, but instead of the waves of sadness crashing on me, I'm rolling with them and deciding to be happy with my friends and family.
I feel like every track you release is emotionally so intense, in like a really incredible, awe-inspiringly brilliant way. How do you manage to encapsulate that magnitude of emotion within your music? Is that process of distilling your emotions in tracks that have a pop sensibility something that's ever challenging?
Navvy: Well first of all, a huge thank you, that is maybe the best compliment ever. I feel emotion so incredibly deeply. When I am happy, I am elated, you have never met someone so happy. But when I am sad, it goes the other way too. When I was in love, it was like nothing you've seen, and when I lost that, it really was like grieving this real, tangible thing that didn't exist anymore. I think my songs are so emotional because I am, and I don't know any other way to be. As far is putting those feelings into the pop realm, I think it just makes sense to me, because the juxtaposition of a really happy melody or beat, with a really sad lyric, is the most wonderful thing to me. It's what Robyn does REALLY well. You want to cry while you dance with your best friends in a club.
You want to cry while you dance with your best friends in a club.
Sort of following on from that, when something impactful happens, do you feel the need to write about it instantly or do you take a bit of time to process?
Navvy: I definitely write immediately, but those songs are the processing and will never see the light of day, or the inside of an EP or anything. Once I've gotten through those and I can stand on top of the impactful event, I can see with a whole new perspective, and write cleverly and thoughtfully. That's my favourite time to write, just as I've come out of the experience.
The EP's name (No Hard Feelings) comes from the title of the third track. At what point in the process of the EP did that name emerge as the title of the EP?
Navvy: I knew as soon as I did The Break Up EP, I wanted to do an EP with a theme of contentment in what happened. I wrote these scathing, heart breaking songs about this boy who broke my heart, which were true and real and honest, but I stopped feeling like that, and he and I stayed great friends. It felt disingenuous to only talk about the side that might grab people. Almost 'clickbaity'. So I think initially it was The Moving On EP or something like that, but once we wrote "No Hard Feelings" the song, it just felt perfect.
For any project, there's obviously always an array of tracks that don't make the cut. What helps you know that you want to put a certain track out?
Navvy: Oh boy, I wrote about 100 songs last year. By the end of it, I'd released 7. This is really tough, because I genuinely love everything I make. I am my own biggest fan, I was my 2nd most listened to artist on my Spotify Wrapped. I also think I am just always so excited to have written a song out of thin air, because it really is like magic. So I think that is why it has been so helpful for me to have themes for each EP, because it becomes pretty clear if a song is going to fit in quite quickly. But it is really hard to realise a song I am really into maybe won't work for the time being. I never give up hope though.
Going off of that, is it ever difficult to sort of let go of some of those songs? Especially with your new EP clocking in at 4 songs, compared to your 6-track debut EP.
Navvy: It is the most difficult part of what I do. I think in the end, I have to put the listener first, and always remember that. I try to put my very best, most honest work forward, and once it's decided, just let go. I used to dwell, but a big resolution of mine this year is to stop dwelling. I'll keep in touch about whether I stick to it.
Speaking of that earlier EP, I absolutely love the whole thing, but "If I Can't Have You" stands out as a personal favourite for me. That track is vulnerable and open. Are you ever apprenshive about sharing your feelings so openly through your music?
Navvy: I also LOVE "If I Can't Have You." I am terribly proud of that song. I think if I was apprehensive about sharing the way my heart felt, I would be in the wrong career. That's the whole point, for me. To get to tell my story, and have people feel something when they hear it, is beyond my wildest dreams. To get to use such specific details, like the cookies I brought home the day he left in the third line, creates this time capsule for me to look back on in 20 years and remember the exact cookies I came home with. The only reason I do what I do is to be able to be excruciatingly honest and detailed in storytelling.
With the first EP, it's very literally titled The Breakup EP. Obviously that's the overarching theme of the EP lyrically, but was the on-the-nose title always what you wanted to call it, and what the thought process behind naming it that?
Navvy: I didn't know what I wanted to call it, because none of the songs had a title that really worked. So we had a working title, which was The Break Up EP, just because it was so glaringly obvious that was what it was about, so when we would talk about this specific collection, that's what we would call it. I make all of my artwork, and when it was time to make some artwork, it just kind of made sense to still call it that. I like it. I'm not a subtle human.
Your new EP sounds very different from your first. What do you think has driven that evolution and change?
Navvy: I think it has now become obvious that emotion drives everything I do. The first EP is mostly sad and ballady and melancholic, with a dash of bad ass and 'shaking it off' because that is the way I felt in that time. The second EP is mainly bad ass and happy, with a gut punch of sad right at the end when you think you are safe. That's how I feel at the moment. Happy most of the time, and then the whiplash hits and I'm right back where I was a year ago, but not for long.
When you're listening to music, what's the first thing that draws you into a song?
Navvy: Absolutely melody. I want to be able to sing a song immediately, and I want to feel. Interestingly enough, lyrics don't necessarily make me feel, but a good melody gets me in my core.
You first put music out in April last year, and you're already on your second EP. Was it always the intention to be proflic in terms of the releasing music?
Navvy: I am such a fan of artists. I love to love an artist and their work. I love to find an artist that has a lot of work out for me to love. So I wanted that. I hated the idea of someone potentially finding my first single after it had been out for 6 months and not finding anything else. I would release more frequently if possible. I figure if I have all these songs sitting on my dropbox, I may as well put them into the world and let them have a life.
You're back in the UK to support the incredible Dylan on Wednesday the 22nd of January. How are you feeling about that show?
Navvy: Oh I absolutely can't wait. It's such a cool, girl power line up, the venue 'Elektroworks' seems really fun, I just am so excited.
You were also in the UK supporting Robinson in November last year, does it ever feel surreal that your music has taken you literally across the world and people are listening all over the planet?
Navvy: It is absolutely the most surreal thing. Especially being from a country with a population of 4 million people, which is how many times my songs have been streamed. It's wild when I think of it like that. Travelling is one of my favourite things, and I love the world, so getting to see it BECAUSE of my music? Feels like a joke, but I'm happy to keep laughing along.
A lot of your lyricism is very conversational, which I love. How has your writing process changed and evolved since you first started songwriting?
Navvy: My process is entirely different. I used to only write on my own. I used to only use analog instruments (so like, I would record an actual guitar, and an actual piano, and play the bass on an actual bass). I used to write very metaphorically because I thought that was what made songwriting 'clever'. I then realised collaborating is my favourite thing. Digital instruments are more easily accessible, and often times sound better because someone has worked really hard to make it sounds good, rather than me borrowing my Grandad's bass guitar, trying to play it. I have become very conversational in lyrics, thanks for noticing. I think there is a space for heavy, deep metaphor, but also sometimes I don't want to have to think when I'm listening to music as a listener. I also want anyone in the world to be able to understand what I am trying to say, and not get lost in translation.
I think there is a space for heavy, deep metaphor, but also sometimes I don't want to have to think when I'm listening to music as a listener.
Finally, so far in your musical career, what have been some of the most impactful or surprising moments?
Navvy: I think my first writing trip to London was a very formative experience for me, in music and just life in general. I had to stand on my own two feet and figure out how to catch the tube with no one holding my hand, and then go into rooms with strangers and spill my heart. It was terrifying and brilliant and an actual dream come true.
— — — —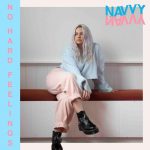 ? © Scarlett Casciello
:: Stream Navvy ::
---