— this is being updated throughout 2020 —
Every year, we are amazed and humbled by the artists we discover. 2019 introduced us to so many fresh and exciting music makers whose incredible talents, stories, sounds, and voices made them impossible to ignore. Now as 2020 dawns and we embark upon a new year and decade, we look to a year of exciting new music ahead!
Atwood Magazine is proud to present our staff-procured list of Artists to Watch in 2020, in alphabetical order (you can jump directly to an artist by clicking their name above). These are the indie music standouts we'll be keeping close eyes and ears on over the next twelve months in eager anticipation for the music they have to offer us. With 2020 just beginning, Atwood's worldwide staff takes a look at the artists who have caught our attention and earned a spot on our radar.
Mitch Mosk, Editor-in-Chief
— —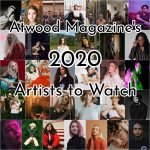 Atwood Magazine's
2020 Artists to Watch
The music of Beabadoobee is arguably not that innovative but there's an endearing quality to Bea Kristi, the nineteen year old behind it, that easily draws you in. She's a bedroom artist, crafting songs in her personal space, with the sweetly lovelorn tracks such as "Art Class" evoking dreamy strumming while sitting cross-legged on the bed and those like "Are You Sure" bursts of angst while stretched out with back against a poster-covered wall. There's a transition from the first releases of EPs Lice and Patched Up (a transition that comes in Patched Up with the song "If You Want To") to the more recent ones of Loveworm and Space Cadet. The sound is louder, grittier, reverberating a 90s' grunginess.
A lot of the addictiveness of Beabadoobee stems from the aesthetic. Her songs are like soundtracks to teen movies, the videos also. They're independently crafted snapshots into personal emotions, relatable but colourfully coated in fantasy: innocent romance scenes and lying moodily on a bed and seat of a train, or rocking out with electric guitar as though the only thing giving purpose- all while thoughts such as 'Don't wanna be eighteen with responsibilities/ Sometimes I get scared of growing up/ Entering a world with broken dreams/ Sometimes I get scared and throw it all up' and 'Guess I'm tryna get by/ 'Cause like the weather I change with time/ And I sit at home, cry to Pavement' go alongside it. Then there are the outfits she wears- an oversized cartoon-decorated t-shirt over a checked shirt, a knit sweater with intarsia teddy bears and autumn leaves, dungarees dotted with flowers slipped over a striped-sleeve sweater. It's a blend of playful childishness and coolness and coolness tends to take people far. It will be intriguing to see where Beabadoobee (who's growing with recognition) will head this year. – Francesca Rose, Junior Editor
---
Speaking to Atwood Magazine back in July 2019, Blithe described herself as being on the precipice of an exciting new chapter in her musical career. 2019 was a busy and bountiful year for the London-based pop artist born Blithe Saxon, seeing the release of her debut EP Don't Blink in March and fresh new singles "Masochistic," "Bad," and "Becoming You" in the summer and fall. Now with over 2 million streams on Spotify alone, "Masochistic" captures the ambition and talent of the young, rising Brit: A clever and unabashedly sensual break-up/get-back-together song perfect for endless repeats under a hot summer sun, the track proved an intoxicating listen last year, leaving us breathless, exhilarated, and hungry for more.
As if she heard our pleas, Blithe's follow-up singles surpassed expectations in showcasing both intellectual and emotional sides of Blithe's artistry, finding her owning center stage in a storm of soulful, groovy, and propulsive goodness. Every step she takes sets Blithe further apart from legions of cookie-cutter "pop starlets," and the truth is we're excited to see just how far she'll go in 2020. – Mitch Mosk, Editor-in-Chief
---
Dominic Fike, a 24 year old Naples native with an effortlessness that gets you wrapped around his finger on the very first impression. The step between having 0 released songs to signing to Columbia on a ~4m contract happened seemingly overnight, but the industry's faith was soon justified when Fike made the whole world diddy-bop to his first single and hit, 3 Nights. 
Depending on what part of what song you're listening to – Fike weaves through angst in rap and rock n roll, the poetry and rhyme behind hip-hop, soft and whimsical tones of dream pop, classic catchy chord progressions in alternative rock setups, all seamlessly in Don't Forget About Me, Demos. This modest masterpiece of an EP is where story-telling and music making intersect, offering a glimpse into his anticipated theatrical debut album set for later this year.
What it is about Fike is, an extension of him lives in his music – his lyrics having spanned casual unrequited love, family, introspection, provide a transparency that has you feeling as though you're having a one on one conversation with Fike himself. Lyrical range and genre hopping matched with a honey-sweet voice, obvious resilience and experience render him equal parts an incredible artist and simply, a relatable character.
Most recently collaborating with Halsey on the captivating, Dominic's Interlude, as well on Omar Apollo's powerful funk Hit Me Up, Kenny Beats' Phone Numbers, and BROCKHAMPTON (with Kevin Abstract on Peach); watch out for his inevitable world domination. In pushing the constructs of being 'in' a certain genre and excelling in every aspect of his endeavours, Dominic Fike sets a new standard for artists and listeners around the world. A force with a boyish underdog charm, a melting pot of music and personality, modernity and individuality: this is the face (and soon album) of 2020s. – Dahlia Alrayes, Contributing Writer
---
The year 2019 was punctuated by two particular extended-players, a double release from British post-punk outfit, Dry Cleaning. The compulsion to continue listening to this two part collection is marked not by virtue of a grand conceit, but rather the inherent declaration of form that binds Sweet Princess and Boundary Road Snacks and Drinks into a sort of double-EP record not unlike the combination disc Sea of Split Peas for Courtney Barnett. Yet, where Courtney Barnett played to her laid-back singer-songwriter-rocker person, Dry Cleaning manage to meld together hard-driving open chord rhythm with simple melodic phrases, layered as a storm of strings—concretely contemporary to American art punk outfits such as Drahla and Pottery while still retaining a surf punk atmosphere similar to FEELS or Priests—imbued with a stream-of-consciousness twitter feed lyricism equal part Joycean wallflower, equal part YouTube commenter #2,450,793,412, covering everthing from the death of a kitten, repeat watching Saw 2, self-improvement, break-up calls, media coverage of Meghan Markle, masculinity displays, hopeless romantics, et cetera, et cetera. Everything's on the tableaux for lyricist Florence Shaw.
So where does this put Dry Cleaning for 2020 after writing/releasing two all-killer-no-filler extended players of 2019? Hopefully writing and recording a new record filled with more puckish guitar-bass-drum interplay and lyrical sincerity on par with what has whet the stone. Although this particular writer will settle for a third grinding EP, similar to how the Beta Band of twenty years ago inspired a wave of underground hype, or more recently, the bursting excitement of early Parquet Courts. But this is all speculation. Just the pure motif eclectique, present and cycling on all cylinders on both Sweet Princess and Boundary Road Snacks and Drinks is enough to hold center. I'm here for it, 2020 and beyond. – Ben Niesen, Contributing Writer
---
It's hard not to be instantly captivated by Emily Burn's music. On songs like "Is It Just Me?" she exposes her deepest vulnerabilities in a manner that's instantly engaging and utterly enthralling. While on more pop leaning tracks like 'Damn Good Liar', she proves to equally engrossing, with exhilaratingly dynamic production proving to be the perfect complement to her astounding lyricism and impassioned vocal delivery.
2020 looks set to be a breakthrough year for Emily Burns. In March she'll be supporting the phenomenal Gabrielle Aplin on her UK tour and then, a month later, playing a string of her own headline shows. At her Camden Assembly on 30th of April, she'll be supported by Atwood favourite Harry Strange for what's set to be an unmissable evening of exhilarating live music. – Luke Pettican, Staff Writer
---
Evie Irie is one of the most promising teens of pop music today. The 16-year old, hailing from Sydney, Australia, radiates confidence, bringing charmed grit and power to her music. Her debut EP, "5 Weeks in LA" was released in June of 2019 and in the months following has racked up just under 3 million cumulative streams on Spotify. Not bad for the young aspiring pop star who delivers catchy pop anthems with a side of edge. Performing her first US shows in LA and NY within the last month, there is more coming in 2020, including her first festival performing slot at Bottlerock this May. As she continues to gain popularity, keep an eye on her this year. – Kelsey Fitzgerald, Contributing Writer
---
Sometimes songs can instantly grab your attention, the sound emotively hypnotic and lyrics flowing like the pages of a classic novel. Singer-songwriter Flora Hibberd makes just that, seemingly appearing from a foggy moor in a dark velvety atmosphere reminiscent of Nick Cave. There's the build up of intensity in "In Darkness" and the dramatic consistency of "The Absentee" as she about lovers and the night and bodies wrapped in eeriness. As a listener we're taken on a journey, chillingly absorbed in the lives of the protagonists or our own thoughts that stem from the sound.
"As Long As There Is Night" from the debut The Absentee EP (released 1 November) is gentler but lyrically it seems to encompass the mood that Hibberd is introducing to us. 'And the river and the moon stood still/ And the sea a silver bed/ And I walked out in the dark town' she sings over pensive, softly blowing plucks before expressing 'how your body shines in the moonlight/ I will make it mine for a while/ As long as there is night and the grey wind sighs'. A minuscule amount of songs to her name thus far means 2020 is a year to watch what happens. – Francesca Rose, Junior Editor
---
Goose's debut album Moon Cabin, aptly named, sounds the calls of nature, warmth, pure joy and swing of a cabin summer night. This small town Connecticut-based collection of four guys reintroduce the likes of jambands Phish or the Allman Brothers Band, the groove of Oteil Burbridge and Herbie, and aesthetic and liberty of Vampire Weekend through a youthful lense. The bending of melodies and genres with the youthful essence and carefreeness defines what it means to be a jamband today. No song shorter than 5-6 minutes, Goose lets loose with the range of sonic contributions per bandmate, each adding layers of individuality, sound and joy that paint the feelings of hanging "..in the woods on a summer night with all of your closest friends. While behind this bonfire-lit gathering, further into the forest, there is a deeper mystery awaiting those looking for it," (Goose, detailing their sound.) Yet simultaneously, they are always on the same page and truly perform as one singular body.
My personal favourite of their tunes, "Rosewood Heart" (as the rest of the album,) creates a sound mimicking the feelings of one with their interactions with nature and highlights the "moon" aspect of the album – the serenity, crashing of waves, comfort and endless possibility of the night. – Dahlia Alrayes, Contributing Writer
---
Toronto singer/songwriter GRAE made a name for herself through multiple outstanding song releases in 2019, culminating in the release of her debut EP New Girl in October. Her darker take on the alt-pop vocals-and-synth arrangement, powerful vocal performance, and dynamic effervescence helped make songs like "New Girl" and "Your Hands" stand out; it was then with her raw, passionate third single "Woman's World" that she channeled an incredibly important message into a stirring basin of song. "'Woman's World' is for the women who have experienced these disgusting acts," GRAE told us back in September. "It's a song of empowerment and one that I really hope brings us closer and opens more doors to these types of conversations." "Woman's World" finds the rising artist denouncing misogyny and toxic masculinity through a sleek, cool, and confident anthemic tidal force. The young songwriter hits her stride in a track that challenges – nay, demands – that we open our eyes "and see a woman's world." With a predilection for moving songs of both personal and societal importance, GRAE leaves little doubt that 2020 will yet again be a year full of hair-raising songs. – Mitch Mosk, Editor-in-Chief
---
Half Wolf took the approach of releasing music only on every new moon cycle. A unique premise, but one that made me eagerly await each new track after her debut single, "Pretty Lonely" became one of my favorite tracks. She has yet to disappoint, each track having roots in folk and blues while still retaining a unique identity. Her flair for immaculate storytelling is top-tier, her lyrical wit one of the strongest out there, and the emotions she packs in her music are absolutely spellbinding. 2019 was great for her, but 2020 might just be the greatest yet. – Adrian Vargas, Junior Editor
---
British pop starlet Indiana has been going at it on a high level for several years – her Sony-released debut album came out in 2015 and earned her a Top 20 hit in "Solo Dancing" – but it's in 2020 that she's truly set to hit a new stride. Her November song release "Break the Habit" ushers in what we may only understand to be a new era of '80s-flavored dance pop wonder for the Brit, who is set to release a new album later this year.
Put simply, "Break the Habit" is a dazzling injection of alluring synthpop dripping with raw, sweaty energy and passionate emotion. Speaking to Atwood Magazine, the artist says her new music is "the music I always wanted to make." Of-the-moment '80s inspired dance pop bliss, "Break the Habit" is a clean, new, modern rush of sonic lust. A resurgence, an exciting new chapter, a welcomed return – whatever you want to call it, Indiana is back, and her new music kicks like nothing else. – Mitch Mosk, Editor-in-Chief
---
Tweeting, "Shoutout all my day one fans… it's bout to get crowded at tha shows and in the comment sections this year," Jack Harlow does little to conceal his confidence for the future. The Louisville native released his fourth album late last year, which features singles "HEAVY HITTER" and "THRU THE NIGHT" complete with a Bryson Tiller feature. Tiller, who also hails from Louisville, has been described by Harlow as one of his main influences. Confetti is Harlow's most cohesive work yet, following a collection of eclectic works on a series of LP's beginning with "18" in 2016.
Confetti is both an establishment of sound for the 21-year-old rapper as well as a glance into Harlow's personal experience – an element that seemingly lacked on his previous album, Loose.
Know my soul isn't trapped
But what's holding me back is the old me, in fact
I'ma get intact, I'ma get it back
With lyricism reminiscent of 2000's nostalgia and upcoming appearances at both Electric Forest and Bottlerock, Jack Harlow's 2020 is sure to be amongst his most transformative. – Harper Beattie, Contributing Writer
---
John Francis Flynn, whilst on tour with acclaimed fellow Dubliners Lankum in late 2019, played two tin-whistles gaffer-taped together. This was not simply a unique stunt, but displayed his musical skill with a tune that transcended any novelty. The decision to try such a thing, Flynn claimed, arose from a chance encounter with a whiskey-drinking pixie at the bottom of his garden. At Halloween.
Flynn, formerly of band Skipper's Alley, is often hunched over his guitar during performances, a stance which adds to the unconventional style with which he plays. His voice, capable of both emotive melodies and a Celtic drone, is complimented by a sometimes percussive use of his instruments. A recent appearance on Irish musical film series This Ain't No Disco, as well as the aforementioned support slot with Lankum, suggests that Flynn is a man in demand. Though he twice had to change his name to avoid confusion with fellow musicians, Flynn's first EP, which is due in 2020, will no doubt secure his identity within the Dublin folk scene and beyond. – Tim Horwood, Contributing Writer
---
The '10s were defined by the divine sounds of Lorde, Lana, Mitski, BANKS, St Vincent, Florence.., and the 20s couldn't have started off stronger; introducing our newest heroine – Junie. After 3(+) days of listening, I've yet to gather the words that could encapsulate all that her captivating debut, No Man's Dog, is. Junie's strong, heart-wrenching, truly classic yet unprecedented vocals are her superpower, that is undeniable; yet that excellence matched lyrically, in production, and instrumentally is what makes this debut truly, wholly phenomenal.
In about half an hour, Junie's takes you through the intensity of heartache and the tribulations of keeping your feet on the ground with unwavering resilience – exploring the convolution, confusion and pain behind heartbreak, but with strength of a narrator that is not to be fucked with.
"Listen or Don't" gives us a lasting first impression; an upbeat alternative anthem set in scenes of a party. Junie starts the story belting out the chorus, equal parts grand and powerful, before moving into the song's contagious, marching groove. Two minutes of liveliness in, the song moves into its briefest movement as she quiets down for gentle, barely accompanied, striking harmonies of the bridge,
Oh it didn't have to be this way
'Cause if it's a competition
I'll win every time
into the breezy, sway of the reprise/outro where the chorus is delivered over an almost whimsier, more laid back instrumentals, fizzling out with dwindling chords, and the night ends. This anthem seamlessly goes through the motions of a party; the confidence, bopping, slowing down, clarity, the dizzying winding-down, but from the eyes of unwavering strength from a songstress always ready to throw punches. An opening track empowering, impassioned, as well as simply, a damn good time.
No Man's Dog holds the ferocity of a typhoon and the unassuming serenity of downpour – all in less than 35 minutes. This album is a grandiose, yet homemade, masterpiece of scenes so deeply personal yet so palpable – an immediate 2020 classic. – Dahlia Alrayes, Contributing Writer
---
Last year Lily Moore supported George Ezra in the glorious Royal Albert Hall in London and James Bay on his tour. Her sound is full of neo-soul mixed with powerful vocals reminiscent of the legendary Amy Winehouse. Lily Moore – singer/songwriter and daughter of the rock guitarist Gary Moore – has music in her veins, and is definitely one of the talents to watch in this new decade. In 2019, she released the album More Moore Mixtape, full of outtakes and live recordings like an old-school demo. Her songs are about love, loss, relationships, and anger – underlined with her unique self-deprecating humour. The song "Better Than Me" sounds like an open letter to a former ex-boyfriendl; whilst listening, it feels like a one-sided conversation, underlined with anger when Moore sees that someone she used to love is in a new relationship:
Now you're gone, I see you're moving on
Yeah you're fucking a girl that you shouldn't
The one you promised me that you wouldn't
The chorus is made of honest words, open questions, simply all the things that she would like to ask her ex-partner about his new love:
Is she better than me
Does she let you smoke weed
And gets down on her knees
Does she make it easy
For you
With her honest attitude and her powerful music, Moore creates a unique musical work of art, full of words that speak out of our hearts. Lily Moore has great potential, and let's hope that she never stops what she's doing. – Nina Maria Schaarschmidt, Contributing Writer
---
Beth Cornell's now-solo project came out of left field this year with a slew of hits that made Litany one of my top artists of 2019. Between "My Dude," "Love Letter," and "Single Player Mode," the four-track Single Player Mode EP makes for a pristine fifteen-minute indie pop experience you won't soon forget. Fresh off that spell, Cornell is sure to have more bona fide bops for us in 2020 – and we can't wait to go on more dazzling journeys together with her as our guide. – Mitch Mosk, Editor-in-Chief
---
Back in 2016, Luna Bay emerged with their tracks "Colours" & "Smoke & Mirrors", which saw them thrill with anthemic-like choruses and infectious instrumentation. Their next single "Hometown" saw them expand their sound, while retaining the zestful edge that first saw them swiftly draw attention. After releasing a string of singles, 2019 saw Luna Bay finally released their self-titled debut EP, which contained the likes of the alluringly delightful "You've Got It All" and the enthusiastically joyous "All In".
Having sold out London's Scala last year, a feat that a lot of emerging artists don't reach until releasing their debut albums, it's evident that the future is bright for this London-based four piece. With their boundlessly energetic live set and ability to innovate their sound, 2020 looks set to be a defining year for Luna Bay. – Luke Pettican, Staff Writer
---
Although we, along with many, many others have been watching Maisie Peters for quite some time, we're including her in this years feature to keep the ball rolling as it should be. With EP's released in both  2018 and 2019, 2020 seemingly is the year for Peters' first LP, and we couldn't be more excited. A story teller at her core, Peters weaves words together seamlessly in melodic bliss similar to the likes of Ed Sheeran and Taylor Swift, but also on a level that is completely her own. We know she has just scratched the surface with all she has to say, and for that, we are grateful. – Kelly McCafferty, Staff Writer
---
Twenty-year-old Margaux Bouchegnies writes music like one would a diary entry: Intimate and in-depth, personal and relatable, her songs sweep us off our feet as they immerse us in an artist's turbulent coming-of-age. With 20 minutes of dramatic, stunningly beautiful music, her debut EP More Brilliant Is the Hand that Throws the Coin quickly establishes Margaux as an artist-to-watch over the next year and beyond.
A full-time student at the New School in NYC, Margaux makes a delightfully nuanced, atmospheric yet grounded blend of (what one might consider) "dream pop, grunge, and "indie folk." Her music is diverse; with her voice and guitar serving as a base musical core, an array of instrumentation helps every track stand out – from the dazzling orchestral strings supporting "Hot Faced" and the subtle keys in "Palm," to the acoustic guitar work and lilting brass horns in "Smaller Home," and the bells and pedal steel work in "Faced with Fire." As I wrote in a feature last year, "More Brilliant Is the Hand that Throws the Coin is brilliant, understated, and absolutely enchanting."
It's the kind of debut EP every artist should aspire to release: Simple yet stunningly complex, overflowing with heavy impassioned emotions, and packed with enough sonic treats and musical surprises to keep us coming back time and time again. In short, Margaux has crafted the perfect introduction, and now that it's released, it's ours to keep. Raw and relentless, this is one hazy sonic daydream I'm still playing on repeat. There's no telling how much her academic studies may impede on her musical career, but we're hoping to hear a lot more of Margaux in 2020. – Mitch Mosk, Editor-in-Chief
---
2019 saw Melanie Baker only release one track, but that singular song alone more than justifies her inclusion on this list. "Broken" sees Baker utilize her voice to stunning effect, captivating as she poignantly reflects on a destructively impactful break up. Complemented beautifully by emotion laden strings, the track gracefully takes the listener through the bewilderment of emotions that come to define the end of a relationship.
With a varied discography behind her, including the likes of the buoyant "365 Days" & the dreamily romantic "Love Blind", Baker's upcoming sophomore EP looks set to see her continue on her upwards trajectory. Having already built a devoted following, who raised £5000 in 30 days to fund her EP, it seems like won't be long before that feverish fanbase exponentially expands. – Luke Pettican, Staff Writer
---
Having already got two delightfully distinct EP's under the belt, it's undoubtable that 2020 will be a defining year for the extraordinarily talented Naaz. Through her expansive music, Naaz is able to distil exceptionally complex emotions into accessible pop music, that's still laden with personality and, in many cases, a ravishing grandeur. The best way to truly experience Naaz's music is through her exhilarating live set, where she, along with her accompanying three-piece band, play every show with an infectious energy that's impossible not to be enamoured by.
It's hard to predict the sonic or lyrical direction that Naaz's next release will take, and that's actually one of the most exciting aspects about her. In an age where, in some respects, music is becoming increasingly defined uniformity and conformity, Naaz is continually and unapologetically herself. – Luke Pettican, Staff Writer
---
New Zealand native Navvy first started to turn heads with the release of her resonant debut single 'Subliminal', which saw her expertly intertwine effervescent pop production with enthralling lyricism. Subsequent track releases such as "Mad At You" and "If I Can't Have You" saw Navvy further showcase her unique talent in a blazingly brilliant fashion. Amazingly whether she's backed up by sparse atmospheric production or boisterous instrumentation, Navvy never fails to cram her tracks with the sort of emotional sentimentality that other artists yearn for. – Luke Pettican, Staff Writer
---
Something of an elastic singer/songwriter who dips into a range of rock, blues, folk, and pop tonalities, Brooklyn-based Nick Cianci never ceases to surprise and ignite. His songs, though few in number, are all raw and full of heat, as if they were born in a cloud of pain and passion, super-charged energy and emotion. While his solo career is only just beginning – he's a relatively recent NYU grad and full-time guitarist in the band Del Water Gap – Cianci's early releases are telling of the multitudes within him. Songs like "Prodigal Son" and "The Night We Crashed Your Dad's Car," which premiered on Atwood Magazine last year, find Cianci delivering something of an alternative blend of John Mayer and Bruce Springsteen: His low-key blues rock style and classic form of storytelling separate him from his contemporaries, giving his songs a depth we seldom hear in modern music. With more songs on the horizon and an EP underway, Cianci is without a doubt a name to should look out for in the months to come. – Mitch Mosk, Editor-in-Chief
---
I found Nick Leng when he released his single "Lonely Shade of Blue," a delicate, emotive ballad on the trials of love. His voice carries a weight that enamors as much as it pains, creating this dichotomy of beautiful heartache that is inexplicably addicting. This type of artistry is present on the rest of his discography, making the fact that there is no album out yet all the more painful. Who knows when it will happen, but rest assured we'll be watching what Nick Leng has to offer in 2020. – Adrian Vargas, Junior Editor
If you want to be stunned into silence, listen to New York City's Nicotine Dolls. A raw rush of anxious energies and urgent indie rock color this band's music – and while they're very, very new, we can't help but feel like we've known them for a lifetime. Their song "The Madness" is a frenetic fever dream ready to jilt us out of our collective funk – an intensely magnetizing musical rendering of the emotional impact of anxiety, PTSD, and panic attacks on an individual. Meanwhile, follow-up single "Burning a Good Thing" is a tight, dramatic alt-rock anthem ready to be hollered at the top of our lungs. Relentless, fierce, and utterly explosive, Nicotine Dolls are a New York act you simply need to know. – Mitch Mosk, Editor-in-Chief
Red Shaydez has been proudly representing a large part of the Boston hip hop underground scene for almost a decade now. She calls herself the "queen of cool," meaning she'll probably destroy MCs wearing a robe and a stylish pair of shades. Shaydez is a multi-faceted artist capable of morphing into a superstar crossover act. She carries a pretty significant resume to go along with her R&B/rap aesthetic; one that includes  various "Best Female Rapper" awards (though I think "best rapper" is more fitting") and a co-sign from the legendary MC Lyte. Her official debut album "The Magnetic Aura" (from 2016) demonstrates a variety of different moods and styles that make her whole..
Despite coming from a place where traffic, winter, and rude people are more common than a decent parking spot, Shaydez paints Boston as a sunny landscape filled with hope; particularly within the video of her catchy hit song "Vibin' and Coolin." She has a knack for switching gears between laidback pop star and intellectual storyteller in an instant. "Little Sabrina," another track on her 2016 album, showcases her ability to open up about her mental struggles during some of her toughest points in life. Shaydez is undoubtedly old-school, but carries a swagger that's appealing to millennials. Sometimes, she's promoting self-love and mental stability like on "Self-Care '18," a pledge for modern society to take time off when needed. In other instances, she'll dip into nostalgia and reminisce about the golden age of hip hop ("Circa '96"). Shaydez has done everything on her own up until this point. She released her "Chillin' in the Shade" EP at the end of 2019 and is currently working on her second album "Feel the Aura,"a possible sequel to "The Magnetic Aura." She's bound to gain national attention in 2020. – Ryan Feyre, Contributing Writer
RIZ LA VIE offers something immediately familiar and urgently intimate on Saturn, the leading single off his EP Breathe. that was released last summer. Distinguished for artfully blending unique sonic elements with moments of rap and bedroom pop, his music is marked with a moody and calm clarity. Rather than relying on post-production to make up for shortcomings in range, RIZ LA VIE takes his own incredibly strong voice to extremes, adding a level of honest rawness to whatever vibe the song imparts. As has become signature to his music, the lyrical imagery centers around vivid metaphors about nature and love and the giving and taking between people, often set in the metaphysical realm.
From where I'm sat, the moon look like dew in the grass
But your eyes are huge, can you tell if I'm doing bad?
Mother Earth I've been burning all this gas
Swiping this plastic and driving too fast
Breathe. is RIZ LA VIE's third EP, and his most cohesive project to date. 2019 saw considerable success on tour as well, reaching both coasts of the United States as well as a short stint across Europe. This bodes well for his continued ascension, as RIZ has amassed a dedicated following- in part due to his immense talent- but amplified by the exceptional care he takes in presenting himself and his art to the world. Like many contemporary indie artists, his social media presence is used for far more than music and tour promotion. Unlike his counterparts, though, the focus is almost always on simple ways his fans can find peace, experience gratitude, and breathe deeper; his continued work is certainly something we could all use in 2020. – Audrey Steeves, Contributing Writer
Sody's debut EP entitled Youth, which was released all the way back in 2016, evidenced not only her distinctive style, but also her awe-inspiring versatility. The release of her single 'Let Go' the following year saw the talented singer-songwriter more than live up to her early promise; with Sody delivering the track's enlivening lyrical sentiment with a refreshingly powerful spirit. Her next release "Maybe It Was Me" has understandably proved to be her most successful to date, with the extraordinarily talented artist deeply delving into the perplexing aftermath of a breakup with an unmistakable focus on assessing her own accountability.
Since the release of "Maybe It Was Me", Sody has continued to defy even the loftiest of expectations, delivering a wonderful array of tracks that somehow feel both timelessly resonant and excitingly original. What arguably sets Sody apart is her willingness, relatively early on in her career, to release music that explores aspects of life like bullying & losing friendships with the same open vulnerability that many artists usually reserve for conveying heartache. Even though every single song embodied within her discography is delightfully unique, everything she releases also feels cohesively hers. – Luke Pettican, Staff Writer
Transviolet, a West Coast alternative rock band, released their first single "Girls Your Age" in 2015– the track has deadly Lana Del Rey-esque lyrics and a delicately haunting electronic backbone. Since then, they've released two EPs. Songs like "Long Shot" and "Undo" off their 2018 EP Valley is really just the beginning of Transviolet's transcendence. The EP features sharp lyrics that explore self-sabotage tendencies countered by proclamations of self-care through rich, catchy pop/electronic vibes with more exploratory melodies.
In 2019, they began to see a lot more recognition within the industry which allowed them to reach more listeners via Spotify playlist features. With their songs racking up more and more streams on the daily, awareness for the band continues to grow significantly. They will be releasing their first independent album in 2020. And as they are a band who writes, mixes, masters and releases their own music, it's definitely a project to keep your eyes and ears out for. – Coco Rich, Contributing Writer & Columnist, Variations
Victoria Victoria's intimate and moving "Sanctuary" earned a well-deserved spot on our Songs of 2019 feature, and they should stay firmly placed on everyone's radar this year as well. A reclamation of self-worth dressed in a heartfelt indie pop glow, "Sanctuary" comes from last year's When to Talk, When to Pray EP, and finds an impassioned narrator unraveling her anxiety and self-doubt, and turning inward to become her own change.
Victoria Victoria, the Winston-Salem, North Carolina four-piece led by Tori Elliott, lend soulful and jazzy tinges to their multi-textured pop music – holding nothing back in songs of self-discovery, reflection, connection and disconnect, and more. When to Talk, When to Pray – premiered a mere two months ago here on Atwood Magazine – showcases the band's nuanced approach toward emotionally potent content. Described at the time as "a phenomenal pop EP full of life, love, and intimacy" that finds Victoria Victoria "basking in the harrowing, beautiful depths of vulnerability," the record delivers a seductive and uplifting experience. "Victoria Victoria have surrendered their souls in songs of individuality, insecurity, and spiritual longing, and Elliott has spilled more of herself on the page than ever before."
While it's unlikely we will hear new music so soon after their EP release, Victoria Victoria are without a doubt an artist to watch in 2020. Their deep grooves and tight pop sensibilities make their music a fun, easy, and cathartic experience every time we listen.  – Mitch Mosk, Editor-in-Chief
Serotonin II from yeule was one of 2019's most criminally underrated albums. The glitched out tracks took parts of pop, synth, and goth melodies to make something truly unique. It's ethereal and lush, not one song similar to the next, and when combined with her, at times, distorted yet dulcet vocals, the listening experience turned into a vivid dreamscape of immense sincerity and beauty. Her music is like nothing else, making yuele an artist to watch for in 2020. – Adrian Vargas, Junior Editor
[drop cap letter="W"]e have been fans of Caroline Smith's alter ego Your Smith from the very beginning, spellbound by her ability to seamlessly stir keen pop sensibilities into dynamic and forward-facing music. The LA-based artist truly struck gold with September's Wild Wild Woman EP, the follow-up to her 2018 debut EP Bad Habit. The five-track record highlights Smith's emotive vocals, provocative and catchy songwriting, and a growing taste for '80s inspired dance-pop and synthpop. Songs like "In Between Plans" and "Man of Weakness" exhibit Your Smith's inspiringly unapologetic attitude toward life and song: We previously described "In Between Plans" as capturing utter joie de vivre and a powerful display of musical force, and "Man of Weakness," which opens the EP, earned a spot on our Songs of 2019 feature as "a musical masterpiece full of high-octane energy and massive pop melodies… unimaginably catchy, centered around our individual healing and search for community in moments of pain and hurting."
"In the past year, I've started taking on the qualities of Your Smith," the artist told us in our interview last year. "Her steadfastness. Her boldness. Her unapologetic nature. I don't know if the two will ever truly merge, but I'm forever grateful for the ways in which Your Smith has helped me grow as Caroline."
After concluding 2019 with a support slot on K. Flay's European tour, Your Smith is starting this year off right with her debut headline tour, hitting 17 cities before February. "In 2020 I wanna keep pushing, keep grinding, play all the shows, and finally finish that ever-elusive full length album we all yearn for as artists," she says. "Headlining a European tour wouldn't be half bad either if we're being completely candid."
The sky's the limit for Caroline Smith, whose music shines with a dazzling, honest and heartfelt charisma. Her songs are exciting and fresh, and there is so much more to come sooner than we think. If you can only pay attention to a few under-the-radar artists this year, make sure Your Smith is on that list. – Mitch Mosk, Editor-in-Chief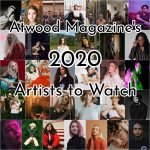 — — — —