One show down, four to go as Miami's Nu Deco Ensemble marches through its first ever all-virtual season.
Stream: 'Nu Deco Ensemble + Cimafunk': Live from Miami
---
Founded in 2015, the Nu Deco Ensemble has demonstrated impressive resourcefulness in its sixth season – both in terms of their creative ingenuity and in the way they have responded to the unprecedented challenges caused by the COVID-19 pandemic.
This project began when Sam Hyken and Jacomo Bairos – two established musicians in Miami, Florida – started exploring ways of revitalizing chamber orchestra music for contemporary audiences. Over the course of five years, such a vision has yielded some memorable payoffs. The Nu Deco Ensemble has been able to translate a wide variety of popular music into vibrant symphony form — their takes on Daft Punk, Aretha Franklin, and Queen stand out as high points. They have also invited an extensive list of modern-day performers to accompany them onstage, with them backing everyone from Kimbra and Kishi Bashi, to Ben Folds.
Although live music everywhere pricked its finger on a spinning wheel in mid-March, the Nu Deco Ensemble has made impressive use of this forced hiatus. The orchestra has always been supportive of young performers — as seen with its Imagination Series, an interactive platform for music education — and they took that initiative to new heights in 2020 by launching a youth orchestra, Nu Deco NXT. The ensemble has also published many of their past performances online throughout the pandemic, and they fashioned a new EP out of last year's energetic performance with Afro-Cuban artist Cimafunk.
In terms of performing new arrangements onstage, it took until October for the Nu Deco Ensemble to formally relaunch its act. But the wait proved to be worth it as the orchestra inaugurated its 2020-21 with a successful virtual performance at the North Beach Bandshell on Miami Beach. New York jazz singer José James bolstered the show with his grinning, amiable presence, and the orchestra also made room for renditions of Duke Ellington's "Caravan" and Jessie Montgomery's "Strum." Finally, a lengthy overview of Pharrell Williams' catalogue ensued, with "Get Lucky" – a song that Nu Deco had previously covered as part of its Daft Punk suite – serving as a soaring encore for the evening.
If all goes well, the Nu Deco Ensemble will complete the rest of its season with a further four performances in the same mold. Audiences worldwide will be able to tune in online as the orchestra covers celebrated acts such as Led Zeppelin, The Beach Boys, and Earth Wind & Fire. Meanwhile, acclaimed invités like roots rock band Larkin Poe, guitarist Cory Wong and jazz-fusion artist Richard Bona will help to demonstrate that this Miami crew has maintained the collaborative flair it has long prided itself on.
Co-founders Sam Hyken and Jacomo Bairos spoke with Atwood Magazine about how this one-of-a-kind season came to be and how the Nu Deco Ensemble has generated new waves of enthusiasm for chamber orchestra music amongst concert-goers of today.
Nu Deco Ensemble's next performance is on December 12, 2020 featuring Larkin Poe.
— —
A CONVERSATION WITH NU DECO ENSEMBLE
Atwood Magazine: Can you describe your personal relationship to music right up until the founding of the Nu Deco Ensemble in 2015?
We're best friends and we've been performing music our whole lives. Jacomo is the Music Director of the Amarillo Symphony and has been a guest conductor for major orchestras around the world. Sam, at the invitation of Michael Tilson Thomas, was a member of the New World Symphony and the Miami Symphony. 
As co-founders of the Nu Deco Ensemble, what made you guys agree this project was something you wanted to mutually pursue? What was your initial vision for the ensemble, and in what ways have you been able to bring it to life over its first five seasons?
We wanted to create an ensemble that would be focused on covering living performers, while also collaborating with a wide variety of contemporary artists. It's evolved into a hybrid ensemble, a traditional orchestra that is fused with the instruments of the 21st-century, including woodwinds, brass, and electric guitars. 
It's an effective way for us to introduce orchestral music to modern audiences. A lot of people who come to our shows are seeing a classical ensemble perform for the first time, and they find it fascinating to hear our take on artists such as Daft Punk and Radiohead. We've achieved an engaged artistic community through our work with the Nu Deco Ensemble.
Walk us through the period between March, when all live music shut down indefinitely, to October, when the ensemble was able to relaunch itself as a virtual act. How were you able to deal with all the anxiety that built up during that time, and what steps did you take to ensure that the ensemble could get back to performing?
At the start of the year, we were at the pinnacle of our season. We had commissioned and were actively creating a new work with cross-over jazz pianist Robert Glasper. Sam even flew out to Los Angeles to work with him in the studio. It was a dream come true.
But then COVID hit, and at the same time that everything else happened– Tom Hanks got sick, the NBA shut down– we had to put our act on hold as well. Luckily, we were able to hire a digital strategist who magnified our digital presence. We pivoted online and started developing a whole new range of offerings, including launching Nu Deco NXT and distributing filmed content on the Internet. We surveyed all of our partners to see what options they would prefer, and we went along with their responses.
Such a robust strategy allowed for us to reach more people than ever before. We've been able to stay active and reach a whole new community of people with our content from over the years.
In what ways is doing a virtual performance similar and different to performing for a live audience? How do you adapt to the differences?
It is definitely a much different feeling without an audience to participate with us in the performances. However, the ability to perform virtually in a very interactive way with our new platform, Maestro, has allowed us to provide content that is more like a show you would watch on TV, giving different angles and access to behind-the-scenes looks at all the things that go into our concerts.
José James was the first guest artist to join the Nu Deco Ensemble this year. What did you learn from that experience that you hope to implement as you continue to collaborate with everyone else you've brought onboard this year?
Collaboration is one of our mantras. It's a special part of who we are. We combine our visions with those of our guest artists, and our goal is to always elevate each other's music when we play it together. That's what makes the music we cover translate so well into classical form. Audiences love the attraction between the orchestra and the guest artists, and we want to keep capturing that as we move forward. 
Our performance with José James was very successful. Over the rest of the season, we want to keep experimenting with our cinematography, such as how to get better bird's eye view shots.
Your concerts feature many retrospectives of celebrated artists-- Pharrell Williams was covered last time and many more are soon to come. When you approach an outside artist's body of work, what steps do you take to ensure that the original artist's sound comes through, while also giving the new music a ''Nu Deco spin'' to it?
It's always inspiring to dig deep into other artists' catalogues and really get into their sounds. At this point, we've developed a quintessential Nu Deco sound of our own, and we try to implement it whenever we work on our covers. The outcome is different every time, but we always try our best to elevate the original artist's music through our own interpretations. 
As a native Washingtonian, I'm excited to see that my DC homeboy Duke Ellington is one of the artists you're covering most often this season. What drew you to Duke's music and what convinced you that he would be such a good fit for the Nu Deco Ensemble?
Duke Ellington was a legend. The music he created was indispensable to the Harlem Renaissance and transformed the African-American experience in so many ways. He allowed so many people to have their space and place—there would be no Quincy Jones, no Wynton Marsalis without him. Ellington shed his music beyond any one category and opened the door for so many other artists—and that's exactly what we're trying to do with the Nu Deco Ensemble. We hope to carry on the Duke Ellington tradition in modern times.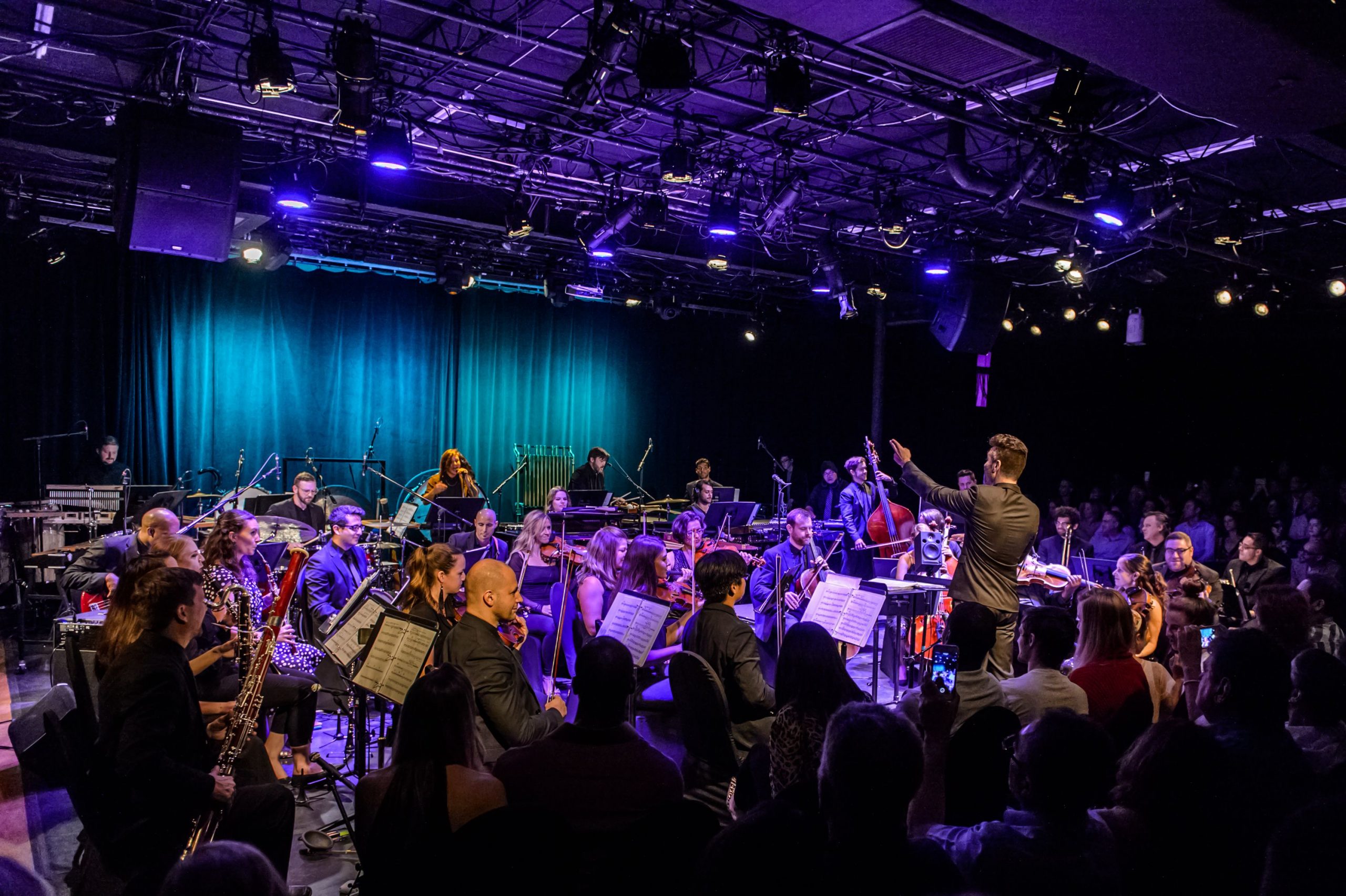 In addition to the start of the new season, another recent breakthrough for the Nu Deco Ensemble is the release of a new live album with Afro-Cuban singer Cimafunk. How did this album come together?
This week marks the one-year anniversary of when we performed that concert at the Bandshell, the same venue where we are currently performing our virtual shows this season. It was a fantastic performance, and after mixing and mastering it, we decided to put it out as an EP.
A year ago, if you had asked me if I would have wanted to make a live album out of the concert, I wouldn't have known what to say. That's not a criticism of Cimafunk at all—he's incredible. A walking music machine, but turning the show into a live album wasn't necessarily a priority for me, given everything else we were working on at the time.
But then we went ahead and released this concert as our second album. And I'm glad we did. Not only is the music itself high-quality, but it's meaningful for us as an orchestra based in Miami, where there is such a strong Cuban population and creative scene, to be putting out an album with an Afro-Cuban artist like Cimafunk as the frontman. A project of this nature allows us to honor the cultural fabric of our city. 
What are your hopes for the Nu Deco Ensemble over the course of the rest of this virtual season, as well as any other projects that may lie in the near future?
We've grown a lot in Miami over our first five seasons. It's given us the opportunity to connect and engage with the creative community there, and we're excited to take it further.
When we had our first virtual show of the season on October 29th, people tuned in from South Korea, Japan, France, Portugal, South America– everywhere, really. It's great to have our music reach people from all over the world in such a beautiful way. To be able to grow and build our community virtually is really exciting for us, and we look forward to keeping up the momentum. We've never done anything quite like this before, and it's a great new avenue of creativity. 
— — — —
Connect to Nu Deco Ensemble on
Facebook, Twitter,
:: Stream Nu Deco Ensemble ::