The title of Sam Vicari's new single feels almost too innocuous, yet it succeeds marvelously at summarizing a statement and emotion that most of us know a little too well: Engross yourselves in another's insecurity as "I'm Nervous" unveils an artist's shaky, honest core.
Game of thieves, house of cards
High rises with trendy bars
The angered faces as patriots go by
I don't think I'm built to last
A revival without the cast
I'm nervous that my love is going to die
Listen: "I'm Nervous" – Sam Vicari
[soundcloud url="https://api.soundcloud.com/tracks/337577020?secret_token=s-jNxoL" params="color=ff5500&auto_play=true&hide_related=false&show_comments=true&show_user=true&show_reposts=false" width="100%" height="166″ iframe="true" /]
---
Atwood Magazine is proud to be premiering "I'm Nervous," the latest single from Chicago independent musician Sam Vicari. "I'm Nervous" is the first of two new songs following the release of Vicari's fourth album Blunt last summer. "This song was recorded in Portland, OR in July 2017 with Hutch Harris from the Thermals and Jessica Boudreaux from Summer Cannibals," the artist explains. "The Thermals and Summer Cannibals are two of my favorite bands, so it was very, very surreal. I was really freaked out at first, but they were both so sweet, welcoming, and reassuring. I hope we can do it again soon!"
Shaken by the sound
By the way, by the way
You buy and you sell, you send it to hell
I'd try it any other way
So use it up, before it's stale
and carry on as the alpha male
I'm nervous that my love is going to die
Led by a modest, crunchy and driving electric guitar, "I'm Nervous" dons a classic rock hat in its straightforward repetitions sans-chorus. The lyrics don a poetic feel, with the repeated line, "I'm nervous that my love is going to die" anchoring the music to an idea that ebbs and flows throughout Vicari's exposition.
It's an idea most listeners will easily relate to: Uncertainty. Vicari's self-doubt manifests itself in multiple ways as he expresses his inability to fit in – to feel natural, comfortable in his own skin. His sentences are short and crisp, clean phrases that intentionally tell only part of the story. What ultimately results is a sense of transience – of temporal existence within a moment, but not to a greater degree. "Live for today, gone tomorrow. That's me," to quote Pink Floyd's song "On the Run." This instability – evidenced in moments such as "I don't think I'm built to last / A revival without the cast" and "You buy and you sell, you send it to hell" – keeps Vicari moving, searching for something to sink his teeth into – something that can truly be his own.
It's a feeling that exists only in a short moment, yet it is so overwhelmingly powerful in that moment. Thankfully, songs like "I'm Nervous" allow us to immerse ourselves in a bygone experience again and again, dipping our toes once more into past lives and former skins.
Enjoy Sam Vicari's latest single, exclusively on Atwood Magazine!
— — — —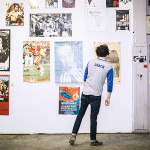 photo © © Jim Vondruska
:: Listen to Sam Vicari ::
[soundcloud url="https://api.soundcloud.com/users/135824197″ params="color=ff5500&auto_play=false&hide_related=false&show_comments=true&show_user=true&show_reposts=false" width="100%" height="450″ iframe="true" /]
---