Naaz's bewitching show at the Camden Assembly proves her to be an artist on the cusp of much deserved widespread acclaim.
Stream: 'the beautiful struggle' – Naaz
— —
It's been quite the year for the extraordinarily talented Naaz. As well as releasing her flawless sophomore EP entitled the beautiful struggle, she's toured with the likes of Hayley Kiyoko and Tove Lo. Undoubtedly an Atwood Magazine Artist to Watch, Naaz's music manages to be simultaneously sincere and sprightly; an intoxicating combination that results in effortlessly enthralling pop music that anyone would struggle not to be a fan of.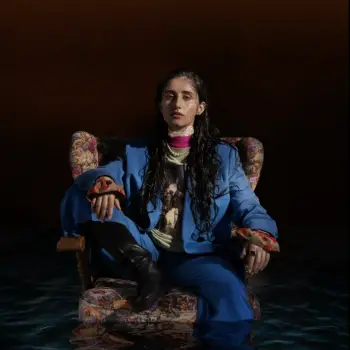 From the outset at Camden Assembly, it's obvious that Naaz has become accustomed to performing on much bigger stages. While the dynamism of her movement restricted by Camden Assembly's relatively intimate stage, in the 400-capacity room it was hard to spot a single person not fully immersing themselves in the moment created purely by Naaz's phenomenal vocal performance and engrossing stage presence.
It's a testament to Naaz's sensational lyrical storytelling, endearing personality, and gripping production that she's been able to build such a dedicated following who screams her affecting lyricism back to her with such palpable passion. After opening with the unreleased "When Everything Was New," Naaz descended into her standout single "Damage" which prompted the night's first en masse singalong. As noted in Atwood's track review of "Damage," "tapping into her most personal experiences has somehow paradoxically resulted in one of Naaz's most accessibly relatable songs yet."
---
In a live setting, you truly get a sense of the deep level of meaning that a vast majority of people in the room have attributed to Naaz's music.
More importantly, every single response to the song seemed to be as distinct as the emotions that people have associated with it; an extremely rare occurrence for a pop-leaning song. Some were jubilantly screaming along to the track's resonant hook, reveling the glee of being able to experience unbridled joy in spite of what's hurt them. While others were seemingly reflecting on their damage, expunging their harmful memories in a safe, supportive space.
Hey, insecurity is leading the way
But it doesn't know where to go
Makes a lot of sense
When you look at the name
Something I shoulda known
Though if I put that fire out
Will I lose my spark?
Have I reached an all time low?
Did I break a new record?
Did I finally recognise it got so bad?
I could only accept if I had peace and love
And the damage, peace and love
And the damage
"It's Not You, It's Me" followed "Damage" before being followed by a string of tracks from her astonishing debut EP. At some shows, you can easily identify a song's popularity by glancing at the audience, with the energy in the room fluctuating massively across different tracks. While at Naaz's show, identifying her breakout hits would prove to be a truly impossible task. Every single song, and even every individual line embodied within them, are wholeheartedly embraced by her devoted audience.
The harmonious echo that accompanied "Loving Love" was almost overpoweringly loud, while the more downtrodden tones of "Heart Drive" were appreciated by her fans in a different but equally passionate way. Much credit has to be given to her amazing band, who've added one member since her last London headline show, for flawlessly transitioning between songs with such differing auras.
Naaz's mid-set performance of her powerfully punchy track "Taped" was enough to whip a large portion of the audience into a feverish frenzy. As fans screamed the song's conservational chorus to each other, the bond that Naaz's music allowed people to share was extremely evident. Following one of your biggest songs with two unreleased tracks is unquestionably a bold move, but for Naaz it paid dividends. As the noticeable echo that usually accompanies her performances disappeared, her bewilderingly breathtaking vocals were brought into the spotlight in a magnificent fashion.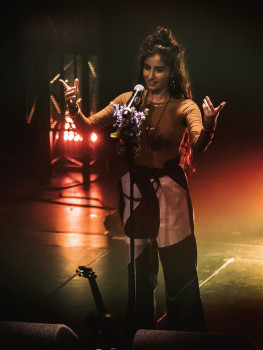 After captivating with her unreleased material, Naaz's fans were quickly thrust back into familiar territory, with them resuming their vocal duties for tracks like "Do You"' and "Words." The sheer quantity of passion and grit that Naaz injects into the performance of each individual track within her set catapults each individual lucky enough to be in the room into an all-consuming euphoric state that's unlike anything they would've experienced before.
Across her perfectly crafted set-list, Naaz's fierce determination and relentless nature is ever-present. You just get a sense that she's never going to give up until her music takes her to stratospheric heights but that during her climb to be top she'll never change to be anything that's not authentically herself. In many senses, streaming services are making the impossible possible and breaking long practiced rules within the music industry. With such an exhilarating emotion-laden set and an already fiercely loyal fanbase, it's clear that Naaz will become a notable rule-breaker; a trend-setter who'll inspire a whole new generation of artists.
Over the coming months, Naaz is set to support the phenomenal Melanie Martinez on tour, taking in colossal venues like Brixton's 5000 capacity Academy. Given her already awe-inspiring set, it's not hard to fathom that soon that her music will soon be filling the cavernous of expanses in its own right. Naaz is a superstar in every sense of the word, and it surely won't be long before mainstream audiences recognise that.
— — — —
? © Raymond Van Olphen
:: Stream Naaz ::