The National Lights' hypnotic folk song "Lantern and Whalebone" reflects on sacrifice and loss in warm, rich blanket of nautical slumber.
— —
We all have buried baggage somewhere: Tales of destinies never realized and true love that never quite came to be, like passing ships in the night. The National Lights' hypnotic folk song "Lantern and Whalebone" reflects on sacrifice and loss in warm, rich blanket of nautical slumber.
Tell us a tale of that fond maiden summer
The wind and your lyre keeping time with the water
Whales can recall songs of the captain's daughter
Lost long ago
"Lantern and Whalebone" – The National Lights
---
Atwood Magazine is proud to be premiering "Lantern and Whalebone," the latest single off The National Lights' upcoming EP, Whom the Sea Will Keep (out February 22, 2019). The folk act's first proper release in twelve years (since 2007's The Dead Will Walk, Dear), Whom the Sea Will Keep is an assortment of songs written and recorded between the summers of 2008 and 2018 in-between work, life, and everything else. The band – comprised of singer/songwriters Jacob Thomas Berns, Chris Kiehne, and Sonya Cotton – formed years ago in Poughkeepsie, NY, and while its members are now scattered throughout the United States (Berns is now based in Eugene, Oregon), they come together in dazzling symbiosis throughout the new record. Songs about ghosts, white whales, disappearances, drastic measures, and more find The National Lights embedded in the sea, whether metaphorically or quite literally – as in their moving "Lantern and Whalebone."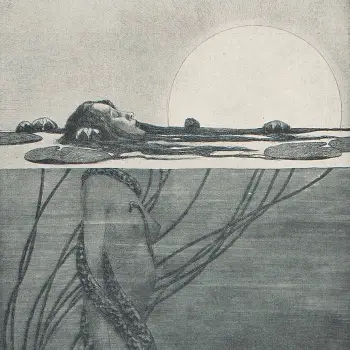 If love were a word worth its weight in oil
The light would come up all around the mainsail
Drive us on through a night free from peril
To leave us alone
On seaboards and sails I've fettered a life
Lost friends to the whale and brothers to wives
And the love from years ago
of a captain's daughter we gave to the night
"Whatever nostalgia the narrator might feel for early voyages, it's not strong enough to overcome the strain of later tragedy. As a diversion, memory carries you only so far," The National Lights' Jacob Thomas Berns tells Atwood Magazine. "To those who weren't there, the narrator's story seems nebulous. We get shadows and vague takeaways: a disaster at night, a shared loss, that love can't accomplish all it should. But by the final lines, the narrator has moved through the loss and ends by looking back at what's sacrificed and forgone over a lifetime at sea. Less acceptance than recognition of having endured when others did not — possibly the worst fate of all."
"Lantern and Whalebone" begins in humble fashion, with an acoustic guitar and Berns' raw vocals. As the song moves into its second and third verses, it grows – gaining melodic contour and colorful harmony, until it's bursting with palpable poignant energy. This, short, yet transformative timespan sees a momentary glance backward morph into a fully-formed realization of life's misses and losses; it's not long before our hearts go out to this lonely narrator.
We may not be dedicating our lives to the ocean with the same abandon, but The National Lights do help us look at the hurdles it takes to commit oneself to a dream or passion, and the ramifications of that commitment. You may not realize what you're giving up tomorrow, through your actions today.
Think long and hard about the consequences of your decisions, and stream "Lantern and Whalebone" exclusively on Atwood Magazine!
— —
— — — —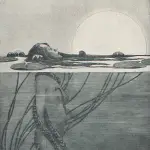 Connect to The National Lights on
Facebook, Web
? © 2019
:: Stream The National Lights ::