Today, Dutch singer/songwriter Nina June premieres "Beneath the Surface" off her new album 'Meet Me on the Edge of Our Ruin', diving into the "dark side of humanity" that inspired her song and the healing and humanity at the core of her music.
Stream: "Beneath the Surface" – Nina June
---
"Beneath the Surface"
by Nina June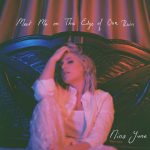 "Beneath the Surface" is one of the darker, more sinister tracks on the album. During the lockdown, I opened the gates of my imagination and used the perks of being a songwriter to go past the walls of my home, enter new worlds, and create new stories. "Beneath the Surface" is a murder story about a woman who can't bear to lose her lover to another woman.
In a broader sense, it's about the dark side of humanity, the parts we've learned to hide. What would happen if we didn't hold back but instead always followed our instincts? It's probably not a good idea, and I thought it was interesting to write a song from that angle. My producer Duncan Mills sent me a beautiful arrangement, gloomy and cinematic. I was inspired to write a melody and story to it. Later on, a great Australian songwriter Toma Banjanin (of Geowulf), helped complete the guitar parts. We all felt it had a cool, different taste and color that the album could use.
The songs on Meet Me on The Edge of Our Ruin look back on what is lost and cannot be replaced, healed, or mended.
It's about reflecting on what went wrong in our lives, both in universal and innermost terms, how we mistreat our planet, and the way we take care of our personal relationships. Understanding what went wrong is key to change and progress.
I've worked on this album over the past 2.5 years. I needed time to think about the way we live our lives in these current times.  If I look back on what was and look forward to the future, what changes do I want to make? It's about making choices that give meaning to our lives and serve us as a collective, not only as an individual. Meet Me on The Edge of Our Ruin is an open invitation to look back on the past and think about the way we want to move forward.
I'm really happy that the album is out now. It feels like a book I've worked on, with ten different stories, each having its own core. All the stories have this theme as a common thread. It was also a dream to have such incredible string arrangements on 8 out of 10 songs, arranged by the amazing Sally Herbert.
We're now looking forward, with our fingers crossed, to our tour through Europe in the upcoming months and bringing these songs to the stage. It will be so great to connect with a real audience again; we missed it a lot!
— —
— — — —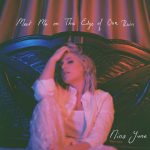 ? © Marc Haers
:: Stream Nina June ::
---