'Moonshine,' the fourth record from the bassist of famed American rock band The War on Drugs, sees Dave Hartley, under the moniker Nightlands, experimenting with lush layering and experimental sounds aplenty, all the while navigating the pandemic and recording from his own studio in his new hometown of Asheville – and the results are as smooth and soulful as one might hope.
Stream: 'Moonshine' – Nightlands
---
It was a solo house-hunting trip to Asheville, North Carolina that convinced Dave Hartley to move his family South from his longtime home in Philly – and the crux of that moment is even documented on Hartley's sonically gorgeous new record, Moonshine, released last month on Western Vinyl.
Hartley was visiting West Asheville looking at new family homes when he stumbled across an extraordinary cacophony of sounds: Birds chirping and dogs barking on a beautiful day, which he promptly documented in a voice memo shared in the moment with his wife.
That voice memo starts off the Hartley track "Down Here," a six-plus-minute offering that showcases Hartley's production through layers upon layers of dreamy vocals – and it's that voice memo that served as a pivotal moment in the family's decision to leave Philadelphia for greener pastures, quite literally.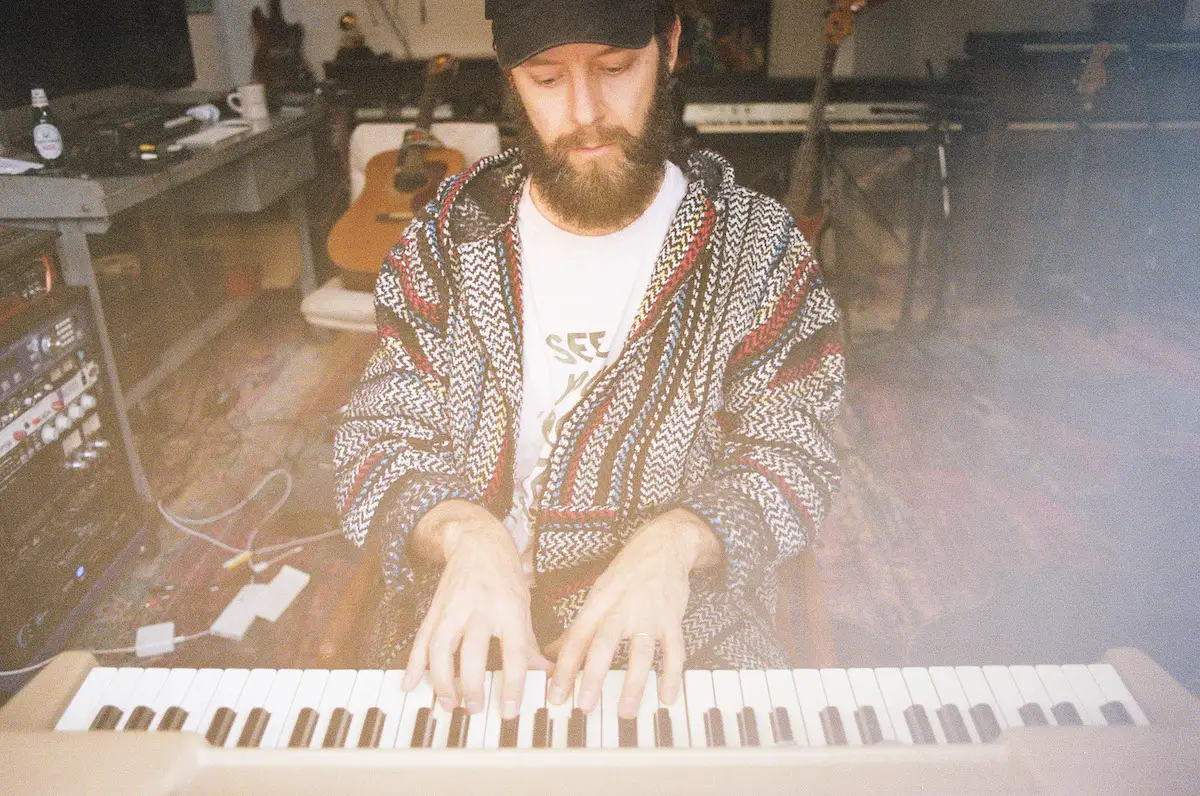 "That's very definitively a moment in time that made its way onto the record," Hartley tells Atwood Magazine via phone earlier this summer in between tour stops with (arguably) Philly's most famous rock band.
That Hartley is calling from a tour stop at a tranquil apple orchard estate is an equally fitting backdrop to discuss the tranquil, deep new solo album.
Hartley and his family were fortunate enough to find the perfect home at the right time during the pandemic – they were the first to view their eventual residence – and the longtime bassist for The War On Drugs quickly set about turning the house's old carriage house and barn into a recording studio.
From there, his fourth solo outing as Nightlands blossomed, yielding ten lush and gorgeously produced tracks that incorporate '80s synths, stacked vocals and groovy bass lines in equal measure.
---
The record showcases Hartley's range aside from his talented bass playing with Adam Granduciel & co. in The War On Drugs, be it the dream-like, ethereal warble of "Looking Up" or instrumentals like "Blue Wave."
Album opener "Looking Up" boasts layering that leans much more into, say, M83 than anything produced by Hartley's main gig, a prime outlet for the bassist to showcase creative ideas in his own right.
Despite the largely solo recording process during the pandemic, Hartley is hesitant to call Moonshine a "pandemic record," although he notes "it had a massive effect on the music."
These songs largely took shape in between recording sessions for the latest standout LP from The War On Drugs, 2021's stunning I Don't Live Here Anymore. Tracks like Nightlands album highlight "No Kiss for the Lonely," on the other hand, actually date back about four years – prior to the birth of Hartley's now-four-year-old daughter.
"It's really a record about change," he says. "That's a long stretch of time to kind of be sitting on some music. It's sort of meaningful to me because of that."
The new studio in Hartley's adopted home base of Asheville proved the perfect respite, with its close proximity to nature – while Hartley tinkered in the past with the idea of recording music commercially for friends, he's since set aside the studio as his own oasis of sorts.
"It's not a fancy studio but it's pretty dreamy to me. It's definitely my happy place," he says.
The locale offered up the ideal opportunity to experiment with sounds and with an array of equipment, best heard on single "No Kiss for the Lonely," which surprised even Hartley with its twists and turns, calling it a "series of miracles."
Hartley leaned into the idea of loading as many vocals as possible onto the track, not unlike the ghostly reverb heard on throwback '80s songs.
"I wanted it to sound like the Grand Canyon was filled with a choir," Hartley says. Consider that mission accomplished. All the same, the process itself took several twists and turns, he noted.
"You think of writing a song as having some sort of grand design but… you're really just searching around for a flashlight in a room," Hartley says.
---
Along the way, Hartley called upon War On Drugs bandmates Anthony Lamarca and Charlie Hall to lend their respective talents to the record, but it still came down mostly to Hartley to bring all the puzzle pieces together, so to speak.
Fellow Drugs bandmates Robbie Bennet and Eliza Hardy Jones also collaborated remotely on the LP.
The bassist and solo artist noted he struggled through the solitary production process, a marked change from earlier in his career — a time when he would have relished the chance to work alone. Not so anymore, he says.
"Music is communication. It's not meant to be completely created in a vacuum," he says.
For all the collaboration inherent in the latest Nightlands LP, Hartley views his music as distinctly different from the emotionally charged hum that tends to erupt when Hartley takes the stage as a member of The War On Drugs.
Inspiration, though, is never in short supply when in the orbit of the Philly-founded rockers, he says, and that inspiration dates back years.
"It was kind of like going to school, how they squeezed music out of themselves and how seriously they took it," he says of the way Adam Granduciel and the band approached the recording process.
Think of it as yet another pillar of advice Hartley internalized and then put his own spin on via Nightlands.
These are lush songs that twinkle, sparkle and shimmer, like neon lights cutting through a heatwave across a dark night sky. To Hartley, they're as creatively fulfilling as can be.
"I feel like I'm happy to keep making Nightlands records because I don't feel like anyone else is making records exactly like them," Hartley says, singling out his extensive focus on vocal layering and DIY production.
Each record is an evolution and a step forward, he says, or "another chapter in the same book."
Hartley also mused that he looks back at his first album under the Nightlands banner – 2010's Forget the Mantra – as a more improvisational way to sketch out his own aesthetic, with subsequent records refining his songwriting and lyrics.
Call it another chapter in the same book, indeed.
Playing bass on other albums presents another fun challenge and a creative outlet, Hartley says, including recent work on efforts by, among others, fellow Asheville resident and indie luminary Indigo de Souza.
Even when on the road, Hartley is rarely at rest – musically, that is. For example: In his iPhone Notes app, Hartley said one of his initial ideas for the next Nightlands record revolves around the unexpected.
The unexpected? Of course, that would be a three-minute percussion drum break to start the hypothetical track.
While Hartley says the idea very well might not make the final cut, it's but one pursuit that leads him down ever-more challenging paths with each Nightlands outing.
Suffice to say that creative outlets for Hartley aren't exactly few and far between – nor is gratitude for the always-busy bassist and solo artist.
"I'm so lucky to have both (The War on Drugs) and Nightlands," Hartley says. "I can already feel I want to do another (Nightlands record) soon."
— —
— — — —
? © Charlie Boss
:: Stream Nightlands ::
---