Every Friday, Atwood Magazine's staff share what they've been listening to that week – a song, an album, an artist – whatever's been having an impact on them, in the moment.
This week's weekly roundup features music by Joy Oladokun, Lera Lynn, Butterfly Ali, Jono Dorr, Anderson .Paak, Hedara, Saige, Roman Rouge, Kat Hamilton, Captain Kidd, and Driftwood Soldier!
— — — —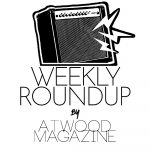 — —
—
:: "i see america" – Joy Oladokun ::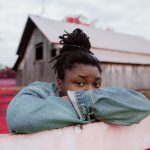 "I saw God out on the block today – he was darker than the preachers say, with a teardrop tattooed on his face and dirt on his fingers," sings Joy Oladokun at the start of her breathtaking October release. "i see america" (stylized in all lowercase) is a poignant, open-eyed reckoning of the America we have, and the one we want to have. It's a song of true American exceptionalism: Of having the humility to recognize and work through our country's history, its misgivings, and its failures, in order to make a more perfect union.
"To me there are two Americas," Oladokun shared in a post upon this song's release. "The first America is that of the false prophets of old – those charlatans who beckon back to an age where America was only actually great for the select few. The second America is the one I believe we can be: This America is one that reckons with the sins of its past and present in order to build a future that benefits all of its citizens. We are in the election of our lives and we may not love our choices, but our responsibility right now is to stand against the energy that bigotry has been given in our house. We run the f*cking show."
I saw God out on the block today
He was darker than the preachers say
With a teardrop tattooed on his face
And dirt on his fingers
I heard angels when he laughed the way
That people do when they have known true pain
For his sins I don't know who's to blame
What choice was he givin'?
In this world that we're livin'
Oladokun's voice is hot on the mic; her storytelling words, simple and direct, melt over a cinematic array of guitars, keyboards, and driving drums that push the song forward. "i see america" is a touching song; a song whose baggage feels limitless, yet nevertheless the Nashville-based artist manages to inject a steadfast, earnest hope into her fervent chorus:
When I see you
I see love
I see America
I feel your pain
I share your blood
I see America
This is not a joyous song, nor is this a mournful song. Oladokun's message is heartfelt and heavy, but also filled with intent and a focus on moving ahead into the future. If she is lamenting what the United States of America currently is and has been, then she's also celebrating a vision of what the United States of America can be. It's a vision we can cling to every time we press play on this song.
:: "Make You OK" – Lera Lynn ::
Emily Algar, Charlbury, Oxfordshire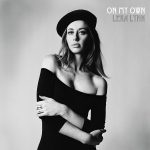 I am completely in love with Lera Lynn's new album On My Own. It is a perfect blend of her previous records Resistor and The Avenues, but it also feels so much more personal. Lynn wrote, recorded, played and produced the entire album alone in her home studio in Nashville. The album is perfect for those dark autumn nights, allowing you to retreat a little bit inside yourself with its throbbing bass, moody ambience and poetic lyrics.
"Make You OK" is a song that I have kept going back to since I first played the album. It is a torch song of sorts but not in the typical way. It has the soaring chorus and the longing in the words of just wanting to make someone happy. It's not an ode to romantic love but to a love much more complicated and unconditional. It speaks to the power of music of being able to cut through all the noise, the hurt, the pain, and give us all a universal language in which to communicate and listen.
In a melody you were finally free
You'd forget the guilt and for a moment see me
These days/ I'm singing, searching all the eyes
For that same freedom I am too deprived
I didn't get it then but I sure do now
:: "Pray for 'Em" – Butterfly Ali ::
I only just got into Butterfly Ali through September's deeply groovy release "5 Minutes," and now between that and his October single "Pray for 'Em," I'm absolutely hooked. The musical moniker for American actor Titus Makin, Butterfly Ali stings in all the right ways (sorry, I had to). With R&B, soul, funk, and hip-hop elements, his music is a smorgasbord of smoldering goodness mixing the old with the new. The result feels as familiar as it does absolutely fresh in "Pray for 'Em," a reflection on where we are in the United States today with regard to racial equality. We feel a litany of emotions rise to the surface as Butterfly Ali pours himself out over a rhythm comprised of sultry keyboards, buoyant bass beats, moody sax swells, sweet vocals harmonies, and more.
I said I think I'm feeling helpless
Like I wanna roll on it, troll on it, stole on it
Little bit of reckless
Like I need to breathe, breathe, breathe
I know it's what I'm sellin
Somebody bout to take my, take my, take my
Look at what I'm giving
Said look at what I'm giving… yeah
"'Pray for'Em' came about from the racial climate we have always been in, and have recently seen a heavy resurgence of," Butterfly Ali recently shared upon the song's release. "I couldn't quite figure out the right way to speak my thoughts on the topic, so I put my thoughts into this song. The song is truly just my inner voice and internal monologue seeing all that is going on around me, experiencing it, and also having faith and hope for progression. Loved being able to couple such a heavy message with a fantastic producer and musician Sam Barsh. He really understands strong storytelling through instrumentation, while honoring my soul/funk stylings. Coupling our worlds really brought a relatability sonically to the song."
I listen to this song and hear an artist coming into his own with a strong, confident voice. Makin owns his sounds and his message: Little bit of reckless… like I need to breathe… I know it's what I'm sellin'…  He's poetic, yet straight to the point; indulgent, yet tempered; nuanced and deep, and every bit catchy. I can't wait to hear more from him, and for now I'm happy to play "Pray for 'Em" on repeat. This is the kind of worship I can get behind.
:: "Deep End" – Jono Dorr ::
"Get a real job– that's what they said to me! But I could never live the way they want!" Good Charlotte once gleefully chanted. Lo and behold: California singer Jono Dorr has confronted that exact situation himself. After graduating from UC-Santa Cruz, he faced "an ultimatum from his parents to either make money from music or get a real job;" unsurprisingly, he didn't hesitate to choose the latter. It paid off in the end, as Dorr has gotten by just fine composing music for television, producing for other artists, and crafting a few singles of his own.
"Deep End," the latest of these, explored well-trodden lyrical terrain– how to react to an unsuccessful relationship– but from a relatively original perspective: the role that one's friends can play in getting you through all this emotional turmoil. "It's about feeling like you need help," Dorr explains. "Real help from real friends when you've gone to the edge of your mind."  Giving folk music a try is apparently a new thing for Dorr, but this effective composition — which he describes as evoking the feeling of "having a nightmare at sea" — proves that this could well be a worthwhile endeavor. I can fully recommend heading to the "deep end" with Dorr and observing just how he can figure out "how to swim in the seas of my mind."
:: "JEWELZ" – Anderson .Paak  ::
Anderson .Paak's voice is one of the silkiest of his generation. His music is defined by uncomplicated vocal takes, with a raw, soulful sound. Somehow though, the pitch-shifting employed on "JEWELZ" make him sound even smoother than before. This dude has range. Jangly melodies? Syncopated, lo fi drums? A fuzzed-out, funky guitar lick that turns into a vocoded lyrical hook? Yeah, it's all here! In the simple mixture of joyful sounds, book-ended by some bizarre faux-Brit accent skits, Paak finds himself travelling through a cosmic niche on "JEWELZ" that is familiar and experimental all at once.
Anderson .Paak is one of the most irresistible genre-splitters to come out of the burgeoning LA groovy soul scene. Since 2016's Malibu announced his presence to the wider world, he's been pumping out a steady stream of golden tunes. This latest release is more of the same, with a slight evolution to keep the progressive heads happy. While "JEWELZ" doesn't have the immediate commercial impact of "Tints" or "Come Down", it's still got that toe-tapping, wide-grinning, squeaky clean sound which keeps you excited for every new Paak jam that pops up on your listening list.
:: "We're Not The Same" – Hedara ::
A textbook example of sad-pop powered by the uniquely honest and powerful voice of Hedara, there is a real sense of openness to poignant new track "We're Not The Same." An exploration of an individual's experience of a failing relationship, the track feels acutely raw yet is juxtaposed against a brilliant groovy dance beat that propels the track forward into a place of uplifting positivity.
As Hedara elaborates, "'We're Not The Same' was written in a manner of minutes. It was one of those songs that was written so in the moment of a relationship breaking down that it just flowed onto the page. I didn't want it to be a negative song, I wanted there to be some sort of hope to the relationship finding its way back."
:: "Mama" – Saige ::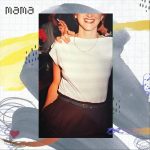 Deeply emotional and poetically raw, "Mama" is a gorgeously melancholic alt-pop track that explores the feeling of total mental exhaustion at the point of crying out for help. Indeed, this sense of existentialism and isolation is surely something many, if not all of us can currently relate to as the global situation of 2020 continues to drag on.
As Saige explains, 'Mama' is  "an introspective delve into a mind that is feeling isolated and vulnerable."  Set against swelling synths and an eerily ethereal harmonic landscape, there is something truly powerful about this track, especially right now.
:: Blood On The Scene – Roman Rouge ::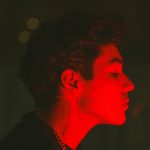 An R&B pop singer from El Paso, Texas, Roman Rouge grew up with a somewhat rocky childhood. Raised by a single mother struggling everyday to make ends meet, from a young age he learned to be independent. Listening to his boldly confident new EP Blood On The Scene you truly feel that sense of strength come through. This six-track release explores intense and intimate themes such as fighting your demons, destructive relationships and the remorse of past mistakes.
"The Other Me" is a smooth electro track that narrates being your most authentic self and not letting others try to change you. The emotive album closer "Dance Like This" has a similar message, detailing a girl who accepts him for exactly who he is, flaws and all. It is these passionate and personal offerings along with other exhilarating tracks that make "Blood On The Scene" a must listen.
:: Recovery Songs – Kat Hamilton ::
Singer/songwriter Kat Hamilton unleashes her passionate and personal new album Recovery Songs. The nine-track offering depicts a stunning narration of true spirit and strength as she struggles to overcome addiction. The penetrating release leaves you with so many powerful feelings as it takes us down a journey of self-discovery.
Recovery Songs opens with "Ohio", a tumultuous tale of a bitter ex and how no matter what he does, Hamilton continually blames herself. "Medicine Line" is a heartbreaking account of her time in recovery and with each line listeners sense her immense hurt. Edgy tracks like "Empty Room" are so raw and intense that you are immediately gripped. Recovery Songs provides listeners with the perfect emotional release.
:: "Over It" – Captain Kidd, La Poré ::
Fun fact: not that many real-life pirates actually buried treasure. One of the few who did, Captain William Kidd, inspired the literary trope that has been inseparable from piracy ever since.
Another fun fact: there's a band from Columbus, Ohio named after that same Captain Kidd, and they are totally worth checking out! The group was formed in 2013 and has seen various members come and go ever since, though in the past year or so its main thrust has been provided by producer Kyle Kanzigg and singer/songwriter Nathan Baumgard. The latest in a string of recent singles recruits the band's former drummer, known as La Poré, and touches on the topic of overcoming toxic, hollow lifestyles.
"We all have probably experienced phases in our lives where we let unhealthy thought patterns and lifestyle choices take over our lives and cause some serious damage," Kanzigg explains. "'Over It' is a celebration of letting go of those unhealthy lifestyle patterns, instead choosing to hold yourself accountable and create a better quality of life for yourself." Such an encouraging message, coupled with luminsicent and synthy production, make this an easy track to embrace.
:: "Banker and a Liar" – Driftwood Soldier ::
When the world spits on you, you spit right back. Driftwood Soldier, the gutter-folk duo from Philadelphia, PA, write songs to make the loathsome feel a little less so. On "Banker and a Liar," Owen Lyman-Schmidt (mandolin, vocals, suitcase) and Bobby Szafranski (bass, bottle caps) turn Reigning Sound's original punk tune into a scornful folk-song indictment of the establishment. The duo's homebrew of mandolin and bass guitar give the song teeth. On the recording, guest-player Mat Heckler's fiddle cries in a minor key beside Caitlin Quigley's soft vocals. The song comes together under Lyman-Schmidt's deep, soulful bark:
"And I don't know what to do for you / I could draw you a picture of the world / and it's true, I could have loved you / but your dreams are on fire / and your prophet is a banker and a liar."
The music video finds the duo playing out in the streets of Philadelphia, in front of major banks, watching the world go by, shouting to no one in particular about "the poisoned piss of easy-living / full of shit, and unforgiving / to the poor who rest your burdens on their backs." The song reminds us that whatever is happening in the world, it's old. Too many nobodies continue to make a hero out of the wrong somebody and leave the rest of us in the gutter. A better world has to be earned, it cannot be bought. Eutopia is literally priceless. For everything else, there's… well, you get it.
— — — —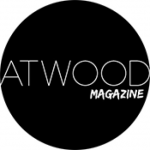 :: Weekly Roundup ::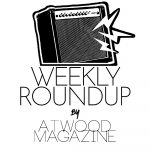 ---
:: This Week's Features ::
---