Ages and Ages' "Needle and Thread" helps us find the balance between giving too many fucks and giving no fucks at all
— —
There's a clip spreading around the interwebs this week of a kayaker successfully shredding through a powerboat's wake. In order to navigate the erratic dips and swells of his ride, the kayaker finds a balance between controlling his direction and yielding to the force of the water. As he flips around, bumping through the choppy wake, the kayaker's ability to maintain equal parts freefall and strategic paddling is what keeps him afloat. What's more?! He's enjoying himself.
It's the perfect metaphor for surviving today's acrid political environment. With so many issues constantly dipping and swelling around us, it's necessary to decide which to maneuver and which to let ride. Finding the balance between giving too many fucks and giving no fucks at all is the choppy wake we must all learn to shred.
At the musical forefront of this soul search, we find Portlandish indie popsters Ages and Ages. Since 2011, Ages and Ages have been offering their audiences bright and folky stories and advice in an upbeat clap-a-long style. With the political climate developing into a confusing street sign with arrows pointing in all directions, Ages and Ages have stepped up to assure us that we are not alone in our confusion.
Could be the news I see
Making a mess of me
Maybe I'm wrong
Can't help but wonder, though
If I should have been aware of this all along
Get up, get up,
I know you're just fucking around
Enough, Enough, it's all an act, isn't it?
Atwood Magazine is proud to premiere the video for Ages and Ages' latest release, "Needle and Thread" (out now via Partisan Records). With the power to comfort, shock, and amuse us all at the same time, the "Needle and Thread" music video expresses the frustration we feel in finding, as band leader Tim Perry puts it, "the thin line between detachment and activism, boredom and debauchery, lying still and … not lying still." It also helps us find whimsy in the struggle.
Set in motion through the mellow choral mosey of an upbeat pop song, "Needle and Thread" opens with a slowly retreating close-up of Perry's deadpan and blinking face. As our voyeuristic window expands, we begin to experience the feathery fallout of an alt-slumber party in full swing. Director Zefrey Throwell sets the scene – just imagine…
"Traveling alone through a strange town, you wander to the lobby bar. Seeing people with only time on their hands, you invite them all back up to your room. "
What happens next can only be described as debauchery. As Perry sings sweetly,
Or am I just day drinking way too much
Not making sense enough, stuck in my head?
Caught in the echo chamber,
Safe in the choir with the rest
Of my friends?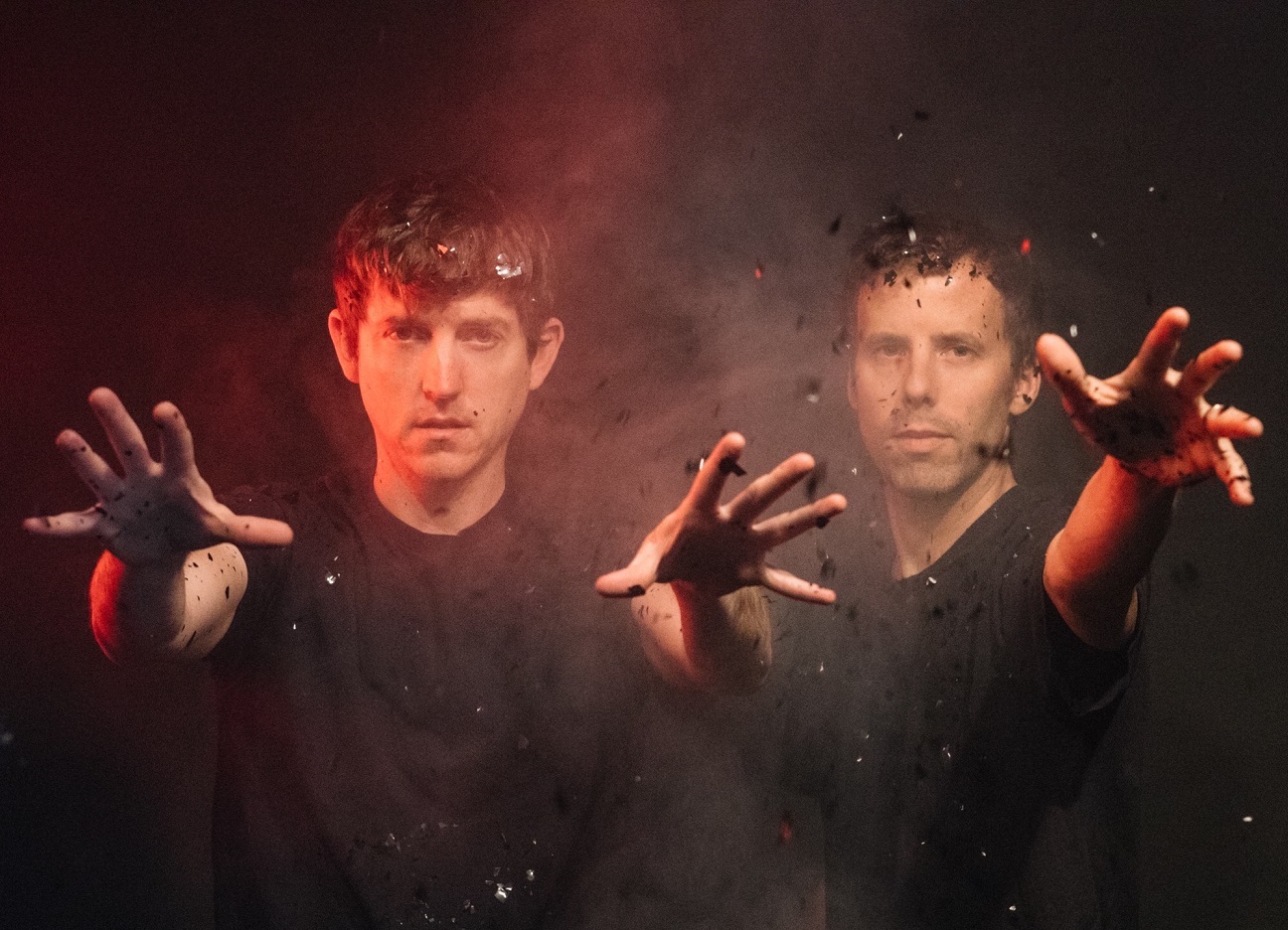 With a team of pillow fighters on his right and another on his left, Perry seems frozen in the middle as they haggle it out for the big W. Messy confusion sprays out all over the place as the battle becomes more epic. Sounds familiar… where have we heard this story before?
Politics. That's where.
But let's not forget the point of all this hoopla. As Ages and Ages' bassist Rob Oberdorfer puts it, we need to "find a way to navigate all that (political stuff) while maintaining some semblance of mental health – you can't start drinking at lunch every day." So, to maintain our daytime sobriety and ensure we don't crumble under the rigidity of taking ourselves too seriously, we need some good strong levity. And levity is just what Ages and Ages are offering with their video for "Needle and Thread." Without giving too much away, Perry explains, "If you like pizza and blurry genitals, then sit back and enjoy."
Just push play and wait for it. You'll catch the levity they're bouncing your way – exclusively on Atwood Magazine!
Watch: "Needle and Thread" – Ages and Ages
— —
— — — —
? © 2018
:: Ages and Ages ::