Recommended If You Like: Michael Jackson x Prince
— —
Love is in the air, and dance is in our shoes: Pink Flamingo Rhythm Revue's sexy new single "On a Night Like This" is an invitation to move, groove, and submit ourselves to that higher power: Desire.
My darling this is it
I'm insane but I'll commit
Don't you give me that too cool shit
Cause heaven knows that I ain't gonna quit
"On a Night Like This" – Pink Flamingo Rhythm Revue
---
Atwood Magazine is proud to be premiering "On a Night Like This," the lead single off Pink Flamingo Rhythm Revue's forthcoming self-titled EP (via YouTooCanWoo). The new project from Eric "Doc" Mendelsohn (formerly of Ghost Beach and TV/TV), Pink Flamingo Rhythm Revue (we'll call it PFRR for short) serves up funk and fun, engulfing listeners in a dreamy world of warmth and wonder.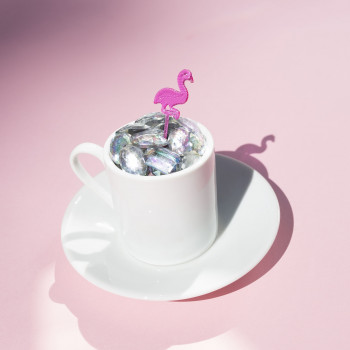 And you try and try to prove
that you're not mine to lose
Cause I'm not what you had in mind
You know I'm not a fantasy
in the land of make believe
But I'll make sure you're feeling fine
"'On A Night Like This' is either about coming to terms with the fact [that] the person you need, is not who you want …. or it's about over promising​,"​ shares Mendelsohn. We feel the narrator's deep wanting as Mendelsohn sings out his beautiful, high vocal melodies. It's a throwback to the likes of '80s Michael Jackson or the essence of Prince, a fueled by a potent and fiery hunger that just won't abate.
And So I Say
Take my hand
make a wish
understand heaven does exist
We will find that diamond kiss
Touch the sky
On a night like this
Yet, for all the excitement in the air, there's the sense that this night to which we ascribe so much power and import is fleeting; the moment fades fast, leaving us with nothing more than a sweet memory, a little taste lingering on our lips. Listening with this in mind, PFRR's song dons a melancholic twinge: There's a sadness in knowing that what you want so bad is only temporary, something lost to time.
Thankfully, that's not the case for this music. "On a Night Like This" begs for multiple listens, its sultry undertones seducing our ears again and again as we melt into Mendelsohn's vivid fantasy.
Never been the one to be so impressed
but with you I'm obsessed
who's who in this game of chess
cause a king with out a queen is powerless
You can try and try to prove
that I'm not getting through
I can see it in your eyes
Yeah you're learning how to dance
Scared to take a chance
but I'll take care a' those butterflies
Take a chance and jump into the hot seat with Pink Flamingo Rhythm Revue's "On a Night Like This," exclusively on Atwood Magazine!
— — — —
photo © 2017
:: Listen to Pink Flamingo Rhythm Revue ::