Every Friday, Atwood Magazine's staff share what they've been listening to that week – a song, an album, an artist – whatever's been having an impact on them, in the moment.
This week's weekly roundup features music by Foo Fighters, Raye Zaragoza & MILCK, Cuco & The Marías, swim school, Mirrorball, Tim Young, Jules Paymer, The Velveteins, Dan San, Natisa Gogol, Julia D'Angelo, & Keep!
•• •• •• ••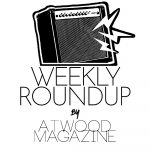 :: But Here We Are – Foo Fighters ::
Initially my review of Foo Fighters' eleventh studio album was just going to be a bunch of unkempt expletives strung into a half-coherent sentence – an eruption of excitement, exhilaration, and exhaustion all at once. It felt fitting, but honestly these ten songs deserve better than that. Foo Fighters' first release since drummer Taylor Hawkins' death, But Here We Are (released today via Roswell Records) is a heavy and heartfelt tribute to a lost friend: A record of mourning and grief, reckoning with life and death, presence and absence, the unrelenting pain of loss, and the natural laws that govern our tragically transient existence.
It's an album that aches from the inside out, and one that – quite poignantly – sees Foo Fighters once more at the height of their game, albeit missing someone who, over the course of the past 25 years, served as the band's beating heart. In addition to Hawkins' untimely passing in March 2022, Grohl lost his mother, Virginia Grohl, later that same year.
Each of But Here We Are's ten songs fittingly sees Dave Grohl and co. searching for meaning in the madness and trying to come to peace with their own inner turbulence, all the while letting those tempestuous emotions run free through some of the band's most explosive and provocative music in years. Opening track "Rescued" sets the tone with fiery drumming and an emotionally charged chorus about redemption and revival ("We're all free to some degree to dance under the lights, I'm just waiting to be rescued, bring me back to life"), but what's most striking is Grohl's achingly raw vocal performance: He holds nothing back as he balances control on one hand, and utter chaos on the other. The result is nothing short of pure, raging passion.
"I had a vision of you, and just like that, I was left to live without it," Grohl sings at the top of "The Glass," one of quite a few album standouts. Whereas this is a more tender moment of upheaval, Foo Fighters often lean into the deep, unleashing themselves in feverish outpourings of cataclysmic sound – as exhibited by the album's very next song, "Nothing At All," where a frenzied Grohl roars, "Now that all the feeling is gone, everythin' or nothin' at all!"
But Here We Are is a tempest, and like any good storm, its final moments are some of its best. The ten-minute epic "The Teacher" is a melancholic, soul-stirring homage to Grohl's mother, who herself was a teacher (and, as his mother, also served Grohl's first teacher). The dynamic song ends with Grohl shouting a "Goodbye!" over and over again into the abyss.
But Here We Are comes to a breathtaking close on the half-acoustic, half-electric "Rest," a hauntingly beautiful elegy to the recently departed. "Love and trust, life is just a game of luck, all this time's scaping us, until our time is through," Grohl sings in the song's verse, finding a place of peace and assurance in a chorus that comes to be its own spiritual mantra: "Rest, you can rest now. Rest, you will be safe now."
Foo Fighters' eleventh album is neither safe nor easy, but in letting out their own demons and darker sides here, the band have delivered a beacon of love, light, and life. But Here We Are hurts because death is unavoidable, but it's that intrinsic inevitability – our shared mortality – that makes this album so painful, so moving, and so goddamn beautiful.
::  "Joy Revolution" – Raye Zaragoza & MILCK ::
Our existence as humans on this Earth can be tumultuous. Our day-to-day life is often filled with bad news and disappointment seems to be right around every corner. At times, it feels like finding the energy to actually be happy is the toughest battle we fight.
But what if being happy was a form of protest against the monotony of the everyday?
Raye Zaragoza and MILCK ask this question in their track, "Joy Revolution," released last Friday, May 26, via Rebel River Records. As the first cut off of Zaragoza's upcoming record, Hold That Spirit, the melody kickstarts the album rollout process with an expression of unrelenting joy.
As a woman of indigenous descent Zaragoza shares another meaning behind the track, "I love the thought that our ancestors fought so hard for our freedom – and it's out of respect for them that we fight to experience laughter and joy. I definitely have been one to think that I have to 'earn' rest and 'earn' joy — but that way of thinking has caused me pain and anxiety. It's time to experience radical and unconditional joy, and let joy exist even when life isn't perfect."
"I wanna want what I have / Surrender to the things I don't understand / It's alright, it's alright, it's alright / I'm gonna keep marching on," Zaragoza and MILCK sing, their voices intertwining in sweet harmony over breezy instrumentals.  "We are love in motion," the two musicians sing, reminding listeners that we were not put on this Earth to fight and hate, but rather to love.
And so, join Raye Zaragoza and MILCK in their "Joy Revolution," and keep an eye out for Zaragoza's upcoming record, Hold That Spirit, coming August 11!
:: "Si Me Voy" – Cuco ft. The Marías ::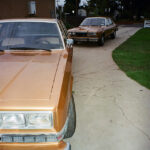 I somehow manifested this collaboration. Cuco and The Marías are vastly different artists, with Cuco leaning heavily on psychedelic sounds adjacent to Tame Impala. His impressive list of musician friends includes Kacey Musgraves, Clairo, Boy Pablo, and, recently, Caloncho.
The Marías, especially, have well-known features in their discography — "Otro Atardecer" from Bad Bunny's Un Verano Sin Ti, of course, a noteworthy mention. The band is known for their indie/alternative roots, sometimes dipping into bossa nova. For "Si Me Voy," though, the contrasting genres just work.
"And if I leave? I want your love to be with me If I go I will give you Whatever you want because that's my destiny I'm for you? Am I," the translated lyrics read. It's a relaxed, muted color-toned single. It's sad boi/girl summer in the best way.
:: duality – Swim School ::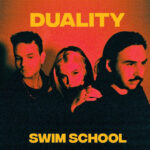 Duality –the most recent release from the Edinburgh-hailing trio is a splash into a dreamy landscape exploring love and life, however, this quartet of songs is in no way a repeat of any other tale of love or life that's been told before. This EP is a punchy grouping of songs that illustrate individually captivating vignettes that work stunningly as a collection.
"kill you" leads off the EP and with Alice Johnson's floating vocals paired with the atmosphere generated by the backing instruments, this little tune envelopes you in a safety blanket. The track tells a story about the security of knowing that you have someone to grow old with no matter what life throws at you, "Ooh, I wanna have you with me / When days are old, our looks have faded / If you're not there, well, I'll be waiting." It is lovey-dovey in the best way, shedding a positive light on the prospect of growing old with someone you hold dear. Second in the tracklisting is "delirious," which provides an auditory 180° flip. With flashy drums and a heavy guitar coupled with Johnson's hauntingly seductive vocals, this track in one word is killer. The first verse introduces a fierce argument against misogyny with the lyric, "You disengage when you see my name, my face, my age" which points to a very real experience that women face. Throughout the song, the message that misogynists are a joke not to be taken seriously and that they should have no place in power in society is stamped in what is essentially a neon sign. The bridge of this song deserves a spotlight as it explains directly to the misogynist character of the song why they are the way they are which simultaneously broadcasts the message to listeners.
I'll say it louder for you
So it can really get through
Your insecurities show nothing but your jealousy
I'll say it louder for you
So it can really get through
Your insecurities show nothing but your jealousy
Wrapping up the EP are tracks, "don't leave me behind" and "over now," which kick back to the overarching theme of love. "don't leave me behind" shows an alternate perspective from "kill you" as it questions the status of a relationship as one person in the relationship clearly sees the potential and is frightened of the prospect that the other person may not and might leave. The insecurity that is represented in this song is wholly relatable, and similarly to "kill you" offers a security blanket to a listener in the sense of showing them that they are not alone in this experience of desiring reciprocation from someone. In a complete juxtaposition to "don't leave me behind" and "kill you" is "over now" as it portrays the end of a relationship. What is so clever about this track is that the repetition of the lyric "It's over now" at the end of the song allows for a release and a final sense of freedom.
It is easy to say that duality smartly shows the capabilities of Swim School and indicates that they have more to produce. They managed to express both anger-driven and comfort-driven themes in one EP in a way that is invigorating for any listener, and it is thoroughly compelling.
:: "Red Hot Dust" – Mirrorball ::
The allure of the open road pulls us in as Mirrorball's dreamy fourth single gets underway. Independently released today, "Red Hot Dust" is an escapist fantasy dressed in warm reverb, glistening, golden-hued sonics, and dusty vocals filled with longing and desire. The second single off the Los Angeles-based pop duo's forthcoming debut EP sees singer/songwriter Alexandra Johnstone and multi-instrumentalist and composer Scott Watson coming to life in a timeless, nostalgic haze.
The Devil is in a dark place
He's lost all self-control
I've won but I've lost the whole race
And I'm gonna hit the road
Desert pink fill my lungs
Canyon of dreams, fill my guns
Red wine, it's a thriller
Its Goddamn killer
Let's ride with the top down
Shoot stars till they fall down
"'Red Hot Dust' was written at a time when I desperately wanted to go home but circumstances wouldn't allow it," Johnstone tells Atwood Magazine. "My heart was running on empty and going back home was the only way to fill it back up again. 'Canyon of dreams' refers to where I grew up in Sierra Madre Canyon. I was stuck in the heart of Los Angeles, and it started to feel surreal, unfriendly, like driving down the LA freeway with molten lava where the asphalt used to be. Everything is the same, but something is different, something is unfamiliar."
"I heard Scott playing the piano part and I thought of the lyric, "The devil is in a dark place." To me it was kind of a joke, it's already the devil, how could the devil be in a dark place. But that's how things felt at the time. I was trying to force some light to the surface with this song. I wanted to drive out to the desert with the top down and fly under that pink-hued and eventually starry sky that only exists in that place. If you can't go home, you can always go to the desert. Strangely enough, as the song releases, I am saying my final farewell to my childhood home. It's like Thomas Wolfe says, 'You can't go home again.'"
Desert pink fill my lungs
Canyon of dreams fill my guns
Don't look at me innocent
Because I can't breathe
Red hot dust
Red hot dust
As someone who loves travel and constantly dreams of faraway places, I can't help but play into the fantasy of this song – whether my dreams are of the desert, the beach, or the busy streets of London. Mirrorball have tapped a goldmine, and I, for one, can't wait to hear the what else they've got in store on their debut EP!
:: "Lavender" – Tim Young  ::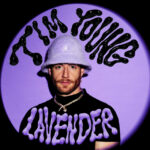 New York multi-Grammy certified artist Tim Young has just dropped a vibrant new single, "Lavender." The heartfelt and emotional new song speaks of love, loss and self-discovery as Young navigates his way through a tumultuous and unexpected breakup. The artist reflects the intimacy of the narrative through ethereal synths, personal lyrics and a transcendent chorus, as he touches on the mixed emotions which accompany the devastation of saying goodbye to a loved one.
The title "Lavender" takes its name from the person that Young was in a relationship with, and his unhealthy fixation with the particular scent. He shares, ​​"The breakup inspired the song, and just as I was infatuated with him, he had an obsession with lavender. It permeated every aspect of his life, from his cologne to his baths and even his choice of smoke. The scent became inseparable from our shared experiences." Through a moment of introspection, this track is proof that we can come out of a bad situation, better, happier and stronger than before.
:: "Mommy Issues" – Jules Paymer ::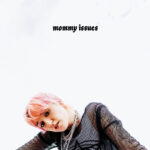 A girl who continuously ends up with destructive men is often thought to have "daddy issues." Though it is a common stereotype, many times our childhood traumas transfer over into adulthood. Jules Paymer knows this well and expresses that lingering angst in "Mommy Issues." The relatable alt-rock offering details the toxicity with their mother and the partnership that arose as a way to cope. The singer admits, "I was seeing a girl who was way too old for me and was trying to convince myself that I wanted to be with her. I think deep down she was actually just satisfying my messed-up relationship with my mom." The video adds to the song's satirical nature, showcasing Paymer in a therapy session as they fantasize about making out with their therapist.
Paymer's first release "The Daughter That My Mother Wanted" (ft. Miki Ratsula) earned them away,  much praise and even Paramore lead singer Hayley Williams posted the song on her Instagram. "Mommy Issues" is the follow-up to that acclaimed track, this time possessing a more in-your-face grit. That raw edge instantly entices listeners.
:: "Declarations of the 3am Freeway" – The Velveteins ::
Canadian five-piece band The Velveteins have unveiled their new single "Declarations of the 3am Freeway." Effortlessly blending 60's psychedelia with explosive indie rock, the result is something which is equal parts infectious and beautiful. Inspired by the solitary realm of a late-night road trip, the track transports you to the endless, vast expanse of a highway. Noting the foggy Pacific Northwest as a catalyst for the sound, lead singer Spencer Morphy shares, "The lyrics are yearning, and more insightful than our past works. That longing sentiment is relayed perfectly on the title track "It all begins right now / it all begins in the car on the freeway."
Bringing together elements of both the past and present, the track enters with shimmering synths, a throbbing bassline and anthemic drums. Morphy's vocals are soft, melancholy and hopeful, as he chants about the infinite opportunities ahead of us. This song is perfect for those warmer summer evenings, when you want to unwind, sit back and lose yourself in a moment of introspection.
:: "Hard Days Are Gone" – Dan San ::
It's easy to hear John Lennon's influence shine through Dan San's "Hard Days Are Gone." The lead single off the Belgian indie folk band's recently-released third album Grand Salon (April 28 via Simone Records) is a gentle giant channeling '70s musical warmth and sonic light into a rousing modern reverie.
The ashtray is overflowing
For few days now I haven't seen the light
Every morning is the same
and I'm afraid I'm gonna die
hard days are gone…
"'Hard Days Are Gone' is a song about the feeling of not belonging to the world around us and the feeling of loneliness that results from it," Dan San vocalist and guitarist Jérôme Magnée tells Atwood Magazine. "It's also and above all a mantra, a phrase that we repeat to ourselves over and over again, a hope that tomorrow will be beautiful. Writing it was a kind of a healing process. I was in a psychological slump and it was, in a sort, a message in a bottle to myself. As if I repeated this mantra enough, it would get better."
"The music production is inspired by the '70s classics," he adds. "We decided to use some old school tricks in the studio. For example we used an old tape recorder to create the delay on the voice and then we sent it into a Lesly (which is a strange amp who rotate and create a very unique sound). We used the same processing on the drums which results in that mix between very '70s sounds and modern inspirations."
Never wanted to be a sheep, no
but I never wanted to be that strange
The old days must leave
and I'll never gonna be the same
hard days are gone…
Tender, bittersweet, and unapologetically emotive, "Hard Days Are Gone" is an indisputable standout on Grand Salon, a record that sees Dan San expanding their sound and pushing their boundaries as they soothe and stir us (check out "1994" for a particularly moving moment of zen). Rock, folk, pop, experimental, and more coalesce on a singular record that all but demands our undivided attention.
:: "Aesthetics"- Natisa Gogol ::
An empowering anthem where love conquers all, singer/songwriter Natisa Gogol shares her stirring ode to the LGBTQ+ community, "Aesthetics." The punchy pop, disco-tinged track takes the listener through a world where love transcends injustice. With seductive vocals spilling atop bold, hypnotizing beats, the piece comes to life with full vibrancy. The futuristic video is just as intoxicating. The offering exhibits a deep connection between two women. The intensity of their romance is magnified through slow touches set within a sensual sci-fi atmosphere.
Gogol is a refugee who courageously fled with her son from her war-torn home in 2022. Now she creates raw and emotive music highlighting Ukrainian struggles. This latest release pays homage to LGBTQ+ as a whole, but also those in Russian occupation. Under Russian rule they could be further stripped of their rights. "Aesthetics" is her way of encouraging others to hold out hope.
:: "Kathmandu" – Julia D'Angelo ::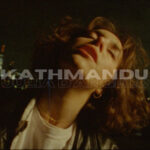 Julia D'Angelo's first song of the year is the kind of fever dream into which you can't help but dive headfirst. Released May 19, "Kathmandu" is an irresistible, hushed indie pop dream. The Toronto born, Brooklyn-based artist crafts a world of wonder and possibility as she sings of slipping "into my made up galaxy" and letting "the view of your stars wash over me." It's instantly immersive and beautifully eclectic.
Never been so scared of the night sky
Never been so used to a white lie
This orange burns in my mind
5:59, I roll over to the sound of your soft reply
These covers burn my skin like a million suns
Weighing on my chest like a million tons
I sink into your bed, crawling out of my head
Shed the last remaining bits of my lying lungs
"This song actually started out as a poem that I had written years ago," D'Angelo explains. "I was seeing someone at the time whose window saw the most beautiful sunrises I'd ever seen in my life. I remember not being able to sleep one night, and just staring out the window – looking at the same sunrise that I had seen many times before, only this time feeling immense guilt, because I knew I had to end the relationship, and I was terrified. The first line of the song, "Never been so scared of the night sky, never been so used to a white lie" speaks directly to that feeling. What followed was a journey through my imagination, from being trapped and held down, to bursting through that window and being – for lack of a better word – free."
That sense of freedom comes at a cost, and there's no denying the raw ache at this song's core, but more than anything, "Kathmandu" invites us to bask in a space of unbridled, electric wonder.
Slip into my made up galaxy
Let the view of your stars wash over me
Slip into my made up galaxy
I'm looking far beyond what you see
Never been so used to this night sky
Never been so scared of this white lie
Press my hand to the moon
Say I'll be back soon
And slip through the glass with one last goodbye
:: "Everything" – Keep ::
I didn't grow up listening to shoegaze – in fact, it wasn't until a couple of years ago that I really got into it, and admittedly I still haven't had my "Slowdive" era – but I'd let Keep's raw sounds wash over me any day of the week. The Richmond, Virginia-based alternative band formed ten years ago, and celebrated their first decade together in February with the release of Happy in Here, an unapologetic, intoxicating scorched-earth studio album whose marriage of subtle and seismic sonics feels at once fresh, yet familiar. Heavy moments hit with passion and intense emotion as Keep earn their place in the shoegaze pantheon, filling the airwaves with tense energy, radiant melodies, and unfiltered (but definitely effected) guitars that rage and roar like impenetrable walls of sound.
"Happy In Here was recorded over the course of ten days at Earth Analog Studios in Tolono, Illinois," the band explains. "The majority of the album was written in the six months leading up to the recording session, which took place in January of 2022. It's an album about firmly feeling the passage of time. It's about eternally searching for the perfect distraction, to no avail. Above all else, it's about the reconciliation between the idealized version of life and reality."
If you're in the mood for something more catchy and palatable to a mainstream audience, try "Dasani Daydream" on for size. For straight-up grunge bedlam, head over to songs like "Everything" and "Hand2Hand." I personally find myself leaning toward the album's first two songs, "Can't You" and "Air," which, taken together, are as stormy as they are sunny – filled with rich melody, raw emotion, and pure adrenaline.
— — — —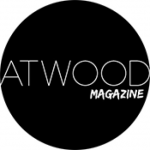 :: Weekly Roundup ::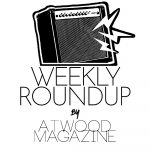 ---
:: This Week's Features ::
THE MILK CARTON KIDS DIVE INTO 'I ONLY SEE THE MOON,' THEIR INTIMATE & CINEMATIC 7TH ALBUM
:: TRACK-BY-TRACK ::
---