Ruby Force's "Ode to Vic Chesnutt" is so much more than a tribute to the dearly departed singer/songwriter: It's a spirited, vibrant outburst of life's ups and downs, as is exemplified by the band's brand-new live performance.
I woke up howling at the dawn
Restless as my wanderin' eyes awakened
And it's not enough to make what you want in dreams
Because all such things are likely to be shaken
Oooh life, spinning like a wheel
Ooh life and the pain is real
Watch: "Ode to Vic Chesnutt" – Ruby Force
---
Atwood Magazine is proud to be premiering the live video for "Ode to Vic Chesnutt," the fourth part of Ruby Force's Pheasant Studio Series. The "musical brainchild" of Erin McLaughlin, Los Angeles band Ruby Force introduced the full breadth of their musical potency through their recently-released debut album Evolutionary War (independently out 6/23/2017). Offering an inviting mix of reflective singer/songwriter and warm folk/country, Ruby Force is (quite literally) a force to be reckoned with: The band was previously named one of Rolling Stone Country's "10 New Artists You Need To Know," and earlier this year Atwood Magazine premiered their passionate song, "Diamonds."
The live video of "Ode to Vic Chesnutt" offers some personal insight into the struggle between celebrating life and confronting its difficult truths.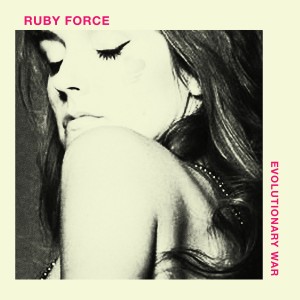 Well I saw him there, fixed upon the mount
Shinning like the noonday sun was burning
So I threw my care and all my earthly doubt
Upon that hill to have him lift my burden
Oooh life, spinning like a wheel
Ooh life and the pain is real
Ooh life, all I want I feel
Ooh life and the love is real
McLaughlin comes in forcefully as she recounts learning about another's passing. She tells of her reaction, of how it sent her into a spiral of memory. Soon, her thoughts dive inward;, and she's contemplating life's larger significance and experience.
The lyrics' natural progression is enhanced by the band's groove: Watching them, we get the sense they know the timing of one another's next breath; they're in sync, both rhythmically and dynamically, washing like a wave over McLaughlin's singing such that one cannot help but fall under her spell. It's intoxicating to watch, as any great performance should be.
Fans of this will fall helplessly in love with Ruby Force's debut album, which faithfully captures the band's strong live act only too well. Be sure to give Ruby Force your attention, and catch them on tour this month and next throughout the West Coast – dates and more info below!
— —
— — — —
photo © Casey Curry
---
:: Listen to Ruby Force ::
---
:: Ruby Force 2017 Tour Dates ::
8/13 – Grand Ole Echo – Los Angeles, CA
9/7 – Portland Farmer's Market – Portland, OR
9/8- The Axe and Fiddle – Cottage Grove, OR
9/10- The Stone Junction – Garberville, CA
9/15- Hotel Utah – San Fransisco, CA