Harmonic indie pop besties Overcoats are fearlessly (and safely) back on tour, sharing the hopeful uproar of their two latest albums with fans on the East Coast.
'Used To Be Scared Of The Dark' – Overcoats
---
It's a familiar room and an intimate crowd at the Sinclair in Boston on the evening of Wednesday, September 15th. You'd be able to taste magic in the air if everyone wasn't masked up. Maybe it's Hana's silver platform pumps, maybe it's JJ's Cruella de Vil looking fit, maybe it's the thrill of experiencing safely executed live music in the midst of a pandemic, but whatever it is, there's a palpable goodness pulsating through the venue.
Hana Elion and JJ Mitchell are twin flames, soul mates⏤whatever you want to call their intense sisterhood. The point is: they belong together in spirit and in sound. With a chemistry that's been flourishing since their college days, they give all of themselves in their performance and fully appreciate the space they are sharing with their adoring fans. Together they collapse the stage-audience separation and bring every single person into rhythm of their female-empowering electro-pop/rock flow.
Due to the pandemic, their show in Boston is only the second time the duo has been able to perform their 2020 album The Fight live. As tracks like "The Fool" and "Apathetic Boys" and "Fire & Fury" came to life on stage, it was obvious how much this ethereal rock anthemic album was written to be let loose in a live venue. Overcoats started exploring this new rock-forward sonic territory after releasing their debut electro pop album, Young, and the energy in this powerful sound is the catharsis everyone in the audience is craving.
Their set list included some songs from their 2021 EP Used To Be Scared Of The Dark. Elion shared with Atwood in an interview prior to the Boston show, "We felt like we had more to say and more to express about the themes in The Fight. I'm very much connected to that album. We almost thought about the tracks on Used To Be Scared Of The Dark being like bonus tracks on the album, but then we were like, no – this really is kind of its own story."
Used To Be Scared Of The Dark really leans into collaboration. Three of the EP's four tracks include features with Middle Kids, Lawrence Rothman, and Tennis. The EP is also brought to life visually through a trio of music videos that consecutively move through different moments in one couple's evening. "[Our director Asha Maura] really masterminded the idea of the couple and the rave." JJ mentions, "It's a very poignant feeling for a pandemic because it plays with the ideas of loneliness and community. There is a rave but the rave is empty. We relied heavily on her vision and interpretation of the sentiments of the songs to come up with the exact concepts."
Contradicting feelings, high highs and low lows, fighting for and letting go, Overcoats have crafted records that reflect this unprecedented moment in time we are living through ⏤ coating the harsh realities of our shared trials and tribulations with resilience and hope. A reminder to us all that we can do hard things. Read on to learn more about what Hana and JJ look forward to most about the rest of their highly-anticipated tour, the concept for the trio of music videos that accompany Used To Be Scared Of The Dark, and what they believe to be the reason for their unbreakable bond throughout the years. Be sure to follow them on social media platforms (especially TikTok) to enjoy more of their magnetic energy.
A CONVERSATION WITH OVERCOATS
Atwood Magazine: Hi! Thanks for taking the time to chat with me today!
Hana and JJ: Hey! Yeah, happy to.
JJ you shared a really important sentiment about your album The Fight: "I think as women were often absorbing the pain and pressure that men of our age group are scurrying. We naturally mold ourselves around it. And basically, we're sick of that." I think so many women can identify with the lengths we will go to fix ourselves when we aren't the problem. What are things we as women can do to resist the temptation to mold ourselves or change ourselves for others? What has given you two the strength to practice this in your own lives?
Hana Elion: The first thing that comes to mind for me is community. I think just like surrounding yourself with people who don't make you feel that way. I think there is power in that kind of community of women or fem identifying people. I think it's really important to have the space to step into your own power. It's been very important for us. We've met so many incredible musicians while being in NY and we try to play with an all female identifying band. It's just important for us to be in those spaces and create that space.
Let's talk about your latest EP, Used To Be Scared of The Dark, it feels like a continuation and a synthesis of themes from The Fight in many ways? When I listen I kind of hear it like each of the four songs is a stage of The Fight?
Hana Elion: I think it's a continuation of those themes certainly. When we were making The Fight, we wanted to make an album that was really helpful and anthemic you know we were going through it ⏤ you know the pandemic hadn't even happened yet⏤ but we were thinking about things like climate change, and the attack on women's rights and all of these things that just felt so hopeless. We just wanted to make something that was just really full of hope. And then the pandemic happened. You know, it is okay to have moments of weakness. You're not always going to feel hopeful. On the EP we wanted to give space for the complexity of what actually overcoming things can look like in your body and in your relationships.
Did the narrative between each of the four tracks on the EP always exist in your minds or did it sort of blossom when you were creating the music video component?
JJ Mitchell: Um, that's a really good question. It's always like chicken or the egg with the visuals and understanding what comes first. But I do think because we thought of the songs as a cohesive next step in the kind of journey of processing change and healing it made sense to us that the visual accompaniments would be different parts of the same story. The music videos are consecutive moments of an evening where this couple is separately getting ready to go out and they meet at a rave and I think we felt like no matter what position we were going to be we wanted it to be different elements of the same story much the way the songs themselves sort of keep to that. Of course in retrospect it's easy to say yeah of course it all makes sense but it's hard to know what really came first. We did have a really amazing director, Asha Maura, and we came to her with this desire to follow the concept of three videos that could all be made into one story and could be watched consecutively one after the other. And she really masterminded the idea of the couple and the rave. It's a very poignant feeling for a pandemic because it plays with the ideas of loneliness and community and the rave scene but the rave is empty, things like that. We relied heavily on her vision and interpretation of the sentiments of the songs to come up with the exact concepts.
Would you say that Used To Be Scared Of The Dark is a more hopeful, or resolute, take on the themes in The Fight?
JJ Mitchell: It's like more of a roller coaster. There are moments of strength where you no longer fear the things you used to be afraid of. Like you're still missing someone that you lost. I think the way that we were feeling was probably exactly that. Being able to take things in stride and not have this massive fight or uphill battle but like experiencing small victories and taking things with a grain of salt I think is very accurate to how getting through the pandemic has gone. You're sort of like everything sucks but I'm also still alive and very grateful for that victory. I think all four songs on the EP are more resolved in whatever reality you find yourself.
What's the aspect of touring you missed most? What's the aspect of touring you missed least?
JJ Mitchell: I missed the ability to connect with our fans. I feel like this day in age releasing music already feels like shouting into the void most of the time. But live shows are really what make that feel so rewarding and valuable. To see the people whose lives you're affecting. So I'm excited to see our fans and connect with the people who connect with our music in the same room. Least favorite part… we always joke that being a musician is like mostly email but around tour what it mostly is is heavy lifting. And I'm not even doing very much heavy lifting right now because I have an elbow injury. There's just so much stuff to move to so many places. Just the thought of going to the airport and checking 10 bags is so crazy. But that least favorite part is small in comparison to the joy we are going to feel when we are finally up there with all our gear that we schlepped from God knows where and we're playing the show.
What are your pre-show rituals? Is there any part of preparation that is absolutely above all else necessary to you? Outfit being a certain way? A specific accessory? Warm up? Style of hair/makeup? And why?
Hana Elion: If there is, I definitely have forgotten what it is during the 18 month hiatus. We did. When we get into the swing of things on a tour we create a group handshake for our band to do right before we go on stage. And on our last tour opening for Cold War Kids we would add a different inside joke to the handshake every single night so by the end of the five week tour it took like seven minutes to get through the handshake because we had to like to list every joke and all say each joke at the same time. So that was a memory palate exercise rather than a ritual but it really dominated our pre-show routine, especially by the end. Maybe we'll get one going this time even though there's like five shows.
Wondering if you guys have nailed the "don't talk to me" TikTok trend yet because I have to say, it has seemed to be a bit of a struggle for you both. But I see the effort and I believe in you.
Hana Elion: Hey, I was ok there by the end, right?
JJ Mitchell: Yeah, Hana is better at these things. I feel like it was all the hip-hop classes at summer camp for you that kind of gave you the upper hand.
What has made your friendship and your partnership work for all these years?
JJ Mitchell: I think we've always valued equal partnership. I think that means that we are always committed to Overcoats and doing what's best. I think that mutual respect and commitment has meant that we are always mostly on the same page. Every time we sing together we are reminded of why we are doing it, and luckily we get to sing together a lot. Just yesterday we had our first rehearsal. I was like oh my gosh singing together in harmony. It made all the emails and heavy lifting melt away.
Last but not least, if you could have a conversation with your freshman year selves, what advice would you give? What would you want your younger selves to understand about the world?
JJ Mitchell: Wow, that's a crazy question. I think maybe something about how to not worry too much about the future. I think everything that we both did respectively in college helped us become more well rounded humans that were interested in intellectual topics and understanding the world from different perspectives. Neither of us were music majors and we studied lots of other stuff.  But I think that was a part of the necessary path for us and that's what I'd tell my freshman year self to follow what you're interested in at the moment because you'll find your passion.
Hana Elion: Yeah I think as well I would say just believing in yourself is the most important thing. Sometimes you're really successful at the beginning because you don't know anything and because you have to try that much harder. If you trust yourself and work really really hard you can achieve anything. I think that we saw that to be true. In our first two years of the band we really knew absolutely nothing about what we were doing. It's so important to just believe in yourself and work hard.
Thank you guys so much. See you in Boston!
JJ and Hana: See you there! Thank you!
— —
— — — —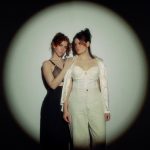 ? © Aysia Marotta
:: Stream Overcoats ::