Overcoats' unapologetic new song "The Fool" is electrifying and raw, an empowering anthem whose glistening synths and dynamic chants cut through the noise and leave a lasting impression.
Stream: "The Fool" – Overcoats
---
Brooklyn duo Overcoats have returned with a powerful message of empowerment, independence, and self-determination. Out today, their electifying new single "The Fool" is raw and ecstatic, a propulsive pop anthem whose glistening synths and dynamic chants chop through the noise to make a striking statement and leave a lasting impression.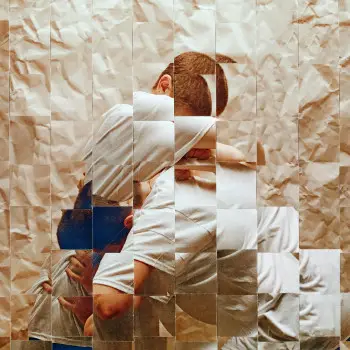 Both paths to the same thing
Balancing on shakey ground
Push back from the onset
Close the door or open it, oh…
This dream is oppressive
Who's the one you're trying to save?
Some days I'm a warrior,
some days I'm out of my mind, oh…
Crosby, Stills, Nash & Young "Almost" cut their hair, and The Who heavily contemplated it; throughout the history of popular music, hair has represented an individual's resilience, a marker of their self-identity, and in some instances, the core of their power and being. Some of this dates all the way back to the bible's story of Samson and Delilah, and it equally stems from the anti-establishment and grassroots movements in the '60s and '70s: As Five Man Electric Band once noted, "The sign said "Long-haired freaky people need not apply," so I tucked my hair up under my hat and I went in to ask him why."
Thus when today, we watch Brooklyn's Hana Elion and JJ Mitchell – the pair who together make up Brooklyn band Overcoats – shaving their heads in an exhilarating new video, one can't help but reflect on the history and significance of hair in music. The only difference here, of course, is that Overcoats aren't singing about cutting their hair; they're fucking doing it.
I don't wanna be the fool
bending over backwards for you
My road! My home!
Everything I know…
Released September 5th, 2019 via Loma Vista Recordings, "The Fool" is Overcoats' first (major) release since 2017's acclaimed debut album Young. That album found the pair bridging the gap between the folk band they started off as, and then electric pop/rock band they were becoming; two years later, the transformation is all but complete, as Mitchell and Elion display a true mastery of the synths and keyboards they now call home.
"The Fool" is brash; it's dramatic, unapologetic, and a bold new beginning for one of Brooklyn's premier acts.
Overcoats have elevated themselves to a new visceral high, incorporating a strain of Sleater-Kinney punk rock into their sound while maintaining, albeit in a lessened format, the harmonized vocals for which they garnered so much initial praise. "My road! My home! Everything I know…" the pain sing-shout in a defiant, emphatic chorus made to feel like a galvanizing chant.
Speaking in a recent press release, JJ Mitchell explains the inspiration behind "The Fool": "We wrote it based on 'The Fool' tarot card," she says. "It signifies taking a leap of faith and jumping into the unknown. Conceptually, it felt like the beginning of the project. We wiped the slate clean and decided to jump. That's why the video includes the footage of us shaving our heads. We're 'The Fool', and we're taking our leap."
Elion calls it an empowering message. "I don't need to be defined by the opinions of others or go with the status quo; I can f*****g be myself."
Where's the open communication?
Fully rise to the situation
Old wounds block all paths
Memories too strong to pass, oh…
I can't keep it straight
Who am i trying to impress?
Some days I love you, some days I don't, oh…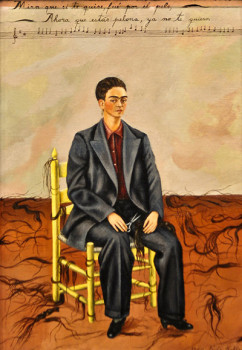 Dating as far back as March of this year, Overcoats were exploring the significance and symbolism of hair as a vessel of power. "Look, if I loved you it was because of your hair. Now that you are without hair, I do not love you anymore," they posted to Facebook, sharing and quoting Frida Kahlo's Self Portrait with Cropped Hair – notable for its powerful display of the artist bearing a shorn head, which is often interpreted as an act of defiance and rebellion.
So too, have Overcoats rebelled in their own fierce way today. The sheer sonic strength of "The Fool," paired with its cutting, intimate music video – and there is something truly intimate in watching two individuals shaving each other's heads down to a fine buzz – makes an indelible mark on the audience, leaving us to ponder all that might have come before this decision, and the motivations behind such a powerful statement.
I come back to the chorus: "I don't want to be the fool bending over backward for you: My road, my home, everything I know." This is the sound of rebellion; of defiance; of being the light in the dark. Whether we need "The Fool" to prop ourselves up and live our best and brightest lives, or we use it to sound the alarm against threats like xenophobia, racism, fear-mongering and more, Overcoats have given the world a rousing thriller. The Brooklynites' return is more than a middle finger in the air, an act well beyond waving their fists and stomping their feet:
They've cut their hair.
Take a lesson from this and be your own person – own your identity, and drive your narrative. Take ahold of your life, and go your own way: your road, your home, everything you know.
— —
Stream: "The Fool" – Overcoats
— — — —
? © 2019
:: Today's Song(s) ::
---
:: Stream Overcoats ::