Bridging the intimate and the cinematic, Milan Ring's debut album 'I'm Feeling Hopeful' is as charming as it is charged: A beautifully stunning marriage of smoldering R&B and raw emotion.
Stream: "Hide With You" – Milan Ring
---
Throughout the album I speak on how there are often two paths that lay before us. We either fall deeper into the chaos, or find a way to rise above it. The overarching message is that, no matter how chaotic things may get there, there is still always hope.
Passion comes in a plethora of sizes, sounds, and colors.
It can be as quiet as a whisper, or as deafening as a jet engine. In the case of Australia's Milan Ring, passion comes to life as a finessed melting pot of breathtaking, sweeping sounds, affecting lyrics, and bold performance. Bridging the intimate and the cinematic, Ring's debut album is as charming as it is charged: A beautifully stunning marriage of smoldering R&B and raw emotion. Dramatic, dynamic, heartfelt, and moving, I'm Feeling Hopeful promises to dazzle, delight, and ignite a spark deep down inside.
You turned blue, I couldn't move, I said goodbye
The brightest eyes I've ever seen, that moment free, euphoria
I'm on my knees, what do I do? What can I do
If helping you isn't the proof that you want change?
It's all the same, your safety net, the borders blamed
But in time hope you see
The domino effect starting with me
In our minds we rewire
So outside we can be free from the guilt the anxiety
Tough love, love is tough, the toughest love this will always be
– "Hide With You," Milan Ring
Released December 3, 2021 via Astral People Recordings / [PIAS], I'm Feeling Hopeful is an expansive, grandiose, and long-awaited debut LP from Sydney, Australia-based R&B singer/songwriter, musician, producer, and engineer Milan Ring. Active for the better part of the past decade (first introducing her artistry back in 2014 with the Glassy Eyes EP), Ring has spent years diving deep into herself and her surroundings, collaborating with folks from throughout the industry while cultivating a strong repertoire that spans both the alternative and the mainstream worlds.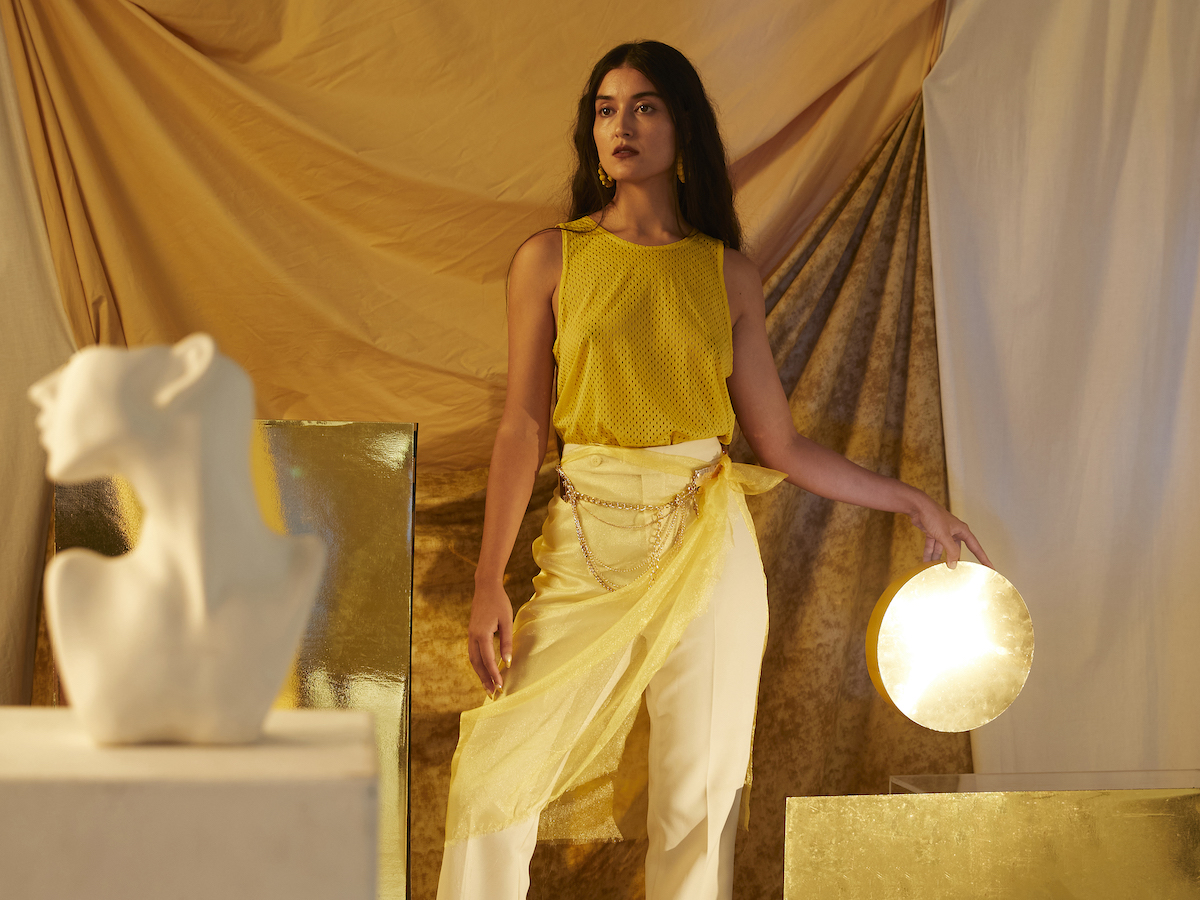 "Shortly before the world plunged into lockdown in 2020, I was already in a deep space of introspection," the artist tells Atwood Magazine. "I had music sitting there waiting to be finished, I had other tracks that didn't seem like a cohesive album; I was floating around still exploring different sounds and themes not finding solid grounding, and then it really suddenly hit me and I knew exactly the album that I was going to create. I knew the feeling, the textures, the themes and the purpose. I knew I wanted to speak directly to mental health and addiction, themes of love (for others and for the self), relationships, control, freedom, the critical mind, depression and desires from many different perspectives, all born from my observations of the world around me and the world within."
"Once the vision was clear to me, the songwriting process was super quick and fluid. All the words flowed out of me, and once I had the skeleton of the record, it was then the fine-tuning, the production and the mixing that took up most of the time. But lockdown did cater to this well, as I was able to spend a lot of time designing the sonic space and experimenting and searching for the sounds, working with the right musicians was key also. Doing this in a time the world felt in such chaos was very healing for me as I felt safe in the little world that I was creating in my studio. The vision never changed; if anything, it just got stronger and clearer the closer I got to achieving it."
'I'm Feeling Hopeful' explores the themes of love, relationships, control, depression, desires and addiction from many different perspectives, all born from my observations of the world around me and the world within.
For Ring, this album is an endeavor of the mind, body, and spirit: Her soul spills out of these fourteen tracks that capture her lived experience and personal perspective on topics ranging from purpose, to love, to life itself.
"Throughout the album I speak on how there are often two paths that lay before us," she says. "We either fall deeper into the chaos, or find a way to rise above it. The overarching message is that, no matter how chaotic things may get there, there is still always hope. It isn't always easy, but life is a blessing and I'm feeling hopeful."
The album's title really does say so much: Hope is far from the only feeling expressed throughout Ring's record, but it is the linchpin that binds all her songs together.
"From the outset, I knew that the album was going to have an overarching theme of hope. Hope was what was going to tie the whole journey together, no matter how dark or deep into the chaos that it may dive. Then I wrote 'Hopeful,' which is kind of like the moment that hope soars up and takes over your whole being. The only lyric I needed to express that emotion was "I'm Feeling Hopeful" sung repetitively, like a mantra. Once I finished writing that song, I knew that was going to be the album's title."
I'm feeling hopeful….
Despite it all
I'm feeling hopeful….
---
With numerous EPs and even more singles released prior to this album, Ring's artistry was already well established. What I'm Feeling Hopeful does, beyond setting her sights higher than ever before, is to offer a singular cohesive body of work that showcases the rich and vivid depth of her artistry. She gives listeners a true journey to embark on: One that offers both provocation and peace of mind. tranquility and turmoil all in one package.
"As my first body of work this big, I was able to really develop the storytelling and go on a journey with it, not ever feeling limited or constrained to the 3-minute radio song. Interludes are often my favourite parts of people's projects, so it was important to me to tie the fuller form songs together with an interlude. Songwriting-wise, it is the most vulnerable and honest that I have been in many ways, and production-wise it is the most authentically me. I was able to bring in all of my different tastes and influences and portray them in a way that only I could, and that's why I mix my own music. For me, mixing is a creative process that I enjoy: I get to sculpt the universe I want to be in as the listener."
I'm Feeling Hopeful immerses listeners in Milan Ring's uniquely moody, grooving, and wondrous world.
The album's warm, hypnotic opener "Hide With You" sets the scene with an enchanting beat and equally groovy melody. The music is hot; heavy, yet light all at once. The ensuing forty minutes rise and fall with style and poise: Highlights include the radiant "Dreaming," the hushed and soothing "Keep Me Safe," and the searing finale "Hands Are Tied" – but there's an exciting surprise around every corner of this album, especially when Ring teams up with friends: There's the feverish "BS" (featuring Che Lingo), the effortlessly shiver-inducing "Sydney Hue" (featuring BLESSED), the buoyant and mesmeric "Pick Me Up" (featuring Jean Deaux), and the enthralling "Let It Glide" (featuring rising Malyangapa, Barkindji rapper Barkaa).
"'Hide with You,' 'Sydney Hue,' 'Dreaming,' and 'Hands Are Tied' are the ones that really move me," Ring says on the subject of personal favorites. "They hurt in a good way, and in the melancholy is often where I've healed and transformed the most, but I also love the upbeat carefreeness of 'BS' and 'Pick Me Up,' they are fun to perform too!"
As for lyrics, "[It] depends on what day you ask me that question, but today it is a lyric from 'Sydney Hue' – "out with the nocturnal animals in the city zoo." It is one of those lyrics that are very visual for me, it places me in the muggy nightlife of Sydney city, the haze of the street lights glowing on silhouetted figures gathering in an alleyway, that type of vibe."
Is it cold in the city?
Are you lonely in the city?
Did you make your home in the city?
It will never be the same to me anymore
I am always thinking of you
Everytime that I drive by
The spot I had to leave you that day
With no words left it was goodbye
City looks so different now seeing it through a new lense
I try to avoid
But I always enter the void..
City seems so different now that you got all your new friends
I try to avoid
but I am drawn to it..
---
Ultimately, Milan Ring's debut album succeeds at not only moving listeners, but also leaving them with a sense of hope and inspiration: A feeling of catharsis and rejuvenation.
"I hope that listeners walk away from the record feeling connected, knowing that we all go through and experience similar paths, I hope that they feel a little lighter and are left with forgiveness and hope," Ring shares. "This is definitely what I have gotten out of the experience of creating the album, I landed on forgiveness of self and of others and I ended up feeling really hopeful for the present, for the future and for life."
Experience the full record via our below stream, and peek inside Milan Ring's's I'm Feeling Hopeful with Atwood Magazine as she goes track-by-track through the music and lyrics of her debut album!
— —
Stream: 'I'm Feeling Hopeful' – Milan Ring
:: Inside I'm Feeling Hopeful ::
— —
Hide with You
"Hide with You" is the first song written for the album and the opening track as it sums up the album pretty well. It is about the search for freedom, hoping that we find it together one day in the vastness of space and time.
Take Me Away
"Take Me Away" is a little jam that BLESSED, i.am.solo, and I did that hardly changed at all since that initial recording. It is a nostalgic moment to open the record, taking the listener back into the past. My favourite track element is the tom sounds that I tapped out from my old school DR 880 drum machine.
BS (ft. Che Lingo)
When I first heard the original concept, written by J.LBS, MYBOYROACH & BLESSED, I was instantly drawn to the bouncy bass riff and imagined this syncopated Latin spin to it. I decided to make my guitars focal & reinvent the music, writing & recording all of the parts in my studio during the lockdown. We then reached out to Che Lingo to feature on "BS," collaborating over Zoom. Lyrically, "BS" speaks to self-sabotage & ego-driven behaviour taking the form of anger, drinking and gambling.
I Can Fix You 
"I Can Fix You" is about control and manipulation. Thinking you know better than another and telling another how to live and behave. This comes from righteousness and ego and is a highly negative way of behaving, which was the perfect prequel to lead into the loss and disconnection that is "Sydney Hue."
Sydney Hue (ft. BLESSED) 
"Sydney Hue" is one of those songs that always played out in my head like a movie. Blue hour, when the sun has set, yet the remaining light glistens across jagged edges of the high rise buildings – a beautiful polluted glow. Blurred street lights and people's faces reflect on my windscreen as I drive through streets that burst with life yet feels so lonely. I am filled with memories and nostalgia until everything builds and swirls into chaos, cars collide, guitars squeal, and we call out to one another – even if only in thought.
I was flying interstate listening to this tune and had a vision of BLESSED and myself back to back playing our guitars with Sydney City in the backdrop. I then reached out to him to feature on the song, and the music video turned out exactly like my vision.
Pick Me Up (ft. Jean Deaux)
"Pick Me Up" is represented by the mudra Allapadma which represents royalty and beauty; it speaks to these themes and vanity, sexuality, and confidence played out in a blurry club setting. I discovered Jean Deaux's music a while ago and thought she would be a perfect fit for the record! I was so happy to have her in the music video, shooting her scenes in LA and mine in Sydney during lockdown.
Fluttering
"Fluttering" is a playful and nostalgic throwback to baby Milan and teenage Milan. I wanted this one to have a '90s hip hop feel to the drums and production, leading the album to my late teens and "Dreaming."
Dreaming & …
"Dreaming" is sort of split into chorus and verses for me theme-wise. The verses are a dive back into teenage Milan and all of the drama and chaos. The hooks are more of an overall look at depression and addiction not so much pertaining to my personal experience but more to what I have observed in general. It is probably the loneliest song on the record, which looks at seeking freedom in all the wrong places. After the big choral break, I wanted the music to keep riding out, with the eerie vocals and wailing synth lines, so I produced the outro/interlude ("…")
Keep Me Safe
I remember writing this on a day in lockdown that I was feeling particularly overwhelmed by the state of the world, and I wanted to be held in the arms of another and kept safe. I realised that someone is love/god/my higher power/myself – whatever you want to call it – and that one doesn't need anyone else, any vice, any substance or any object but the pure unconditional love that they hold themselves.
Let It Glide (ft. BARKAA)
This is probably the most melancholy song on the record. After producing the song from BLESSED's initial beat, I added in the bridge and guitars; I wrote the chorus, directly speaking to a child in a broken home torn apart by addiction. Every time I went to write a verse though I just couldn't find the right words. That's when I reached out to BARKAA, who features on "Let It Glide." She laid down two of the most powerful and deeply impactful verses, and provided the vulnerability and raw truth that the song needed.
Hopeful
Following "Let It Glide," "Hopeful" is like the moment the pressure comes off and we dance, looking forward to the future and all of the possibilities. There is a mantra-like repetition of the album's title "I'm feeling hopeful," as I dance through the discovery that music is hope. Art is hope. Creativity, dancing, writing, poetry: all of these things are beautiful forms of expression that often come from experiencing both wonderful and challenging things.
Daily
Is about loving another unconditionally, despite any of the chaos and drama that may come with that, or any judgements from others, having only warmth in your heart. I also wanted to end the album with a little prayer, something similar to what I say every morning when I do my meditation and my morning rituals.
Hands Are Tied
The closing track of the album, "Hands Are Tied" is one of my faves. It is the moment that one soars and flies with the freedom that "Hide with You" was searching for. I hope that forgiveness of oneself and of others will be the last thing the listener experiences, as it is what I experience with this song. With everything that has been and happened swirling to remain locked in the past, and that ultimately with this newfound presence, one leaves the album feeling a little lighter, a little more love and a little more hope.
— —
— — — —
? © James Evans
:: Stream Milan Ring ::
---