Every Friday, Atwood Magazine's staff share what they've been listening to that week – a song, an album, an artist – whatever's been having an impact on them, in the moment.
This week's weekly roundup features music by Issy Wood, cehryl, Emma Danelon, Bellsavvy, Cam, carolesdaughter, King Gizzard & The Lizard Wizard, NADA ROBOT, NoNative, M. Byrd, Taylor Swift, and Yashua!
•• •• •• ••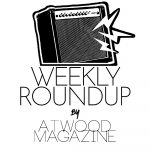 — —
—
:: Cries Real Tears! – Issy Wood ::
I've got a brain that works against me, but I can leave it behind whenever we meet because I'm perfectly happy just pretending that I'm fine knowing I might never be missed…
Leave it to December to deliver some of the year's most mind-blowing, ear-melting music. A unique artist who debuted her first piece of music only just one year ago, U.K. painter Issy Wood defies genre and subverts expectation at every turn. A passing listen to her first four EPs (The Blame, Pts. 1 – 4), released between last December and this May, reveals a soulful vocalist with a passion for vivid, poetic lyricism and a quasi-"anything goes" experimental approach to sound. I'm compelled to give her an "experimental pop" label only because she evokes for me an intriguing marriage of Gotye and Florence + the Machine, but ultimately she appears to make music in a similar vein to how The New Yorker's Johanna Fateman once described her art: Eccentric.
Issy Wood's eccentricity is particularly enthralling across her new EP Cries Real Tears!, released December 4th through Mark Ronson's Sony imprint, Zelig Music. This breathtaking five-track expanse captures the imagination while unveiling a core of palpable emotion and experience – all with a cinematic, somewhat dramatic flare. Aside from the artist's voice and thick, resonating bass lines, no two songs feel very much the same; still, this might be Wood's most cohesive work yet.
Every tantrum looks the same
I do my best to block it out
But when you're screaming my name it's hard not to adore the sound
Plus I've got a taste for pain from having you around the house
Or is that just my faulty brain telling me I'm not allowed
To clean you out?
I try to always be myself
But I don't think I do that very well
And you say I haven't been myself
And that's true but I really don't need your help
While a work like this deserves to be heard in full, lead single and opening track "Cry/Fun" is a standout and easy favorite. "Cry / Fun and this EP are an experiment in switching mediums," Wood says. "'Cry/Fun' more or less gives itself away in the title – for me the track, and perhaps the EP in general, is my confessing to mistaking pain for pleasure, or a trap for freedom in relationships, including the one with myself. I'm hoping these songs can do for other people what visuals alone don't always manage to do."
Speaking to Atwood Magazine, Wood dove a little deeper into the mechanics and inspirations driving this provocative outpouring of sound and sentiment alike: "Mark Ronson came to London in November of last year with a gift – an original Linndrum drum machine," she explains "Turns out it was more of a loan, and understandably: Prince used it a lot on his records, and a-ha's "Take On Me" is littered with Linndrum. Mark had to tell me over the phone how to plug it in, and a Dutch man on YouTube taught me how to make patterns. 'Cry/Fun' was the first track with the Linndrum that I didn't hate, and it was the first song I made that I could imagine dancing to. It also coincided with my learning how to slow down the tempo of a track on Ableton – a revelation. The Linndrum suits a slow built up to a vivid chorus I think; it's a sound that I missed the heyday of the first time around, but that doesn't make me immune to nostalgia. Painful nostalgia suits the song."
I've got a taste for pain
And I'd do it all again
How can you look so relaxed
Can you teach me to be just like that
Cause I've got a taste for pain and I'm sure I'd do it all again
And I could just take the blame but I'm not sure that would feel the same
And you try to ignore what's done and then tell me I'm the only one
And your threats to cut my tongue means I cry whenever I'm having fun
How could you look so serene
Thought you'd been dying inside just like me
Folks may draw a through-line between some of Issy Wood's subdued sounds and the new pop movement brought on by Billie Eilish's superstardom; I hear the similarities, but at the same time would insist that Issy Wood is in her own world – making left-of-center pop music that challenges listeners to keep an open mind, and perhaps a sense of whimsy. At once deeply confessional and tongue-in-cheek, Wood's songs delve deep while maintaining a sense of levity; the relationships between her reflective lyrics and propulsive instrumentals on "Insist" and "Hell" are perfect examples of this artistry in motion. The rollicking, groovy funk of "Accident Prone" and hushed, delicate performance of "Daughterproof" further showcase the sheer breadth of Wood's expansive creative mind.
But I digress; if you give "Cry/Fun" a listen and like what you hear, then Cries Real Tears! is sure to offer endless delights.
:: "angels (emily)" – cehryl ::
An overwhelming surrender unlike any I've heard all year, cehryl's new single "angels (emily)" is as intense as it is intimate: A raw indie pop upheaval driven by warm sounds and visceral emotion. The Hong Kong-based singer-songwriter-producer, signed to Nettwerk, has outdone herself on a confessional diary-like song that showcases her breathtakingly soft, delicate vocals against a subtle and nuanced whirlwind of ethereal instrumentation and production – all of which evokes this sense of floating without an anchor, and hanging on for dear life.
what have i got to do to reach the angels
what have i got to give to turn the tables
i caught you baby near the end
never thought i would ever see you again
emily, why do we play pretend
what have i got to lose to win your blessing
what have i got to be don't keep me guessing
i caught you baby near the end
never thought i would ever see you again
emily, why do we play pretend
"This song is about announcing to someone that you would do anything to change yourself for someone else/something, and asking them what it is," cehryl tells Atwood Magazine. "There are no Emilys in my life at the moment; I honestly just stuck the name Emily in the song to use again as a blanket metaphor for whoever I'm subconsciously addressing (myself? god, if there is one? a friend i fell out with?). This song was co-produced by Andrew Sarlo, who's produced some of my favourite, favourite records (Nick Hakim, Big Thief)!"
From a personal perspective, I have fallen head over heals for this song. It is a total subversion of structural and sonic expectation that literally stops two thirds of the way through, only to return stronger and even more dazzling than before. Beyond that it is hauntingly heartfelt, unassuming, and unapologetically vulnerable. "What have I got to lose to win your blessing?" cehryl asks at one point. It's a plea for no games and no pretending: Just honest, authentic, real connection. I'm speechless. Why couldn't Spotify Wrapped wait another week? This would've been my #1.
(she said, she said
don't you wanna be famous
so i said, i said
how can you be so shameless)
:: "Howling" – Emma Danelon  ::
Italian singer Emma Danelon may have another year to go until she completes her degree at the British & Irish Modern Music Institute. But in the meantime, the artist also known as LaPrima is wasting no time getting her catalogue up and running. She got started back in 2018 with her debut single, "Control," and has continued to publish singles occasionally, while also making a foray into the London modeling scene.
Her latest song, "Howling," was released on November 27th, but a month earlier might have been especially well-timed. There's an eerie Halloween-season feel to this track, in which Danelon speaks of a being who's "howling at my door," which makes for some fairly unsettling imagery.  Meanwhile, the electrical loops of the beat fizzle in and out like a faulty lightbulb, thereby granting the song an increased feeling of unease. If the goal of this song, as its auteure described, was to "create a new hypnotic, dark, strong, unique and avant-garde atmosphere with powerful and straight forward lyrics," that result sure seems to shine through on the finished project.
:: "In My Zone" – Bellsavvy  ::
While the world feels cold and unknown, Bellsavvy is here with her flaming hot anthem "In My Zone." 2020 has seen two new releases from the latin power-house – both of which bring a sense of self-empowerment and remind you of your self-worth when times get you down."In My Zone" is a track that will make sure you never question your worth again. This song is about finding your inner strength, getting in your zone and not forgetting the bad-btich you are. Totally exploding with sass, Bellsavvy shares, "In my zone is about the moment I knew I was the Queen of my mind and I wanted to celebrate the feeling of breaking away from that chapter in my life."
Infused with her boss-babe power, her confidence and strength oozes out of her rich, smoky vocals that prowl throughout the tune. Produced by multi-platinum, Sky Adams (Doja Cat, HRVY, Kylie Minogue, Sigala) "In My Zone" contains fat, juicy synth melody lines, sassy pop production and drums that wind in and out of the original rhythm, adding a whole other energy to the track. This is a fiery track;  sure to heat you up in pure queen energy and self-confidence. This is one to add to the playlists for strutting your stuff and feeling your in power. Something that we all need in these weird times. Thank you Bellsavvy!!
:: "Forgetting You" – Cam ::
Emily Algar, Charlbury, Oxfordshire, UK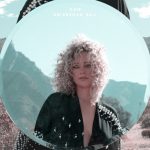 I feel like whatever I say about Cam's "Forgetting You" will never do the song justice but since I first heard the opening bassline, a sound like an electric current humming beneath the surface, my heart was all in. Cam's vocals express longing in a way I've never heard, and desperation in a way that sticks my skin. 'Forgetting You' has a timelessness to it but also an immediacy as well. A song you can both imagine silently singing as you cry over the dishes and one you can imagine screaming into the cold night air.
Ghosts are everywhere. We carry them around in our hearts, we meet them on street corners, in dark bars, and in places we swore we'd never return to. In 'Forgetting Me', the ghost of an old lover haunts the hotel, his voice is the hum of the AC, and walking past the ice machine brings back memories of you and him. There is a line in the chorus, "And I'm gettin' older, but you never change", which no matter how many times I hear it, it always makes me cry. You're holding onto a memory or an idea of someone as you remember them. Time has moved on and you are no longer the same but in your mind they are, and that is what is so heartbreaking: that distance will never be closed. The ghosts of him and of you, will always exist together in the past but in the present you will forever be separated.
:: "Violent" – carolesdaughter ::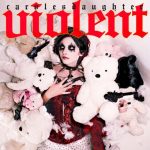 Officially released on November 23rd through Arista Records, carolesdaughter's indie pop track "Violent" has been making waves on SoundCloud since May. Sweetly sung over sticky acoustic rhythms and pulsating 808 beats, the song is littered with textures and moods. A track born out of a toxic relationship, "Violent" both warns of violence and wreckage and invokes romantic imagery of "Petals off of flowers, did you ever really love me?" "And I think that she's still lovely," carolesdaughter sings, before remarking, "oh, no," flinging back and forth between violence and tenderness, poignant realizations of what is healthy and what isn't.
Don't make me get violent
I want my ring back, baby that's a diamond
You don't listen anyways, I'll be quiet
I don't really feel like fighting
Don't make me run away out the back door
I want my clothes back
You say you miss me, so then I drive back to you
I drive back to you
In the lyric video, carolesdaughter is goth, black flame eye makeup and spiked choker. She takes a pair of scissors and cuts through teddy bears. Something soft disintegrates underneath puncturing violence. In the single cover, she is surrounded by teddy bears, blanketed by a yearning for softness. At only eighteen-years-old, carolesdaughter already has the chops to navigate a hurricane of emotions with smart, discerning posture and irresistible flair.
:: "Intrasport" – King Gizzard & The Lizard Wizard ::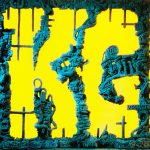 There is talk of murderous dreams and wailing clavinets. There are blippy beats and '80s style synth pads. There are virtually no guitars. This is King Gizz, but not as you know it. "Intrasport" is ludicrously spectacular. It's a synth pop/big beat rave at the stroke of midnight in the Atlas Mountains. It's got wavy melodies that evoke the middle eastern vibe that permeates K.G, the band's latest full length. When you listen to this song, you are bearing witness to one of the world's most innovative bands at their experimental zenith. The scary thing is that it all just seems so easy. The scarier thing is that you know they'll pull something even crazier out of the bag on the next record.
There have been four singles from the album before this, including the brilliant "Straws In The Wind," but "Intrasport" stands out as special. Even taking into account the band's ability to walk through multiple styles of music, it's right on the edge of what you'd consider King Gizz territory. The rest of K.G is typically esoteric, never driving it home as hard as Intrasport, the danciest, boppiest track of them all. Stuck between the past and some kind of psychedelic, star-bejewelled future, King Gizz deliver a superlative patchworked fabric of noise on Intrasport, one that will have you smarting for days at the sheer audacity of it all.
:: "Free Love" – NADA ROBOT ::
NADA ROBOT illustrates that being wealthy doesn't have to come from money. In their latest single "Free Love," they explore the idea of being rich with love and viewing passion as a powerful currency. Through roaring bass, groovy guitars and spirited vocals, this glittering, '70s-esque hit radiates with sassy, sensual vibes.
Founded by husband/wife team Addam & Mia Farmer and followed by brothers Heath & Austin Farmer, the energetic foursome have concocted the perfect feel-good air. With their previous band Island Apollo, they found much success in the alt-rock world. Now this new direction fueled by a fresh and funky feel, is a unique evolution breaking the barriers of sound.
:: "We're Gonna Make It" – NoNative ::
All throughout the Year of COVID, songs about banding together and making the best of a bad situation have been in hot demand. But the latest take on the matter by NoNative, a Russian singer who's made a life and career in the United Kingdom, has still managed to produce quite the standout in that crowded arena. He's achieved that feat by two means: the high-octane instrumental he and his band have cooked up, and the lyrics and music video that both draw inspiration from the story of Lily Rose, a handicapped teenager who's taken the world of wheelchair skating by storm.
"Music is the only thing in the world that cannot be conquered or truly mastered," says NoNative, who also goes by his Russian nickname, Toly. "It's an infinite quest, and that is what keeps me curious." Indeed, Toly has already conquered considerable terrain on this quest of his: the electro-pop of "We're Gonna Make It" represents a shift from his more techno-grounded, Russian-language earlier work, which you can poke through on his YouTube channel. On the strength of his musical chops and the genuine concern he demonstrates for his fans, both within and outside of the disabled community, NoNative is sure to make the most of that infinite quest to which he has dedicated himself.
:: "Mountain" – M. Byrd ::
With lockdown making you feel a little, well… locked in, M. Byrd is here to take you to the heavenly heights in his new single "Mountain." We're thankful for this masterpiece reminding us of the true beauty of the world we live in and all that it beholds. Take an escape to the magical land of M. Byrd – a place of escape, and ultimately the gateway to heaven. "Mountain" encapsulates perspective, allowing you to gain a higher gratitude and sense of hope. The dream-boat indie king asks, "if even the seemingly smallest hill can be a mountain, what good things are actually surrounding me right now?"
His warm, sunshine vocals are unbelievably timeless and comforting. The track is a fusion of beauty and high vibe sounds in friendly acoustic strums, passionate drums, ripples of echoed electric guitar and a dip into Byrd's dream-neo-pop utopia. The music video for "Mountain" is a site to not be missed. Whirls of pastel orange skies, the glistening ocean and stunning frames of Danish dancer Nana Anine combine to make it fabulously awe-inspiring and moving. This song will lift you up, maybe make you cry, maybe dance and definitely find the beauty in the simplest of things. Truly humbling and a wondrous experience to listen – for sure you will have this on repeat.
:: "Hoax" – Taylor Swift ::
Emily Algar, Charlbury, Oxfordshire, UK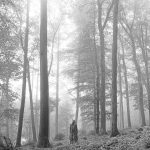 Don't want no other shade of blue, but you
No other sadness in the world would do
Taylor Swift has had an obsession with the colour blue in her last three albums, from reputation right through to folklore. It seems to represent a precious sadness – a sadness you would only ever share with that one special person. "Hoax," the closing song from folklore, has long been a favourite of mine, but hearing her talk about it in Folklore: The Long Pond Studio Sessions has given me a new appreciation of the meaning and the song itself.
Love songs where it all ends in "happily ever after" tend to focus on all the positives and though that's nice, it's not realistic. There aren't many songs that talk about staying when the shit hits the fan in a relationship. In 'Hoax' Swift sings of staying with someone even when things get difficult because there is nowhere else she would rather be, or rather, there is one else she would rather be sad with. With its haunting ambience and lone piano chords repeated over and over, creeping strings, and Swift's vulnerable vocals, 'Hoax' becomes a gentle call to arms, a defiant love song to the one person you would hold hands with through the darkest night.
My only one
My kingdom come undone
My broken drum
You have beaten my heart
:: "Dancing In The Rain" – Yashua ::
During this COVID-19 pandemic it is easy to feel overwhelmed by all the uncertainty. soulful pop-R&B artist Yashua hopes to offer an escape from your dark thoughts providing some hope and positivity with his new single "Dancing In The Rain." Written in quarantine, the hypnotizing track exudes an R&B sound with a penetrating alternative edge. The powerful release reminisces on a time of pure romance and spontaneity.
The Los Angeles based talent is an eccentric artist that creates music surging with intensity. Working with prolific singer-songwriter Maejor, he is embarking on a new phase of his musical journey crafting stunning songs that break the typical molds.
https://www.youtube.com/watch?v=h-FCBgnprPg
— — — —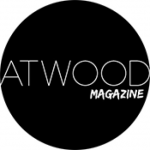 :: Weekly Roundup ::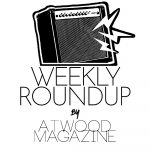 ---
:: This Week's Features ::
---