San Francisco's Portola Music Festival 2022 has finally arrived, and Atwood Magazine has some artist recommendations for festivalgoers, courtesy of the casual rambler himself.
---
Alright, so normally I'm a wavering cynic, but even I have to admit excitement on this one: Portola Music Festival finally here!
Set to begin tomorrow at Pier 80 in San Francisco, the two-day festival includes four stages and a plethora of excellent electronic artists. Goldenvoice, the same company behind Coachella and Stagecoach festivals, is beginning its first foray into an electronic-heavy lineup. It represents a shift away from the more accessible macrofestivals towards something slightly more focused, and I couldn't be happier.
As my electronic taste can be conclusively triangulated in a single diorama, I'm not going to sit here and grandstand like I know every artist on this bill, but it's probably only the second bill to set me off, gasping for air at how stacked the over and undercards are. (First honors go to Primavera 2018, by the way, that lineup was unconscious.)
That said, let's stop for a second and just admire this beauty: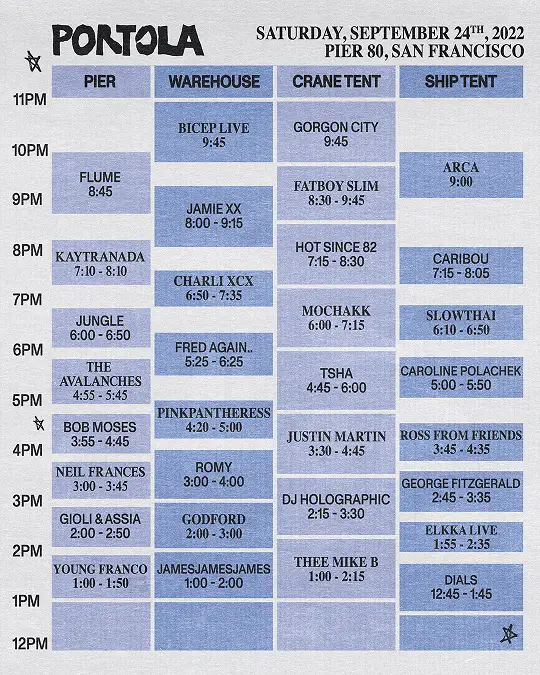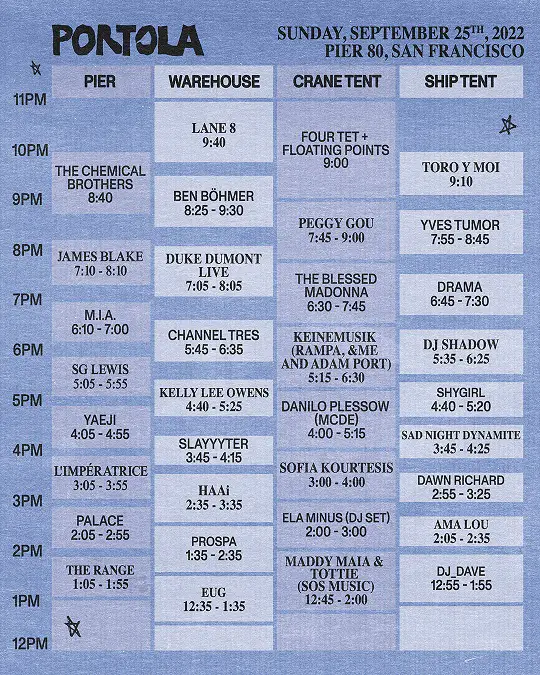 We've also included the set times in this here gallery so that you can find which artist is where at the drop of a button. Day tickets are still available here, starting at 200 dollars, but pound-for-pound, you you're receiving probably 15 times the musical quantity of a similarly priced ticket.
But I may also just be beyond biased; I do love this lineup, and why wouldn't I? I'm a freak for electronica that can be categorized in this format:
There are exceptions to this, like the delicious stylings of Odesza or Daft Punk, but I'm still pretty garbage at the whole "which genre is which," in the electronic scene. That's why I came up with my own classifications. See below.
Dynamic bluestronica: a collection of samples that are either sourced from or produce an effect similar to blues or gospel ranging from the early-to-mid 20th century. (ex. Moby, "Why Does My Heart Feel So Bad?")
Nervouscore house: a secondary beat or break that implies attention-deficits or anxiety, a feeling where the beat is working in quantum mechanics, cradled within a more stable time signature (ex. Jamie xx, "SeeSaw")
Slate-counter-grey-weather ambient: sleek, but lush, moody synthesizers and textures that suggests dull or bad times, teeing moments for euphoric release (ex. Kelly Lee Owens, "On")
As you can see, under these parameters, my electronic tastes lineup quite well with this festival. So here's the deal, I have a set of artists to see and reasons why you just have to see them.
•• ••
Charli XCX (Saturday, 7:35pm @ the Warehouse)
Unless you've been living under a rock this year, you've heard, pray-tell, of Charli XCX. In the last three years, Charli XCX has exploded in popularity with recent efforts. From Charli to how i'm feeling now to Crash, no one else has probably benefited and expanded past electropop origins into bona-fide singer-songwriter territory, infusing garage, nu-disco and downtempo R&B into one cohesive package. For those curious about what the music of now sounds like in composite form, Charli XCX is your ticket.
Four Tet + Floating Points (Sunday, 8pm @ the Crane Tent)
Titans. That's the only way to describe these two among the electronic music community. Four Tet's recent output includes the mystical Sixteen Oceans, while Floating Points released Promises, one of the best jazz albums of 2021, with the help of Pharoah Sanders. Together with Jamie xx, the duo have been undeniable for their American tour. Both are monsters behind the boards all on their own, so one can only salivate at the possibilities when two of the United Kingdom's best electronic talents starting mixing it with each other. It might even make the heart "Sing."
Fred Again.. (Saturday, 5:25pm @ the Warehouse)
Fred Again.. has probably the hardest name to format without autocorrect coming in and ruining your day. Anyways, for every bit that his name might foil you when texting, his music will embrace you. Yes, if anyone takes the concept of "dance til you cry and then fall asleep as you cry some more," it's Fred Again.. Both volumes of Actual Life are must listens for the affected songbird in your caged heart, as they manage to soundtrack a vibe I like to call "post-rave." That's not to be all technical like post-rock though, I literally mean that after any rave, these discs are must listens.
Jamie xx (Saturday, 8pm @ the Warehouse)
Jamie xx is probably the reason most pertinent for why I even love electronic music in the first place. I had listened to Daft Punk, Tiësto and Avicii in my time, and my first exposure to the realm of electronic actually came in an EP of remixes from my favourite rock band, Eskimo Joe. But In Colour is what made it all click on an emotional level. Released in 2016, the MC behind the xx has waitied literal years before releasing some inkling of a follow-up. And the dam seems to have cracked this past year, with singles "LET'S DO IT AGAIN" and "KILL DEM" revving up the "album when?" rumors among fans. All I'm saying is, Jamie xx seems poised for something big and his sets should always be a highlight on your docket.
Kelly Lee Owens (Sunday, 4:40pm @ the Warehouse)
Since the release of Inner Song in 2021, Kelly Lee Owens has become one of my favourite electronic artists of the new decade. She epitomizes the slate-counter/grey-weather ambiance that I love in electronic music. Her music works together a lushness in greyscale, and sometimes even dabbles in skittering industrial ambient on LP.8. A contemporary of Four Tet, fans of the British DJ would be well within their reason to give Owens a listen. Her style of electronic music is a testament to the legacy of Britain's 80s and 90s rave scenes from London to Madchester.
L'Impératrice (Saturday, 3:05pm @ the Pier)
Daft Punk might be dead (for now), but L'Impératrice still lives. The Parisian six-piece crafted a funky new form of electronic disco on Matahari that immediately took its cues from Daft Punk's rehabilitation of Giorgio Moroder. Now, with the Japanese lofi citypop inspired Tako Tsubo released last year, they've struck a balance between up-and-at-em discorama and chill lofi beats to which you can either study or bop. If you need some French touch funk in your electronica, L'Impératrice are the way to go.
Yves Tumor (Sunday, 7:55pm @ the Ship Tent)
I actually reviewed Yves Tumor's album, Heaven To a Tortured Mind and loved it. Everything about that acidic electronic rock record oozes with pent-up sex and it simultaneously flows and cuts. I nearly called it my album of the year., and because it's release came in 2020, that means Tumor has toured like a warhorse since the end of the pandemic. With an intense stage presence and a biting little companion EP (The Asymptomatical World) released last year, Yves Tumor is a live show not to be missed for anyone in need of a taste of rock and roll with their electronica.
And that is all I wrote folks! Hmm, it seems I have predisposition for that Warehouse. Regardless, I'm looking forward to attending this festival and hope you come to enjoy my somewhat meandering thoughts.
— —
— — — —
? © Portola Festival
:: Stream Portola Festival ::
---