There's nothing quite like watching five bandmates get their asses handed to them by a menacing pro wrestler. In fact, it kind of puts everything into perspective: No matter how great you think you are, we're all still human – vulnerable, weak, and waiting to shatter. But let's not get caught up in the trivialities: Quiet Hollers' "Pressure" video is an intense wrestling extravaganza that promises to leave you with energy in your veins and a smile on your face.
I can't stand the pressure
I've seen greater men than me, the lesser
make a horrible mess, sir
paint the headboard red, lord
just 'cause it was right there in the dresser– so easy
pick me up, kiss me, and you squeeze me
Watch: "Pressure" – Quiet Hollers
---
Atwood Magazine is proud to be premiering the music video for "Pressure," off Quiet Hollers' recently-released third album, Amen Breaks (released July 7, 2017 via SonaBLAST!). The brainchild of Louisville songwriter/guitarist Shadwick Wilde, Aaron West, Jim Bob Brown, Jake Hellman, and Dave Chale, Quiet Hollers' uniquely accessible sound mixes alternative, country and rock elements whilst refusing to be beholden to any genre or time. The band's new album explores spirituality, sexuality and mental illness without any smoke and mirrors – and while their lyrics often paint serious, intense portraits of life, their music remains fun and fully engaged.
I became a shadow of a picture
hidden underneath a fiction
I became a man,
nobody ever told me what a man was
I found no solace in the scripture
are we not all our fathers' sons?
I became a man,
nobody ever told me what a man was
"Pressure" is an intense personal reflection and questioning of the world: Peel back the layers, and you find Shadwick Wilde wondering why anyone does anything, and what it's all here for. Life comes without a guidebook – the "rules" we have in place, be them from religion or any other tradition, just come from another time and place, people who decided this was how things were going to be. The repeated line "I became a man, nobody ever told me what a man was," resonates incredibly with the notion that a "man" is this made-up term – that it's all a facade, the way most of us live our lives on autopilot, unaware of the passing seconds and shortened breaths.
You may be wondering, then, why the Mike Thompson-directed "Pressure" music video features a comically engaging, awesome wrestling match. "The lyrics of "Pressure" are some of the darkest I've ever written," shares Wilde, "So we felt it was important to contrast them with a video that was pure fun. They deal with questions of self-image, depression, masculinity, and how they relate to life in the music industry."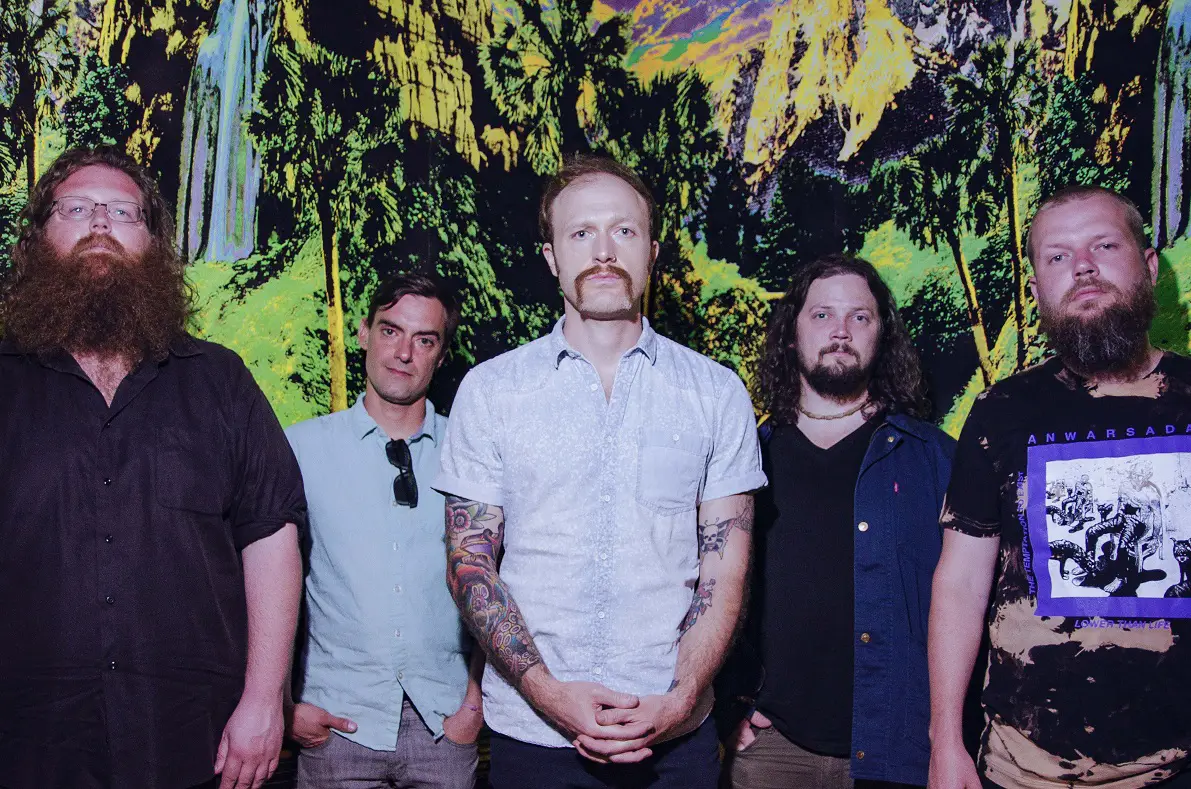 The music video stars professional wrestler Kongo Kong, who utterly decimates Quiet Hollers one member at a time. It's beautiful to watch the scene unfold, and it's bound to get a laugh. Says Wilde: "In the video, both Kongo Kong and the band are at the mercy of their chosen profession, pitted against one another so that others might profit from their talents. What better way to talk about toxic masculinity and mental health than through the lens of professional wrestling– a sport in which those two issues have had far-reaching consequences. It also serves as a metaphor for the life of a touring band. You show up to a strange building in an unfamiliar place, not knowing what to expect or what is expected of you… and sometimes it really beats the shit out of you. We also just wanted to see each other get thrown around by the biggest, baddest dude we could find. Fortunately for us, that turned out to be Kongo Kong, who has traveled the world to perform his art, as far as India and Japan, and was able to coach us through each move."
I can't take the pretense
everybody working for the weekend
I can see their eyes and their pockets– they're leaking
and all I hear is just white noise when they're speaking
but I would never leave you, my love
There's too much reverb on the voices in my head
I hear them singing but I can't make out the words
Can something still sound like the truth, under the layers of distortion?
I became a man, nobody ever told me what a man was
Bassist Jake Hellman produced the video, and is a lifelong wrestling fanatic: "Wrestling is my second favorite art form, after music," he shares. "This video is the culmination of those two passions. Wrestling is looked down upon by much of the mainstream as childish or silly, but guys like Kongo Kong and Reed Bentley (referee in "Pressure") are literally sacrificing their bodies for their art. We learned firsthand what kind of sacrifice that is. It was painful, sometimes scary, and absurdly enjoyable."
The band's self-depracating humor mixes with deep questions of self-perception versus reality to ultimately depict two sides of the same coin: Life is what you make of it; you are in charge of your own fate, and no one else can take that away from you. The fact of the matter is that it takes most of us many years to realize we can be who and what we want to be – so when we finally make it to that milestone in our individual journeys, we're already carrying a lot of baggage. Quiet Hollers has baggage just like the rest of us, but they're not about to let it keep them from holding the reins to their own future. They may be getting knocked down in "Pressure," but they'll get up again.
Stream Quiet Hollers' "Pressure" music video, exclusively on Atwood Magazine!
— —
— — — —
---
:: Listen to Quiet Hollers ::
---
:: 2017 Tour Dates ::
AUG 3-6 – MILE OF MUSIC FESTIVAL – APPLETON, WI
AUG 18 – SEVEN SENSE FESTIVAL – LOUISVILLE, KY
AUG 19 – THE BURL – LEXINGTON, KY
AUG 24 – 5TH AVE BOARDWALK – BELMAR, NJ
AUG 25 – THE PIONEER – INDIANAPOLIS, IN
SEP 1 – THE LAW OFFICE – YORKVILLE, IL
SEP 2 – CAVALIER THEATRE – LACROSSE, WI
SEP 7 – SOFAR SOUNDS – SECRET LOCATION
SEP 13 – PRESERVATION PUB – KNOXVILLE, TN
SEP 14 – RADIO ROOM – GREENVILLE, SC
SEP 15 – EVENING MUSE – CHARLOTTE, NC
SEP 16 – JACK OF THE WOOD – ASHEVILLE, NC
SEP 21 – GEORGIA THEATER ROOFTOP – ATHENS, GA
SEP 22 – CLYDE'S ON MAIN – CHATTANOOGA, TN
SEP 23 – CENTRAL PARK – LOUISVILLE, KY
5 OKT – LUXOR LIVE – ARNHEM (NL)
27 OKT – METROPOOL – HENGELO (NL)
28 OKT – GLEIS 22 – MÜNSTER (DE)
29 OKT – PAARD – DEN HAAG (NL)
30 OKT – NIEUWE NOR – HEERLEN (NL)
8 NOV – PABELLÓN UNIV. – GASTEIZ-VITORIA (SP)
11 NOV – LA CRIPTA – DONOSTIA-SAN SEBASTIAN (SP)
12 NOV – PARADISO – AMSTERDAM (NL)