PVRIS' fourth album 'EVERGREEN' bursts with vibrant synth sounds hailing from a universe undiscovered.
Stream: 'EVERGREEN' – PVRIS
---
On the opening track alone, listeners are immediately shifted into the electro-pop infused rock realm of PVRIS' EVERGREEN.
A slightly synthesized sounding voice trailed by electronic instrumentals greets the ears in "I DON'T WANNA DO THIS ANYMORE."
Tell me can you feel a breakdown?
Does the pressure ever phase out?
I don't ever wanna find out
What happens if we never slow down (Oh)
Originally branded as a pop-punk trio, the Massachusetts band has always been a vessel of creation for frontwoman Lynn Gunn – becoming even more distinct release by release. The 29-year-old was the creative force driving the 11-song record, from songwriting and vocals to co-producing and steering the final vision.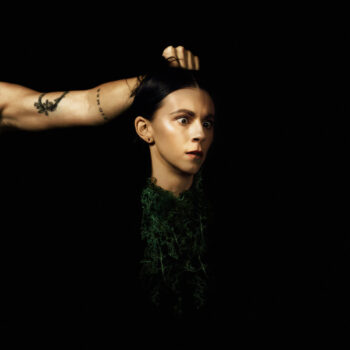 The energy continues on "GOOD ENEMY" with a vigorous beat paired with Gunn's quick, punchy lyrics subduing only during the bridge but quickly swinging back with the same intensity heard seconds earlier.
The third track and released single, "GODDESS" mesmerizes listeners, forcing sporadic choreography out of the audience as if under Gunn's control. She echoes herself on the outro, with increasing force on each repeat until reaching peak vivacity on the final line: "Dance, goddess, dance / It's hypnotic, it's a trance / I said dance, goddess, dance / It's your body, fuck the man."
"SENTI-MENTAL" marks the softer descent into the latter part of the tracklist, allowing for a raw glimpse into the creative's own psyche. The softer, transparent lyrics transition into an otherworldly instrumental break with a layer of funky guitar riffs – speaking a language entirely of its own.
Can't be breaking down, no, I barely cry
'Cause I'm too worn out, got me half alive
Friends are phasing out, always say goodbye
Am I losing touch? Do I feel enough? But I know if I
If I was sentimental (I'd go mental)
Start spinnin' out of control (Psycho central)
If I was sentimental, I'd be losing my mind
Lose my mind, lose my mind, lose my mind, ooh
---
Immediately following lives the ballad "ANYWHERE BUT HERE." What felt like anger and frustration from the first half of the record has evolved into acceptance –  or at least into recognition of sorts as the bridge begs, "Tell me lies / Soothe my soul / Say my name / Take me home."
EVERGREEN's strength lies in its production and willingness to experiment, even featuring Mike Shinoda (Linkin Park) as a co-producer on track "TAKE MY NIRVANA." Other collaborators include Carrie Karpinen, Cary Singer, JT Daly, Matias Mora and Y2K. The elevated electronic sounds are not a departure from their past work but rather an evolution of what had already been experimented with on past LPs. As Gunn stated, "life feels gritty and crunchy so it happened naturally" in response to the inspiration behind the rough synth sounds heard throughout the 32 minute record.
Their rock roots have not rotted, but rather adapted to their new environment as Gunn has deservedly taken (long overdue) ownership of her sound. Though, genre doesn't really matter anyway – Gunn's response to a fan asking her favorite genre to create?
Simply, "PVRIS-core."
— —
— — — —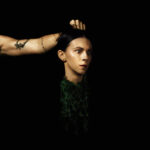 © Matty Vogel
:: Stream PVRIS ::
---