Superstars in their respective careers, DJ NGHTMRE and EDM duo Big Gigantic have combined forces to release their self-titled debut EP as the supergroup Gigantic NGHTMRE.
Stream: 'Gigantic NGHTMRE' – Big Gigantic & NGHTMRE
---
There's a time in place for all music for me.
Over the last few years, the most sought after EDM collaboration has secretly been forming in the shadows.
With massive fan bases and electric discographies individually, Big Gigantic and NGHTMRE have joined to form EDM's most exciting new collaboration, Gigantic NGHTMRE.
Tyler Marenyi, better known as NGHTMRE, and Jeremy Salken of Big Gigantic both sat down in a joint interview with Atwood Magazine to talk about their new project.
Released July 28, 2023 via Gud Vibrations, the cleverly-titled Gigantic Nghtmre debut EP has been years in the making. The group first released a song together back in 2018, titled, "Like That." Since, they've shared the stage a few times in surprise performances, like their noteworthy 2022 set at EDC Vegas.
They recently debuted their EP at the legendary Brooklyn Mirage to scores of excited fans.
Live instrumentals like saxophone and drums, coupled with bouncy beat drops, are what make this collaboration so exciting. It's the natural evolution of electronic dance music, taking two subgenres and fusing them into something entirely new.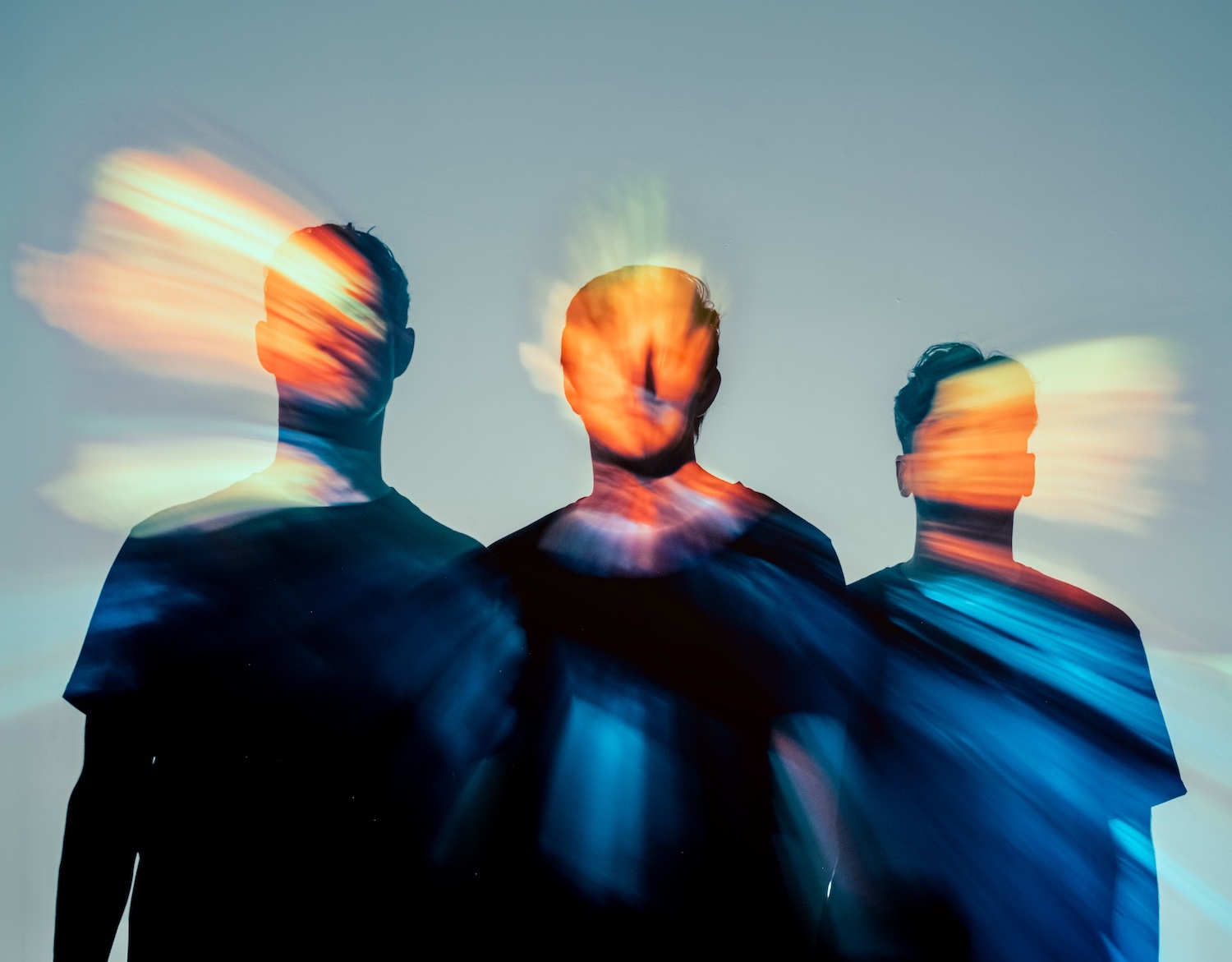 The five-track Gigantic NGHTMRE EP, out now, is a bold redefinition of what Big Gigantic and NGHTMRE are known for.
Together, Big Gigantic's Dominic Lalli and Jeremy Salken and NGHTMRE's Tyler Marenyi take a step up and bring the best fusion of their own unique sounds. With varying tempo and style in each song, they really took the time to experiment and craft a distinct vibe within the journey of their EP.
"Disconnected" is bold and in your face, with a slow build. The saxophone mellows you out while the progressive build explodes into a fury of headbanging. "Twilight (Something's Here)" brings more of a riddim vibe, grouped with fast drums and a big build. The drop is engineered beautifully, changing styles halfway through.
"Never Loved You Like That (feat. Safia)" is a bit slower, more pop-sounding. It's the perfect palette cleanser while swaying shoulder to shoulder with your friends at a rave. It's more deliberate, but it still packs a punch.
The varying styles, subgenres, influences, and tempos in this EP show how meticulous the guys were in creating a unique project. It is the culmination of Big Gigantic and NGHTMRE challenging and pushing each other to keep evolving.
I started to try to just follow my creative instinct and think about whatever feels like the right collaboration at the moment.
— —
A CONVERSATION WITH GIGANTIC NGHTMRE
Atwood Magazine: Thanks so much for sitting down with me guys. I'm curious, what do you listen to outside of your own music? Are you secretly country fans, anything like that?
Jeremy Salken (Big Gigantic): [chuckles] Are you secretly a country fan, Tyler?
Tyler Marenyi (NGHTMRE): [laughing] Unfortunately not. I grew up in North Carolina and there was a ton of country music, but I mean, I don't dislike all country music. I enjoy folk music and bluegrass and a lot of that kind of stuff. Can't say that I threw it on too often, but honestly, last few years you know, obviously spending so much time making dubstep, trap, and crazy EDM stuff, that when I'm chilling, I'm usually not listening to it. I like listening to lo-fi and electronic, very chill electronic stuff. Otherwise, I'm honestly just ripping Spotify playlists because I'm just thinking, whatever the mood is or whatever the vibe is. There's a time in place for all music for me.
Jeremy Salken: I kind of have a little bit of a jam band background. I definitely listen to the Grateful Dead and Phish and this group, I'm randomly wearing their shirt, Hiatus Kaiyote. I don't know if you've checked them out before but they're insane, really incredible. I'm kind of the same as Tyler, I listen to a little bit of everything. I definitely enjoy just doing the playlist situation and kind of seeing where things go and trying to find new music where I can. But at the same time, I listen to Steely Dan so much. My go-to's are still the same.
That's awesome, will check them out. So, I've actually seen you guys perform once in Urbana, IL. Do you remember your gig at the Canopy Club?
Jeremy Salken: Oh dude, that's our spot! Ian, the owner, is a good friend. Those shows are always freakin' bananas.
Do you guys have a preference on the ideal spot to debut your EP, a festival or a small venue like Canopy Club?
Tyler Marenyi: I think it kind of depends. Usually, we'll test it out maybe once when we're making the song just to hear it and not really announce it or tell anyone what's going on. But then we played it and listened to it and saw their reaction. For a debut moment where we have a large crowd, for example we were at Ultra this year. We were playing Ultra Music Festival, and we decided to play all the new music. Generally, we try to pick a big moment where we're gonna have a really big stage and people always really appreciate it when they get something unique.
Speaking of the EP, I was listening to it today and I loved it. I had "Disconnected" on during my run, and I kept looking for sirens behind me.
Tyler Marenyi: [laughing] Yeah, that's definitely a classic EDM struggle. I might be driving my car listening to some song and forget that the sirens are from the song and not from outside the car. The sirens, they'll get ya, man.
Would you guys say that Denver has become the unofficial EDM capital of the US?
Tyler Marenyi: I would say the bass music capital. I think especially for bass, dubstep, and trap. They have Red Rocks, Mission Ballroom, all these incredible giant venues that huge artists are coming through all the time. So there, and maybe San Francisco and Seattle. Some of those are kind of where I sell the most amount of tickets for my shows. Ya, I love coming to Denver.
Jeremy Salken: It's crazy how much it's changed since the 2005 to 2008 range. We started in 2008 and seeing how things morphed with the scene and electronic music and how Red Rocks became this place where everybody's playing. And if they're not there, then they are at Mission Ballroom. It's like every freaking day, you can't even keep up with how many shows are here. There are so many homies constantly coming through. It's kind of overwhelming, but we're psyched to have it here for sure. It's an inspiring place.
That's awesome, totally agree! So, you have both, in your respective careers, worked with a variety of artists in many genres. Any idea of what's the next sound out of your supergroup or individual acts?
Tyler Marenyi: I started to try to just follow my creative instinct and think about whatever feels like the right collaboration at the moment, or whatever I'm really liking at the moment. Just generally focusing on that and just what I love, and what I really am excited about at the moment is when I'm making the coolest music. You know, sometimes if I find myself being forced into a deadline or trying to make a song for a label or a remix, it can kind of kill a creative buzz. You're feeling like you're forced to make something, and you don't know what it is. I'd rather just follow the creative flow and enjoy writing and making whatever feels cool. For 'NGHTMRE' stuff in general, I think I've kind of found my sound in a way just from making music all the time and starting to form habits and just writing chords that I like frequently. That's also why we love collaborating because it kind of gives us a chance to step outside of the normal sound that we might make and make something different or make something that's more pop leaning, or more jam band leaning or whatever. It feels like a good outlet to do that, not necessarily like it's changing the direction of your project. I've always collaborated for years and years with tons of people.
Jeremy Salken: I think that's something about both of us that we need to do. I think that's why it works so well. I can't speak for [Dominic of Big Gigantic] as a writer, but I agree with Tyler, hearing you kind of talk about how the process flows way more naturally when there's not a deadline and when there's not pressure kind of forcing you into a certain thing. You can just let it kind of come out as it should and go through the process.
That makes a lot of sense! So, I took a deep dive on your Instagram, and I wanted to ask about a specific experience. What was it like meeting Shaq?
Jeremy Salken: [chuckles] We randomly played this private party that he was also doing, and I got to meet him. I mean, he's the nicest dude. And you know, Tyler's homies with him. They are buds.
Tyler Marenyi: He just loves music, loves bass music. I mostly run into him at festivals and stuff, but yeah, nicest guy ever. It's all him, I don't think he really changes too much. Obviously, he brands it as Diesel and all that kind of stuff. But he's always nice, he really takes the time to say hi to people. He's Shaq, he could literally just walk around, not talk to anybody, and no one would question it or be like, 'man, what's up with this guy.' You wouldn't expect it and he's just this gentle giant, super friendly dude. He definitely moves from thing to thing quickly, his time is very coordinated, he doesn't stick around in one place too long. But even in those little moments, he'll still say hi. It's super cool that he does it because he doesn't even need to do this in the first place, he does it because he loves it. [laughs]
He's definitely not doing this to pay his bills, obviously. But it's cool to see how he's grown and progressed as a DJ over the years. I mean, he just genuinely loves dubstep, and I think one of the reasons why he's doing so well also as Diesel, is because he collaborates with random underground dubstep artists. His team finds all the coolest people who are making amazing music but have no platform, and he's reposting them on his 5-million-person platform and it's a random kid's song. I think people really appreciate it.
That's so cool, hopefully he can hop in on a collab one day with you guys. Thanks for sitting down with us, and we're so excited for the new EP!
— —
— — — —
 © Jason Siegel
:: Stream Gigantic NGHTMRE ::
---