This Pride Month, Atwood Magazine has invited artists to participate in a series of short essays in observance and celebration of the month's significance. Today's submission comes from internationally acclaimed Greek artist George Perris.
Perris recently released his third full-length English LP No Armor, an "exquisite glimpse into the songs that have shaped him into a global phenomenon and the most widely renowned Greek singer of his generation." In this essay, he opens up about his personal journey, coming to terms with the term "Pride" and its meaning.

•• ••
Pride.
I've spent my entire life struggling with this word and what it represents. Ever since I was a child, I felt unable to be proud of me or my accomplishments.
It took me a long time to understand why, regardless of the familial traumas of my childhood. Until finally, I understood: It was this violence that has been imposed on me for who I am, since I was a small kid. I may not have been beaten, however -like many other amongst us- I have received possibly the most forceful beating of them all: I've been made to feel ashamed of myself.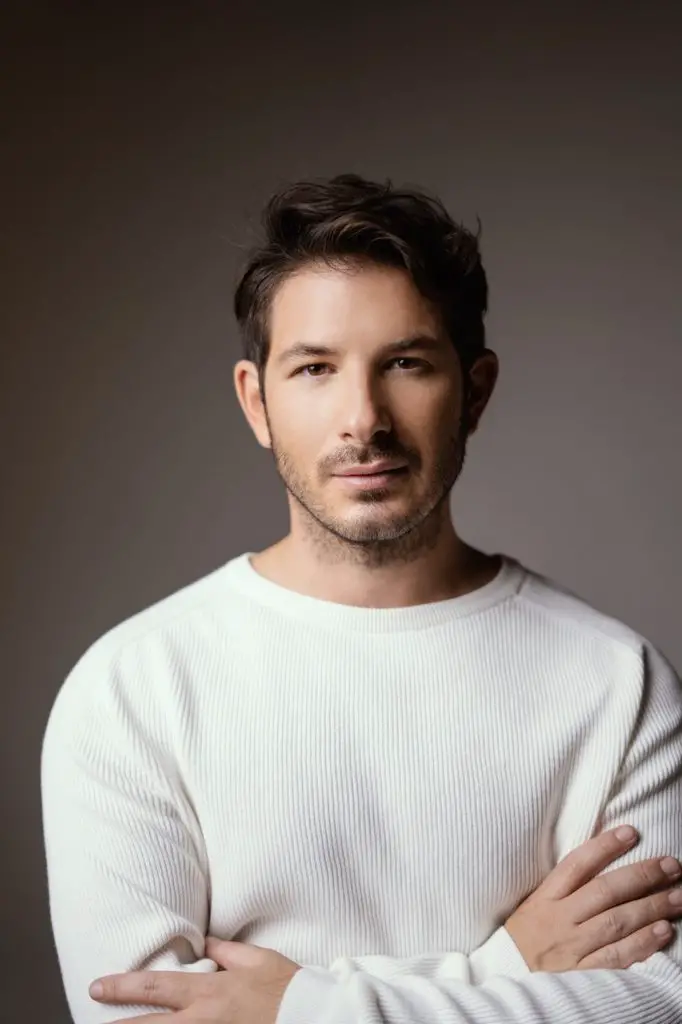 People laughing at me behind closed doors, gossip, isolation, irony and contempt have been daily dishes on the menu of my childhood. I was raised in a society where there was no example of the normality of a gay personality or relationship. On TV and in magazines I would only see some caricatures that made me feel even more ashamed of myself but mostly fearful of the fact that deep down I was like them. Without a public example, without education in schools, you constantly wonder where you belong if you are slightly different from the others. You don't fit anywhere and you grow up thinking that something is permanently wrong with you.
I want to make one thing very clear though: I do not wish to point fingers to anyone, blame them, or take revenge. I only want to show to the person next to me that we are simply different, but completely equal. It's not their fault either, they were also never taught not to be afraid of someone who's different to them, or respect them. I demand leniency as a stance in life; maybe because I believe that this is the only way things will truly change.
As years went by, I thought I had got rid of that shame; I lived my life freely with everyone around me and I honestly had the feeling that it was behind me. I was deeply shocked four years ago, when I first started therapy, to discover that at the age of 34 I still hadn't accepted fully my sexuality. There was a palpable guilt and shame deep within me. That's why today I don't like the words "acceptance" and "open-minded." I'm not looking for anyone to do me a favor and accept me; I don't want them to be open-minded either in order for them to accept a flaw of mine. Above anything else, I despise the term "openly gay"; it hides defiance, even contempt. Otherwise, I would have to introduce you to my openly Spanish friend and my openly blonde cousin. I only ask to be accepted as fully equal as anyone else. To me, that's the definition of a perfect world. We're all completely different, but 100% equal.
I only ask to be accepted as fully equal as anyone else. To me, that's the definition of a perfect world.
That being said, I am so proud to live in this era. I'm so proud and thankful to the ones before me for not being persecuted for the person I love. I am proud that the people of my generation have built an era of transparency and catharsis and we can openly discuss these matters. Because it is our emotional request to communicate with each other's truth. I think that when someone shows you who they really are, that is the greatest honor they can bestow upon you.
Today I'm writing to you for one reason only: because I'm interested in helping a teenager out there accept themselves ahead of time and not when they're 35 or in some cases ever. Because I want to see that kid tomorrow blossoming and being fulfilled and ready to create stable and safe relations in their life. If with my example I can cover a void that existed when I was growing up, then, besides my duty in music, I will have fulfilled my duty towards society. And for that I am proud. I am really proud of all of us. – George Perris
— —
Stream: 'No Armor' – George Perris
— — — —
? © Errikos Andreou
:: Stream George Perris ::
---