Love is easy. Love is hard. How can two seemingly polar opposite sentences both be true? Simultaneously simple and absurdly complicated, love breaks the rules. The truth is that, when something as intense and meaningful as love encounters issues of any kind, things can spark and spiral fast. That's what happens when you're playing with fire; even the tiniest accident leaves you with small burns. One Hundred Paces' "Promise" captures the duality of love – how our internal worlds can feel like they're spinning out of control at times, but we will still cling to the moment and make it last as long as we can.
Sweet steady, I've missed you
We talked for hours
We made it through
And you remember every moment
And conversation
You held me close
So close to you
On the stairs you made a promise
Can you keep it?
Tell the truth
Watch: "Promise" – One Hundred Paces
---
Atwood Magazine is proud to be premiering the music video for "Promise," the latest single off One Hundred Paces' new album This Distance (out 6/30/2017 via Wednesday Records). The semi-solo endeavor for Santa Barbara-based singer/songwriter James Lombardo (with help from Sean Price and Sarah Corum), One Hundred Paces' warmth, groundedness and heart shine through on "Promise," which offers a snapshot of love.
An easy guitar ballad, "Promise" finds a narrator offering reconciliation to the love of their life – the one with whom they feel totally at ease, calm and confident and comfortable. There's a sense that troubled waters are lurking, but that we will try as hard as we can to avoid them – because this is the thing that matters most, and those are the things that will get in our way.
Just one more 
Gentle kiss upon your head
And in time
You won't have to be afraid 
'Cause sometimes
You're reaching for a sign
When it comes
We will leave this all behind
"'Promise' is a song about falling in love but being really apprehensive or maybe somewhat skeptical at the same time," remarks One Hundred Paces' James Lombardo. "I think it can apply to any situation in life really, but this song is set in a relationship and deals with fear and doubt in regard to the other person's feelings or intentions. I think the lyrics express an interest in being hopeful that things will work out eventually but theres a lot of apprehension sort of looming. Perhaps the protagonist is trying to convince their love interest to be patient and that they will eventually be ok but not fully believing that himself."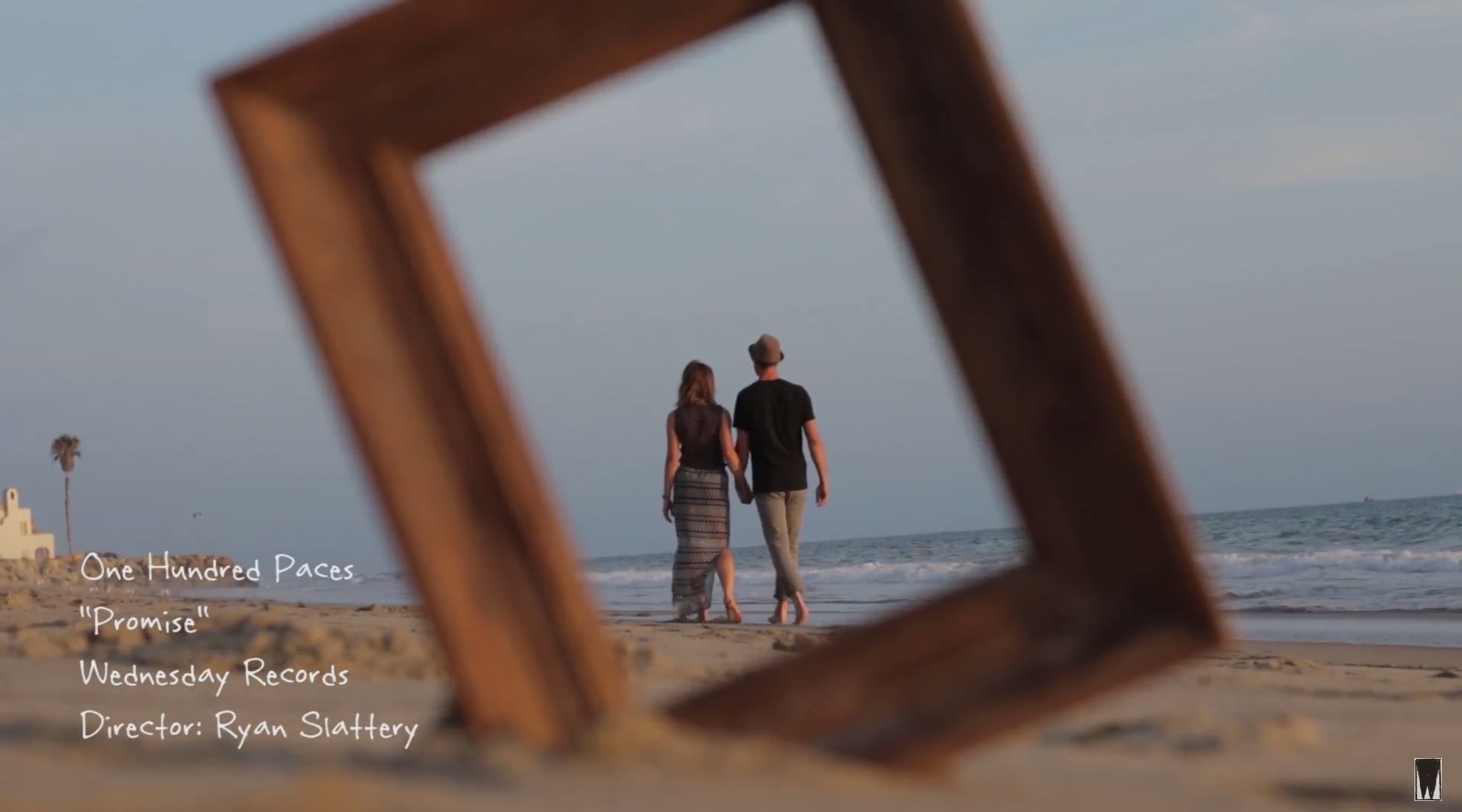 Directed by Ryan Slattery, the "Promise" music video is quaint, and just might produce a few tears if (like me) you're prone to connecting with sappy, poignant and heartfelt moments. "I feel like the video captures [the song's] overall tone pretty well. It's two people wanting to open and up and be together, but maybe wondering if it can really work in the end. They're just existing moment to moment," shares Lombardo. We see the smiles… the camera focus on the protagonists' hands, holding each other lightly – exploring the nooks and crannies, sharing in a singular experience.
You reminded me of home
And there's no difference in who we are
How the world's up on your shoulders
How you just seem to shrug it off
Nothing matters when I'm with you
It's in your kiss, it's in your touch
It's in your hands
It's in the way you look at me
In "Promises," we feel the weight of sharing your full self with another. Love is scary; of that, there can be no doubt, but over time, the fear succumbs to trust and knowing. The seed eventually blossoms into something utterly beautiful – out-of-this-world extraordinary – and ultimately, that's the power and beauty of love. Enjoy One Hundred Paces' "Promise" video and stay tuned for more off The Distance, out June 30!
— — — —
cover © Ryan Slattery
---
:: Listen to One Hundred Paces ::