If you're mad at Bad Bunny for the whole Kendall Jenner thing, or if you're just trying to start your corrido era, Mexico's Peso Pluma is being described as the "Next Big Thing" in Latin music.
Stream: "Rosa Pastel" – Peso Pluma & Jasiel Nuñez
---
"Lo que me das, amor y lealtad
Soy triste cuando te vas
Seré tu galán y no nadie más
Ven conmigo y ya verás
Eres una reina, una linda princesa
Me gusta tu aroma, tu cabello y tus piernas"
– "Lo Que Me Das," Peso Pluma
Peso Pluma fans are entering their corrido era.
Peso Pluma, real name Hassan Emilio Kabande Laija, is based in Mexico. The 23-year-old is quickly earning recognition in the United States and beyond, with some describing him as the "next Bad Bunny."
To be fair, there are noticeable differences between the songwriters, particularly the regions that inspire their music. While Bad Bunny leans heavily toward Reggaeton, Peso Pluma explores Regional Mexican and Música Urbana sounds.
Peso Pluma's lyrics, in particular, highlight the artist's candid, emotional, almost romantic personality. That's especially true of one of his most popular originals, "Ella Baila Sola," recorded with Eslabon Armado and written by Pedro Julian Tovar.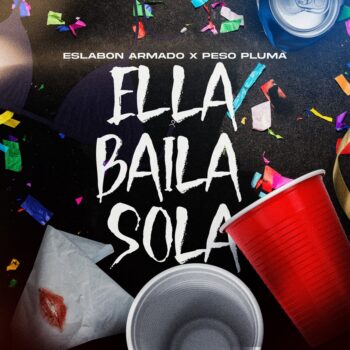 ​"I'm not a guy with money
But when it comes to the heart
I fulfill everything for you
I held her hand tightly
My friend couldn't believe it, as I passed by."
Corrido, for those who are early listeners to Peso Pluma, is a style of music, typically with lyrics, that narrative a specific historic (or personal) event. It's common in Pluma's music, as well as traditional originals from Mexican artists.
As a solo musician, Peso Pluma landed 5 tracks on the Billboard Hot 100 chart, breaking a personal record. The singer dethroned Bad Bunny as the most-streamed artist on Mexico's Spotify, a noticeable feat considering Un Verano Sin Ti's Album of the Year nomination at the Grammy's and Bad Bunny's title as the first Spanish-speaking act to headline Coachella.
---
Thankfully, this vocalist is just getting started. Although he wasn't a featured artist at 2023's Coachella Music Festival, the "Ella Baila Sola" singer made a noticeable impact by joining Becky G on stage for "Chanel."
"México en la casa! I've been working on my regional project and it's been so beautiful," Becky G said. "I'm proud to be Mexican-American, and I couldn't come to Coachella and not share the stage."
---
Additionally, Peso Pluma spent time with Bad Bunny at Coachella, with fans anticipating a potential collaboration. (That same weekend, Bad Bunny posted himself listening to "AMG" by Natanael Cano, Peso Pluma, and Gabito Ballesteros.)
One of Peso Pluma's most popular solo songs, "Por Las Noches" (in English, "At Night"), was released on Spotify in 2021. The original detailed an untouchable woman who left more than her perfume behind. Peso Pluma sings in Spanish, "I was contacted by an angel — it's you my beautiful one."
Intentar solo un beso
y tú te vas de mi vida
Como tú no hay nadie más
No hay nadie más
– "Por Las Noches," Peso Pluma & Nicki Nicole
---




No doubt a "Best New Artist" Grammy nomination is on the horizon for Peso Pluma.
This Mexican artist is one to watch in 2023 and beyond. See for yourself and listen to his brand new single, "Rosa Pastel," a trumpet-soaked, ready-for-summer collaboration with fellow Mexican artist Jasiel Nuñez that promises to continue, if not further hasten, Peso Pluma's already rapid rise.
De poca edad, pero bien listo porque la verdad
Siempre persisto pa' grande llegar
En mi cabeza siempre mi papá
Saludos pa'l boss que está junto a Dios
En mi cabeza lo que él me enseñó
Sigo bien trucha haciendo negocios
Allá por Ámsterdam la muevo yo
Y metemos gol, ya saben que show
— —
Stream: "Rosa Pastel" – Peso Pluma & Jasiel Nuñez
— — — —
 © 2023
:: Stream Peso Pluma ::
---