King Tuff brings cosmic perspective and vulnerable expression to his first official single in four years, "Psycho Star."
— —
It's been four years since we've heard anything new from musician Kyle Thomas, aka King Tuff, and the psych rocker has returned with a cosmically refined sound. Known for his rambunctious guitar shredding, lo-fi psychedelic hue, and eccentric attitude, King Tuff's new track "Psycho Star" (out 2/6/18 via Sub Pop) shows how he's transformed his once chaotic technique into a finely-tuned craft.
What led to this composed epoch was Thomas' mental and physical exhaustion from years of non-stop touring behind four full-length albums while staying in the character he had created as King Tuff. He notes, "I'm essentially playing this character of King Tuff, this crazy party monster, and I don't even drink or do drugs. It had become a weird persona, which people seemed to want from me, but it was no longer me. I just felt like it had gotten away from me." Thomas took the time and space he needed away from the undomesticated King Tuff and found himself again through his self-produced record The Other (out 4/13/18 via Sub Pop).
Listen: "Psycho Star" – King Tuff
---
In his first official single, "Psycho Star," Thomas takes us through his mindset during his downtime of reflection as he describes his perception of the world around him. The song starts off with a piercing cosmic noise that is soon joined by funky percussions, vibrant synths, and groovy guitar chords. He calls attention to grim reasons of why the world sometimes doesn't make sense but finds beauty and motivation in the fact that we all exist.
Lookin' out my window, there's no doubt about it,
We don't belong in this world, be better off without us
Madness and destruction, maybe that is just who we are
The universe is mostly made of nothing, isn't it so beautifully bizarre,
That here we are
Although King Tuff has reemerged a tamer man, he hasn't completely stripped away his endearing weirdness. The oddly humorous music video makes light of the belief in the extraterrestrial and the paranoia that can come with it. Devils, made up of dancers from the real life, overtly strange Lacity Municipal Dance Squad, dance around a Los Angeles rooftop as the viewer watches everything from a high-angle, point of view, begging the question: Is there really something out there watching us?
Watch: "Psycho Star" – King Tuff
---
What's noticeably different about King Tuff's new sound is its diversity of instrumentation and the expansive arrangement he's used. A tumultuous guitar is no longer at the forefront with grungy, erratic vocals. Instead, there's now a soulful, luscious sound that's even accompanied by a backing chorus. Yet, his true psychedelic spirit is still embodied in his lyrics.
We were always dreamin' of castles in the sky
Dreamin' of another planet, how could we be so blind
Chaos and confusion, maybe that is all that we are
The universe is probably an illusion, but isn't it so beautifully bizarre
That here we are
While writing the new album, Thomas experienced a psychic evolution. "I was a lost soul, I didn't know who I was anymore, I just sat there staring out the window. So I went down deep into the void for a few years. And while I was there I found some worms, some crazy flowers, and some songs. These songs blasted me back into the sunshine. They saved me." Thomas' altered consciousness spawned a creative vitality that led him to break outside the confines that King Tuff once kept him in.
When people know and love an artist for a defined sound that they've created for themselves, it's a risk to change that and that felt heavy on Thomas' shoulders. But, with the assist of Shawn Everett (War On Drugs, Alabama Shakes) in the mixing process and features from friends Ty Segall (drums), Jenny Lewis (vocals), Greta Morgan (vocals), and Mikal Cronin (saxophone), the record is shaping up to be something much more expansive than King Tuff has ever created and if the rest is as expansive as "Psycho Star," it will be his most successful. 
— —
— — — —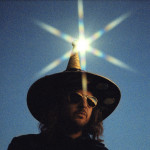 ? © Olivia Bee
:: Stream King Tuff ::