Just when we thought Protomartyr couldn't become more epic, they add horns and strings on 'Ultimate Success Today.'
Stream: 'Ultimate Success Today' – Protomartyr 
---
If you've got four great albums out, have forever changed the rock sound, and the ageless punk prince Iggy Pop has called you "the best band we've got in America right now" on his Radio Six show, what is left to do on album number five? For Protomartyr, the answer was simple: Get some legendary musical masters and lean hard into a record that might just be your best yet.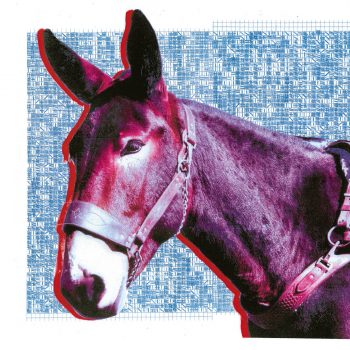 But let's rewind for a minute. The band's 2017 album, Relatives in Descent, was a beloved success — and in the three years since its release, things have come up Protomartyr. IDLES' Joy as an Act of Resistance became the biggest post-punk album of the decade while borrowing heavily from the Protomartyr's sonic palette. Fontaines DC — another fanatic at the altar of Protomartyr — turned the world's ears onto an Irish post-punk scene that had the Detroit four-piece's influence all over it. And, quite tragically, the distorted, disturbing, and chaotic world Protomartyr dissected on Relatives in Descent only got worse—proving Protomartyr not only melts faces but can play prophet, too.
2020 was primed for a Protomartyr release. See, the ever-adventurous group could approach their hot new record, Ultimate Success Today, with nothing to prove — and, therefore, nothing to lose. This level of freedom is felt from the first note.
Sounding at times like an angry The National and at other moments like a sad Pearl Jam, it's an abrasive, aggressive waltz through our declining world.
The album's use of the great jazz alto saxophonist Jemeel Moondoc, vocalist Nandi Rose (better known as Half Waif), bass clarinet, sax, and flute from Izaak Mills, and cellist Fred Lonberg-Holm gave it a whole new feel. What was already a mighty sound became ever more dramatic. Just when Protomatyr couldn't become more tension-building and epic, there's horns and strings.
Watch: "Processed By The Boys" – Protomartyr
These additional legends allow the band to hone in on the assets that are quintessentially Protomartyr: Shrill, squealing guitars, bass lines nastier than you thought possible, and a constant sense of doom that builds but rarely breaks. Casey's vocals are deeper and more powerful than ever, adding more weight to their trademark poignant lyrics. Ultimate Success Today's strength lies in the band leaning in hard to what it does best and letting its guest stars do the rest.
Take album opener "Day Without End" for example. It opens with a pounding bass line that rattles the walls and sets your anxiety to 10. Something is coming—you just don't know what. The drums follow, before huge moments of sound wash over you, rolling back out to sea and leaving you with the previous tension. Joe Casey's vocals land between IDLES' Joe Talbot and Joy Division's Ian Curtis, filling you with passion and fear.
This is the dawning of the day without end
When fear steps into light
I've been planning for this day all my life
Or have I not?
Ultimate success today
Ultimate success today
Like other Protomartyr albums, Ultimate Success Today gives the more you listen. Previously unheard lyrics hit you in the gut. The pounding bass line courses through your veins. The few moments of release affect you differently depending on your own moods. While this instant gratification world may not be willing to put that level of time into an album, those who do will be completely rewarded.
— —
— — — —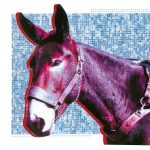 ? © Trevor Naud
Ultimate Success Today
an album by Protomartyr
---