The 2010s are coming to a close, and with them ends an exciting era of musical innovation and societal transformation. The past ten years have seen the breakdown of genre, increased accessibility for content creators, and new modes of access for music consumers. Downloads bowed to streams in the West, and artists like Justin Bieber, Drake, and Taylor Swift rose to international superstardom – but this is just the tip of the iceberg of a busy, busy age; it seemed like the more connected we were, the more disconnected we felt. Music was a means of transcending distraction and hardship; a vessel of understanding that lent us stability for moments of stress and doubt.
How better to capture a decade in music than in the words of those who lived it and breathed it? Atwood Magazine is proud to present Our Favorite Albums of the Decade, in no particular order (you can jump directly to an artist by clicking their name above, and return to the top of the page by clicking any album art below). For ten weeks, our writers will be breaking down the music of the 2010s year by year. These are the records that shaped the people we are today: The music that carried us through pivotal milestones, the songs that together form the soundtracks to our lives. We have grown and changed, matured and evolved, but in this time of reflection, we can still feel the sense of wonder we felt as listeners pressing "play" for the very first time.
This week we celebrate 2018 in all its diverse beauty: From Mt. Joy's gritty, coming-of-age debut album and Janelle Monáe's unbelievably fun Dirty Computer, to Kacey Musgraves' vulnerable Golden Hour and The 1975's self-aware, deeply critical A Brief Inquiry into Online Relationships, albums by Mitski, Dizzy, Mac Miller, Cardi B, Ariana Grande, and more.
Mitch Mosk, Editor-in-Chief
— —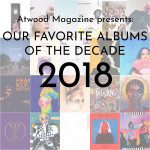 Our Favorite Albums of 2018
They came seemingly out of thin air, but quickly took over our ears and our hearts: Mt. Joy, an indie rock band radiating raw vulnerability, heartland grit, and sheer humanity. March 2018's self-titled debut album Mt. Joy boasts a kind of down-to-earth rockness that only comes a few times in a generation; between frontman Matt Quinn's passionately pained intonations and Sam Cooper's dynamic, tasteful guitar work, the band is easy to fall for and increasingly difficult to ignore. I'll admit to truly getting into them only after our interview, in which Quinn basically gave me his and the band's full biography — how their success is as much a surprise to them, as it is to anyone else. Catch them in concert, however, and Mt. Joy's rapid ascent starts to make perfect sense. I saw the band bring Brooklyn to its knees at Rough Trade; damn, can they rock.
For me, the right way to experience Mt. Joy is from the very beginning – starting with "I'm Your Wreck," whose musical transition half-way through signals that this is no run-of-the-mill band. "Dirty Love" and "Silver Lining" maintain grooving energies as Mt. Joy bend and break us, their raw sheen glowing like two loving eyes in the moonlight. The band invite us to sing our hearts out in the catchy and charming "Sheep," and then they croon to high heaven in the dazzling "Julia." Later on, songs like "Astrovan" and one of my personal favorites, "Jenny Jenkins," further display lyrical genius and inspiring melodic imagination.
Underneath all this magic is a deep sense of self-reflection, humility, and searching: Mt. Joy is a band for the wanderers; for those of us who are still figuring out this messy, convoluted thing called life (isn't that everyone?). Their album is, in turn, a soundtrack for such travels – be they physical, emotional, or something else entirely. Mt. Joy captures that special something, and whether you've never heard the record before or you know the tracklisting by heart, I promise it's an absolutely thrilling and quite possibly unforgettable experience. – Mitch Mosk, New York
---
After the extraordinary buzz her debut EP Habit attracted, all eyes were on Snail Mail's Lindsey Jordan to see what her debut album would sound like. A few years and a contract with Matador Records later, Lush arrived at the start of the summer of 2018 to become the album that would soundtrack everyone's summer love and the almost inevitable heartbreak that would ensue.
While Habit is bold and presents a strong front sonically, Lush highlights Jordan at her strongest and her most vulnerable, ranging from Paramore-like punk ballads in "Full Control" and a sweet profession of endless devotion in "Anytime". Lush is an album whose story and personality is so strong that it wouldn't take too much effort to adapt it into a movie, chronicling the colourful and tumultuous experience of falling in and out of love as a young person.
Jordan's signature sound has always consisted of some razor sharp, impressive guitar riffs and her undeniably strong voice, but Lush pushes her even further as a songwriter as she bares it all with beautiful emotional candour and a donation of self that's delightful to listen to. Lush is a tremendous body of work, somehow making the old and well-known idea of an album about love and turning it into something uniquely Snail Mail-ish in all its aspects, and as you go through the stages of falling in love along Jordan, you can't help but finish the album being completely taken by her and her ability to tell stories. Lush is an experience so whole that it almost guarantees that, even if you'd never heard of Snail Mail before, you'll reach the end of the record as a fully committed fan. On Lush, Snail Mail paints the most beautiful portrait of love and gives it away to her listeners, almost urging them to feel just as deeply and beautifully as she does, and it feels like a privilege to be privy to such a tremendous body of work from such a young and promising artist. – Nicole Almeida, Philadelphia
---
I have said much about Alexandra Streliski's Inscape: it's rhythmic patterns that enchant, the delicate and bustling piano strokes, and the emotions tied to each track. All of this and more coalesce into an album that defies all notions of what it mean to create art in a musical form. It's an album that channels the feelings of hope, galvanizing the spirits of listeners and reassuring them of the journey that there on. And though snippets of melancholy are present, it's a presence that still provides warmth. There is no competition with Inscape. It's an album nonpareil, and one that all should listen to. – Adrian Vargas, Seattle
---
There's no denying the influence of Golden Hour on the year of 2018. As the Grammy Album of the Year and an album that broke down gender barriers in the country music world, Kacey Musgraves made a statement with her third studio album. Funnily enough, when I first listened to Golden Hour nothing felt necessarily iconic about it. I've followed Musgraves since her appearance in the music world back in 2013. Her rejection but clear affection for her Southern upbringing connected with me. So when I listened to Golden Hour, the clever, homegrown lyrics already felt very "Kacey Musgraves" and the musical compilations were comforting, relaxing – but again nothing iconic. I continued to listen and watched as the album gained wider attention.
Surprised but ecstatic that Musgraves was finally receiving more acclaim, I returned to Golden Hour for a more focused listen. I've realized now that Golden Hour shines not because it's radical or groundbreaking; it glows because it's real. Golden Hour fits into your chaotic life during the quiet moments while your cleaning the kitchen, driving to dinner, or putting on your makeup; it relaxes into your routine like the childhood friend who's always been by your side. This album cradles you through lonely nights and thrills you for days you've been anticipating. Golden Hour snuck its way into my favor without my even noticing it – and isn't that normally the most magical way?
Although at first I didn't hear it, there is great depth within the 13  tracks; from the heartbreak of "Space Cowboy" to the teasing of "High Horse," and to the contemplation of "Oh, What A World." Musgraves weaves heavy imagery and witty references into her rainbow patterned, multi-layered masterpiece. Finally, the legacy of Golden Hour will last because of how it challenged the traditional country music tropes. Musgraves used vocal manipulation and rock elements typically unheard of in country music. She mainstreamed country for many listeners who formerly resented the genre.
Undoubtedly, Kacey Musgraves wrote an album that will soundtrack my summers and warm my winters for many years to come. – Baylee Less, Memphis
---
What's one to do when the whole entire world seems to be in utter disarray? You could throw up your arms in despair and sulk in a corner… or you could embrace all the chaos and emphatically yell "Let's get SCREWED! I don't care!"
You can guess which option Janelle Monáe went for in her quest to complete one of the most adventurous trio of albums any one artist produced this decade. Dirty Computer is her ode to the "crazy, classic life" that she names on the album's first full-length track and then elaborates upon throughout the unbelievably fun and futuristic record that follows. Whether it be praising feminism on "Pynk" or peddling patriotism and inclusivity on "Americans," Monáe never failed to demonstrate her ultra-rare ability to craft music that could function equally well at a party as at a political rally. This artist has long caught audiences off-guard with her unclear sexuality and unconventional public image. But in the end, after providing us with music of this caliber, it's just too hard to turn down her album-closing plea in all its simplicity: "Love me, baby. Love me for who I am." – Josh Weiner, Washington, DC
— —
Over the course of three years, Janelle Monáe has crafted one of the most complete and formidable albums of 2018. Not only did it feature a helping hand from legends like Prince before his passing but the accompanying 48-minute "emotional picture" which connects each track of the album is something rarely seen in the medium. While other artists hide their truth behind layers of metaphor, Monáe's unabashed story is on full-display here.
For many people of color and within the LGBTQ+ community, this album was a landmark case of proper representation that shows the nuance of trying to live life in the minority. Faced with opposition and indifference from all sides, these works track the course of personal acceptance and rebellion in order to establish one's identity. During her whole career, Monáe has been singing and acting out her life, but "Dirty Computer" feels like an apex of her efforts. Not that this is the highest she'll ever go – in fact far from it. It's seems that this is just the beginning of something that could revolutionize the concept of a music album. – Ben Beamish, Australia
---
Growing from their early indie-rock style and being the standard Tumblr band, 2018's A Brief Inquiry into Online Relationships portrays a more mature version of The 1975. Instead of singing about purely sex and drugs as frontman Matty Healy did five years prior, this record is pure commentary on the modern era, with a few slower sadder songs sprinkled in ("Be My Mistake" and "I Always Want To Die (Sometimes)."
For the album's majority, Healy grapples with the current reality of our country from relationships with technology using a Siri-like lyric reading on "The Man Who Married A Robot" to consumerism and mass shootings in "I Like America & America Likes Me." The band has beautifully aged with its listeners to construct a record where Healy sings what the young millennials and older Gen-Z'ers want to scream at the top of their lungs at those in power, "Would you please listen?" – Lexi Lane, New York
---
For my money, this is where Ariana hit her peak. Everything about Sweetener makes for a fantastic listen. Her singing voice had never been stronger than it was here and it was complemented perfectly by consistently outstanding production. Pharrell was the main MVP in that regard— he also added to his bottomless repertoire of catchy choruses on "Blazed"— but other established producers like Max Martin and Savan Kotecha managed to contribute their fair share as well.
Moreover, these songs all serve a great variety of social utilities. Whether you're closing out a long distance race (as I know from experience) or trying to overcome personal anxiety (probably closer to the song's intended purpose), hearing her sing "just keep breathin' and breathin' and breathinnnnn" can work wonders for your self-empowerment. The title track also reminds us down-on-our-luck civilians that "when life deals us cards… come through like the sweetener you are to bring the bitter taste to a halt." Other songs such as "Everytime," "No Tears Left to Cry," and "The Light is Coming" deliver similarly encouraging messages. Ariana might have achieved pop dominance at this point— "it feels so good to be so young and have this fun and be successful," she teasingly sings— but she made sure to never exclude her fans from the fun, and Sweetener lived by that standard entirely. – Josh Weiner, Washington, DC
---
BROCKHAMPTON has undoubtedly exploded in the latter half of the decade, releasing an impressive five albums over the course of just three years. 2018's offering, iridescence, helped signify a categorical shift for the monolithic group, as it was an album of many firsts. The first on a major label (RCA); the first in over a year; the first without founding member Ameer Vann. This final first was one that had fans on the edge of their seats, anxiously waiting to hear what the group was going to do without him – and, if it would be good enough. And boy, was it.
iridescence masterfully achieves BROCKHAMPTON's signature simpatico amongst its members with ease, while introducing new sounds and themes into the band's repertoire. Recorded in a mere 10 days at the iconic Abbey Road Studios in London, iridescence shines in its ability to showcase the conglomerate of BROCKHAMPTON talents, and gives the artists plenty of wiggle room to express themselves how they see fit. From the heart-eyed "SOMETHING ABOUT HIM," to the melancholic "WEIGHT," to the pugnacious "J'OUVERT," iridescence seamlessly provides BROCKHAMPTON with ample opportunities to be their most authentic selves, as they always tend to be. Though thought of as the lesser of their five albums, iridescence is nonetheless a glimmering gem, a worthwhile listen filled with undeniable magnetic power. – Maggie McHale, Philadelphia
---
Laying low in Los Angeles might sound like an impossible thing to do, but that's exactly what Australian band 5 Seconds of Summer (5SOS) did for nearly two years before going Number One on pop radio and becoming one of Billboard's Top Artists of the Decade. After the huge success of their self-titled debut album and their sophomore record, Sounds Good, Feels Good, Ashton Irwin, Luke Hemmings, Calum Hood, and Michael Clifford spent time away from years of non-stop touring to move to LA, lay low, and focus on their music. From the perspective of music fans and the public eye, what might have seemed like a quiet time for 5SOS was actually months of musical experimentation and self-discovery for the band. The result? Their biggest, best-selling album to date.
In June 2018, 5SOS released their third album Youngblood, signaling their comeback to music, and it only screamed success. Debuting at Number One in Australia and becoming their third Number One in the US, the record's songs echoed a unique, modern sound that a band like 5SOS hadn't done before – and yet, there hasn't been a band like 5SOS before. Unafraid to write about topics like love and broken relationships and messy life stories in unfiltered and heartfelt ways, Youngblood saw the band exploring a new sound – one that pushed the borders of contemporary pop and hard rock until it became too good to be ignored. Drummer Ashton Irwin described the record as reflecting "The band we were, what we are now, and what we're gonna be." The album's title single, "Youngblood" – on top of becoming the band's best-known song worldwide – has been certified platinum in the US and the UK and awarded the 2018 ARIA Award for Song of the Year.
Starting their music careers as young as fifteen, 5SOS are the definition of what great artists do – grow in their music, their sound, and themselves – with their fans growing in support alongside them. With a fearless and dedicated approach to their sound and pushing forward the idea that great music is great music because you love it, it isn't hard to anticipate that 5SOS's next album – set for release in early 2020 – would be anything less than the perfect way to kick off a new decade of music. – Erica Garcia, Los Angeles
---
As amazing as American Idiot and For Blood And Empire are, there was one unforeseen side-effect that's plagued us for a decade since: it made political punk attack specifics and not causes. IDLES' 2018 masterpiece, Joy As An Act Of Resistance, has righted this course.
It zoomed the microscope out, dissecting issues such as toxic masculinity, gender equality, and immigration to show that by attacking these issues out at the source, the symptoms will naturally topple. But it's not idealistic. Lead singer Joe Talbot's earnest bark is well aware of the challenges facing his rally cry—he just isn't willing to watch his loved ones suffer the consequences of the status-quo anymore.
The music is blasting and biting—everything a true punk band should be. The drums never stop pounding, the guitars snarl while Talbot sneers, and the bass becomes your heartbeat. There are numerous standout songs ("Never Fight A Man With A Perm", "Danny Nedelko" and "Great" to name a few) but it's the album as a whole that serves as a manifesto to live better—both for yourself and for others. Joy As An Act Of Resistance shows us that the last few years have been shitty but the next few don't have to be. – Oliver Crook, Halifax, Nova Scotia
---
Y
---
It is so rare to find a new band and fall head over heels for them not because of a single but because of an album, their debut especially. Dizzy, a group from Oshawa, released their debut album Baby Teeth in August of 2018 and from the first listen I was absolutely taken by the dreamy soundscapes and poetic lyrics that permeate the album. Baby Teeth is a rosy meditation on growing up in suburbia, and it builds its world with gorgeous imagery of bleachers, driving around with your crush, and swimming. The production is simple. but extremely effective, threading together synths and electric guitar to create moments that feel wonderful to get lost in. The lyrics, however, might be the best part of the whole record – Katie Munshaw, Dizzy's frontwoman and lyricist, has a way with words that's makes you reflective and infatuated with every moment she so beautifully describes. Take the chorus of "Backstroke":
I'll swim backstroke to keep you from drowning
Nose to the sky, carve your name in the baby blue
(And I'll fall asleep to the sounds of the late noon)
Or the chorus to the spectacular and heartbroken "Joshua":
Too naive to believe
His glow was all but fire
Too cold to get close to
So I loved him through the wires
He calloused my sweet dreams
Into sleepless nights
That was all until he vanished in time
Munshaw isolates settings, feelings, and objects that ultimately ground the light and dreamy sound of Baby Teeth, turning the album into an extraordinary achievement, maybe the best reflection about the youth's suburban life since Lorde's Pure Heroine. Listening to Baby Teeth feels like floating through someone's memories and re-living them all with them, like getting to know a life you never lived through stories that are told to you so well that you adopt them as your own. It's a world you want to dive into time and time again, only to feel as good as you do once you're there – youth in a bottle, hand-delivered to you in the best, dreamiest package. – Nicole Almeida, Philadelphia
---
It is often too hard to describe a song in a single word, let alone an entire album. Although, when it comes to Tom Misch's Geography there is one word that can sum up the entire vibe – funky. Geography is Misch's debut album, which he produced almost completely alone. Whilst it is relatively easy to define the record as funky, settling on any one genre to describe this collection of tracks is nigh-on impossible — Misch manages to entwine RnB, hip-hop, jazz, funk and pop effortlessly. Blurring and merging genres is potentially the most exciting thing about modern music and that is likely the reason Geography left such an imprint on the saturated music market.
The record is full to the brim with immersive instrumentals, easy-listening ballads and well-placed contributions from Poppy Ajudha, Loyle Carner and De La Soul. Two particular standout tracks on the album are "It Runs Right Through Me" and "Disco Yes". "It Runs Right Through Me" opens with hi-hats and a guitar riff that feels both calming and inspiring. Then, at the end of the track, De La Soul add another dimension — a sprinkling of warmth and extra hip-hop. "Disco Yes" is the perfect hybrid of funk and disco, blended together to create an irresistibly danceable song. Poppy Ajudha's soulful voice is the cherry on top of an already very sweet cake. Geography is an experimental, honest and soothing record that only just scratches the surface of Tom Misch's talents and what is to come from the young artist. – Bethan Harper, London
---
The late Mac Miller's final album, Swimming, is a masterpiece from start to finish. The attention to detail and the level of care that was given each and every second of each and every song is more than evident. The eerie odes to life being short haunts our ears as we listen but makes us realize that this message is all too true. From the swelling strings in "2009" to the tantalizing lyrics in "Ladder," Miller spans genres. The feel good and incredibly underrated "What's the Use?" Is as timeless as it is relevant, while "Come Back To Earth" is the grounding reminder we all need.
Miller was self-made. He started completely independent and literally climbed the ladder to the top mostly by his raw talent. Surrounded by admirers and friends in the business, Miller's name is nothing but legendary. Swimming is the immaculate culmination of that climb, and it will allow the legend of Mac Miller to live on forever. – Kelly McCafferty, New Orleans
---
The "sad song experts from up north" returned a little over a year after releasing their debut album with a powerful record that finds them a little happier, and evolving on all fronts at once. Expansive, intimate, and moving, Aquilo's ii is a cinematic journey through our highs, our lows, and that hazy in-between. Songs of joy, sorrow, hope, and hopelessness flow together as the British duo create a world that is entirely their own design: Lyrically, musically, and production-wise, Aquilo assumed full control in their sophomore effort. The result is a heartfelt record full of love, beauty, and sincerity.
While ii certainly harkens in many ways back to 2017's Silhouettes, its songs feel more mature and nuanced. Aquilo embrace the color and character of each moment, dwelling for instance in the ethereal sonics of album opener "I Could Fight on a Wall," while later on leaning into the pained piano balladry of "Six Feet Over Ground." My personal favorites, "The Road Less Wandered" and "Silent Movies," find Aquilo at the peak of their musicality: These incredible works of art lead listeners through enchanting stories with the perfect blend of emotion and instrumentation. Aquilo's tale is far from over, but this past year they delivered a breathtakingly beautiful sophomore album that deserves its share of recognition and praise. – Mitch Mosk, New York
---
Cardi B started the year as a newcomer to mainstream rap and finished it as the hottest name in the game. The corresponding album, Invasion of Privacy, is indisputably the rap record for which 2018 is best remembered.
As a Latina with Dominican heritage who's also a native of hip-hop's beloved land of origin, the South-South Bronx, Cardi let her identity with both regions shine on her big league debut. This came across most clearly on the hit single "I Like That," with two Colombian and Puerto Rican singers injecting the song with some strong Latin trap influences. But Cardi B proved to be a fierce MC at every turn, holding her ground with heavyweights like Migos and Chance the Rapper on "Drip" and "Best Life," respectively, and nailing her solo spots such as the relentless "Bodak Yellow" and "Money Bag." After having initially shown promise with a slew of guest appearances— most of all on the "Finesse" remix with Bruno Mars— Cardi proved that she could operate just as well as the lead artist and wasted no time in crafting one of the standout hip-hop debuts of the decade with Invasion of Privacy. – Josh Weiner, Washington, DC
---
Maybe it's because Xavier Dphrepaulezz's stage name, Fantastic Negrito, sounded like a vaudeville sideshow… Perhaps because my first listen to one of his pieces was a song off his eponymous debut EP called, "An Honest Man" in which he proclaimed, "Well I'm in love again, but this time it's not with my hand," that I mistakenly assumed (ass out of you and me) that Fantastic Negrito was a spoof act ala Weird Al Yankovich. It wasn't until the summer of 2018 that I realized how wrong I was.
Never mind that Fantastic Negrito had already won NPR's first ever Tiny Desk prize in 2015 and a Grammy for his 2016 album The Last Days of Oakland. Admittedly, I was a bit late to the hootenanny.
When Negrito's second LP, Please Don't Be Dead, hit my ears with its cornocopic melange of genre bending sound, I was like a kid in a record store. The album, like Fantastic Negrito himself, has a bluesy lean yet cannot be ascribed to just one genre. While songs "Plastic Hamburgers," "A Letter to Fear" and  "The Duffler" have a Led Zepplin feel, "Dark Windows" takes on a Pink Floyd flavor and the "Bullshit Anthem" bounces with a funkadelic gospel slap clap.  And though I genuinely enjoy Fantastic Negrito's craftsmanship all the way through Please Don't be Dead, my all time favorite track on the album is the nefariously galloping pentatonic slither of "A Boy Named Andrew" which exists in its own quirky world.
Fantastic Negrito has very successfully figured out how to break the shackles of genre jail. Instead of shunning the idea of ascribing to one style, he simply ascribes to them all, one track at a time and it's lovely. – Ilana Kalish, New York
While the metal of the 2010's was loaded with intensity (See: Power Trip) and beauty (See: Deafheaven), the band that stood out as the most inventive were Switzerland's Zeal & Ardor. Fusing black metal and slave spirituals, frontman Manuel Gagneux found a way to make metal that's both more palatable for an average audience and more menacing for an extreme listener. A track like "Row, Row" has all the groove of a Black Keys song, but quickly transitions into blastbeats and shrieks reminiscent of mayhem.
What perhaps sets Stranger Fruit as a cut above the rest is that it also plays with some of the silliness that is inherently tied to black metal. A track like "Coagula" is both a love letter to spirituals but cartoonishly satanic. Still, even songs that have tongue-in-cheek lyrics are delivered with similar mercilessness. There are few vocals melodies as intimidating as hearing Gagneux howl "Don't you dare, look away boy." Still, there's a lot of pain in Gagneux's voice on some of the album's more emotional cuts. "Gravedigger's Chant" has the theatricality of the most sorrowful moments from Les Miserables, but the album brings everything on home in the chorus of "Built on Ashes."
You are bound to die alone
At the end of it all, there is no doubt
That you are bound to die alone
We are bound to die alone
The irony is that the way he sings these lines is almost welcoming. Like we're all dying alone, together. – Jimmy Crowley, New York
Lily Allen's No Shame is as brutally honest and open as records can come, providing a slight contrast to the higher electronic energy on Allen's previous 2014 release Sheezus. The album shows Allen at her most vulnerable, both emotionally and lyrically, as she dissects the end of her marriage on tracks like "Apples" and "Three." The lowest point on the record comes when Allen turns towards introspection on her life with "Everything to Feel Something," as she sings "I can't tell you what I do it for, nothing really moves me anymore."
Of course, the high points are still present, because it wouldn't be a Lily Allen record without energetic beats mixed with biting lyrics. The album opens on a blatant mic drop with "Come On Then" as she tackles the press and social media. Her various collaborations with Lady Chann and Burna Boy give listeners tracks to dance to, yet it's Allen's track "Trigger Bang" with Giggs that takes the top spot on the tracklist. It's a perfect encapsulation of No Shame, as Allen discusses her addictions, but still manages to seamlessly integrate a rap feature. – Lexi Lane, New York
When I first head Paddy Hanna's long-awaited comeback Frankly, I Mutate, I'll admit I didn't get it. But there was something curious there that made a second listen a necessity. That second listen became a third, and a fourth and eventually, a daily habit I never want to break. It's old school but timeless, eclectic yet bound together by Hanna's charm, and  it's insanely catchy without ever being predictable.
The self-titled "songbird from Dublin" has taken the best parts of his 2014 debut Leafy Stiletto —his  impressive vocal range, the 50s crooner vibe and the matching swagger—and matured it, adding a few more twists and turns along the way.
In the age of the instant hit, Frankly, I Mutate is a welcome grower with a new gift on every listen. "All I Can Say Is I Love You" is a Sinatra-style lonely-love-song, while "Toulouse The Kisser" is a swirling track that makes your head spin and your feet two-step. Give Paddy Hanna a chance to steal your heart and he inevitably will. – Oliver Crook, Halifax, Nova Scotia
It  feel. – Ben Niesen, Pacific Northwest
— — — —