A vibrant array of delicious sounds flood the airwaves in Podge's dreamy debut single "Yuka-Peno," colliding and commiserating with a warm effervescence.
Stream: "Yuka-Peno" – Podge
[soundcloud url="https://api.soundcloud.com/tracks/631780782?secret_token=s-66X7j" params="color=ff5500&auto_play=true&visual=true&hide_related=false&show_comments=true&show_user=true&show_reposts=false" width="100%" height="300″ iframe="true" /]
---
A vibrant array of delicious sounds flood the airwaves in Podge's debut single, colliding and commiserating with a warm effervescence. "Yuka-Peno" is a euphoric flirtation between dreams and reality, blending psych and pop experimentalism with the raw intimacy of acoustic singer/songwriters.
Feeling, like I've stopped today
Fresh breath like mint,
you couldn't smile again
Yuka-Peno
Yuka-Peno
Atwood Magazine is proud to be premiering Podge's debut single "Yuka-Peno," out June 5, 2019 via The Label Recordings. The artist moniker for Liverpool's Adam Charo, Podge introduces his music today with a uniquely laid-back, spirited style that is all his own.
"This was the first song that I made after deciding to fully focus on making music, which was over a year ago now, and was one of the first tracks I made that I think I can proudly stand behind," he recalls in conversation with Atwood Magazine. "I wrote and recorded this track in my uni dorm room back in 2018 and then went and refined it up at Parr Street Studios in Liverpool about a year later. To me the song's meaning is rather ambiguous and I feel as if I focused more on the general feeling of the tune as opposed to any sort of themes."
Yuka-Peno is just a little word I made up so you can decide what the song means on your own.
Peeling orange, I ain't ate
Tummy rumbling, find a thousand shakes
Steal, rearrange, but we've softened it
Meals locked in place put some sauce on it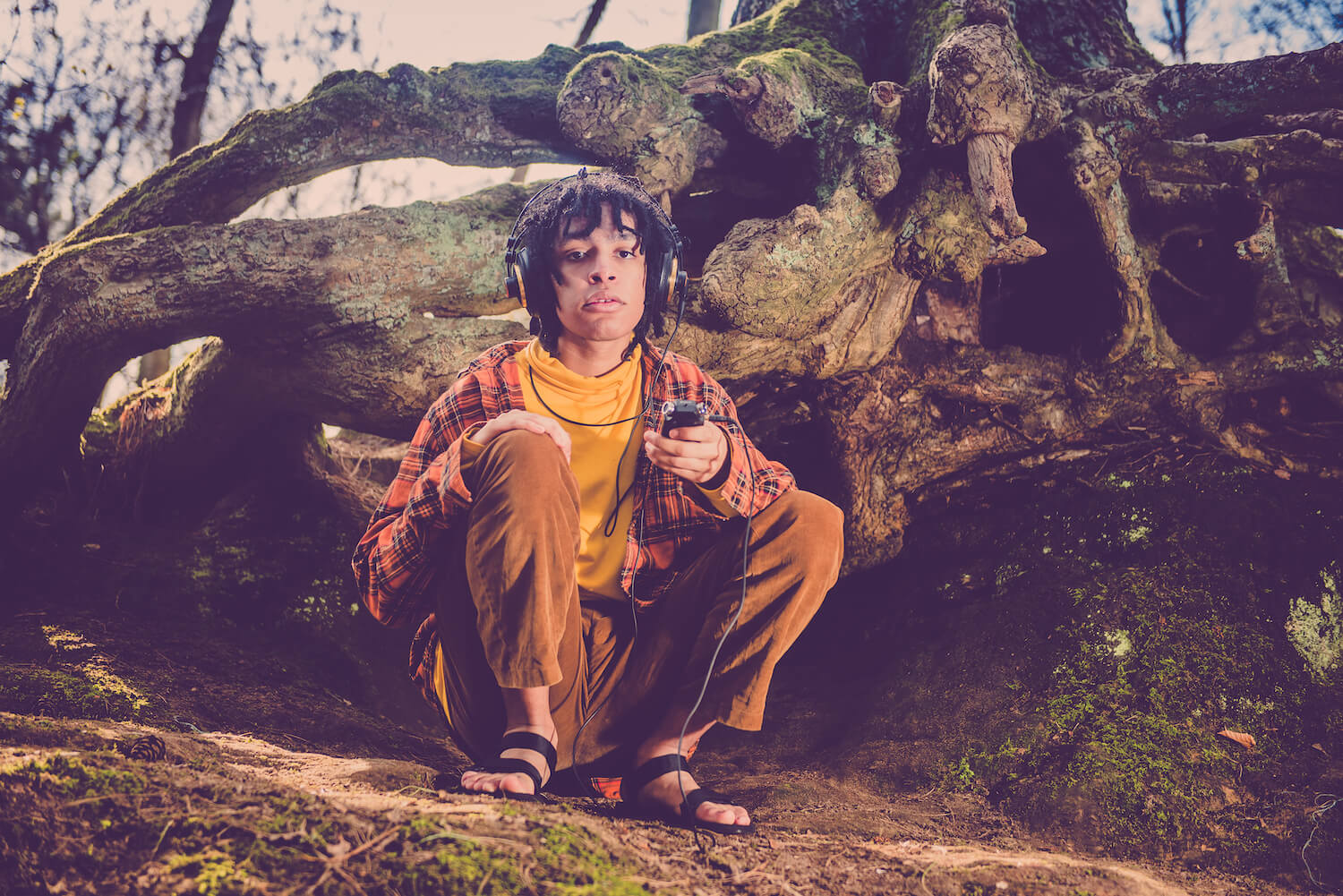 Hailing from the English borough of Wirral within Liverpool county, Podge's artistry involves an exciting mish-mosh of musical elements and distinctive stylings. "I started making music when I was about 16, recording really short and lo fi guitar tracks which I would release on an old SoundCloud account. I'm really influenced by a lot of Japanese pop culture stuff like anime, I really enjoy a lot of the aesthetics and I often try to incorporate the general feeling I get from it into my songs. A couple artists that I take a lot of influence from are Animal Collective, Cornelius, Sufjan Stevens, and Sweet Trip. As of recent I've been super inspired by the artist Bo-en (Callum Bowen), I really enjoy the super cheery chord progressions he uses and I'm trying to work stuff like that into the album I'm working on at the moment."
"Yuka-Peno" is decidedly amorphous, the marriage of Glass Animals, The Flaming Lips, and so many more.
Podge himself is aware of his art's eccentricity, and understandably proud: "I'm starting to notice that my music is a sort of amalgamation of an odd range of influences that make it sort of universal, in the sense that it can be enjoyed by a wide range of people. Some other things that seems to stick out about my music are the sort of cheerful attitude that it carries and the odd production, instrumentation, and effects that I use when making a tune."
It's tough to feel something out of a haze, but Podge enables listeners to chart their own course and choose their own emotional adventure — with his music serving as our guide. Immersive, intimate, and organic, "Yuka-Peno" is worth the indulgence – an experience to undergo time and again as the Podge's sweet sounds melt around our ears and flood our minds. "Yuka-Peno" is something new – a blissful dewdrop of sun-kissed radiance.
Locals may catch Podge performing on August 23rd at the Future Yard Festival in Birkenhead, Liverpool! For now, stream "Yuka-Peno" exclusively on Atwood Magazine, out via Liverpool-based indie The Label Recordings.
Stream: "Yuka-Peno" – Podge
[soundcloud url="https://api.soundcloud.com/tracks/631780782?secret_token=s-66X7j" params="color=ff5500&auto_play=false&visual=true&hide_related=false&show_comments=true&show_user=true&show_reposts=false" width="100%" height="300″ iframe="true" /]

— — — —
? © 2019
:: Stream Podge ::