Kevin Whelan, bassist and vocalist of mythical indie legends The Wrens, embarked on his own journey last fall with new solo project Aeon Station, which features remixed takes on songs written for the famed Jersey band, not to mention contributions from Wrens bandmates – with one noticeable absence.
Stream: 'Observatory' – Aeon Station
---
I think what it was, was I just didn't want to wait any longer.
Kevin Whelan had played the waiting game for too long in the process of crafting his new record, the soaring and touching Observatory, released last December on Sub Pop Records.
It almost didn't happen. Or rather, some of these songs almost came to light in a different way entirely: That of a long-gestating, will-it-happen or won't-it-happen album by The Wrens, the band Whelan (and his brother Greg) formed with co-leader Charles Bissell in the late '80s in New Jersey.
What happened over the next decade-plus is something right out of a book of indie rock folklore, complete with early, dismally empty concerts, a New Jersey band house, the addition of drummer Jerry MacDonald, and – finally, most notably – 2003's indie cult classic, The Meadowlands.
That's not to mention two other '90s albums and a veritable merry-go-round of label negotiations — and rejections.
To cut to the chase, in a way: The Wrens last played a show in 2010, and yes, The Meadowlands is the last record by the revered group. It's been a long time.
It's not quite as cut-and-dry as that, though.
The idea that you've got to know where you've been to contextualize where you are now is vastly important, because there's no Aeon Station record without the back-and-forth that's transpired over the past decade between The Wrens.
Luckily, listeners are better for it when one (finally) hears the colorful sonic output that's plastered across Observatory.
This isn't a story about The Wrens, though this record is inextricably linked to Whelan's old band. In fact, former Wrens bandmates MacDonald and guitarist Greg Whelan make up the other components of Aeon Station. They'll take the stage live for the trio's first-ever show this March in Queens.
Much was made about the long-awaited follow-up to The Meadowlands. It seemed to be a perennial lock for yearly "Most Anticipated Albums" lists. Finally, Sub Pop went so far as to sign The Wrens in the mid-2010s, with plans to put out this mysterious album.
A completed and mastered Wrens LP was even sent to the label before reportedly being pulled, at Bissell's insistence. But again, that isn't this album – not quite, at least. Still with us?
The backbone of Observatory is built on five newly remixed songs from across a decade-plus span that take on fresh life in the hands of Kevin Whelan, who played nearly every instrument on the Aeon Station record (compiled in New Jersey during the pandemic, masked-up rehearsal sessions and all).
The record, fittingly enough, is packed quite literally with keen observations (hence the name) and intimate lyrics. These lyrics are beautiful, admirable and also, rather incredibly, reflective of Whelan's son — he was diagnosed, at just months old, with autism about eight years ago.
The idea of embracing time and doing as much as possible with it spurred Whelan forward, he says.
"It is funny how life gets you to your eureka moments," Kevin Whelan noted via Zoom from New Jersey last month.
"I can't say there's any one thing, but I would say that maybe a combination of a couple things. … passing that mile marker of being 50 and letting time go by for so long – which, in a way, I was always fine with – but I think what it was, was I just didn't want to wait any longer."
---
With input from MacDonald to get the gears turning during the demo process, the rest of Observatory came together more quickly than expected. All the while, Whelan juggled his corporate pharmaceutical job with the demands of making music – just as he and the rest of The Wrens did for years.
The balancing act was something to which Whelan had grown accustomed. During our Zoom call, Whelan talks about The Wrens taking Thursday night flights to Europe to play weekend shows before returning in time to be at the office Monday, even during the height of the band's Meadowlands fame.
Whelan is also quick to point out that the band, for all its cult status, never hit the commercial heights of peers like Spoon or The Hold Steady, with Whelan calling the band "a bit of a unique character." What remains, then, is a pure distillation of new songs made just to, well, make them.
"We were living our lives in expectations of the future that were just never arriving," Whelan says. But he acknowledges getting to breathe new life into tracks via Aeon Station harkens back to the days when The Wrens would play shows to, say, a bartender – and only a bartender.
"It kind of feels like even earlier days in the band. You kind of just have more fun thinking about it, which is a pretty cool space to be in," Whelan says.
The results of that creativity are evident across the record, which builds from quiet and intimate moments at the start to hard-charging efforts like "Queens" and the epic "Better Love."
---
Again, this isn't a record by The Wrens, but it could be the next best thing (Bissell has reportedly been working on his own batch of songs for a solo outing).
Whelan drew inspiration from the poetry of Nathaniel Mackey, from a book packed with Bernie Taupin lyrics, and from a modern-day rocker with whom he crossed paths in the late '90s: Jeff Tweedy.
The Wrens played a 1998 World's Fair expo in Portugal, and met Tweedy himself there on on a solo tour. Tweedy's book sits perched on this writer's shelf in Brooklyn, as luck would have it.
"I think it really was Jeff Tweedy and his approach to music and songwriting and not stopping. Not being so precious. Do your best work … to be quick, to be good, to take it serious," Whelan says.
He also notes that the working title for Observatory track "Everything At Once" was in fact "Wilco." If Whelan's initial solo effort on Observatory is this fresh and inspired, one could argue he still has plenty of gas left in the tank creatively — perhaps like Tweedy himself.
---
For now, there's Aeon Station's first live show, onstage outings at SXSW this spring and very possibly, a companion album to Observatory.
After such a long time without live music, Whelan is excited, if anxious, to get back onstage. He's reminded of the old days, when he was always a bundle of nerves before every single Wrens show.
Admittedly, there's still the elephant in the room: Whelan's longtime (former) bandmate, Charles Bissell.
"At the moment, we're not talking like we always have — and always have done," Whelan says. "You only want the best, and he's been a brother for so many years."
"I think at some points, people see things in different ways. It doesn't mean they can't fix it."
— —
— — — —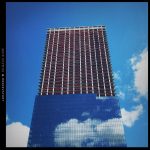 ? © Ebru Yildiz
:: Stream Aeon Station ::
---