Electropop singer Pyxis' new single "Own Thing" is all about unapologetic behavior — a message she shares not only for herself, but also to empower those around her.
— —
In a time where self care and loving yourself has become more of a priority, Pyxis' "Own Thing" (independently out on October 19, 2018) is the perfect anthem to help gain this confidence. The edgy pop single features Pyxis' daunting vocals and fun synths on top of her assertive lyrics.
Stream: "Own Thing" – Pyxis
---
Atwood is proud to be premiering Pyxis' newest single, "Own Thing," an upbeat and funky tune that celebrates the feeling of focusing on yourself and minding your own business. The New York native opens up the song by declaring right away that she isn't afraid of being who she is, and people should focus on themselves, rather than her or others.
I am more than what I come from
If you wanna judge me then go on
I am more than my circumstances, yeah
Don't you got your own problems
Gabriella Caspi, also known as electro-pop artist Pyxis, began singing as soon as she could make a sound; she even wrote her very first song when she was only eight years old. Though she had a love for writing music, she also enjoyed acting as well. Caspi soon realized that she used acting as a way to tap into her emotions while performing, and that her true passion was for songwriting. She is a fan of a multitude of genres and artists, from James Taylor to Etta James, to R&B and hip-hop.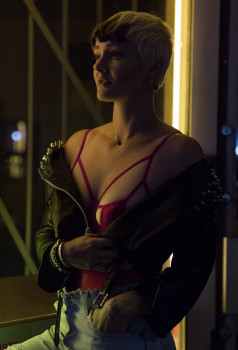 "The day I wrote "Own Thing," I was trying to find a way to respond to an outside and judgmental view of my life, trying to find a way to let someone understand me but not limit me," Caspi tells Atwood Magazine. "I wanted to write a song that would help me stand in my power without preaching. I realized that by doing so, I gave others a way to stand in their power too."
Won't be restricted
By you who want me to be
I mean what I say
I say what I mean
Caspi certainly gets this message across in the pre-chorus of her single, where she confidently states that she will not be limited by the the expectations of those around her. This is something extremely important for the young singer, especially being a woman in the music industry.
"As a woman in music, there's a constant feeling of needing to apologize for your sexuality or your boldness or your tears or the emotional rollercoaster we all ride. I wanted to find a way to stop doing that and I think I'm on my way," Caspi states. With her bold lyrics and personality juxtaposed upon her light-as-air vocals, Pyxis is definitely an artist to watch.
"Own Thing" was re-recorded in Liverpool, UK with Cameron Louis Warren. Stream Pyxis' new single "Own Thing" exclusively on Atwood Magazine. "Own Thing" is independently out on October 19, 2018.
— — — —
? © 2018