"Phosphenes" finds NJ singer/songwriter Ruby Ryan detailing the difficult parts of being in a romantic struggle and coming to terms with how you feel.
Stream: "Phosphenes"-Ruby Ryan
---
Playing romantic chicken is easily one of the most heart-wrenching things you can do in your young adulthood.
It's most often played in college or in your 20s, and its all-too common amongst the hopeless romantics. New Brunswick, New Jersey singer/songwriter Ruby Ryan sums up the circles that people wrap themselves in so easily in the chorus to her new single "Phosphenes":
You don't ever say what you mean to me,
you never tell me about anything.
I don't ever say how I feel,
I'll never show you the worst of me
Accompanied by a video that artfully displays some of the increased tension and isolation that those types of romantic feelings bring, "Phosphenes" (from her debut EP You Could Move In) bounces those feelings around, while trying to come to terms with a difficult romantic situation. Atwood Magazine is proud to be premiering Ruby Ryan's "Phosphenes" music video, out now.
Ryan's lyrics are very matter-of-fact in explaining over a dreamy instrumental the desire to actually be with this person that she has feelings for, but wrestling with the actual emotions that come with it. She puts into words the obsession and longing that we all have when we have feelings for someone. "Either way, I'll answer my alarm just as soon as it calls, and I'll check my mail for a message from you," she sings in the second verse.
Ryan explained that the song was inspired by a relationship that probably could've worked out, but didn't as the two just went out of their ways to confront their feelings. "I wrote 'Phosphenes' during my second year of college, which I could describe as my most pathetic year of college as well," she said in a statement. "I was in love with this girl, and we had stopped seeing each other but kept doing this thing where we would hang out and torture ourselves. We definitely still had feelings for each other, and I just made myself so available  and it hurt so bad. I'd go over there to do homework and walk myself miles home at like 2am just so I had time to think or process. One night I was on the bus home because it was brick outside, and the bus stopped halfway home and the bus driver got off so I just walked the rest of the way. I had been writing this poem and it became the verses of song. I finished the choruses after we finally had some space between us, and I began to let go."
Using the titular phosphenes as the metaphor in the chorus is probably the most interesting lyrical aspect. If you're unaware, phosphenes are the patterns you see when you close your eyes. Just like feelings, phosphenes are going to stay in your eyes until they don't. They're inevitable. Waiting for it to fade and go away is all you can do, just like with strong feelings for another person. Like feelings, phosphenes linger, and eventually you may not notice, but if you dedicate your energy to it, they won't go away.
In the video, Ryan dons a large mascot-sized head that looks like it was plucked right out of '90s Nickelodeon. There are a number of tropes of these weird romantic games so many us play, whether its simply occupying the same room together uncomfortably or going to give flowers and running away from the door before they open it. The video ends with Ryan sending her romantic interest a letter that says, "Hey, I think a coffee is long, long overdue" (which is also mentioned in the lyrics), and the two just end up standing there staring at each other. For a song and feeling that's often very bleak, the video ends with some hope.
While young people will often wear their hearts on their sleeves without really confronting their feelings, Ruby Ryan's "Phosphenes" brings a little brightness to the topic. Written from a difficult place, the bright chorus and video show that sometimes you can overcome the awkward feelings to lead to something wonderful.
Stream: "Phosphenes"-Ruby Ryan
— — — —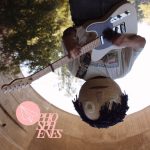 ? © photographer 
:: Stream Ruby Ryan ::
---