This Black History Month, Atwood Magazine has invited artists to participate in a series of essays, interviews, reviews, poetry, playlists, and more features in recognition of, and out of respect for the symbolism and significance of this month.
---
Today, two-time Grammy winning artist Xavier Dphrepaulezz – the mastermind behind Fantastic Negrito – shares insight into his new record label, Storefront Records as a part of Atwood Magazine's Black History Month series. As Fantastic Negrito, Oakland-based Dphrepaulezz has released three studio albums – the latest of which,  2020's HAVE YOU LOST YOUR MIND YET?, was hailed by Atwood Magazine's Ilana Kalish as "a motley cocktail of hip-hop, R&B, funk, soul, and rock 'n roll [exhibiting] Fantastic Negrito's signature style that he calls, 'Black roots music for everyone.'" Fantastic Negrito engages his listeners in soul searching through lyrics that explore "the struggle and complexities of America's increasingly broken social and political state of affairs." Speaking to Atwood in August 2020, Dphrepaulezz explained how losing your mind is the best way to reclaim it and how music can win the war against hate. Speaking to the Times-Herald in January 2021, Dphrepaulezz shared plans to start his own record label and his ongoing mission of heightened social consciousness: "It's one of my big projects for 2021… It embodies what the Bay Area is. I feel like I understand what it is."
"It's all linear to me. It's like this, hey you know, music, poetry, food, farming, ballerinas, dancing… Anything positive that you're putting out into the world, you're contributing something great. Attitude, let's talk about attitude. Man, attitude is everything. Your decision making. The choices you make. So I don't really separate them. I feel like it's one whole trip that I'm on. Music just happens to be what I know how to do, but I think we can all contribute all the time. People say, "What can I do?" Man, you can do a lot. Every person has a tremendous amount of power. We have a tremendous platform, as soon as we wake up and realize what we are going to do with it." – Fantastic Negrito
•• ••
STOREFRONT RECORDS
by Xavier Dphrepaulezz
I've decided to launch my own record label, Storefront Records. I think it is very important that artists have a place to go. I will base Storefront Records on my own journey, which has been turbulent, tumultuous, reality defying, and incredible. I want to work with the artists that do not want to be famous. I want to work with the contributors, people that have a story. I want to work with artists that live and breathe excellence and high standards. In today's culture of numbers, likes, and followers, quality is often drowned out. I did not become an artist to be a slave to numbers. It is also very important to launch my new record label right here in Oakland, CA.
The important legacy of the Bay Area sound is that there was no sound. The sound was what the artists decided it should be. From Sly Stone, Metallica, Digital Underground, E-40, Too Short, MC Hammer, Tower of Power, Taj Mahal, Tony! Toni! Toné!, to the Dead Kennedys. The creative arts have such a vast and diverse history here in the Bay Area. I hope that Storefront Records will continue in the legacy of that excellent tradition.
I did not intend Fantastic Negrito to be an artist.
About seven years ago I hooked up with three different artists who were much younger than I, and we wanted to start a record label. All of them ended up quitting because they found my standards ridiculous and unrealistic – they were probably right. I decided to launch Fantastic Negrito as an example and a bit of a test run. I learned so much doing this because I discovered the people were my record company. Busking the streets of the Bay Area was one of the most profound experiences of my life. I learned so much about connecting music with people, no middle man. I am not a corporation. I am not a machine. I am not a popstar. This is a very important mantra for me as I embark upon the journey of starting Storefront Records. I grew up in a storefront. Much of my ambitious young life was in storefronts. I am in a storefront now.
Storefront Records is the antithesis of the major label record industry machine. I think in particular there is so much talent in Oakland, CA and the Bay Area. I believe it is a fertile ground for a movement. There is so much going on in the world today and so many interesting and different topics that I hope artists are ready to express.
— —
— —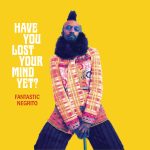 ? © Willem Wouterse
:: Fantastic Negrito ::
---