A lot can change in a decade: Navigating Spotify, the necessity of vocal distortion, and the pre-conceived notions of a song, all in 12 questions with indie pop band Royal Canoe!
— —
To qualify or dictate the sound of Canadian band Royal Canoe is to attempt catching a dragon with a butterfly net. For the past ten years, they have managed to chameleon their style and sound with every new LP released. The band has received accolades for their genre blending, innovation, and rejection of all things "status quo." Now, in 2019, they have released their most commercially successful album to date, Waver.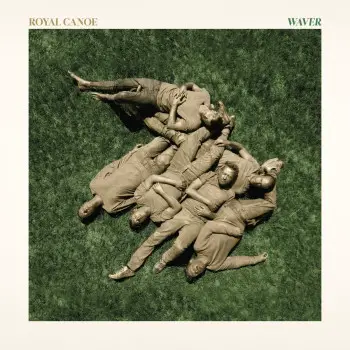 Originating in Winnipeg, Royal Canoe's first LP, 2013's Co-Op Mode, consisted of lead singer Matt Peters "just making music with friends." From there, the journey has led to an eclectic synth joyride of all out catharsis. Their lyrics don't just hit hard, but hit home as they allude to imagery of mass exoduses, free falling, and even lottery. By now it may be hard to quail the desperation to know what artists Royal Canoe sound like. Unfortunately, such would be a futile effort as their first LP Today We're Believers is resonant of Butthole Surfers and Bauhaus of the 1980s, while their second Something Got Lost in Orbit feels closer to La Roux or Angles from The Strokes.
People are just allowing music to be something they can have fun with again.
Their most recent release, Waver, separates further as having a palpable influence of RnB and Soul. Released by Paper Bag Records in January 2019, Royal Canoe have managed to emulsify a seemingly diametrically opposed genres, comfortably into their niche. Not to mention the inclusion of features from the like's of Chicago based rapper Nnamdi Ogbonnaya, and visuals of gold body paint. The band has expertly been able to persevere and adapt to the ever expanding music scene while never losing sight of what they're all about.
Atwood Magazine caught up with Royal Canoe to discuss the inclusion of streaming platforms, their writing process, and how they've changed throughout the course of a decade. Check out what lead singer Matt Peters had to say below, and catch them live on their 2019 tour!
:: A CONVERSATION WITH ROYAL CANOE ::
Atwood Magazine: Just to start off, I have to say Today We're Believers was such a formative album for me. I remember being in High School blasting that album and finding such a sense of rebellion and autonomy. Therefore, it's such a privilege to be speaking with you and thanks for sitting down with us!
Matt Peters: Wow, thank you so much for having us and I'm so glad to hear that!
Waver has been your most commercially successful album to date, do you have any inkling as to why that is?
Matt Peters: On this album I think we were definitely more interested in kind of clearing it out, and making it a little more refined. Not that we lost sight of ourselves but we've been making music for almost 10 years and I think in that time you learn a few things. I think we've also been so lucky with the people that gravitate towards our music and their willingness to kind of come along for the ride
There is a very apparent RnB influence on this album, and in some way feels more overt than past LPs. Was that a genre you always wanted to explore in your music or did it happen more organically?
Matt Peters: I think we've been teasing it over the years, and maybe having our foot on all different sides of the line has made it easier to slide all the way in. We also just all love  RnB and we listen to so much hip hop (laughs) it was just inevitable that it was going to make its way into our music.
The creative process too was  a little different than how we wrote previous albums. For Waver we were having writing retreats and made an effort to contain a lot of the initial songwriting to a specific period of time. By pinning down who are in that period allows the songs to have a more congruent identity and focus.
Speaking of your writing process, from Co-Op Mode to Waver you've consistently released an LP every 3 years. Would you say your writing process, even with the differences on Waver, aligns itself to that timeline?
Matt Peters: The weird thing is that all our albums have usually been completed one year after the last one was released.
Wow!
Matt Peters: Yeah, and we're not even different in that sense, because there's so much industry you have to wade through just to even get the album released. Although now, there are so much fewer barriers than there were 5, 10 years ago. You can put it up on Spotify, and although we could talk forever about how streaming is devaluing music, there is definitely some merit to it. I mean from a business standpoint we would like to have an album released every year but we finished this one in November of January 2017 but it didn't come out until January 2019.
Although one thing we did differently when writing Waver, is that in December of 2018 we went back into the studio and just recorded 7 songs. We we working under the idea that there was no preconceived notions of what an album could be, no lyrics, no nothing. It was liberating!
Oh I'm sure! I mean 70 songs, at that point you're not making music to address qualms, or appease deadlines, you're just making music to make art.
Matt Peters: Exactly.
Stream: "RAYZ" – Royal Canoe
For me, I feel like there's almost a through line on this album of ethereality, dreams, even on "RAYZ" you talk about photosynthesizing? Is there a conscious effort to make a metaphor like that?
Matt Peters: I think there is more watery imagery than airy imagery, I didn't even think of photosynthesizing in "RAYZ". Now that you mention it i can see it, and it points out what's so great thing about music and poetry. The lyrics mean something so specific to the people writing them, but when someone else reads or listens to it they're gonna find they're own through line. I love hearing what other people are taking from it.
Yeah, and even if that wasn't the intention, you know that people found it accessible in someway, or at least something resonated with them.
Matt Peters: Right.
"RAYZ" being one of them, features have been a new thing for Royal Canoe on Waver, was that a decision you orchestrated? Did you pick the artists you did for a reason?
Matt Peters: With "Ashes, Ashes", we knew we wanted to have a rap verse. Bucky knew Nnamdi, and we reached out to him thinking he wouldn't even open it.  He responded hours later and eventually laid down this verse that is still one of my favorite parts of the whole record.
Collaboration as a whole is also a huge part of the ethics of the band. We always had it in mind as something we wanted to do for the record. We set out from the beginning to try to bring other voices in, and we're really happy with how it turned out.
Watch: "RAYZ (alt. glacial)" – Royal Canoe
Something I've always been curious about is whether or not artists, and specifically musicians, take in media differently? You like certain bands because you like them but as an artist does it informs you more than that?
Matt Peters: I guess? You know I try to take off the analysis hat as much as I can when I'm listening to music. To be honest, I probably don't even listen to as much music as I used to. In some ways I would almost rather make music then listen to it. Whenever I do, I still get so much out of it, I'm almost transported back to being a teenager when listening to music was such a huge part of my identity.
Now when I hear something I almost immediately want to make something, you know let me see what I can do? For me, making music has always been therapeutic and a way to cope. My brain is off running a mile a minute, and it's the one time where I can put my phone down and focus. Plus the joy I get from the creative is like an antidepressant in a way. I hope I can continue to get as much satisfaction and joy as I do currently because it's such an important part of my mental health maintenance.
Since you guys are always exploring and experimenting, would you say that it's harder to switch your mindset from project to project? Or you're all just so in sync and willing it's ok?
Matt Peters: I don't know if I've ever had much trouble switching from project to project. We each have our own individual projects we work on in between tour, and we have some Royal Canoe specific ideas  for the future as well. Matt Schellenberg and I have been working on a lot of production related endeavors and that alone take up so much of your emotional headspace.
I feel like every time I switch gears and go to something else too, it's almost…a relief. You just get so focused on one thing that by not concentrating on it for a while and going back to it, you have a whole new perspective. Especially if you're a very cerebral artist, because it's so easy to get caught up in a rut. switching gears actually benefits me.
In your career you've toured with artists like Alt-J and Bombay Bicycle Club, and other really impressive artists. Are there any artists right now you'd wanted to either work with or tour with?
Matt Peters: A couple of my favorite artists right now are two Chicago artists: Noname and Saba. We're opening up for Noname when she comes through town and that's someone that would be so amazing to make a beat for or work with at some stage. Same thing with Saba. Those are two artists that I've gotten really into the past couple years and would love to work with in some context.
I mean, though in general, kids are constantly reinventing and re-imagining new ways to make music. When you hear something new and at first you weren't sure about it and then you start to like it, you like it you realize it's your own tastes that have evolved. For me, when I hear anything new that I like, it awakens all these new ideas in my head and is such an exciting feeling. It plays into this idea that I really love, that there will always be new ways to build on old ideas.
As an avid listener of Royal Canoe, I've noticed vocal distortion feels like an integral part of your sound? For example, when "Show Me Your Eyes" was released on Purple and Gold there was none, but when it was re-released on Today We're Believers, it's present for most of the track, is the inclusion something you would say is very purposeful?
Matt Peters: I think it has always been a huge part of our sound. Some of that decision is rooted in my own insecurities, and that I want to mangle up my voice. Although it's also that we want to hear things we haven't heard before. We will always do things to manipulate pitch, distortion, and timbre of a voice because it helps us discover what weird little idiosyncrasies will shine through.
On Waver,  we tried to bring a little more clarity to the melodies which meant peeling back some of those effects. No matter what though, it will always be a huge part of our music.
Yeah and hearing you say that in context it makes so much sense. If we go chronologically from Co-Op Mode to Waver they sound different, they are different, but it is always still you. I can always tell it's Royal Canoe.
Matt Peters: And that's important to us
Co-Op Mode, your first LP, was released more than 10 years ago? What would you say you've learned about the music scene in general and you as a band?
Matt Peters: I think to release music in the past, you would write an album, make a video, people would watch it, and if they liked the video or the single they would buy the record. It was all very traditional and linear. Now, people are consuming so much media that it's so hard to immerse yourself in something. Artists have to work a lot harder as a whole to get people to click on something, and that in turn makes them question how to expend their creative energy.
As a band, when I was making Co-Op Mode I wasn't thinking about releasing anything, I was just making music with friends. Co-Op Mode then kind of shifted into Today We're Believers, where we started honing in on our sound and what we wanted to be. I think we might have cast too big of a net  on that album but it's still one of my favorite things I've ever worked on. Now, we're in a different head space than even that album because we're a little more mature, if I can use that word, and a little more confident in our artistry.
I feel like as much as things have changed, we're still the same people and we still have the same MO for what we do. We're gonna continue to push what we do as far as we can and for as long as people will let us. It's also just amazing that I get to keep making music with people I love and I hope we get to do it forever!
I hope you guys do too.
— —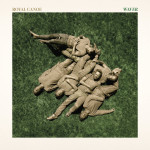 ? © Sam Katz
:: Stream Royal Canoe ::
---