Life doesn't always work out the way we wanted it to; sometimes you end up with the wrong person. Royal Canoe explore romantic what-ifs and taboo intimacy in their hypnotic "Living a Lie" music video, an evocative display of longing and desire.
I'm living a lie
It's getting harder to tell
I've tried and I've tried to wake up
But I'm sleeping for two
And I'm growing so tired of it
I should be looking for something new
Watch: "Living a Lie" – Royal Canoe
---
Atwood Magazine is proud to be premiering the music video for "Living a Lie," off Royal Canoe's third album, Something Got Lost Between Here and the Orbit (9/11/2016 via Nevado Music). A pulsing electronic song with erratic synth riffs and a deep, heavy beat, "Living a Lie" captures the band's sultry side – tapping into intimate secrets as the narrator confesses to loving someone he isn't with, wrestling with conflicting emotions and societal norms.
Consisting of Matt Peters (vocalist/keys), Bucky Driedger, Matt Schellenberg, Brendan Berg, Derek Allard and Michael Jordan, indie pop band Royal Canoe formed in 2010, exploding out of Winnipeg, Canada a few years later and maintaining a strong presence ever since. Their 2016 record Something Got Lost Between Here and the Orbit blends ethereal electronics with vibrant dance beats, pop and alternative stylings to present a collection that is altogether unique and wholly enticing.
"Living a Lie" is one of the album's highlights, a magical fusion of deep house and pop sounds with Matt Peters' ravaged, soulful vocals on top. We feel his strain throughout this passionate track, but the weight of those troubled emotions falls like a hammer as he admits to his love in the chorus:
But all that I want is
You, You, You, You
All that I want is
You, You, You, You
All that I want is you
The music video for "Living a Lie" illustrates its story perfectly. "This song had an immediate appeal to me in terms of narrative possibility," director Kevan Funk shares. "Outside of the fact that I loved the track musically, the lyrics provided a very clear emotional picture and told a very specific story. I wanted to find a visual narrative that would compliment what was already there, one in which the emotional undercurrent was approach with a sense of subtlety but with these cathartic releases, which became the dance sections. The song allowed us to do that because it carried so much narrative direction and weight."
You threw a crown at my feet
And I scrambled to the floor
You arose from your seat and I looked up
You called out my name
So I came crawling on back with it
Now I knew what I was here to do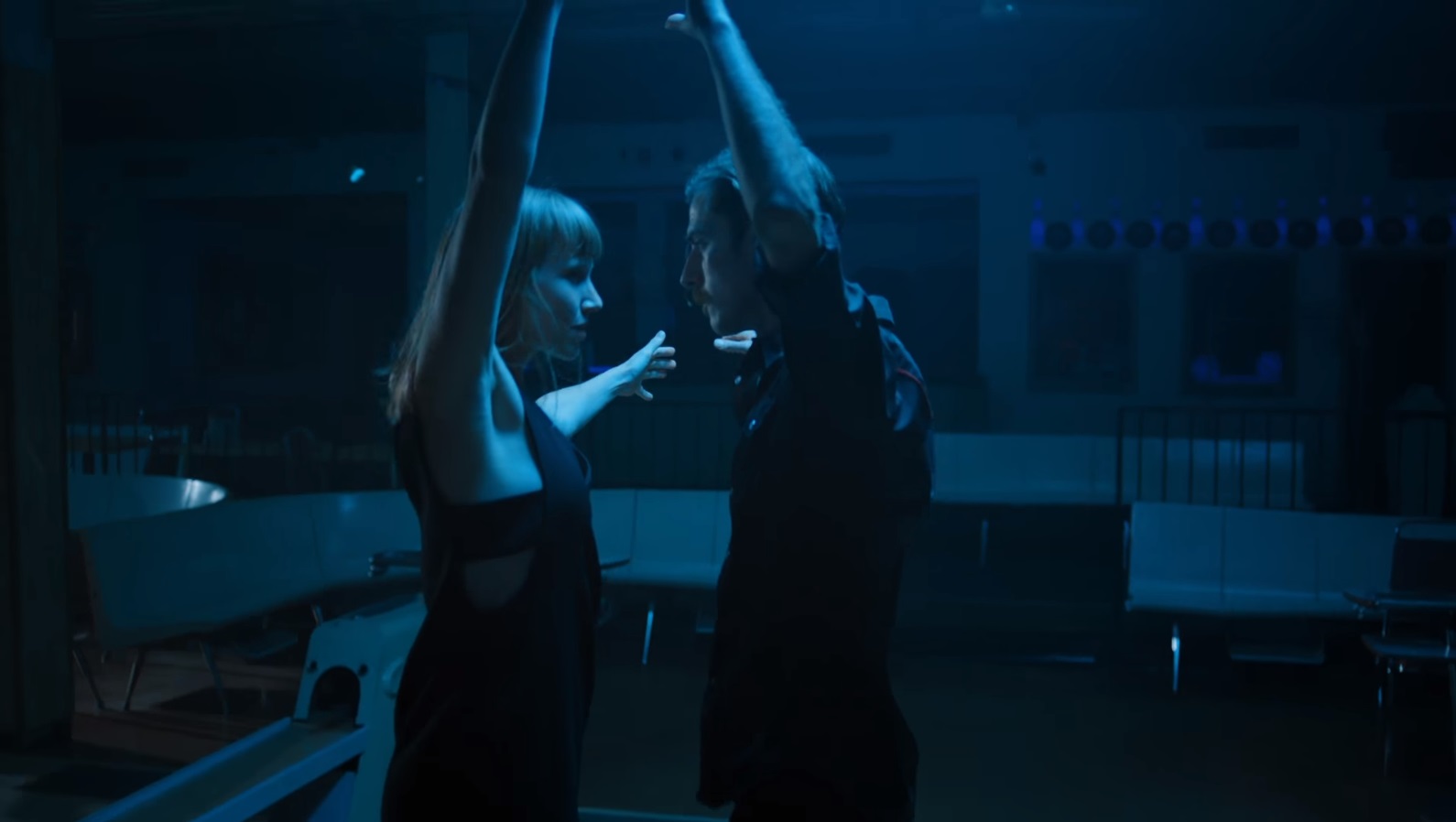 Maybe I could stand steady as a stone
Maybe I could make it all on my own
Royal Canoe's Matt Schellenberg explains the band's take on their video, expressing their desire for a hands-off approach this time around. "In the past we've found ourselves building paper mache clams, trying to find obscure Czechoslovakian mopeds, and making a clock that goes to 15 o'clock. This time, we wanted to employ a bunch of people we really trusted to just execute their vision and trust their interpretation of the song. The director, Kevan Funk, was highly recommended to us by our peers and after looking at some of his work we were very impressed. After a few Skype sessions we decided to just put the whole video in his capable hands and we're very happy with the result!"
Kaja Irwin, who choreographed all of the band's videos for their latest album, also stars in "Living A Lie." "Her vision really shaped the movement in the video," Schellenberg says.
Irwin plays the female taboo love interest – the one our narrative lead, portrayed by Shayne Johnson, wants, but cannot have. "I felt it was important to keep the choreography more pedestrian in its style and focus on the emotion and connection, pulling from the many rhythmic layers of the song," she notes. "The song has so much emotion and depth in it, a lot of push and pull, the tension of wanting to be together and then freedom of being together. I wanted to capture that energy and connection within the movement and expression between the two dancers, Shayne Johnson and myself. What happens when two people stop living in their lie and they give themselves permission to be together?"
Magic, that's what. "Living a Lie" depicts a heated, sensual courtship, unlocking inhibition and exposing those innermost intimacies we just can't deny.  Tension runs wild throughout this video as we watch a dream unfold, and fizzle before our very eyes. Stream Royal Canoe's "Living a Lie" video exclusively on Atwood Magazine, and dive deeper into their dynamic catalog via the socials and streams below!
— —
— — — —
? © 2018
:: Stream Royal Canoe ::