Mia Joy didn't spare an inch of herself in making her debut album 'Spirit Tamer', pouring her soul into an intimate record that reads like a reckoning and sounds like a beautiful storm.
for fans of Julien Baker, Phoebe Bridgers, Lucy Dacus
Stream: "See Us" – Mia Joy
---
Mia Joy didn't spare an inch of herself in the process of making her debut album, instead pouring her soul into an intimate twelve-track record that reads like a reckoning and sounds like a beautiful storm. A stirring, ethereal soundtrack to vulnerability and self-reflection, Spirit Tamer delves into the depths of depression, loss, family, heartbreak, and more as Mia Joy finds a fresh voice through which to channel the throes of life.
It's a hazy, contemplative fog of visceral thought and feeling – and one that will have listeners spellbound, subdued, and finding their own catharsis.
You didn't call me on my birthday
You weren't around
You didn't call me on my birthday
It didn't get me down
Sometimes you're the baby and I'm the old man
Sometimes you're the baby and I'm the old man
Sometimes you're the baby
It doesn't get me down, get me down get me down
It doesn't get me down , get me down get me down
Released May 7, 2021 via Fire Talk Records, Spirit Tamer is the long-awaited debut album from Mia Joy, the musical moniker for Chicago singer/songwriter and multi-instrumentalist Mia Rocha. Making music alongside Joseph Farago on keys and Emerson Hunton on percussion, Rocha has a distinct way of crafting tranquil tempests: Her music is visceral and subtle, each song its own world of palpable emotion come to life in a wash of rich, raw sound.
The follow-up to 2018's debut EP Gemini Moon, Spirit Tamer is vast yet tempered; the band jump through styles and explore an array of topics, but everything feels drawn from the same Mia Joy fabric. "It's been roughly 3 years in the making," Mia Rocha tells Atwood Magazine. "I began writing Spirit Tamer in the winter of 2018 and I finished the last song in January of 2020. I originally thought it was going to be an EP but as time passed I kept adding more and it felt like the right time to make my debut LP. My very good friend Michael Mac of Pallet Sound Studios worked on it very patiently, and we watched it become an album over those two years as I was figuring out which label felt like the best fit. If the record sounds like it's very genre jumpy, it's because it was written in such a spaced out amount of time when I was being influenced rapidly by my expanding curiosity of new music."
"I didn't have a specific end goal or vision," Rocha says. "I like to be inspired in the moment and was just writing what was coming out of the time. I do think it shows my range of tastes of genres, because I don't think I would ever be suited for just one sound. However my foundation will always come back to melancholy, ambient harmonies. I knew I wanted it to reflect as many pieces of me that made sense to put in one place."
Described as "contemplative, private, and atmospheric," Spirit Tamer home to everything from indie rock and indie folk to glistening synth pop swells that fill the sonic spectrum. The album's title refers back to an old poem Rocha wrote about depression and mental health.
It often feels like dark episodes or low periods can run gallivanting in your head, so I wanted to create a space where i was collecting all my moods, in control of them and a master of my own health and healing.
That space kicks off with the tranquilizing minute-long instrumental title track – a colorful stage-setter that slips right into the incredibly raw shoegaze and dream pop of "Ye Old Man." As lush guitars resonate in the foreground, Rocha's seductive voice – like a whisper uttered inches from the ear – sings a poignant tale of disappointment and acceptance of our parents' flaws. It's a fleeting two-minute experience, but it leaves a lasting mark as the moody "Heaven Forbid" takes over, and the artist sings delicately of memory's place in love and loss:
Time moves past me without my consent
What if I forget? Heaven forbid
I can't hold my breathe
For when we make it
Don't let me forget, Heaven Forbid
Don't let me forget Heaven Forbid
They was a time when we were both filled light
Don't let me forget, Heaven Forbid
I was bleeding in the snow, on christmas day
Don't let me forget , Heaven Forbid
Don't let me forget , Heaven Forbid
– "Heaven Forbid," Mia Joy
"I think for this record I kept lyrics pretty cryptic and stark but loaded with interpersonal meaning," Rocha reflects. "The first line in 'Heaven Forbid', "Time moves past me without my consent" still stings because I am a very nostalgic person, and transitioning times often feel heavy for me. That whole song has a very dark context, but I like to keep it up for interpretation."
Rocha cites the songs "Saturn" and "Candle Prayer" as holding special import for her. Both songs add colorful depth and nuance to the second half of the album, with the reflective "Saturn" enchanting for five full minutes while the "Candle Prayer" is a 90-second long wordless tapestry of evocative vocal harmonies and electric piano hits that fall like water droplets into our ears.
---
"The harmonies were ripped straight from my loop pedal that I had saved for years and years," she says. "It feels like a piece of my diary I've been hiding in seclusion that is all of a sudden very public."
"And of course the Arthur Russell cover ("Last Night Together"), because I was playing it with friends in a very tender time and Arthur's music basically saved my life."
Although, you're coming back
Although, you're coming back
It's our last night together
Now, our last night together
This job is taking you from me
This job is taking you from me
Although, you're coming back
I'm missing you for now
For now
---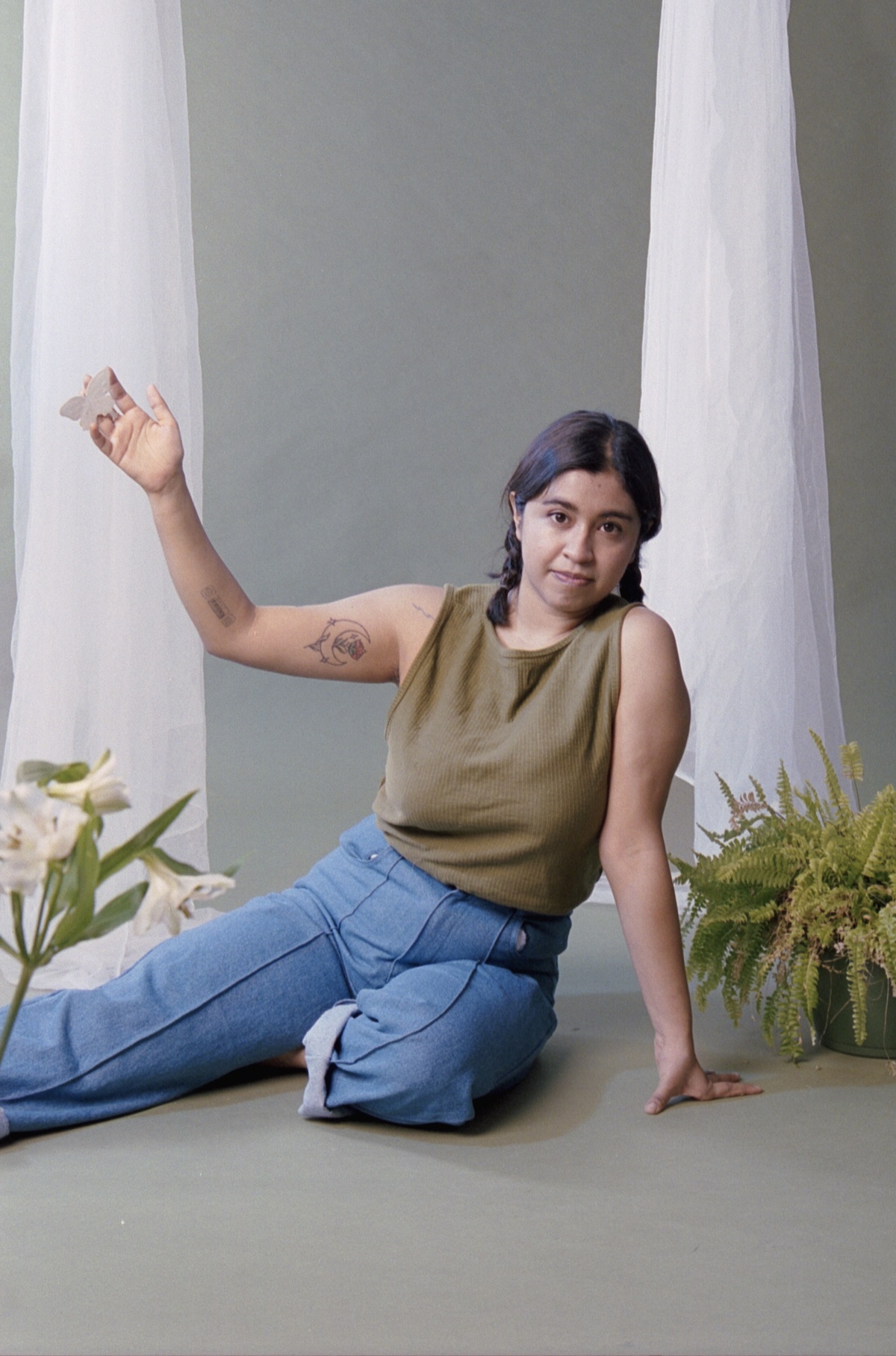 Spirit Tamer may be full of vibrant sound and soothing vocals, but dive deeper and one discovers a haunting fragility that permeates Mia Joy's art.
"I hope folks find solace and comfort if they need it," the artist says. "I am amazed and humbled if it has any impact on anyone. Sometimes I think of all the hopes and dreams that people have for me, have put their faith into me, and I just want to do my community justice. I'm here to sing you a song and I'm just grateful to have you listen."
I'm here to sing you a song and I'm just grateful to have you listen.
Experience the full record via our below stream, and peek inside Mia Joy's Spirit Tamer with Atwood Magazine as the artist goes track-by-track through the music and lyrics of her debut LP!
Spirit Tamer is out now via Fire Talk Records.
— —
Stream: 'Spirit Tamer' – Mia Joy
:: Inside Spirit Tamer ::
— —
Ye Old Man
At first listen this could be another typical stab at an ex but no! The old man is referring to my relationship to my father. Incredibly personal song but I hope it humanizes the parents that disappoint us, forget to show up and how roles between parent and child are always shifting as adults.
Heaven Forbid
Was the first song I wrote after the breakup and it was me sitting in the moment of losing someone who has been there through everything, the pain and the good and saying goodbye to the person who holds the memory of who you were for so many years. In a way preserving their memory is preserving your memory of who you were too. It also calls on the people who were supporting me in my life at the time that remind me of the dark places i've overcome , to urge me to keep going and to not forget.
Freak
I think "Freak" is my only stereotypical break up response song. A little cheeky as well paying homage to the iconic Korn song but making it sad & completely different. I loved the imagery of that phrase, a freak on leash as in feeling tied in a relationship you know is toxic but feeling bound to them – thus making you crazy or a "freak". And once off the leash that the pain was holding you to, you can finally find your own way. I wanted to end it with a sense of reclaiming identity and independence and breaking free from the symbolic leash.
Across Water
Another extremely personal song. I intentionally kept lyrics bare so the listener could infer whatever meaning felt was their experience. But mine is that I lost a best friend to suicide and sometimes I get to visit her in my dreams. Not religious undertones, just referring to how i can sometimes check on my friend through dreams to let them know that I'm doing okay.
See Us
"See Us" was the last song I wrote on the record, back in January 2020. I had fallen in love again and felt like I could see a promising future with plenty of opportunities. Filled with optimism of love and expansion that we could better our lives .Ironically, the pandemic hit  two months later, that relationship ended and now this is a very beautiful bittersweet reminder that this hope can still exist for us someday.
Saturn
Saturn is probably the first song I have ever written . I am a practicing astrologer and It is written in the voice of Saturn , the planet of restriction, isolation, responsibility, hard lessons. It mockingly asks me how it has affected my life , makes me question faith in humanity and inner loneliness. All running themes of the album.
HaHa
A cheeky take of our inevitable mortality. A lighter take of my depression, that everything changes, dies and eventually is reborn and to just lean into it with humor. Also I really love Robert Smith of The Cure and his ability to make catchy bangers about terribly sad subjects and I wanted to attempt that here.
Sword I Carry
Another song about me regulating some demons. This is more about how we disappoint the people who are important to us and hope they can forgive and show us grace in those learning moments.
Phone Home
Pretty self explanatory. An ode to the friends and supportive people in your life to not to worry .
Candle Prayer
This is special to me because I recorded these vocals at home with my loop pedal, where I feel  truly shine and an homage to my lofi ambient side of. This a prayer, interlude. A palate cleanse to soothe and heal.
Last Night Together
An Arthur Russell cover, well it's a cover of a cover too! Vera November does a piano version of this that I stripped down for mine. I think this song fits so well along the themes of the album. I think it perfectly holds space to honor your love for someone but knowing that it is time for closure, for goodbye. Just a pure moment to honor a love that is passing.
— —
— — — —
? © Fire Talk Records
:: Stream Mia Joy ::
---