When you hold me down, I'm never letting go
Young Sierra's sophomore single "Revo" is a passionate and pulsing ode to connection, a modern coming-of-age love song.
— —
Everyone wants to be loved – to feel like they matter; that they mean something special to someone else. We humans are social creatures, after all: Our interactions with one another shape our sense of belonging, that basic understanding of how we fit into the world. Young Sierra's sophomore single "Revo" is a passionate and pulsing ode to connection, a modern coming-of-age love song wrapped in alt-pop polish.
Place my hand on your heart
so I know that you're real
I'll never let you down
I know that you know,
you see the way that I feel
The way I feel
Listen: "Revo" – Young Sierra
---
Atwood Magazine is proud to premiere Young Sierra's sophomore single "Revo," the follow-up to the band's acclaimed debut single "Dream On" – premiered 12/11/2017 via Atwood Magazine. The alt-pop trio of Ben (vocals), Jonny (drums), and James (everything else), Young Sierra introduced themselves less than three months ago and have already amassed over 170,000 streams on Spotify – an impressive showing for the London indie.
Yet Young Sierra's ongoing ascent is no surprise: A musically lush, emotionally heavy tapestry tinged with hope and sadness, "Dream On" found the band capturing "the angst of ill-fated love in a heartfelt indie pop jam." The band's follow-up to their successful debut maintains this rich sonic aesthetic, presenting the band in a new light: They're down on their knees in "Revo," professing their undying love through sweeping, bright melodies as well as uptempo spoken-word pseudo-raps:
Me, I'm a nice guy chilling
Looking for the light
in the night God willing
Everybody's wanting something to hold
I was running with my
phone with the hotline blinging
Everybody wants a piece of my life
There's always pleas for my time
Everybody wants a piece of my life
They can all see
and I told you now you know
It's as if the trio need desperately to get this entity out of their system: Emotion spills out of "Revo" like a waterfall, casting its shadow over the group as they build, again and again, towards massive chorus climaxes.
"During the process of writing this album and especially 'Revo,' I've been fascinated by montage and tapestry," Young Sierra songwriter Ben shares. "How different people come in and out of our lives. How different feelings and places affect us on the day to day. But who we are is a combination of all these things. Revo is a modern love song, a montage of mood, feeling and styles describing how I feel when I'm being held in someones arms at the end of the day.."
Darling when you hold me down,
I'm never letting go.
The world is always turning round,
So why don't we take it slow.
Cos' I feel… Cos' I feel…
"Revo" may be just the second offering from Young Sierra, but the band are clearly hooked into something special: Their vibing guitar-pop music radiates with both light and dark energies, diving into emotional depths whilst remaining easily accessible to all listeners. It's feelgood and niche, an exciting fusion of ideas that is still fresh on the fourth and fifth listen.
The way that you move, the way that you are.
The way you are.
You fell through the sky and into my arms
My arms.
Got a good feeling
Out with my girl at the night time killing.
Everyone in town, never seen a glass ceiling,
Trying to be the man, never two-way billing.
Dirty little weekend, don't let it end.
Then we're back in the cab,
I could never pretend
That what I feel for you
is any less than real, and
just like everything you do,
and that's the way that I feel.
We can all relate to the desire to be held – to wanting to be wanted; to longing for love. Thus, "Revo" touches all of us, evoking a universal feeling we each carry in a different, individual way.
Fans can keep up with Young Sierra by subscribing to the band's ongoing Dream On playlist. "Our plan is for fans to follow this playlist as we release a track a month and see the album grow with us," Young Sierra multi-instrumentalist James tells Atwood Magazine. "It's like what Oh Wonder did, but the next version – using Spotify as the tool to make releasing music in 2018 interesting! When CDs were the main format, they did hidden tracks and played with different covers etc. This is our 2018 version of that!
Follow Young Sierra's Dream On playlist via the link below, and join them in the exciting journey toward releasing their debut album! "Revo" is an exciting sophomore addition
— —
— — — —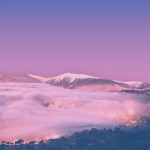 ? © 2018
:: Stream Young Sierra ::