Enchanting and vulnerable, Nashville artist Emily Hackett's "Easy" explores the aftermath of betrayal and heartbreak through an arrestingly cinematic portrayal of love, pain, and self-reflection.
— —
Why was it easy to do the wrong thing?
It's incredible to think that songwriters are still finding new ways of conveying universal experiences and emotions after all this time, but generation after generation we are exposed to novel, exciting renderings of love and heartbreak, friendship and togetherness, isolation, and on and on. Emily Hackett's enchanting new single and video "Easy" captures the pain of love and loss by exploring both individual pain, as well as the change to a relationship, in the aftermath of betrayal and heartbreak.
Why did you wait to leave
Who did you think you were helping
You coulda cut the ties
Saved yourself all that time
Why did you wait to leave
Was it a big surprise
When all your words turned into lies
When every line you used
Was everything but true
Was it a big surprise
Atwood Magazine is proud to be premiering the Preston Leatherman-directed video for Emily Hackett's song "Easy," co-written with Park Chisolm and Shannon Wright and released May 17, 2019. Born in Georgia and now based in Nashville, Emily Hackett is an Americana country-pop crossover just waiting to take off. The past five years' worth of tireless toiling, single and EP releases recently began to pay dividends in the form of accolades from CMT (Next Women of Country Class of 2019), Rolling Stone Country (Artist to Know), and The Boot (2018 Artist To Watch).
Hackett's 2018 sophomore EP By the Sun highlighted her penchant for big melodies wrapped in rock-styled overdriven guitar licks, with final track "Yours" exhibiting a softer balladry and tasteful approach toward vocal harmony. By the Sun's complementary EP By the Moon is due out later this year, and "centers on more emotionally thorny material" than its brighter predecessor per the artist. Already, Hackett's recent singles "Easy" and "Worth the Weight" find her balancing her band's edgier, rock-leaning tendencies with a more classical and subdued rootsy approach – dwelling in quieter spaces, patiently letting emotions rise and fall on their own accord, and focusing on the experience of a song and its story as a full, connected entity (rather than the sum of verses and choruses).
The result, especially with "Easy," is a hit song aching with emotional burden and musical nuance. In this case, Hackett is both the accuser and the accused – but one would be hard-pressed to recognize this on the first listen; rather, it takes times and paying considerably close attention for one to recognize the degree of vulnerability and inner turmoil released throughout "Easy."
Why was it easy
To do the wrong thing
Why does the wrong thing
always have its way with me
Where is the good girl
The one who knew better
Well she picked the apple off the tree
And now it just comes easy
The brilliance of Emily Hackett's songwriting, as well as her Preston Leatherman's direction and production, is that the audience stays in the dark for one of the most important elements of this song: Who betrayed whom.
""Easy" is written in the form of questioning myself, so when I was conceptualizing the video, my mind went to a questioning room at a police station," Emily Hackett tells Atwood Magazine. "I loved the last season of True Detective, so I thought it would be cool to take that idea and give it the seventies feel of much of that season. We allude to me being two characters in the video but we don't reveal that I'm both detective and the one in question until the end. I wanted a cinematic feel to match the eerie tone of the song."
For the longest time, one might listen to and watch "Easy" assuming Hackett's heart was broken (and indeed, it is) by someone else; the beauty of "Easy" is that the "whodunnit" doesn't matter as much as the fact that damage has been done. We hear the breakdown of love, and watch it come apart at the seams through lyrics whose questions have no clear-cut answer, and increasingly tense, distant physical dialogue between Hackett and her partner.
Once we realize she's the one leaving, while playing both the role of detective and accused, we come to appreciate the fullness of this song's depth: How it's the individual's own reckoning – an attempt to understand their own behaviors and apply reason, despite a lack thereof. "Easy" hurts because it's incredibly relatable, and that's what makes it feel so good too: Whether we've acted in ways we shouldn't have, or said things we regret, not a soul can say they've done everything right the first time, and made no mistakes along the way.
We become better people by rectifying and learning from our wrongs, and part of that means owning them in the first place. "Easy" is Emily Hackett's important moment of personal reflection – a discourse with herself that we all deserve to undergo from time to time, if only to check in with ourselves. Stream her new music video exclusively on Atwood Magazine, and stay tuned for more from this outstanding talent as she gears up to release her third EP By the Moon, out in 2019.
Why did you have to cheat
You knew his heart couldn't take it
It could have broken clean
Instead of shattering
Why did you have to cheat
— —
Watch: "Easy" – Emily Hackett
— — — —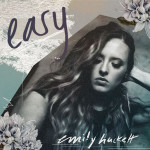 ? © Lindsey Grace Whiddon
:: Stream Emily Hackett ::