Scotland's Constant Follower dives into their achingly intimate and hauntingly beautiful debut album 'Neither Is, Nor Ever Was,' a timeless product of trauma and healing, inner reckoning and catharsis that inevitably captures life's magic spark.
Watch: Constant Follower (from The National Wallace Monument)

---
What's left to say that we haven't said, already? It's okay just to sit and be; being's all you need be…
– "What's Left to Say," Constant Follower
Stephen McAll doesn't remember the first seventeen years of his life.
A random attack late one night on his way home from his girlfriend's house resulted in catastrophic head injuries that robbed him of his childhood memories and left him partially paralyzed, unable to write or play guitar. The Constant Follower frontman has since spent the past two decades on a journey of recovery and self-discovery, building new foundations for himself largely from scratch. His band's debut album is, in so many ways, both the manifestation and the end result of McAll's painfully long and harrowing saga: A product of trauma and healing, inner reckoning and catharsis, Neither Is, Nor Ever Was captures life's magic spark through achingly intimate and hauntingly beautiful indie folk.
Your favourite time of night
Rows of golden light
Reflecting on the river
Moments last forever
But you'll sleep through it now
Yeah just sleep through it now
I can't wake you
Rise and look out
Someone's on the ground
The moon is in the river
Moments last for ever
Released October 1st, 2021, Neither Is, Nor Ever Was feels as fresh, raw, and stirring as it did a year ago today. Born in the salt spray of Scotland's windswept West Coast, Constant Follower's debut album is warm and wondrous, tender and timeless. Since forming in 2016, the Scottish band – comprised of McAll, Andrew Pankhurst (guitar), Amy Campbell (backing vocals/synth), and Kathleen Stosch (backing vocals, synth and bass) – have set themselves apart through lush instrumental arrangements and lilting melodies that combine into a hypnotizing, dreamy alternative / experimental folk sound.
At the core of Constant Follower's artistry lies Stephen McAll's vivid, poetic songwriting: Whether he is reflecting on his own personal life experiences or channeling folk tales through metaphor, his soothing songs feel both deeply personal and universally relatable. While Neither Is, Nor Ever Was may certainly be construed as McAll's story 20 years in the making, it is by no means his alone.
In one sense, the story behind this record is quite simple and straightforward.
"I'd been ready to record my debut album at the age of 16, when I was randomly attacked by a gang on the way home from my girlfriend's house one night," McAll explains. "The resulting head injury changed everything for me and it was 20 years before I was able to pick up a guitar again. When I did, this album just came tumbling out."
Of course, that's just him scratching the surface.
"I think about 'space' in music a lot," he tells Atwood Magazine. "I think, with my head the way it is now, space to think in a song is very important. Space to breathe. Space to be with the song. SO I was focused on my songs translating onto vinyl, the way that they do live. Which is no easy thing. Much of the process was subtraction rather than addition. Taking things out to create space. The biggest moment of change is when we brought Kramer in to help us mix the songs. Rather than change the vision, Kramer understood what I was trying to do from the outset. He managed to get even closer to my intention than I would have been able to do myself. He added subtle moments to the music, things you might not notice until the fortieth listen. But things that brig the record alive and give it longevity. He really is a master… and an incredibly interesting and creative person overall. It was an honour to work with him. And a miracle he was patient enough to work with me!"
"The only goal for me was to share my songs," he continues. "My only intention was to recreate them on record as faithfully as I could. As true to the live experience. But, often that means adding something that spurs an emotion that may have been experienced in a room while we play. That's hard to describe but some of the synth lines for example, are there to make you feel. Live, I can translate my feelings with only two other musicians, but on the record, this might take 18 tracks of music, small, delicate and intricate parts that you might only feel, rather than hear… at first."
"I'd like to think that the honesty of the songs introduces me simply as someone who is trying to communicate. It's hard for people to communicate these days, to really 'talk'. It's easy to be surface level but harder to get deep. Social Media is an influence of course, but there is also just so many distractions. Things we can't change but which are fed to us like they're in the next street. If our minds are so full of these issues which are detached from us in reality, do we have space to communicate, really? This album is me speaking to the listener, telling them about how I feel, about what's happening to me. I'm not demanding an answer or asking for ears, but I'm just saying it as it is in my head, and saying it is the first step in a conversation."
---
Earlier this year, Constant Follower released a live session from The National Wallace Monument in their hometown of Stirling, Scotland. This gorgeous backdrop not only showcases the band's powerful live performance, but it also further enhances the humanity at the heart of these songs. "I don't remember my childhood, but my mum took lots of photographs. I look so happy in the pictures of us at the Wallace Monument," McAll reflects. "I see how magical it is for my own children – the building, the mythology, the huge sword – and can only think it must have been the same for me. I see it every day when I open my curtains and wondered what it would be like to play up in the crown overlooking the city, and why no one had done it already. So it was a great surprise and an honour when Stirling Council made it happen. To be able to play while stretching our eyes over this beautiful landscape… sometimes it was hard to sing for the lump in my throat."
This film features the hauntingly ethereal album opener "I Can't Wake You," "Weave Of The World," and "The Merry Dancers On TV," which Atwood Magazine previously praised as a graceful and tender ballad all about missing life's moments and not being present: "It's a beautiful, warm wash that settles like a calm blanket on the ears and soul… Poignant and pure, radiant and raw, Constant Follower's music is the soundtrack to our loveliest dreams."
Hoping for better this time
While we gnaw at bones
And find comfort in phones
This thing is real
It's blackened, broke and dying
"All will be well"
Don't listen they are lying
Carry on but don't feel
The practice has something for that
Disengagement of you
Those illusions are true
---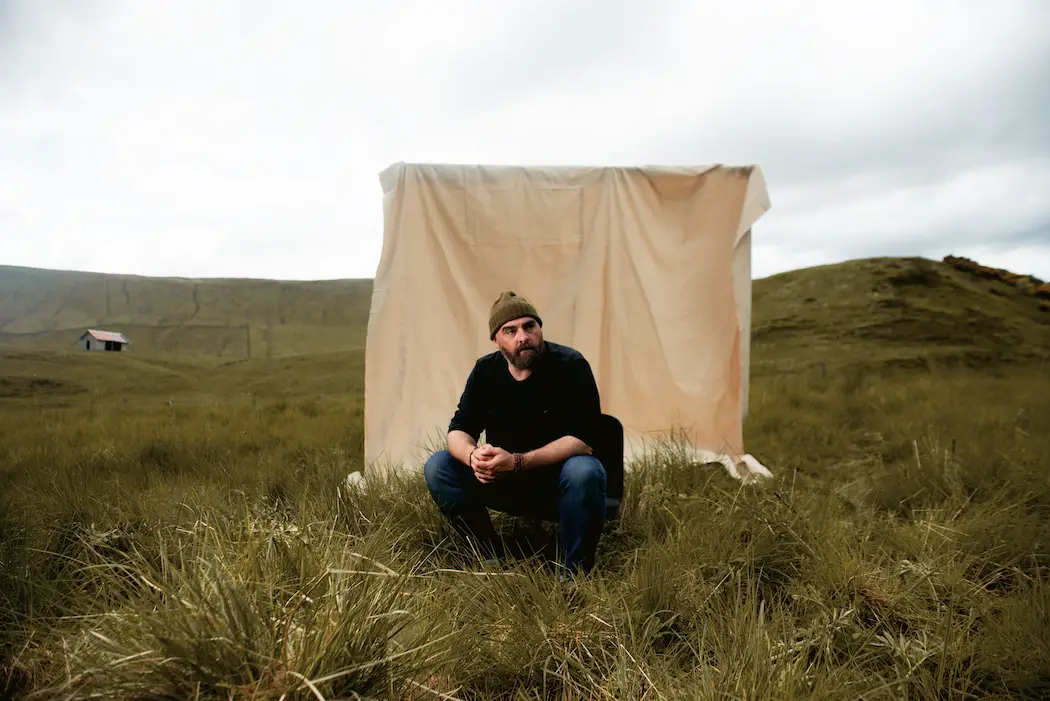 These three tracks are without a doubt among Constant Follower's finest work, but the entire record deserves to be listened to and felt in full.
"I like how songs can transform in the recording process," McAll says on the subject of his own personal highlights. "'I Can't Wake You' was one like that. It started off as a lullaby, and progressed into this big thing that it is. The song means so much to me. I won't go into it, but it's nothing about death or dying. Quite the opposite. But that's why I don't explain what my songs are about – people can take what they want, the same way that I do, and I don't want to get in the way of that."
As for his lyrics, McAll refers to one of his biggest inspirations over the past twenty years. "When I began to read again, it was the poetry of Norman MacCaig that gave me the reason," he explains. "I realised that each line is a story in itself. And sometimes, in isolation, they might seem lacking in meaning at first. But I realised you could take them as they were and find meaning in them, without referring to the past or coming line. I thought that was some kind of magic. I have that in the back of my mind when I'm writing. But the truth is that most of my lines come fully-formed and have no thought going into them other than just trying to stay out the way of the words as they come, and getting them down on paper honestly. That can lead to some difficult sentences, and often sentences that don't make sense to me. Often the song is finished and we've been playing it for some time before I realise what it means. An extreme example of this is 'Spirits In The Rooftree.' I didn't work out what that meant until months after writing it. One day it just hit me while I was playing it, and… well, I was devastated. There's a line in that, "the yellow months are over." Sometimes a line just holds so much meaning for me."
A tangle in the roof tree
Your fetch on a stool
The yellow months are over
So many were against us
Tried to pull us apart
The winding sheet pulled over, us
Then our fingers weave
And we're safe beneath
They don't know we're here
You know I'll never leave you
What's my life without you
I know we'll always be
And of the things that really matter
It's us that come first
We've got to stick together
But now the spirits in the roof tree
The eyes in the wood
The winding sheet pulled over, you
– "Spirits In The Roof Tree," Constant Follower
All told, Neither Is, Nor Ever Was is Constant Follower's gentle giant of a debut.
It's the kind of record that leaves its listener moved, breathless, and ever so slightly unsettled.
"Naming a record is such a loaded thing," McAll shares. "Of course people want to know why you name things the way you do, or what a song means. But I think the responsibility of the artist stops when the decision has been made. The title holds a very deep meaning to me, but it would be diluted were I to try to explain. I hope that people can take their own meaning from the title, the songs, the words – what they mean to me, would make little sense to someone who hasn't lived through my eyes."
That being said, he adds, "I hope that people can listen to the music in times when they need it. If it brings hope or solace to a single person, the way that so many albums have for me, and the way that this album does for me, then that means the time, effort, and expense has been worthwhile."
Neither Is, Nor Ever Was turned one year old this October. Like a fine wine, this LP promises to age gracefully and with astounding ease. Experience the full LP via our below stream, and peek inside Constant Follower's Neither Is, Nor Ever Was with Atwood Magazine as guitarist Andrew "Kurd" Pankhurst goes track-by-track through the music and lyrics of their debut album!
— —
'Neither Is, Nor Ever Was' – Constant Follower
:: Inside Neither Is, Nor Ever Was ::
— —
I Can't Wake You
This is one of the earlier songs that we worked on, I remember we played it at our second show together, away back in 2016. It went out of the set for ages, but by the time the album sessions began it had started to become a key song again, but I was still surprised when McAll and Kramer put it first on the record. I think we thought we'd take weeks to agree the running order of the record, but Kramer suggested an order for the first mixes he sent and we just instantly went – that's it. We never would have put it up first, but I like the way it starts the record in the middle of the night (Your favourite time of night/rows of golden lights reflecting on the river), that feels right to me. To me the music is all about landscape, water, weather, light and shade, so it brings that in from the off.
The Merry Dancers on TV
My guitar part for this one came together very easily as I remember – I could hear something with long and quite formless notes in there, so I picked up the slide and the first notes I hit upon were the ones on the track. There's a lot of subtle stuff in the mix that I like a lot on this – little ghosts in the shadows that peep out every now and then. It's a good headphones song.
Set Aside Some Time
When I joined Constant Follower, McAll had done one gig solo and hated it, so when we randomly met at a gig, I said, I'll come play with you, it'll be better with two. I wouldn't normally be so forward, but I just had this idea that it would work, even though I hadn't heard the music. And he said, OK but we have a gig in 4 weeks. So we didn't have very long to arrange electric guitar parts for a full set, but somehow Set Aside Some Time came together without really even trying – I put on the Ebow part and some picked partial chords and that was that. We just had to make the decisions quick, it was very focused. A friend came up at the end of that first gig and said this song was a real standout, but it also dropped out of the set for a few years before long, I think McAll finds it quite uncomfortable to play the acoustic part. But that comment seemed to stick with him, as the studio sessions we did for the album were very much focused on getting this song down a really strong single, then whatever else we got done was a bonus. It paid off, as Kramer heard it and offered to put out the record.
Spirits in The Rooftree
This is my favourite song on the album. It wasn't something we attempted at all in the initial studio sessions at La Chunky in Glasgow and had only been played live once before recording it, so it was very much sitting in the pile of stuff to come back to at some point. I think that sort of helped in a way as we weren't too tied to what it should sound like. I had a pre-written part with bowed guitar, all doing big deep stuff on the bass strings, and we did about 20 takes of that and then McAll said could I do some improv stuff on the high strings for some contrast, so we very loosely ad-libbed a few things and I went away home. When he sent me a mix it was all using the improv stuff, which I had no real memory of. I remember thinking – Jesus, did I do that? There's so much emotion in the sound – real pit of your stomach stuff.
Altona
This is another cool one. It was just an acoustic instrumental for ages until Kathleen's wordless vocals transformed it into something we were really excited about. I spent about 20 minutes doodling on it after we spent most of the evening on Weicha, and apologised to McAll for assaulting his ears. I was trying to make pedal steel sounds using volume swells and slide, but I thought it was completely off. McAll said, no there's some nice stuff on there. I thought he was being polite. Again when the MP3 dropped into my inbox I was knocked out by what he'd managed to capture. He has a real skill for taking improv stuff and painstakingly sifting through to find magic moments – even if they take a bit of shifting about.
Weave of the World
This has the best melody on the record for me. The lyrics are probably my favourites too. I think they mean something completely different to me to what McAll was actually writing about. It's another song that dropped off the radar for ages. I was playing something really spacey on it, but it wasn't really working. Our friend Kenny came in and did some nice bit of clean, melodic lead guitar on it, and that gave me the inspiration to add the guitar solo in the interval. I was trying to out-melody McAll's vocals I think.
One Word Away
This has a sort of hymn-like quality to me. There's a lovely lift in the chorus with all the stacked vocals. It's one of only a few that really survived the sessions we did at La Chunky – most of the songs got redone at McAll's studio. I especially like the ending where there's 3 guitars having a little conversation.
Little Marble
This is another one we played at the very first show together, and one of the few that hasn't really changed at all from its original arrangement. Most things have gained quite a few extra layers in the recording process, but not this. Aside from some very subtle synth strings that McAll added it's as sparse as it ever was, which I think suits it. I like the metaphor of leaving the marble in your shoe to remind you of the person that left it there. A lot of people ask why McAll plays live with only one shoe on. It's so he can play bass synth with a foot controller, but I like to tell folk his shoe was full of marbles.
What's Left to Say
I always imagined this would end up as the last song on the record, but I love the way Kramer sequenced this, then Weicha. It's only my interpretation, but it feels like this song is about saying goodbye to someone and then Weicha is a sort of hallucinatory afterlife.
Weicha
We had recorded this song years ago, and it was a bit of an experiment based on a vocal loop McAll came up with. To be honest I never thought it would see the light of day, even though it was cool, it felt a bit too different to everything else. But I think it makes the most perfect end of the album, a sort of weird ascension to the heavens. It was just included in the batch of stuff that got sent to Kramer and he obviously heard a closing track in it. He dug out loads of stuff buried in the tracks I'd never heard – the whole ending part where the acoustic comes in and it really takes off had been faded out in all the versions I'd heard. It's cool that it ended up on the album. The whole record ended up being really different to what I had expected. So many really key songs didn't make it on, and lots of things that were lying to one side suddenly sprung back to life in new forms. The good part about that is that we've got some amazing stuff still to show people on the next one.
— —
— — — —
? © Jannica Honey
:: Stream Constant Follower ::
---