Broke Royals deliver an expressive, high-octane sound that is as dirty as it is clean and as raw as it is polished in sophomore album 'Saint Luxury.'
Stream: 'Saint Luxury' – Broke Royals
---
Billing themselves as "premium rock & roll," Broke Royals deliver an expressive, high-octane sound that is as dirty as it is clean and as raw as it is polished. Independently released August 2, 2019, the band's sophomore album Saint Luxury sees them breaking out of the nation's capital and establishing themselves as a dynamic, thoughtful, and engaging artist we should all want to see on our own hometown stages.
Nothing beats an authentic musical experience, and that's the promise lying at the heart of Broke Royals' new record. Radiating with The Killers' gusto, Walk the Moon's energy, and Coldplay's bombast, Saint Luxury presents a strong and cohesive follow-up to 2017's self-titled debut album, finding the duo of Philip Basnight (guitar and vocals) and Colin Cross (drums) honing in on an arena-ready, anthem-heavy sound that lends as much weight to the verses as the choruses.
In other words, it's not where you're going that counts: It's the friends you made along the way.
"As the music industry tries to navigate the new streaming landscape, a lot of musicians are just releasing singles and EPs," Broke Royals tell Atwood Magazine, speaking to the significance and importance of this album for them as a band. "When we decided to release a full album we knew we needed to have something bigger to say. We wanted to make a statement that we could weave through the entire project. The idea that we kept coming back to, and which became the recurring theme on this album, is the value in listening to the people who are asking good questions, and not the ones who say they have all the answers. In politics, religion, marketing, and so many other places, we hear about the best, the only, or the necessary answer without any room for ambiguity or nuance. We wanted to re-focus our attention on the shades of gray. Explore the questions, not the answers."
We wanted to re-focus our attention on the shades of gray. Explore the questions, not the answers.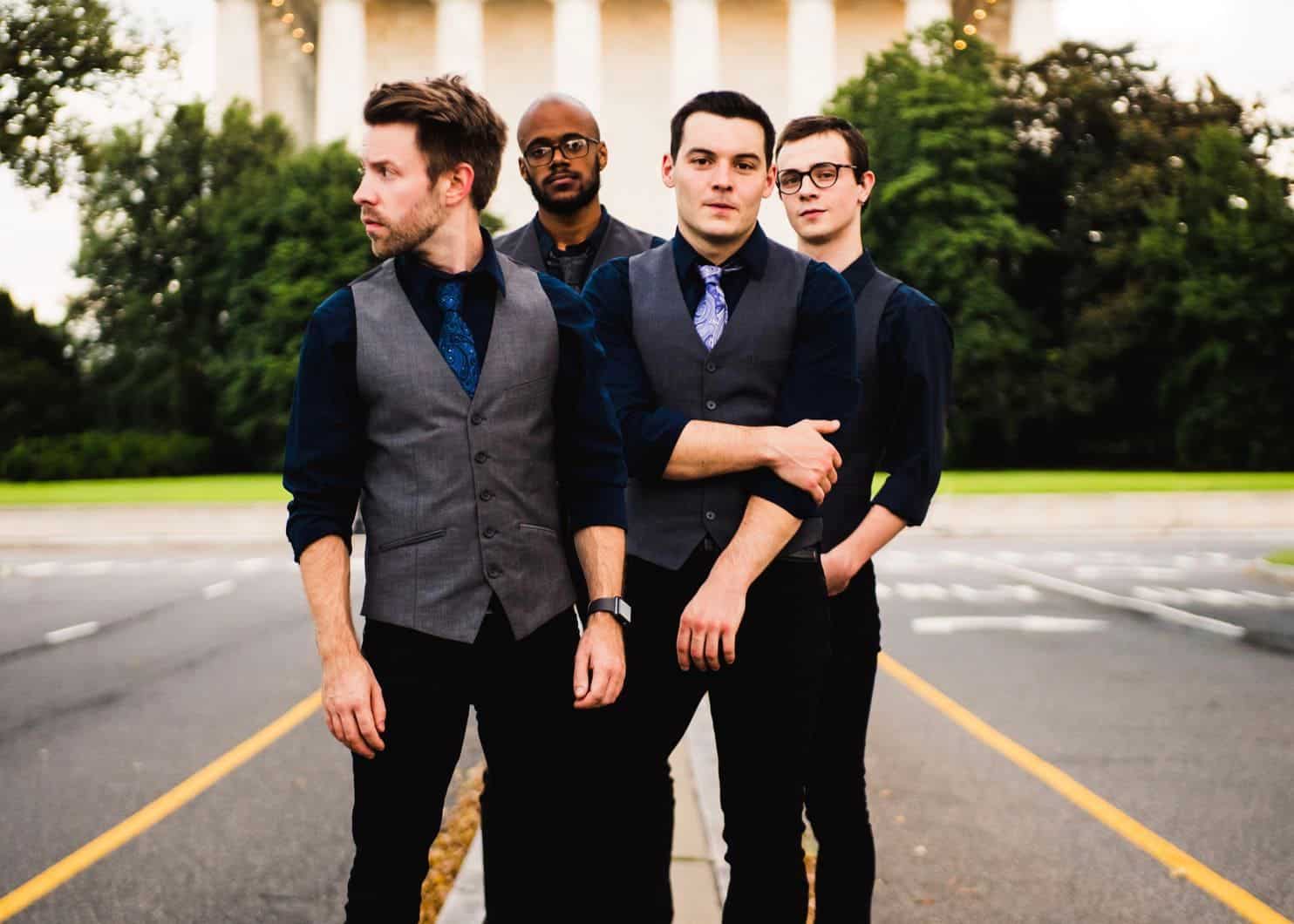 In premiering Broke Royals' debut album two years ago, Atwood Magazine's Sara Santora dove into the drive behind their music: "Amid fun there is meaning, and for Broke Royals, there is a much deeper layer working than meets the eye… Broke Royals deliver a perfectly complex yet simple multi-layered narrative about love and loss. It's anthemic and heart-warming, and gives hope in times of sadness."
The music is grander, the arrangements more complex, and the vocals more nuanced, but Broke Royals have remained true to themselves throughout their new record. Title track "Saint Luxury" instills hope and muted promise for the future as it opens the record, only to be followed by the stadium-sized pop song "Bad Chemicals" and its exploration of PTSD, changing technologies, and their effect on us as individuals and as a society:
---
The upbeat "Love & Tatters" presents struggle with a smile; the driving "Can't Say" radiates with chugging guitars that just won't quit. A brief lull comes in the form of the harmony-laden 38-second pastich "Cado," which quickly transitions into the band's anthemic "Born to Break."
When Atwood Magazine asked both band members to dive into their favorite songs on the new album, vocalist Basnight eventually settled on "Born to Break," explaining how much went into pulling off such an inspired sound in a well-worn, but seldom-accomplished style: "We wanted to make a song in the spirit of Bruce Springsteen that still sounded original and true to the Broke Royals sound," he notes. "This can be a hard trick to pull off so we treated it with great care. The lyrics are very personal and we traded in the saxophone for a synthesizer but, listening now, I can still hear the spirit of the boss throughout. Just like you could hear traces of Elvis and Roy Orbison in Springsteen's own music. Plus, it's been a crowd favorite when we play it in concert and that's a great feeling; seeing people's faces light up when you play a song from the new record."
Comprised of footage from Broke Royals' Saint Luxury tour, the recently-released "Born to Break" music video showcases the band's immersive presence:
---
For drummer Colin Cross (drums), Saint Luxury's special moment comes earlier on in "Can't Say." He says, "I used to work a service industry job and, as everyone knows, there are a lot of instances where you just have to bite your tongue and hold in any of your genuine emotions or reactions the entire day. That is such an incredibly draining experience and I think the song really captures the tension of that situation. I like to think that people having a tough day at work might turn it on and feel heard and maybe even less alone. Plus, it's got a steady groove throughout but takes a few unexpected rhythmic turns, which is a lot of fun as a drummer."
Broke Royals set out to develop and deliver a powerful, special full-length experience in Saint Luxury, and the result is a standout record for a band we thought had already come into their sound the first time around. It turns out if you keep working hard enough at digging deeper and deeper, your second album can sound as defining as the first one did – and hopefully so on, and so forth. Saint Luxury represents a new high for Broke Royals, and we highly recommend joining the Washington band on this premium rock & roll journey!
— —
— — — —
? © Aaro Keipi
Saint Luxury
an album by Broke Royals
---